Wax Market Research, 2030
The global wax market was valued at $11.6 billion in 2020, and is projected to reach $16.7 billion by 2030, growing at a CAGR of 3.7% from 2021 to 2030.
The supply of raw materials to the industries decreased and caused a disturbance in supply and demand balance. Owing to all these factors, the oil market is negatively impacted by COVID-19 and the production of wax is decreased.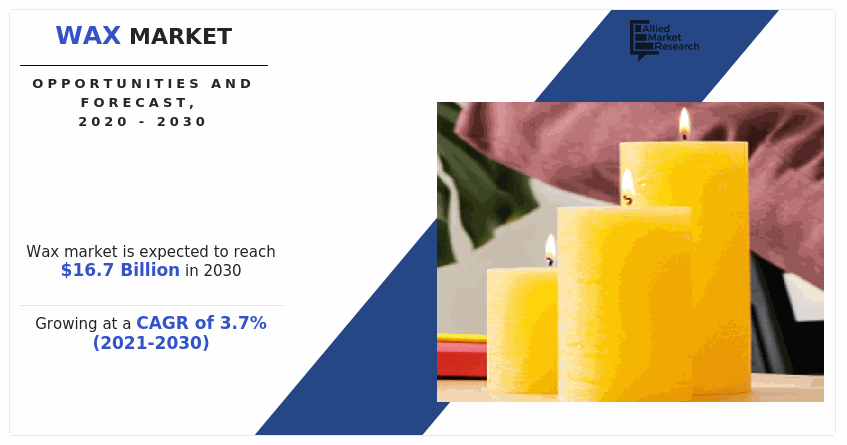 Wax is the member of organic compounds that is malleable and hydrophobic at ambient temperatures. It includes lipids and higher alkanes that are insoluble in water but are soluble in nonpolar, organic solvents.  Mineral, natural, and synthetic waxes are made from petroleum-based materials, including base oil and natural gas, as well as compounds like polyethylene, plants, and animals. Wax is used extensively in coating and printing compositions. Properties including mark and scratch resistance, rub resistance, and water repellency make it popular in paint, coating, and printing ink industries. It is used in variety of inks, including letterpress, lithographic, gravure, and flexographic. Other properties of wax in the coating and ink industry include in blockage, improvement in friction, anti-setting, and anti-sagging.
The major factor driving the growth of the market is increase in demand for wax  from candle and packaging industries. . Growth in personal care industry in the Asia-Pacific ​is other factor driving the market growth. The demand for home decor items, including colored and scented candles fuel the market growth of wax. The use of candles shifted from a commodity that gives light to a luxury. Candles are now used as a decorative item and make a perfect gift. Thus, the trend among people to use candles of  their choice , including color and fragrance ,which lightens up the ambiance of the room increase the demand for wax.
Another trend in the industry is the use and demand for bio-based waxes. This demand is primarily due to the fact that consumers are concerned about the potential adverse health effects of chemical products. Therefore, there is a shift to organic or green products that are emerging in the wax market. Several manufacturers of cosmetics and care products develop bio-based products. For example, Burt's Bees (USA), in October 2017 ,launched beeswax-based balms and other cosmetics and, in 2020, sold one balm per second across the globe. On the other hand, fluctuations in commodity prices and environmental problems hinder market growth.
The wax market is segmented on the basis of type, application, and region. By type, the market is segregated into paraffin/mineral wax, synthetic wax, natural wax, and others. On the basis of application, it is fragmented into candles, packaging, emulsions, hot melts, floor polishes, and others. Region-wise, it is analyzed across North America, Europe, Asia-Pacific, and LAMEA.
The key players profiled in this report include Akzo Nobel N.V., Baker Hugher Company, BASF SE, Cepsa, China National Petroleum Corporation, Evonik Industries AG, Exxon Mobil Corporation, HollyFrontier Sinclair Corporation, Honeywell International Inc., The International Group Inc.
The global wax market report provides in-depth competitive analysis as well as profiles of these major players.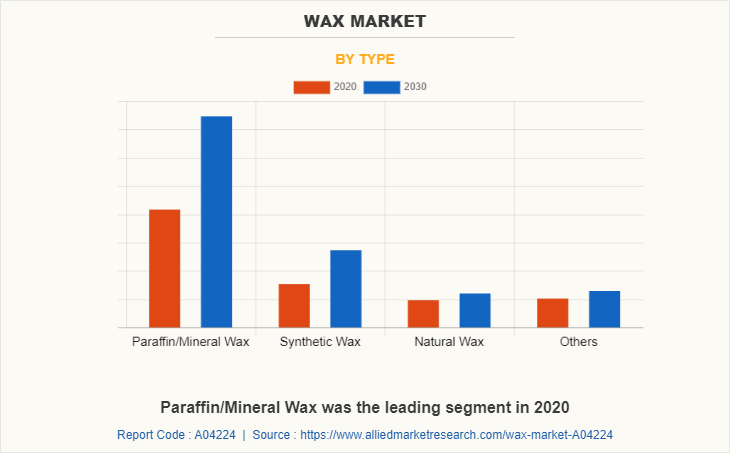 By type, the paraffin/mineral wax segment accounted for around 70.0% of the wax market share in 2020. In packaging industry paraffin wax is used for coating the packaged material. In cosmetics, paraffin wax is used as an additive. Moreover, paraffin wax is used in electrical insulation and in the lubrication industry.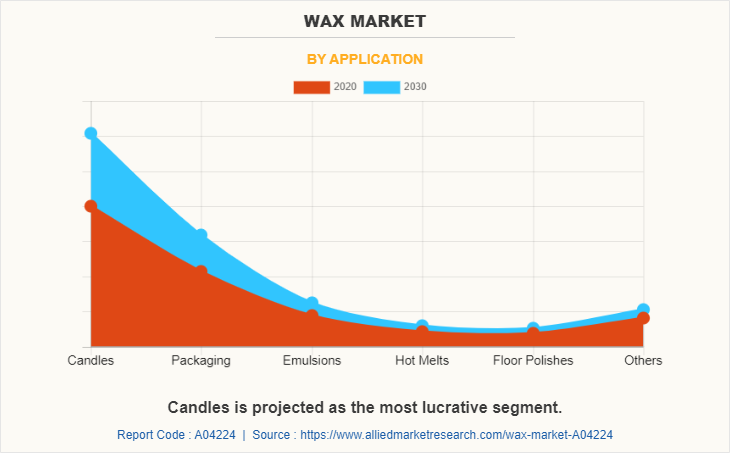 On the basis of application, the candles segment accounted for around 60.2% of the global wax market share in 2020. An increasing number of distribution channels, including décor and mass merchandise stores and e-commerce platforms aided in propelling candle demand across the globe. The packaging application segment accounted for the second-largest revenue share in 2021.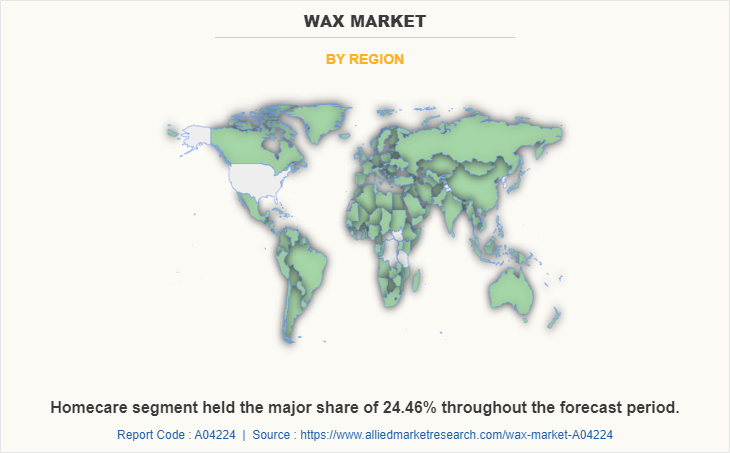 Region-wise, the Asia-pacific segment accounted for around 31.1% of the global wax market share in 2020.  The market growth is anticipated, owing to low labor, raw material, and operational costs. The rise in utilization of cosmetic products, including creams, lotions, sunscreens, and makeup among the youth of Japan, India, Indonesia, Korea, and China is expected to boost market growth.
Impact of COVID-19 on Global Wax Market
 
The outbreak of COVID-19 led to partial or complete shutdown of production facilities that do not come under essential goods, owing to prolonged lockdown in major countries, including the U.S., China, Japan, India, and Germany. It led to either closure or suspension of their production activities in most of the industrial units across the globe.
COVID-19 pandemic stagnated production activities in various areas such as packaging, cosmetics, chemicals, and candle making. Supply chain disruptions disrupted the supply of raw materials to these industries. As a result, the demand for wax from these industries that depended on wax for production declined. In addition, the decline in demand for cosmetics, candles, and consumer goods reduced the demand for waxes across the globe.
Key Benefits For Stakeholders
This report provides a quantitative analysis of the market segments, current trends, estimations, and dynamics of the wax market analysis from 2020 to 2030 to identify the prevailing wax market opportunities.
The market research is offered along with information related to key drivers, restraints, and opportunities.
Porter's five forces analysis highlights the potency of buyers and suppliers to enable stakeholders make profit-oriented business decisions and strengthen their supplier-buyer network.
In-depth analysis of the wax market segmentation assists to determine the prevailing market opportunities.
Major countries in each region are mapped according to their revenue contribution to the global market.
Market player positioning facilitates benchmarking and provides a clear understanding of the present position of the market players.
The report includes the analysis of the regional as well as global wax market trends, key players, market segments, application areas, and market growth strategies.
 Wax Market Report Highlights
Aspects
Details
By Application

Candles
Packaging
Emulsions
Hot Melts
Floor Polishes
Others

By Type

Paraffin/Mineral Wax
Synthetic Wax
Natural Wax
Others

By Region

North America (U.S., Canada, Mexico)
Europe (France, Italy, Germany, Spain, U.K., Rest of Europe)
Asia-Pacific (China, India, Japan, South Korea, Australia, Rest of Asia-Pacific)
LAMEA (Brazil, South Africa, Saudi Arabia, Rest of LAMEA)

Key Market Players
BASF SE, china national petroleum corporation, Akzo Nobel N.V., Honeywell International Inc., HollyFrontier Sinclair Corporation, Exxon Mobil Corporation, Baker Hughes Company, Cepsa, Evonik Industries AG, The International Group Inc.