Welding Consumables Market Overview:
The global welding consumables market was valued at $12,405 million in 2016, and is expected to reach at $18,286 million by 2023, registering a CAGR of 5.7% from 2017 to 2023. Welding is a reliable, precise, high-tech, and cost-effective method for joining materials, such as metals and alloys, efficiently in various manufacturing industries. These consumables are flux & filler materials used in welding industry and are generally used in arc welding processes. These consumables liquify while joining metals and assist in producing a firm joint. They also shield molten weld from atmospheric contaminants. Steel, aluminum, copper, ilmenite, nickel, and rutile are some of the raw materials utilized in production of welding consumables. Rise in consumption of steel coupled with revival of construction industry in the U.S. is expected to boost the demand for welding consumables during the forecast period. The key players have adopted strategies, such as mergers and acquisitions, to meet large demand from emerging economies.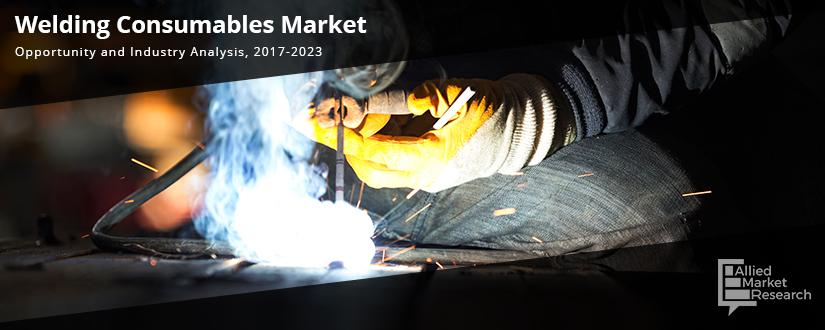 The above figure indicates that total number of vehicles produced per year has increased. This continuous rise in automotive production globally is anticipated to provide significant potential for market growth as welding consumables are utilized in manufacturing of automotive parts.
Automotive Production, 2010-2016 (In Millions)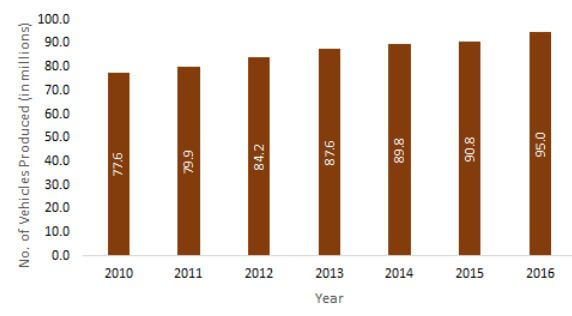 The global Welding Consumables Market is driven by rapid growth in automotive & transportation and construction sector, increase in the number of applications across various end-user industries utilizing different types of welding techniques, rise in global energy infrastructure investment, and surge in use of welding consumables for maintenance & repair purposes. Asia-Pacific is expected to show highest growth rate from 2017 to 2023, owing to rapid urbanization & industrialization, especially in the emerging economies such as China and India. In addition, government investments in energy industry and foreign direct investments (FDI) in thermal and wind sectors are expected to boost the market growth. However, sluggish adoption of advanced welding technologies in emerging economies, environmental impact of welding consumables, slow growth of aerospace & defense and shipbuilding industries, and customer price sensitivity hinder the market growth. Conversely, growth in requirement for welding automation technology in fabrication is anticipated to boost the growth of welding consumables market in the near future. In the developed countries, need for welding automation technology utilized in fabrication is increasing due to dearth of skilled labor and high labor cost. In addition, India, China, and Middle East, are projected to be the key growth regions for the welding consumables market.
Segment Review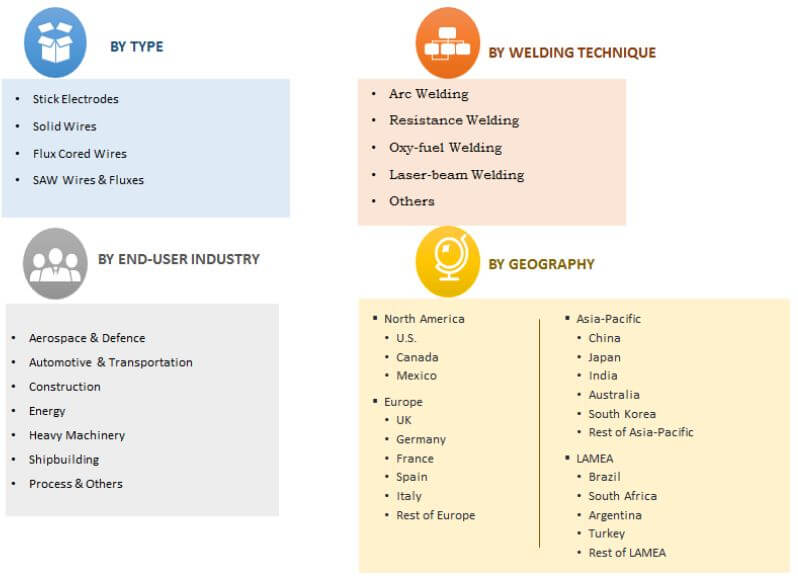 The global welding consumables market is segmented based on type, end-user industry, welding technique, and geography. Based on type, it is classified into stick electrodes, solid wires, flux cored wires, and SAW wires & fluxes. On the basis of end-user industry, it is categorized into aerospace & defense, automotive & transportation, construction, energy, heavy machinery, shipbuilding, and process & others. Based on welding technique, it is divided into arc welding, resistance welding, oxy-fuel welding, laser-beam welding, and others. Geographically, it is analyzed across North America, Europe, Asia-Pacific, and LAMEA.
Top Investment Pocket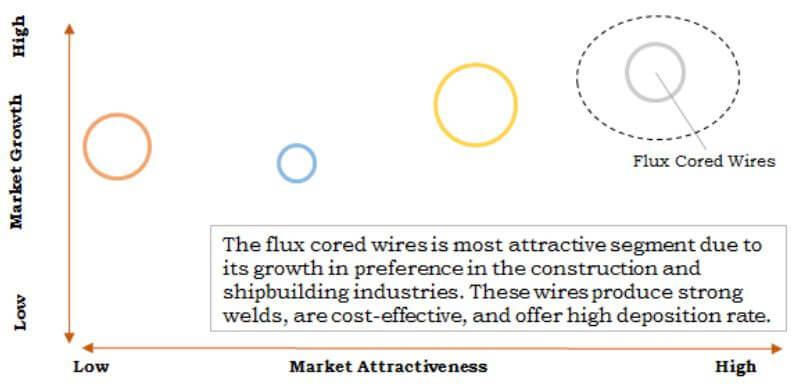 The flux cored wires segment is the most significant by type segment in the global market, and is expected to be the first preference for new entrants due to their high deposition rate, efficiency in delivering work, and production of clean & strong welds. In addition, growth in preference for flux cored wires in the construction and shipbuilding industry is anticipated to boost the demand for these wires globally.
Asia-Pacific Analysis
India is expected to grow at a significant CAGR of 7.7% during the forecast period due to increase in construction activities and growth in automotive & transportation sector. In addition, rise in demand for semi-automatic & automatic welding production systems increase the demand for welding consumables. South Korea welding consumables market is estimated to grow at a CAGR of 4.7% during the forecast period. In addition, remarkable success of welding intensive industries, such as shipbuilding and automotive & transportation, have boosted South Korean welding consumables market. Korean vehicle manufacturers utilize various strategies to increase their share in the global automotive space and the region is projected to witness growth in welding consumables revenue due to large number of orders placed for shipbuilding industry in the next couple of years.
South Korea Welding Consumables Market, 2015-2023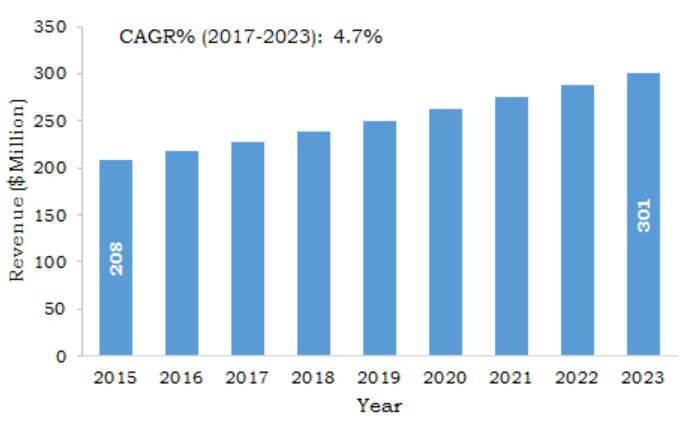 The key players operating in this market include Colfax Corporation, Fronius International GmbH, Hyundai Welding Co., Ltd., Illinois Tool Works Inc., Kemppi Oy., Obara Corporation, Panasonic Corporation, The Lincoln Electric Company, Tianjin Bridge Welding Materials Group Co., Ltd., and Voestalpine Böhler Welding GmbH.
The other key market players in the value chain include Ador Welding Ltd., Arcon Welding Equipment, LLC., AV Weldtech Pvt Ltd., Anand Arc Ltd., D & H Welding Electrodes (India) Ltd., Denyo Co., Ltd., EWAC Alloys Ltd., GEE Limited, INOX Air Products Private Limited, Ketan Corporation, Praxair Incorporated, Precision Weldarc Limited, Shanghai Baoxuan Metal Products Co., Ltd., The Linde Group, Welmet Technologies Private Limited, and Yenitek Corporate Group.
Key Benefits for Welding Consumables Market:
Porter's five forces analysis helps to analyze the potential of buyers & suppliers and the competitive scenario of the industry for strategy building.
It outlines the current trends and future scenario of the market from 2017 to 2023 to understand the prevailing opportunities and potential investment pockets.
Major countries in each region have been mapped according to their individual revenue contribution to the global/regional market.
The key drivers, restraints, and opportunities and their detailed impact analyses are elucidated in the study.
The profiles of key players along with their key strategic developments are enlisted in the report.
 Welding Consumables Market Report Highlights
Aspects
Details
By Type

Stick Electrodes
Solid Wires
Flux Cored Wires
SAW Wires & Fluxes

By End Use Industry

Aerospace & Defense
Automotive & Transportation
Construction
Energy
Heavy Machinery
Shipbuilding
Process & Others

By Welding Technique

Arc Welding
Resistance Welding
Oxy-fuel Welding
Laser-beam Welding
Others

By Geography

North America
Europe

UK
Germany
France
Spain
Italy
Rest of Europe

ASIA-PACIFIC

China
Japan
India
Australia
South Korea
Rest of Asia-Pacific

LAMEA

Brazil
South Africa
Argentina
Turkey
Rest of LAMEA

Key Market Players
TEWI SRL, FRONIUS INTERNATIONAL GMBH, DIM SCHWEISSMATERIAL MANFRED SCHIERMANN, HERMANN FLIESS & CO. GMBH, DRAHPO GMBH, OXFORD ALLOYS, INC., OBARA GROUP INC., DURUM VERSCHLEISSSCHUTZ GMBH, NEXAL ALUMINUM INC., M.T.L. METALLI TRAFILATI LAMINATI SRL, ILLINOIS TOOL WORKS, KEMPPI OY., COLFAX CORPORATION, HYUNDAI MOTOR COMPANY (HYUNDAI WELDING CO., LTD.), CARBOWELD SCHWEISSMATERIALIEN GMBH, PANASONIC CORPORATION, GEDIK WELDING, KJELLBERG FINSTERWALDE GROUP, MAGMAWELD - OERLIKON KAYNAK, VOESTALPINE AG, CORODUR VERSCHLEISS-SCHUTZ GMBH, THE LINCOLN ELECTRIC HOLDINGS, INC., SAFRA SPA, WB ALLOY WELDING PRODUCTS LTD, VALK WELDING B.V., ITALFIL SPA, THYSSENKRUPP AG (VDM METALS INTERNATIONAL GMBH), TIANJIN BRIDGE WELDING MATERIALS GROUP CO., LTD., DAIKO WELDING CONSUMABLES, WELDING ALLOYS LTD, DRAHTWERK ELISENTAL W. ERDMANN GMBH & CO., SIDERGAS SPA, MIGAL. CO GMBH, BAVARIA SCHWEISSTECHNIK GMBH, ELBOR SPA, FIDAT SRL, TYSWELD GMBH