Wellhead Equipment Market Outlook - 2026
The global wellhead equipment market size was valued at $5,320.0 million in 2018, and is projected to reach $7,991.8 million by 2026, growing at a CAGR of 5.0% from 2019 to 2026. The wellhead equipment is the component at the surface of an oil or gas well, which offers the pressure-containing and structural interface for the drilling equipment. It provides pressure seals and suspension point for the casing strings. It forms an integral structure of the well. The wellheads are welded onto the string of casing, during drilling operations. The wellhead equipment can be re-used and refurbished for other well and drilling operations.
The primary components of a wellhead system include tubing head adapter, tubing hangers, tubing heads, mudline suspension systems, test plugs, seals, choke manifold, casing hangers, casing spools, and casing head. The wellhead serves numerous functions such as casing suspension, tubing suspension, pressure monitoring and pumping access, means of attaching a well pump, and reliable means of accessing a well.
In addition, these components are utilized to control oil flow rates by reducing the respective pressure to protect equipment and guide the refining process of oil. The new heavy investments in oil & gas exploration activities and refineries and pipelines in the Middle East & Africa, Americas, and Asia are the major factors that fuel the growth of wellhead equipment market. For instance, in November 2019, KCA Deutag, an oil & gas services company got contracts of approximately $460 m for drilling and exploration operations in Europe and the Middle East & Africa.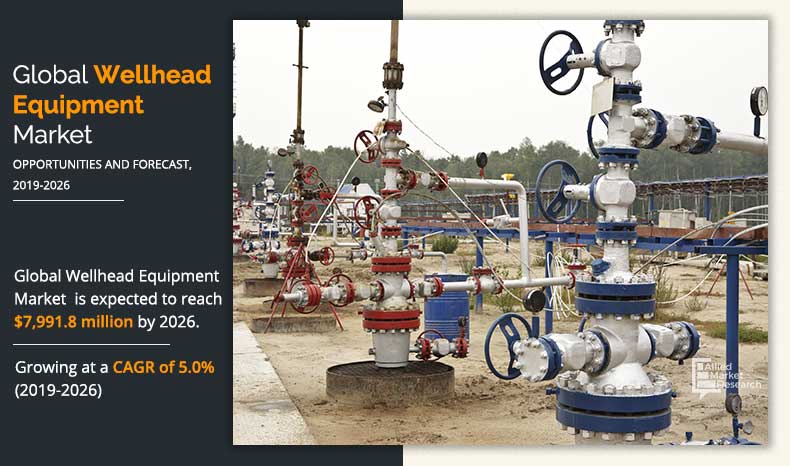 Rise in redevelopment of mature oil wells drives the wellhead equipment market. For instance, in May 2019, KBR, Inc., the U.S.-based engineering and construction company signed an agreement with Cepsa, a Spanish oil & gas firm and Sonatrach, an Algerian government-owned company, for redevelopment of oil fields located in the Hassi Messaoud, Algeria. The redevelopment includes establishment of central processing facilities with associated structures. However, fluctuations in foreign currencies and increase in prices of raw materials are expected to hamper the wellhead equipment market growth.
Furthermore, technological developments in wellhead system is expected to fuel its demand and offer growth opportunities for the market during the forecast period. For instance, in March 2019, ABB, a Swiss-Swedish multinational corporation launched ABB Ability Wellhead Manager, a versatile new cloud-based visualization system for oil & gas operators. Similarly, in August 2017, Australia-based KINETIC and WEFIC collaborated to launch high-end wellheads in Australia. The new feature of wellheads includes nested hanger configurations. The new wellheads has ability to drill without dismantling blowout preventer (BOP).
The global wellhead equipment market is segmented on the basis of type, application, and region. By type, the market is divided into casing heads, casing spools, Christmas trees, tubing adapters, and others. Others segment includes casing hangers, tubing hangers, tree caps, and gate valves.
Wellhead Equipment Market

---
By Component
Tubing Adapters segment is projected to grow at a significant CAGR
By type, casing spools segment garner largest share in terms of revenue and tubing adapters segment is expected to grow during the forecast period. Rise in oil well exploration projects is expected to provide lucrative opportunities for tubing adapters for market expansion.
Wellhead Equipment Market

---
By Application
On-shore segment holds dominant position in 2018
By application, the wellhead equipment market is bifurcated into on-shore and off-shore. By region, the market is analyzed across North America, Europe, Asia-Pacific, and LAMEA. In 2018, by application, the on-shore segment accounted for the largest share in the global market in terms of revenue. Furthermore, increase in number of oil refinery projects drives the market growth. North America accounted for the largest share in the global market in terms of revenue in 2018. Developed economies such as the U.S. and others are expected to support market expansion due to increase in demand for oil & gas.
Wellhead Equipment Market

---
By Region
North America holds a dominant position in 2018 and is expected to grow at a highest rate during the forecast period.
Competition Analysis
The key market players profiled in the wellhead equipment market report include Delta Corporation, EthosEnergy Group Limited, Integrated Equipment, Jereh Oilfield Equipment, Jiangsu Sanyi Petroleum Equipment Co., Ltd, JMP Petroleum Technologies, Inc., Msp/drilex, Inc., Uztel S.A, Sunnda Corporation, and Weir Group.
The major players operating in the global market have adopted key strategies such as acquisitions and business expansion to strengthen their market outreach and sustain the stiff competition in the wellhead equipment market. For instance, in April 2019, Weir Group opened a new 92,000 square-foot customer service center at David Mims Business Park in New Mexico, U.S. to fulfil the rise in customer demand. Moreover, in February 2019, Integrated Equipment, Inc., a manufacturer of oilfield equipment received $9 million from Veritas Financial Partners for future growth and improve its supply chain by establishing a global support network. In July 2018, Weir Group, a Scottish engineering firm acquired ESCO Corporation. The ESCO Corporation is merged with Weir Group to operate as a new division. It deals with oil & gas drilling tools, and accessories & parts.
Key Benefits for Stakeholders:
The report provides an extensive analysis of the current and emerging wellhead equipment market trends and dynamics.  
In-depth wellhead equipment market analysis is conducted by constructing estimations for the key segments between 2018 and 2026. 
Extensive analysis of the wellhead equipment market is conducted by following key product positioning and monitoring of the top competitors within the market framework.
A comprehensive analysis of all the regions is provided to determine the prevailing opportunities.
The global wellhead equipment market forecast analysis from 2018 to 2026 is included in the report.
The key market players operating in the global wellhead equipment market are profiled in this report, and their strategies are analyzed thoroughly, which help understand the competitive outlook of the wellhead equipment industry. 
Global Wellhead Equipment Market Segments:
By Type
Casing Heads
Casing Spools
Christmas Trees
Tubing Adapters
Others
By Application
By Region
North America
Europe

Germany
Italy
UK
Russia
Rest of Europe

Asia-Pacific

China
India
Thailand
Australia 
Rest of Asia-Pacific

LAMEA

Latin America
Middle East 
Africa
Key Players
Delta Corporation
EthosEnergy Group Limited
Integrated Equipment
Jereh Oilfield Equipment
Jiangsu Sanyi Petroleum Equipment Co., Ltd
JMP Petroleum Technologies, Inc.
MSP/Drilex, Inc.
Sunnda Corporation
Uztel S.A 
Weir Group