White Cement Market Outlook - 2025
The global white cement market size was valued at $7,966.5 million in 2017 and is projected to reach $10,904.1 million by 2025, growing at a CAGR of 4.0% from 2018 to 2025. The residential segment accounted for nearly 46.9% of the global end-use market share in 2017.
White cement is similar to gray Portland cement, except that the difference lies in the color, fineness, strength, and ease of use. White cement is produced with the same process as gray cement; however, the raw materials differ significantly. The iron oxide and iron sulfate content in the limestone is kept as low as possible as each 0.1% increase in iron oxide reduces cement reflectivity by 2.5%, producing darker cement. All the processes involved in the production of white cement requires machinery equipment to smoothen the process and produce quality white cement for the end user.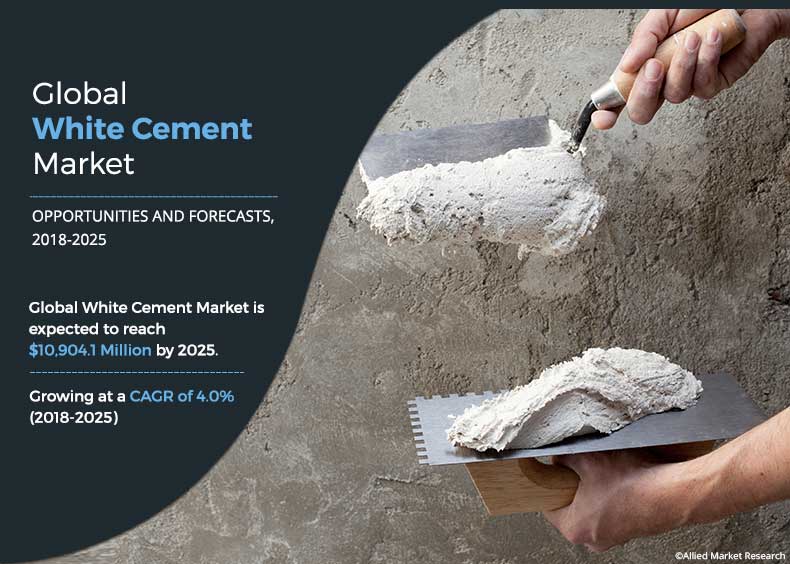 Rapid demand for aesthetics in the construction industry drive the growth of the white cement market. Massive residential construction due to increase in influx of migrants in Asia-Pacific countries drive the growth of the construction sector. This leads to increase in demand for construction material such as white cements board, panel, and cladding material. Rise in demand in decorative applications fosters the global white cement market growth, thereby exhibiting an integrated part of contemporary architecture. White cement is increasingly used for finishing of interior and exterior walls.
Moreover, architectural concrete, made from white cement add new aesthetic and decorative appearance to modern buildings and has notable applications in molding of sculptures, benches, and others. White Portland cement is made from raw materials containing little or no iron or manganese, which are the major compositions of gray cement. The amount of chromium, manganese, and iron compounds is significantly less in white cement as compared to gray cement. However, it lacks iron oxides. Hence, its strength and durability is lesser in comparison with pure gray Portland cement. Furthermore, lower binding property than cement-based putty deters the global white cement market growth.
The global white cement market is segmented based on type, end use, and region. On the basis of type, it is classified into white Portland cement, white masonry cement, and others. On the basis of end use, it is divided into residential, commercial, and industrial. By region, it is analyzed across North America, Europe, Asia-Pacific, Latin America and MEA.
The major key players operating in the White Cement industry include Cementir Holding SPA, Çimsa Cement Industry and Trade Inc., JK Cement, Cemex, The Cementos Portland Valderrivas, Birla White (Ultratech), Federal White Cement, Saveh White Cement Co., Adana Cement, and Saudi White Cement Co. The other key players include Lafargeholcim, Secil, Dyckerhoff, Royal El Minya Cement, Fars & Khuzestan Cement Co., Scg, Italcementi, Rakwhitecement.Ae, Union Cement Company, Royal White Cement, and Neyeariz White Cement Company.
In order to stay competitive, these major key players are adopting different strategies such as acquisition, business expansion, collaboration, and divestment. For instance, Saudi White Cement Co. signed dual production contract with Teknik FISmidth to convert gray cement line into white cement and gray cement, thereby increasing its capacity to 1 million ton per year. Furthermore, Ras Al Khaimah Company signed a partnership agreement with Masheed Trading and Transportation Company, which is one of the largest companies specialized in building materials, for import and distribution of cement in Saudi Arabia.
The degree of industry attractiveness in the white cement market is analyzed based on impact of five major forces on the market. Porter's five forces analysis includes the impact of suppliers, industry rivals, new entrants, substitute products, and buyers on the market growth. The raw material suppliers for white cement-based products include various domestic and international producers of cements. Porter's five forces model analyzes the macro- and microbusiness factors of the global market. The suppliers in the market include sellers of white Portland cement and white masonry cement. Residential, commercial, and industrial consumers are considered as customers in the market.
Global White Cement Market, by region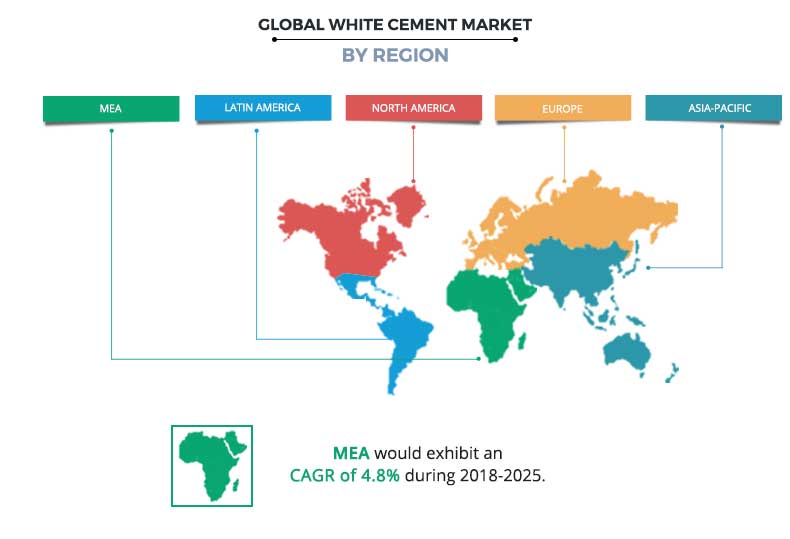 Based on region, Asia-Pacific accounts for major share in the global white Cement market and Asia-Pacific is also attributed to be the fastest growing region. Rise in building & construction expenditures drives the demand for white cement in housing and commercial projects in China and India. In addition, the increase in urban population makes way for increasing construction activities providing growth opportunity for the overall market. It increases the need of white cement products including facades tiles, trim boards especially in the countries such as India, Japan, and China.
Global White Cement Market Share, by Type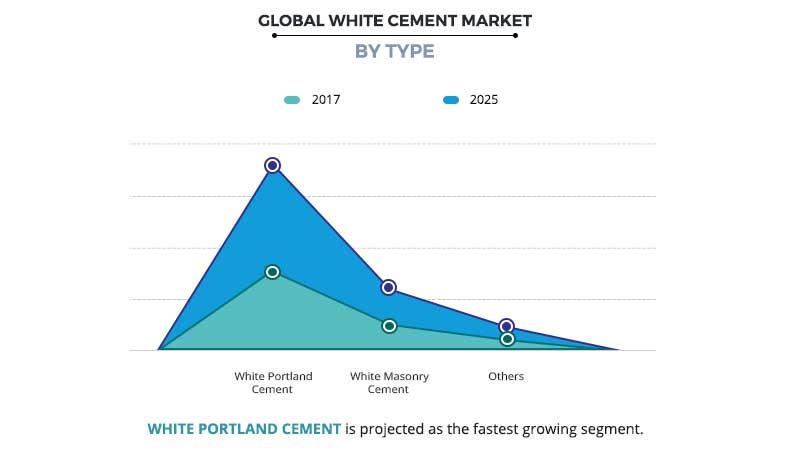 Based on type, the white Portland cement segment dominated the market in 2017, owing to increase in use of white Portland cement in combination with white aggregates to produce white concrete for construction projects and decorative work. In addition, white Portland cement is also blend with inorganic pigments to produce brightly colored concretes and mortars.
Global White Cement Market Share, by End Use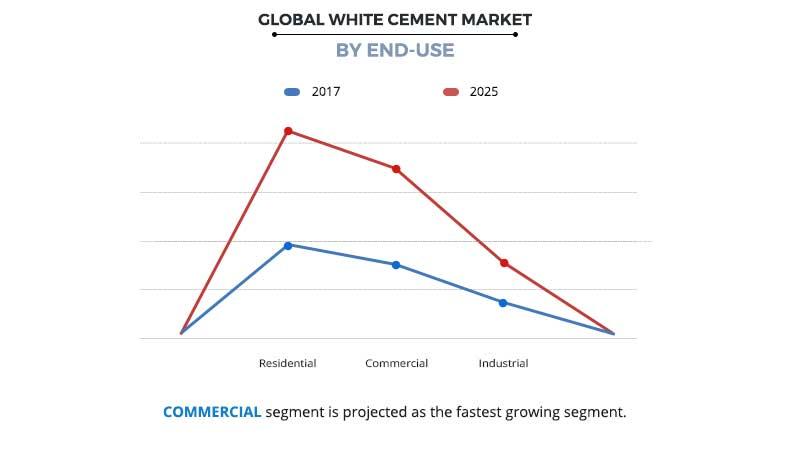 Based on end use, the commercial segment is expected to grow with the highest CAGR during the forecast period. The installation of white cement in constructing commercial infrastructure helps builders in energy saving and offers heat resistant, benefitting the market growth due to increase in demand from European countries. The demand for White cement in Europe is expected to increase in the coming decade owing to the commencement of several commercial infrastructure projects such as construction of second Tesla Gigafactory in Sweden worth $4.2 billion.
Key Benefits for White Cement Market:
Porter's five forces analysis helps to analyze the potential of buyers & suppliers and the competitive scenario of the white cement industry for strategy building.
It outlines the current white cement market trends and future scenario of the market size from 2018 to 2025 to understand the prevailing opportunities and potential investment pockets.
Major countries in the region have been mapped according to their individual revenue contribution to the regional market.
The key drivers, restraints, and opportunities and their detailed impact analyses are elucidated in the study.
The profiles of key players along with their key strategic developments are enlisted in the white cement market analysis.
 Key Market Segments & Key Market Players
Segments
Sub-segments
By White Cement Business Plan

Manufacturing process

Mining and quarrying
Raw material preparation
Pyro-processing
Finish grinding

Plant investment
Machinery and equipment

Mining equipment
Crushing equipment
Grinding equipment
Fuel preparation equipment
Kiln operation equipment
Packing process

Energy efficient initiatives

Portland cement association (PCA)
Cement kiln recycling coalition (CKRC)
Climate VISION
ENERGY STAR
Climate leaders

By Type

White Portland Cement
White Masonry Cement
Others

By End Use

Residential
Commercial
Industrial

By Region

North America (U.S., Canada, Mexico)
Europe (UK, Germany, France, Italy, Spain, Rest of Europe)
Asia-Pacific (China, Japan, India, Australia, Pakistan, South Korea, Rest of Asia-Pacific)
Latin America (Brazil, Rest of Latin America)
MEA (Turkey, UAE, Saudi Arabia, Iran, South Africa, Rest of MEA)

Key Market Players
ADANA CIMENTO SANAYI T.A.S., CEMENTIR HOLDING SPA, CEMENTOS PORTLAND VALDERRIVAS S.A., CEMEX S.A.B. DE C.V., CIMSA CEMENT INDUSTRY AND TRADE INC., DYCKERHOFF GmbH, FARS & KHUZESTAN CEMENT CO., FEDERAL WHITE CEMENT, HEIDELBERGCEMENT, JK CEMENT LTD., LAFARGEHOLCIM LTD., NEYRIZ WHITE CEMENT COMPANY, RAS AL KHAIMAH CO. FOR WHITE CEMENT & CONSTRUCTION MATERIALS (RAKWCCM), ROYAL EL MINYA CEMENT, ROYAL WHITE CEMENT INC., SAUDI WHITE CEMENT CO., SAVEH CEMENT COMPANY, THE SIAM CEMENT GROUP PUBLIC COMPANY LIMITED, SECIL, ULTRATECH CEMENT LTD., UNION CEMENT COMPANY