The white goods market size was valued at $ 635.4 billion in 2019, and is estimated to reach $ 1,031.0 billion by 2027, registering a CAGR of 7.8% from 2021 to 2027. 
White goods refer to heavy consumer durables or large home appliances, which were traditionally available only in white. Although these goods are presently available in varied colors, they are continued to be called as white goods. They include appliances such as washing machine, air conditioners, refrigerators, and others. Growing disposable income and rise in spending on home improvement is expected to propel the growth of the global white goods market during the forecast period (2021-2027). People are increasingly adopting smart appliances to improve their life standard, so companies dealing in white goods are heavily investing on R&D activities. For instance, in January 2020, at CES, LG Electronics (LG) unveiled its most advanced innovation in laundry, deploying artificial intelligence to deliver precision washing for optimal results without any guesswork.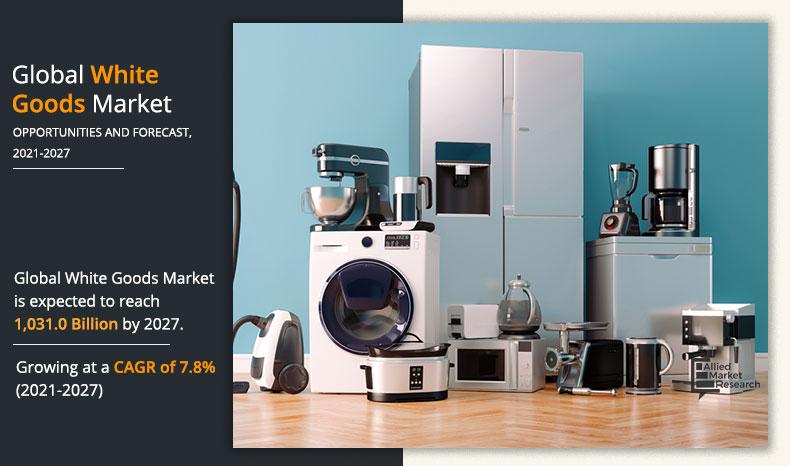 The outbreak of the COVID-19 pandemic has positively affected the white goods market. Sales of white goods has witnessed significant increase as people are actively getting involved in home deigning and improvement during the lockdown period.  Furthermore, consumers are choosing to replace their old home appliances such as air conditioners, refrigerators and washing machines, with new and advanced white goods.  
White goods are generally used for various common tasks such as heating and cooling, cleaning and washing. White goods are significantly used in various end-use industries such as hospitals & clinics, drycleaners & cleaning agencies and the hospitality industry. Growing adoption of automation in major industries has been further adding to the growth of the smart and advanced white goods. Furthermore, people are preferring to have smart and internet-enabled devices and appliances for easiness and to avoid tedious & repetitive job works in their daily activities.   
According to the white goods market analysis, the white goods market segmented into product, end user, distribution channel, and region. On the basis of product, the market is categorized into air conditioner, refrigerator, washing machine, dishwasher, microwave oven and others. By end user, it is segregated into residential and commercial. According to distribution channel, it is divided into supermarket & hypermarket, specialty store, retail store, e-commerce and others. Region wise, it is analyzed across North America (the U.S., Canada, and Mexico), Europe (Germany, UK, France, Russia, Italy, Spain and Rest of Europe), Asia-Pacific (China, Japan, Australia, India, South Korea, Indonesia, Thailand and Rest of Asia-Pacific) and LAMEA (Latin America, Middle East, Africa)
White Goods Market

---
By Product
Refrigerator segment helds the major share of 39.2% in 2019
On the basis of product, refrigerator has been gaining major share in the global white goods market and is expected to sustain its share during the forecast period 2021-2027. 
The air conditioning market growth is gaining speed as increasing global warming is deteriorating the weather conditions and AC demands are increasing. According to global white goods industry analysis, commercial, residential, institutional, and industrial are some of the major applications of the air conditioners. Growing urbanization and commercial complexes are boosting the demand for air conditioners. The commercial applications, for the AC market, are most famous in the U.S.  but  are  gaining  traction  in  the  APAC  market  due  to  its  rapidly  growing  commercialization. Asia-Pacific is also witnessing rapid growth for residential application as smart cities, green buildings and metro cities are growing exponentially in the region.  
White Goods Market

---
By End User
Residential segment helds the major share of 58.3% in 2019
According to white goods market trends, depending on end user, the residential segment was valued at $ 370.7 billion in 2019, and is expected to reach $ 575.6 billion by 2027, with a CAGR of 7.2%. Growing advancement in the white goods and increasing disposable income of the people are expected to drive white goods market growth the residential segment. Consumers are increasingly adopting smart home appliances to reduce their work load and improving their standard of living. Now a days, white goods consumers are seeking Internet and mobile compatible appliances, so many white goods manufactures are coming up with internet-enabled smart home appliances, which can be operated through mobile applications.  This is expected to upsurge the growth of the global white goods market size during the forecast period.  
White Goods Market

---
By Distribution Channel
Specialty Store segment helds the major share of 29.5% in 2019
On the basis of distribution channel, the specialty store segment is projected to grow at $ 292.0 billion by 2027, registering a CAGR of 7.3%. The specialty store segment accounted for the around one-third half of the global white goods market share in 2019, and is expected to sustain its share during the forecast period. Specialty stores of the white goods specifically focus on a single type of product categories such as air conditioners, refrigerators or washing machines. They can have one type of product with several brands. People are increasingly choosing to buy product in specialty stores as it is easy to compare the features and looks with other brands. In such stores, people can have multiple options for a single product. Growing specialty store in metro cities is likely to increase white goods market demand. 
White Goods Market

---
By Region
Asia Pacific region helds the higest market share of 47.2% in 2019
Region wise, Asia-Pacific dominated the white goods market in 2019, and is expected to sustain its dominance throughout the forecast period. The key factors driving the growth of the white goods market in the region are growing standard of living, rise in disposable income and high spending on the home improvement such as interior designing. White goods have been gaining major traction in this region owing to growing urbanization and commercialization, where various white goods products are majorly used such as air conditioner and washing machines. Room air conditioner market has been experiencing healthy growth in the developing countries of the Asia-Pacific region including India and China. This is on account of strengthening the residential sector, growing retail & hospitality sectors, and rising construction activities across new housing societies along with establishment of SMEs & commercial hubs. For instance, according to India Brand Equity Foundation, the number of Indians living in urban areas is expected to reach 525 million by 2025. More than 70% of India's GDP is expected to come from urban areas by 2020.
The players operating in the global white goods market have adopted various developmental strategies to expand their white goods market share, increase profitability, and remain competitive in the market. The key players profiled in this report include Alliance Laundry System LLC, AB Electrolux, Blue Star Limited, Haier Group Corporation, IFB Industries Ltd, LG Electronics Inc., Havells India Limited,  Koninklijke Philips N.V.,  The Middleby Corporation and Whirlpool Corporation, 
Key Benefits For Stakeholders
The report provides a quantitative analysis of the current market trends, estimations, and dynamics of the market size from 2019 to 2027 to identify the prevailing opportunities.
Porter's five forces analysis highlights the potency of buyers and suppliers to enable stakeholders to make profit-oriented business decisions and strengthen their supplier–buyer network.
In-depth analysis and the market size and segmentation assist to determine the prevailing white goods market opportunities.
The major countries in each region are mapped according to their revenue contribution to the market. 
The market player positioning segment facilitates benchmarking and provides a clear understanding of the present position of the market players in the white goods industry.
 White Goods Market Report Highlights
Aspects
Details
BY PRODUCT

Air Conditioner
Refrigerator
Washing Machine
Dishwasher
Microwave Oven
Others

BY END USERS
BY DISTRIBUTION CHANNEL

Supermarket & Hypermarket
Specialty Store
Retail Store
E-commerce
Others

BY REGION

NORTH AMERICA (US, CANADA, MEXICO)
EUROPE (GERMANY, FRANCE, UK, ITALY, SPAIN, RUSSIA, REST OF EUROPE)
ASIA-PACIFIC (CHINA, JAPAN, INDIA, SOUTH KOREA, INDONESIA, THAILAND, AUSTRALIA, REST OF ASIA-PACIFIC)
LAMEA (LATIN AMERICA, MIDDLE EAST, AFRICA)

Key Market Players
ALLIANCE LAUNDRY SYSTEMS LLC, ELECTROLUX AB, BLUE STAR LIMITED, Haier Group Corporation, IFB INDUSTRIES LTD, LG ELECTRONICS INC, HAVELLS INDIA LIMITED, KONINKLIJKE PHILIPS N.V, THE MIDDLEBY CORPORATION, WHIRLPOOL CORPORATION