Wi-Fi as a Service Market Statistics - 2027
The global Wi-Fi as a service market size was valued at $3.36 billion in 2019, and is projected to reach $12.21 billion by 2027, growing at a CAGR of 17.6% from 2020 to 2027. Wi-Fi as a service (WaaS) is a fully cloud-based management system, which allows organizations with limited IT resources to provide secure, reliable, and fast WLAN access across various locations. Since the deployment of WaaS is easy and time-efficient as no installation of cable is required, it can be managed via network operating center (NOC), and consequently allows smaller business organizations to attain fast and reliable data network.
Post COVID-19 emergence, SMEs segment is projected to witness highest growth rate, as SMEs seek cost effective & reliable wireless connectivity solutions without having to invest on Wi-Fi hardware infrastructure & ensure business continuity. Also, rise in BYOD trend across enterprises and increasing Wi-Fi deployment across public places is boosting the demand for WaaS market.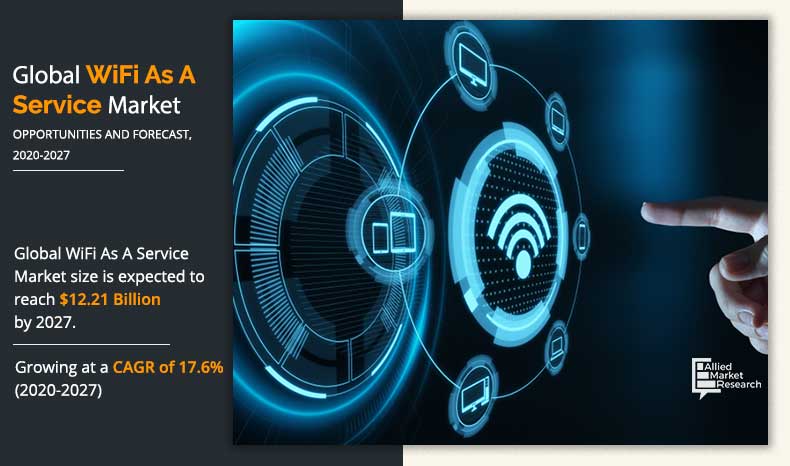 According to industry vertical, the telecom & IT sector accounted for the highest share in the global Wi-Fi as a service market in 2019, as telecom & IT companies are primary users of Wi-Fi as a service. In addition, increase in penetration of internet-connected devices in IT organizations and rise in BYOD trend are driving the growth of this segment. Increase in demand for seamless internet network as well as central platform to manage the networks by third parties or networking experts is further fueling the growth of this market.  
Wi-Fi as a Service Market

---
By Services
Managed services segment is projected as one of the most lucrative segments during the forecast period.
In 2019, North America accounted for the highest Wi-Fi as a service market share, due to the presence of major key players operating in the region such as Cisco, Extreme Networks, and Aruba. Moreover, high ICT spending and early adoption of advanced technologies for connectivity in this region are the key factors that drive the market growth. In addition, significant adoption of IoT & developing smart city projects are propelling the Wi-Fi as a service market growth.
Wi-Fi as a Service Market

---
By Location Type
Outdoor location type segment accounted for the highest share in Wi-Fi as a service market in year 2019.
Impact of COVID-19 Pandemic on Wi-Fi as a Service Market
The outbreak of COVID-19 is anticipated to have a considerable impact on the growth Wi-Fi as a service market. In most of the countries, demand for Wi-Fi services has increased due to work from home trend since lockdown imposed across the world. This has contributed significantly for continuation of revenue generation across Wi-Fi industry and in turn leading to growth of this market. In addition, key industry players such as Cisco, Aruba, and Juniper are revealing new applications and services targeted at helping organizations safely re-open their facilities when due to the COVID-19 pandemic permits.
Wi-Fi as a Service Market

---
By Enterprise Size
Large enterprises accounted for the highest market share in 2019.
The report focuses on the growth prospects, restraints, and global Wi-Fi as a service market trends. Moreover, the study includes Porter's five forces analysis of the industry to understand the impact of various factors such as bargaining power of suppliers, competitive intensity of competitors, threat of new entrants, threat of substitutes, and bargaining power of buyers on the growth of the WaaS market.
Wi-Fi as a Service Market

---
By Industry Verticals
Telecom & IT industry is projected to be one of the most significant segments during the forecast period.
Segment review
The global Wi-Fi as a service market is segmented into service, location type, enterprise size, industry vertical, and region. By service, the market is divided into professional services and managed services. Professional services segment is further categorized into network planning & implementation, support & maintenance, and training. In terms of location type, the market is bifurcated into integrated indoor and outdoor. Depending on enterprise size, it is categorized into large enterprises and small & medium enterprises. As per industry vertical, it is differentiated into telecom & IT, BFSI, education, healthcare, hospitality, transportation, retail, and others. Region wise, it is analyzed across North America, Europe, Asia-Pacific, and LAMEA.
Wi-Fi as a Service Market

---
By Region
Asia-Pacific would exhibit the highest CAGR of 20.5% during 2020-2027.
The key players operating in the global Wi-Fi as a service market analysis Cisco Systems, Huawei Technologies Co., Singtel, Viasat, Inc., Fujitsu, Commscope, Extreme Networks, Arista Networks, Inc., Pareteum Corporation, and Telstra Corporation.
Top impacting factors
Increase in requisite for low capital expenditure
Wi-Fi as a service facilitates clients to get to the root cause of network problems quickly without the downtime of false starts and dead ends, which help to keep the up the uninterrupted network, running, & supporting the business and decreases the labor costs related to ineffective root cause analysis. For instance, the average customer claims to spend 9.2 hours per week troubleshooting Wi-Fi. If the time spent troubleshooting Wi-Fi is decreased by 71%, the average enterprise would see an annual cost savings of $113 per Wi-Fi end user.
In addition, decrease in manual packet sniffing via truck rolls is an additional likely cost saver for enterprise IT, which can redirect its time to more proactive, revenue-generating tasks. The average truck roll costs $250, with approximately two truck rolls occurring per month. By eliminating truck rolls, a company can save $6,000 annually. Thus, such cost benefits of WaaS are fueling the growth of global WaaS market.
Increase in deployment of public Wi-Fi
Governments pf various countries have started different initiatives to deploy free Wi-Fi in public places and in public transport to provide a better travel experience to tourists. For instance, under the National Digital Communications Policy 2018 in India, the government has targeted to enable deployment of 10 million public Wi-Fi hotspots by 2022. Furthermore, many countries are targeting to enable public Wi-Fi for providing digital governance and encouraging data innovation among the public. With the installation of public Wi-Fi, mobile users can travel across the country with data connectivity, which helps in improving the quality of the calls and provides real-time traffic information to tourists. Thus, to maintain such Wi-Fi networks, organizations face the need of services to design, implements, monitor, & support the Wi-Fi, which is driving the demand for Wi-Fi as a service market. Moreover, the installation of public Wi-Fi in shopping centers, transport hubs, and in public places drives the growth of the market. In addition, various initiatives taken by the government across the globe for building smart cities is augmenting the application, and is expected to boost the growth of the WaaS market.
Key Benefits For Stakeholders
This study includes the analytical depiction of the global Wi-Fi as a service market forecast and trends to determine the imminent investment pockets.
The report presents information related to key drivers, restraints, and Wi-Fi as a service market opportunity.
The current market size is quantitatively analyzed from 2019 to 2027 to highlight the financial competency of the Wi-Fi as a service industry.
Porter's five forces analysis illustrates the potency of buyers & suppliers in the WaaS market.
 Wi-Fi as a Service Market Report Highlights
Aspects
Details
By Component

PROFESSIONAL SERVICES
MANAGED SERVICES

By Location Type
By Enterprise Size

Large Enterprises
Small & Medium Enterprises (SMEs)

By Industry Vertical

.TELECOM & IT
BFSI
EDUCATION
HEALTHCARE
HOSPITALITY
TRANSPORTATION
RETAIL
OTHERS

By Region

North America (U.S., Canada)
Europe (UK, Germany, France, Rest of Europe)
Asia-Pacific (China, India, Japan, Rest of Asia-Pacific)
LAMEA (Latin America, Middle East, Africa)

Key Market Players
COMMSCOPE (ARRS INTERNATIONAL)., VIASAT INC., EXTREME NETWORKS, CISCO SYSTEM INC., SINGTEL., ARISTA NETWORKS INC., TELSTRA CORPORATION