Wi-Fi Module Market Overview:
A Wi-Fi Module is an independent system on a chip (SoC) integrated with transmission control & internet protocol stack that enables microcontrollers to provide access to the Wi-Fi network. Wi-Fi module is a functional unit that helps connect various electronic devices such as smartphones, tablets, laptops, and smart home appliances including air-conditioner, water heater, television, washing machine, and others, to the internet. The Wi-Fi module is used in various industries mainly scientific, industrial, commercial, and consumer applications.
The global Wi-Fi module market is segmented based on type, application, and region. By type, the market is segmented into router scheme Wi-Fi module and embedded Wi-Fi module. Further it is divided based on technology as smart grid & smart appliance, handheld mobile device, medical & industrial testing instrument and router. Based on region, it is analyzed across North America, Europe, Asia-Pacific, and LAMEA.
Murata Manufacturing Co., Ltd., Taiyo Yuden Co., Ltd., Azure Wave Technologies, Inc., Silicon Laboratories Inc., Laird PLC, Broadlink, Advantech Co., Ltd., Shanghai MXCHIP Information Technology Co., Ltd., Silex Technology, Inc., Microchip Technology Inc. are some of the key players operating in the industry.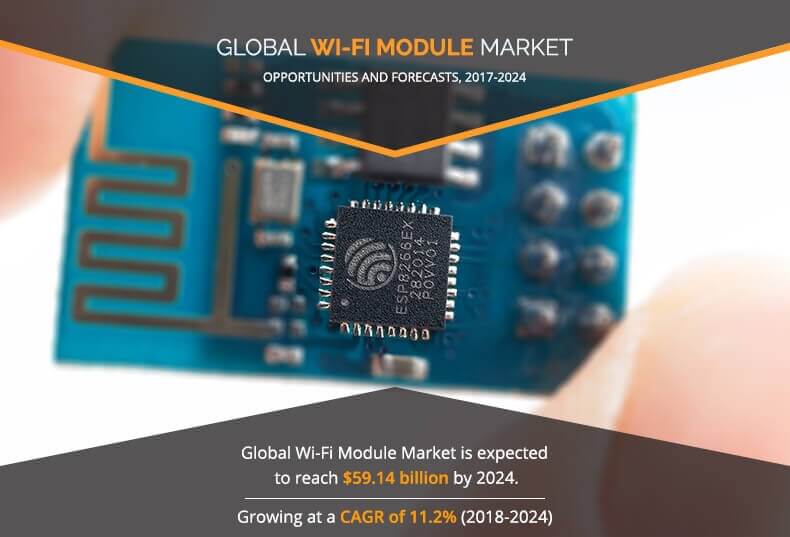 Top Impacting Factors
Adoption of cloud computing and rise in telecommunication, residential, and commercial sectors impact the growth of the market. However, increase in privacy and security issues affect the growth of the global Wi-Fi module market. These factors are anticipated to either drive or hamper the market growth.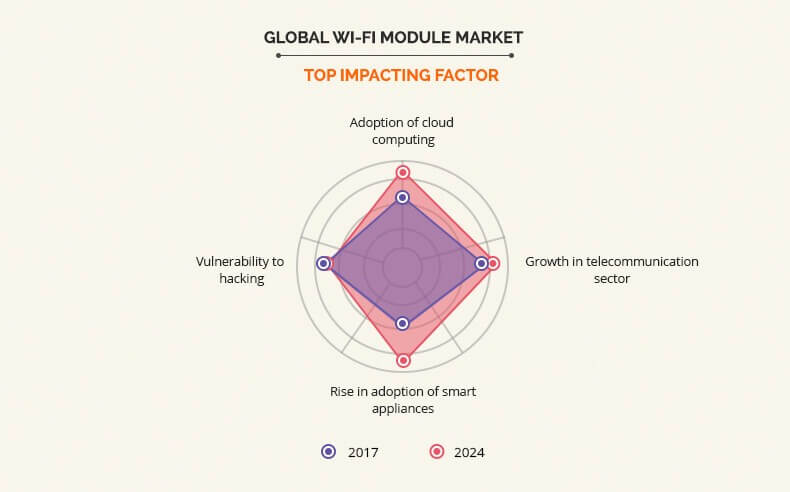 Adoption of Cloud Computing
In recent years, most of the industries are shifting towards cloud computing to reduce cost by eliminating various investments required for hardware storage and physical infrastructures. In addition, cloud computing provides various advantages such as viability, scalability, and swiftness. Moreover, data storage and retrieval are some of the added advantages of cloud computing. These factors help propel the market, as in the process of data transfer or storage on cloud the need for a Wi-Fi module is essential.
Growth of Telecommunication, Residential & Commercial Sector
Growth in urbanization, rise in global population and technological advancements have increased the demand for internet, which creates lucrative growth opportunities for the Wi-Fi module market. For instance, smart home appliances are the major trend that is witnessed in recent years, which enable various devices that are utilized in daily household activities such as washing machines, televisions, smartphones, air-conditions, cooking range such as oven, microwave and others that connect with the help of Wi-Fi module.
Rise in Privacy and Security Issues
Increase in technological advancements such as internet of things (IoT) enables the smart electronic devices connect to the internet and can be accessed remotely with the help of Wi-Fi module. However, the disadvantage is that the smart devices that are connected with the help of Wi-Fi technology can be accessed remotely which makes it less secure and vulnerable to hacking as no security is provided. This is estimated to restrict the growth of the Wi-Fi module market.
Key Benefits
This study comprises analytical depiction of the global Wi-Fi module market with current trends and future estimations to depict the imminent investment pockets.
The overall market potential is determined to understand the profitable trends to gain a stronger foothold.
The report presents information related to key drivers, restraints, and opportunities with a detailed impact analysis.
The current market is quantitatively analyzed from 2018 to 2024 to benchmark the financial competency.
Porters five forces analysis illustrates the potency of the buyers and suppliers in the industry.
 Wi-Fi Module Market Report Highlights
Aspects
Details
By Type

EMBEDDED WI-FI MODULE
ROUTER SCHEME BASED WI-FI MODULE

By Application

SMART GRID & SMART APPLIANCES
HANDHELD MOBILE DEVICES
MEDICAL & INDUSTRIAL TESTING INSTRUMENTS
ROUTER

By Region

North America (U.S., Canada, Mexico)
Europe (UK, Germany, France, Rest of Europe)
Asia-Pacific (China, India, Japan, Rest of Asia-Pacific)
LAMEA (Latin America, Middle East, Africa)

Key Market Players
MURATA MANUFACTURING CO., LTD., TAIYO YUDEN CO., LTD., AZUREWAVE TECHNOLOGIES, INC., SILICON LABORATORIES INC., LAIRD PLC, BROADLINK, ADVANTECH CO., LTD. (ADVANTECH B+B SMARTWORX INC.), SHANGHAI MXCHIP INFORMATION TECHNOLOGY CO., LTD., SILEX TECHNOLOGY, INC., MICROCHIP TECHNOLOGY INC.