Wi-Fi hotspot Market Outlook - 2023
A Wi-Fi hotspot is a physical location, which allows people to access the internet using wireless technology (WLAN) through mobile devices or laptops. In general, Wi-Fi is installed on public locations such as libraries, airports, hotels, and cafes. This report analyzes and showcases the Wi-Fi hotspot market for various industry verticals, end users, and offerings. Wi-Fi comprises of components, software, and services. These products are used across multiple industries including telecom and IT, financial services, education, healthcare, hospitality, transportation, retail, and others. The research scope of the study has some limitations that exclude the Wi-Fi hotspot utilized in the residential sector. This study highlights only the commercial sector, which is covered under the industry vertical segment. Moreover, the study excludes the impact of currency fluctuations, inflation, recession, and other non-trackable factors.
The global Wi-Fi hotspot market was valued at $1,766 million in 2016 and is expected to reach $5,198 million by 2023, growing at a CAGR of 16.9% from 2017 to 2023. The major factors that drive the market growth are an increase in the use of cell phones and smart devices, growth in adoption of Wi-Fi hotspots by hospitality, retail, and education sector, and adoption of carrier Wi-Fi by the network operators for data traffic offload. Further, the introduction of mobile hotspots and developing economies in Asia-Pacific and MEA is expected to offer growth opportunities for the Wi-Fi hotspot market.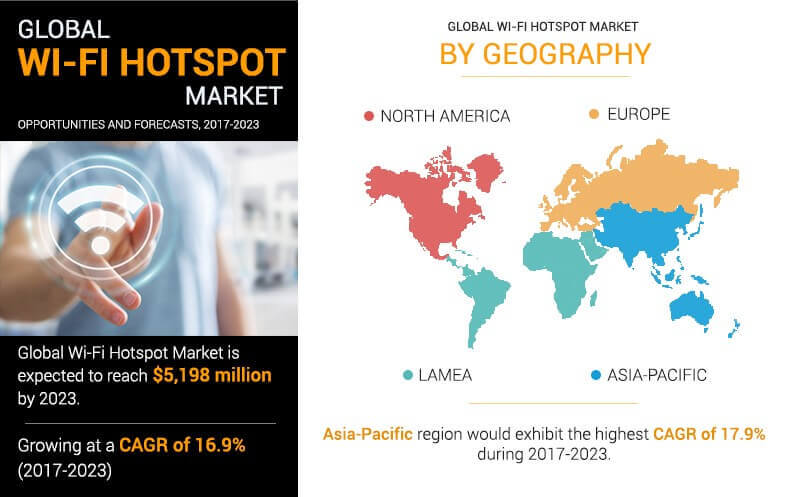 The key players operating in the global Wi-Fi hotspot market industry include Aptilo Networks AB, Boingo Wireless, Inc., Brocade Communications Systems, Inc., Cisco Systems, Inc., Hewlett Packard Enterprise Company, Huawei Technologies Co. Ltd., iPass, Inc., NETGEAR Inc., Nokia Corporation, and Ericsson. These players have expanded their market presence in the global Wi-Fi hotspot market by adopting various business strategies such as acquisition, geographical expansion, product development, strategic alliance, and collaboration.
Segment Overview
The Wi-Fi hotspot market is segmented based on offerings, end user, industry vertical, and region. Based on offerings, it is divided into component, software, and services. As per component, the market is classified into wireless hotspot gateways, wireless hotspot controllers, and mobile hotspot devices. Based on software, the Wi-Fi hotspot market is analyzed across centralized hotspot management, Wi-Fi security software, Wi-Fi hotspot billing software, and cloud-based hotspot management. As per services, the market is categorized into professional service, installation and integration services, consulting services, and managed services. Based on end users, the market is segmented into the communication service provider & network operators, enterprises, and government. Based on industry vertical, the global Wi-Fi hotspot market is studied across telecom and IT, financial services, education, healthcare, hospitality, transportation, retail, and others. Based on the region, the market is analyzed across North America, Europe, Asia-Pacific, MEA, and Latin America.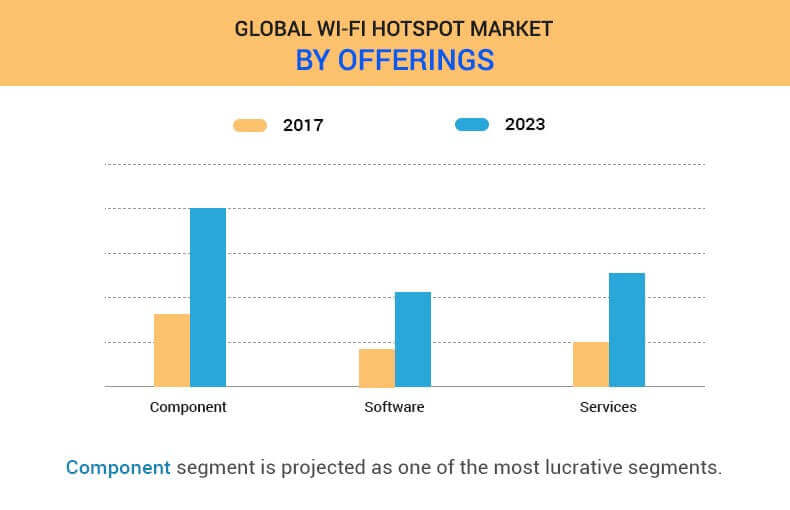 The North America Wi-Fi hotspot market generated the highest revenue in 2016, attributed to the growth in enterprise mobility and extensive wireless connectivity. The Asia-Pacific Wi-Fi hotspot market is expected to grow at the highest CAGR, owing to the growth in penetration of internet; increase in the number of mobile subscribers, rise in adoption of internet communication-oriented services such as Snapchat and WhatsApp, and a large share of mobile data traffic
Growth in Adoption of Wi-Fi hotspots by the Retail, Hospitality, and Education Sectors
Several industries, including retail, hospitality, education, and others, providing direct customer service are inclined toward offering effective customer service through Wi-Fi hotspots. Indoor and outdoor Wi-Fi solutions are gradually becoming of prime focus in the hospitality industry, owing to the upsurge in customer demand for uninterrupted internet connectivity.  
Adoption of Carrier Wi-Fi By The Network Operators for Data Traffic Offload
Over recent years, telecom providers are on a constant lookout for novel technologies to reduce internet data traffic from cellular networks. Wi-Fi hotspot reduces data traffic from normal cellular network and transmits high-speed internet data packets through hotspot routers.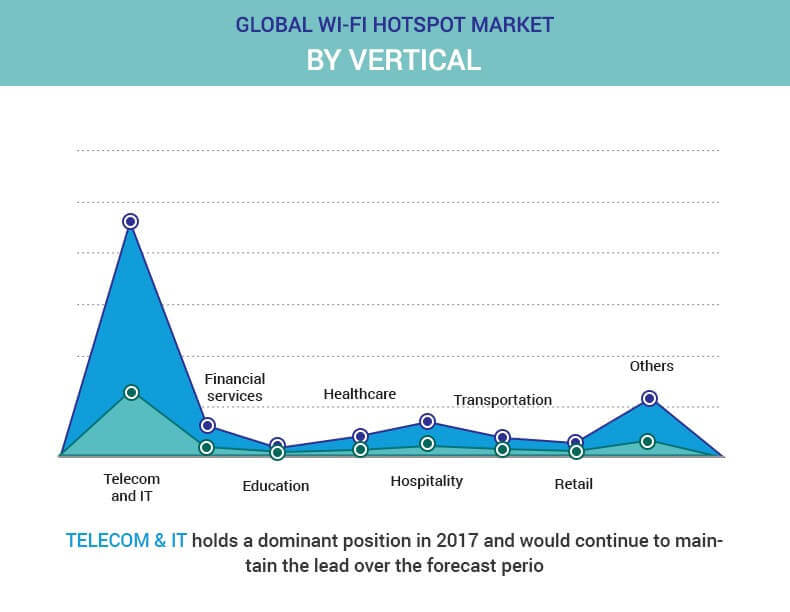 Authenticating to the Hotspot Provider
Public hotspots require a particular authentication process to be followed before they can be accessed by unknown users. Majority of the commercially deployed public hotspots do not provide access to unknown users due to security reasons and privacy issues. Repetitive authentication at various Wi-Fi hotpots creates hurdles such as the ease of access and seamless service flow that impacts the market growth adversely.
Introduction of Mobile Hotspot
Introduction of mobile hotspots with advanced features is expected to boost the Wi-Fi hotspot market demand during the forecast period. Key vendors are inclined toward the introduction of technologically advanced products to leverage the increase in market potential.
Key Benefits for Stakeholders
In-depth analysis of the global Wi-Fi hotspot market and dynamics is provided to understand the market scenario.
Quantitative analysis of the current trends and future estimations from 2017 to 2023 is provided to assist strategists and stakeholders to capitalize on prevailing opportunities.
Porter's Five Forces analysis examines the competitive structure of the Wi-Fi hotspot market and provides a clear understanding of the factors that influence the market entry and expansion.
A detailed analysis of the geographical segments enables the identification of profitable segments for market players in the global Wi-Fi hotspot market industry.
Comprehensive analysis of the trends, sub-segments, and key revenue pockets are provided.
 Wi-Fi Hotspot Market Report Highlights
Aspects
Details
By COMPONENT

WIRELESS HOTSPOT GATEWAYS
WIRELESS HOTSPOT CONTROLLERS
MOBILE HOTSPOT DEVICES

By SOFTWARE

CENTRALIZED HOTSPOT MANAGEMENT
WI-FI SECURITY SOFTWARE
WI-FI HOTSPOT BILLING SOFTWARE
CLOUD BASED HOTSPOT MANAGEMENT

By SERVICES

PROFESSIONAL SERVICE
INSTALLATION AND INTEGRATION SERVICES
CONSULTING SERVICES
MANAGED SERVICES

By End User

Communication Service Provider & Network Operators
Enterprises
Government

By Vertical

Telecom and IT
Financial services
Education
Healthcare
Hospitality
Transportation
Retail
Others

By Geography

North America
Europe
Asia-Pacific
MIDDLE EAST & AFRICA (MEA)
Latin America

Key Market Players
TELEFONAKTIEBOLAGET LM ERICSSON, HUAWEI TECHNOLOGIES CO. LTD., NETGEAR INC., BROCADE COMMUNICATIONS SYSTEMS, INC. (RUCKUS WIRELESS), HEWLETT PACKARD ENTERPRISE COMPANY (ARUBA NETWORKS), BOINGO WIRELESS, INC., CISCO SYSTEMS INC., APTILO NETWORKS AB, IPASS, INC., NOKIA CORPORATION (ALCATEL-LUCENT S.A.)