The wine corks market size was valued at $20.8 billion in 2019, and is projected to reach $27.6 billion by 2027, growing at a CAGR of 7.4% from 2021 to 2027.
Wine corks or wine stoppers are a chunk made up of cork, rubber, or other similar products made by various materials used as a stopper for a wine bottle. These are mainly used to control the physical and chemical properties of the wines. Common wine corks control the moisture, act as resistance to spillage, and also control the oxidants that in turn control the presence of microorganisms. Various types of wine corks, such as natural, synthetic, screw caps, plastic caps, and others, are available in the market. Natural wine corks are best suited for the old and premium wine, which avoids leakage and extraction of flavors from the bottle.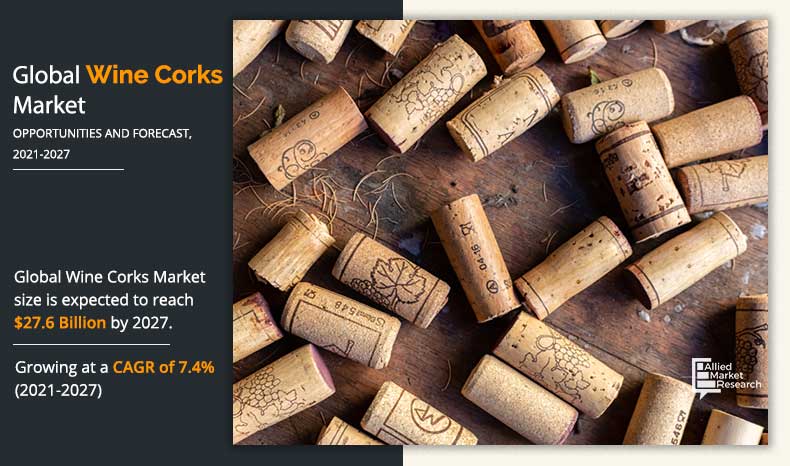 Request Sample Page
Natural corks are the majorly used corks in the global wine corks market. Main objective of a wine cork is to preserve and store wine for a long time. Natural corks have been used in the wine industry for centuries owing to their elasticity of cellular structure. Natural corks are slightly airtight and not fully sealed because some air is able to pass through natural corks as there are holes inside the cork structure microscopically. This feature can be beneficial or harmful, depending on the type of wine that is stored.
Wine Corks Market

---
By Type
The natural segment was the highest contributor to the market, with $15,075.6 million in 2019
Request Sample Page
Rise in number of product launches is expected to drive the global wine corks market growth during the forecast period. Recent R&D in the wine and wine accessories industry such as adoption of sensors in wine machineries and arrival of various types of new wine stoppers is expected to drive the wine corks market trends during the forecast period. 
While demand for natural corks is more in the industry for preserving the wines for a longer time, there are a lot of new types of wine corks in the market such as synthetic, rubber made, screw caps, and many more. Synthetic corks are being used on a large scale in the wine corks market since the last three decades. Synthetic corks are commonly made from oil-based plastic, while there are certain synthetic cork manufacturers who are also experimenting with the use of plant-based polymers of corn and sugar cane. In the wine industry synthetic corks can prove advantageous for winemakers who are looking to pass a little oxygen transfer in the wines. 
Wine Corks Market

---
By Distribution Channel
The offline segment was the highest contributor to the market, with $15,556.0 million in 2019
Request Sample Page
North America and Europe are known to be the dominant regions in terms of wine corks market share. European countries have witnessed higher rate of traction for wine, owing to its increased demand from young consumers. Some key macroeconomic factors such as rise in social media usage and surge in per-capita income also play an important role in contributing toward the overall growth of the wine corks market. However, Asia-Pacific is expected to exhibit significant growth in the future, owing to rise in demand for different types of wines. In addition, the region has witnessed considerable surge in number of millennials, who are forefront consumers of new food & beverages products. Therefore, rise in millennial population is anticipated to offer remunerative opportunities for the growth of the wine corks market.
Some key companies profiled in the report include Precisionelite, Waterloo Container Company, J. C. Ribeiro, S. A., Amorim Cork, S.A, Ltd., We Cork Inc., Zandur, Jelinek Cork Group, Widgetco, Inc., M.A. Silva Usa, Llc, And Allstates Rubber & Tool Corp
Wine Corks Market

---
By Region
Europe dominates the market in 2019 while North America is expected to grow with a CAGR of 9.8% during the forecast period
Request Sample Page
Covid-19 Impact On Wine Corks Market
Since the beginning of the spread of the COVID-19 virus, all the industries in the world have been heavily affected. It has left its impact on the wine market which has started to deteriorate with the announcement of the cancellation of some of the major local, national or international events. Following impacts were observed in the wine corks industry due to the COVID-19 occurrence:
Major wine events such as Divinum Switzerland that allows more than 300 winemakers to exhibit their products and participate in maintaining existing and developing new customers, has been cancelled. 
On international level, the Vinexpo and Prowein, where important economic decisions related to wine are made, have been cancelled. 
There are several business structures and strategies in the sales cycle of wine. One of them is importers who have been around for a long time and have a strong portfolio of customers. 
These importers have diverse offering and cover several types of requests of local wines, French wines, new world wines, as well as particular niche wines. 
While the impact of Covid-19 on various importers is not the same, their business strategy previously heavily focused on the Hospitality and Restaurant sector, the volume and frequency of sales of wine have become critical under the current circumstances. 
The drastic governmental measures around the world have impacted not only the demand but also the production of wine. 20% of wineries have stopped the production and have anticipated a 75% decrease in sales in April 2020. 
Key Benefits For Stakeholders
The report provides an extensive analysis of the current and emerging market trends and wine corks Market opportunities.
The report provides detailed qualitative and quantitative wine corks market forecast and analysis of current trends and future estimations that help evaluate the prevailing market opportunities.
A comprehensive analysis of the factors that drive and restrict the growth of the market is provided.
An extensive wine corks market analysis is conducted by following key product positioning and monitoring the top competitors within the market framework.
The report provides extensive qualitative insights on the potential segments or regions exhibiting favorable growth.
 Wine Corks Market Report Highlights
Aspects
Details
By Type
By Distribution Channel
By Region

NORTH AMERICA (US, CANADA, MEXICO)
EUROPE (ITALY, FRANCE, SPAIN, GERMANY, RUSSIA, REST OF EUROPE)
ASIA-PACIFIC (CHINA, INDIA, JAPAN, AUSTRALIA, REST OF ASIA-PACIFIC)
LAMEA (ARGENTINA, SOUTH AFRICA, CHILE, REST OF LAMEA)

Key Market Players
PRECISIONELITE, WATERLOO CONTAINER COMPANY, J. C. RIBEIRO, S. A., AMORIM CORK, S.A., WE CORK INC., ZANDUR, JELINEK CORK GROUP, WIDGETCO, INC., M.A. SILVA USA, LLC, ALLSTATES RUBBER & TOOL CORP.