The wine production machinery market size was valued at $2.0 billion in 2019, and is estimated to reach $2.8 billion by 2027, registering a CAGR of 4.2% from 2020 to 2027. 
Wine production machinery is a set of equipment used for producing quality wines. There are various physical and chemical process that are carried out in the production of wine making using various equipment such as tanks & fermenters, crushing & pressing, temperature control equipment, filtration, among others. The equipment are selected based on the volume of wine processing and production plant. White grapes, black grapes, and such other sources are used as raw materials for the processing of wine.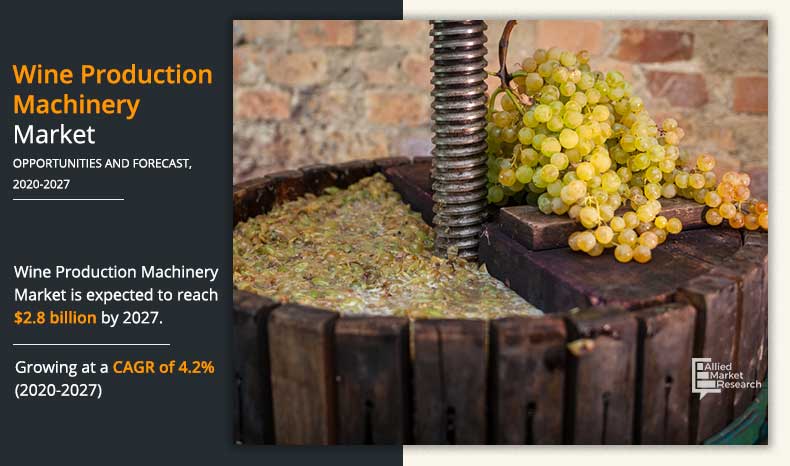 Get more information on this report : Request Sample Pages
Rise in number of wineries is one of the major factors that drives the wine production machinery market demand. Over past couple of years, there has been rise in demand for wine among consumers. Moreover, millennials are more experimental with their taste and perception and consumption habits about certain alcohol products such as wine, champagne, and beer, which differs from boomers, thus increase in consumption of wine offers untapped opportunities for key players to establish or expand their facilities. In addition, price of machinery used in wine making changes as per the capacity and winery size (cases), thus hinders the market in developing economies such as India and China, where consumers are price sensitive. Wine producers need to invest huge capital to buy machinery and other related equipment, which is likely to hamper the growth of the wine production machinery market. 
Rise in adoption of robotics and automation in wine making is likely to pose high opportunities for wine production machinery market manufactures. For instance, temperature controls, automated packaging, and winery motion automated equipment are used by Golan Heights winery in Northeast Israel. This adoption of automation is likely to create an opportunity for the market. 
According to Eurostats, around 35 to 40% of wineries and vineyards in European countries are more than 30 years old and around 50% of wineries and vineyards in European countries are between 10 and 30 years old. Replacement rates of equipment by category, which is around 15 to 20 years for major equipment such as fermenters, tanks, refrigeration systems, among others. With large number of old wineries in Europe, the replacement rate of the equipment, coupled with new installations is likely to grow significantly during the forecast period to cater to the domestic and export demand and is likely to drive the market growth.
Wine Production Machinery Market

---
By Type
The Temperature Control Equipment segment helds the major share of 38.75% in 2019
Get more information on this report :
Request Sample Pages
Get more information on this report : Request Sample Pages
The wine production machinery market is segmented on the basis of type and region. By type, it is categorized into tanks & fermenters, crushing & pressing equipment, temperature control equipment, filtration equipment, and others. Region wise, it is analyzed across North America (U.S., Canada, and Mexico), Europe (Germany, France, UK, Italy, Spain, and rest of Europe), Asia-Pacific (China, Japan, Australia, India, and rest of Asia-Pacific), and LAMEA (Brazil, South Africa, Chile, Argentina, and Rest of LAMEA).
According to wine production machinery market analysis, on the basis of type, the temperature control equipment segment accounted for the around half of the wine production machinery market share in 2019. Temperature control equipment are used for controlling equipment temperature in the wine making industry, as it increases product quality while allowing automation and need for less employees to monitor and control the equipment. Increase in development of temperature controller equipment due to its wide use in various sectors such as oil & gas, pharmaceuticals, food, and wine production industry has gained major traction in the wine production machinery market growth.
Region wise, Europe was the prominent market in 2019, which accounted for the maximum share in the market.This is attributed to the presence of huge market participants and rise inconsumption and production of wine in the region. Furthermore, growing consumption of wine is likely to promote winery growers to expand their manufacturing units, thus, drives the growth of the market. Moreover, France is gaining remarkable wine production machinery market share for various attributes such as high export, consumption, and production, which provides favorable market conditions and business environment for growth of the market. According to a report published by the government of France in 2018, France and Italy dominated the export market and are expected to continue theirdominance with 30% and 19% market share, respectively. 
The players in thewine production machinery market have adopted various development alstrategies to expand their market share, increase profitability, and remain competitive in the market. The key players profiled in this report include GW KENT, Agrovin, Della Toffola Pacific, Love Brewing Ltd, Northern Brewer, Adamark Airknife, Paul Mueller Company, Vitikit Limited, Tanium Machinery, and VeCriveller Group.
Key Benefits For Stakeholders
The report provides a quantitative analysis of the currentwine production machinery market trends, estimations, and dynamics of the market size from 2019 to 2027 to identify the prevailing opportunities.

Porter's five forces analysis highlights the potency of buyers and suppliers to enable stakeholders to make profit-oriented business decisions and strengthen their supplier–buyer network.

In-depth analysis and the market size and segmentation assists to determine the prevailingwine production machinery market opportunities.

The major countries in each region are mapped according to their revenue contribution to the market. 

The market player positioning segment facilitates benchmarking and provides a clear understanding of the present position of the market players in the wine production machinery industry.
 Key Market Segments & Key Market Players
Segments
Sub-segments
By Type

Tanks & fermenters
Crushing & Pressing Equipment
Temperature Control Equipment
Filtration Equipment
Others



By Region

North America
Europe

Germany
UK
France
Italy
Spain
Rest of Europe

Asia-Pacific

China
India
Japan
Australia
Rest of Asia-Pacific

LAMEA

Brazil
South Africa
Chile
Argentina
Rest of LAMEA



Key Market Players

ADAMARK AIR KNIFE SYSTEMS
AGROVIN
CRIVELLER GROUP
DT PACIFIC PTY. LTD.
G.W. KENT, INC.
LOVE BREWING LIMITED
NORTHERN BREWER
PAUL MUELLER COMPANY, INC.
GRAPEWORKS PTY LTD.
VITIKIT LTD.