The global winglets market was valued at $2.4 billion in 2021, and is projected to reach $4.7 billion by 2031, growing at a CAGR of 7.4% from 2022 to 2031.
The COVID-19 impact on the winglets market is unpredictable, and is expected to remain in force for a few years. The COVID-19 outbreak forced governments across the globe to implement stringent lockdown and ban import–export of essential raw material items for most of 2020, and few months in 2021. This led to sudden decline in availability of important raw materials for aircraft components. As a result of interrupted supply chains and production schedules caused by the COVID-19 pandemic, aviation production and sales suffered severely, which, in turn, negatively impacted the market for winglets market in 2020. To prevent the spread of the COVID-19 virus, governments across the globe implemented strict lockdowns and made social distancing mandatory. Consequently, several organizations began work from home programs as precautionary measure. This led to a sudden decline in global demand for traveling, which has affected the winglets market. However, increase in air travel post pandemic creates immense opportunities for winglet manufacturers in recent years. The momentum created by plans to reopen is expected to have a positive impact on the recovery of aircraft industry, which creates growth opportunities for the winglet market. Passenger transport is gradually recovering and is expected to reach pre-COVID levels by 2023. As air travel demand returns to pre-COVID levels, airlines are expanding their route networks and new airlines are introducing new domestic flights. Such plans are designed to accelerate the market growth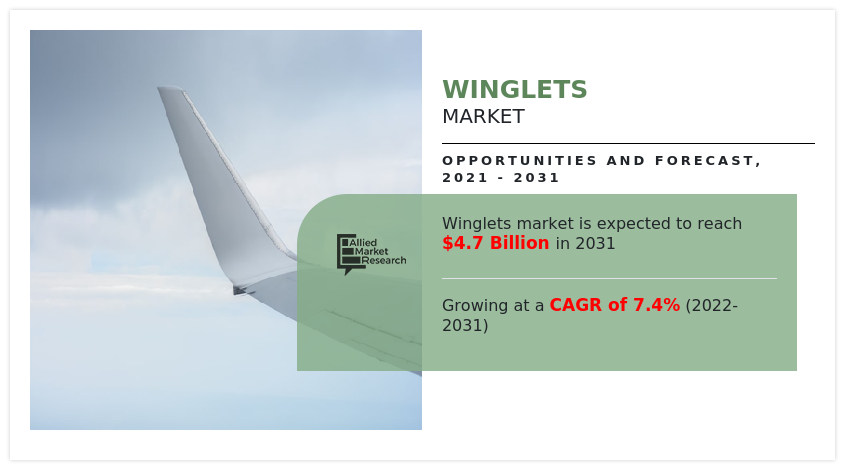 The winglets market is segmented into Aircraft Type, End Use, Winglet type and Fit.
Winglets are vertical wingtip extensions that increase the fuel efficiency and cruising range of an airplane. Winglets are tiny airfoils that are used to lessen the aerodynamic drag associated with vortices that form at the wingtips while an airplane flies through the air. The other chief advantage of a winglet system is the reduction in the overall fuel usage, which results in reduced CO2 emissions. Winglet systems can be fitted on a wide array of aircrafts, including business jets, military, and commercial aircrafts.
Factors such as increase in production and deliveries of commercial aircraft and increase in demand for environment-friendly and fuel-efficient aircraft are anticipated to boost the growth of the global winglet market during the forecast period. However, challenges associated with the installation time, higher weight, and high maintenance costs are expected to hinder the growth of the global winglet market during the forecast period.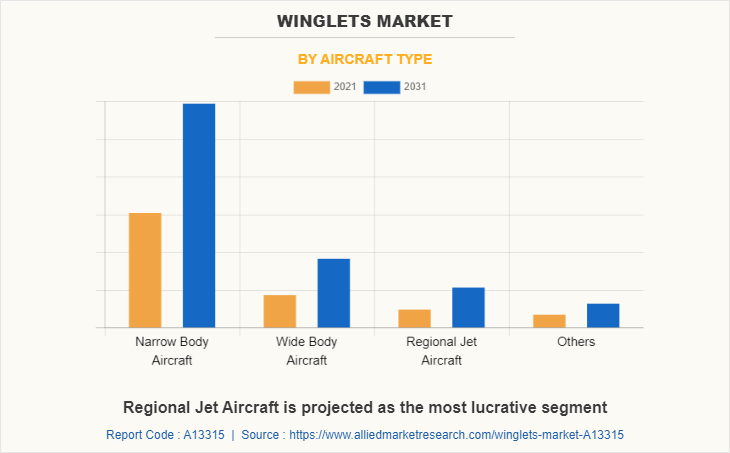 The winglet market is segmented on the basis of aircraft type, end use, winglet type, fit, and region. By aircraft type, the market is further segmented into narrow body aircraft, wide body aircraft, regional jet aircraft, and others. By end use, the market is classified into civil aircraft, military aircraft, and commercial & cargo aircraft. On the basis of winglet type, it is divided into sharklets, split scimitar winglets, wingtip fences, and others. By fit, it is segmented into line fit and retrofit. By region, the market is analyzed across North America, Europe, Asia-Pacific, and LAMEA.
The key players that operate in aircraft winglet market are Airbus, Boeing, Aviation Partners, Inc., BLR Aerospace, Daher, FACC AG, GKN Aerospace Services Limited, Hyune Aero-Specialty Inc., RUAG Group, Tamarack Aerospace and Winglet Technology, LLC, Clean Aviation, Composites One, Kaman Corporation, Korean Air, Sekisui Aerospace, and Triumph Group.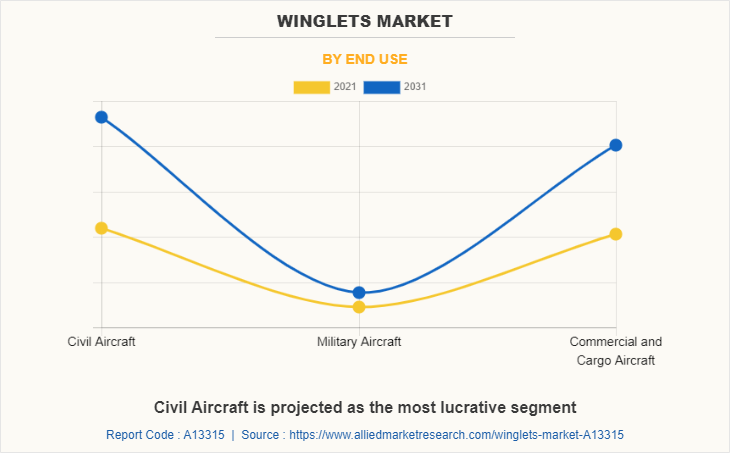 Increase in production and deliveries of commercial aircraft
Rise in delivery of aircrafts as a part of fleet modernization program drive the winglet market. For instance, in January 2022, InterGlobe Aviation Ltd. ran by IndiGo received delivery of 18 aircrafts in October-December 2022, the highest quarterly number for both 2020 and 2021. Also, aviation companies adopt aggressive production plans to meet the higher output rates. For instance, in May 2021, Aerospace's Airbus SE announced increase in production of popular Airbus A320 planes. It also planned to increase production of A220 planes to 14 planes per month. Demand for air freight has also risen as air cargo transportation is perceived as means of diversification for expanding international trade. Aircraft manufacturers expand conversion lines by turning old passenger planes into freight carriers. For instance, in November 2021, Boeing announced plans of addition of three conversion lines for the market-leading 737-800BCF across North America and Europe. It also signed a firm order with Icelease (Iceland aircraft lessor and aircraft trading entity), for eleven of the freighters. Boeing is set to increase its conversion lines capacity by 60% by 2022, while Airbus aims to triple its output of converted A321s and A330s by 2024. Accordingly, establishment of airline start-ups in Latin America and the Caribbean in the U.S. (Avelo Airlines, Breeze Airlines), Europe (Norse Atlantic Airways), Middle East (Air Arabia Abu Dhabi and Wizz Air Abu Dhabi), and the Pacific (Bonza Airlines), promote the production of commercial aircrafts. Thus, it further boosts the aircraft winglet market.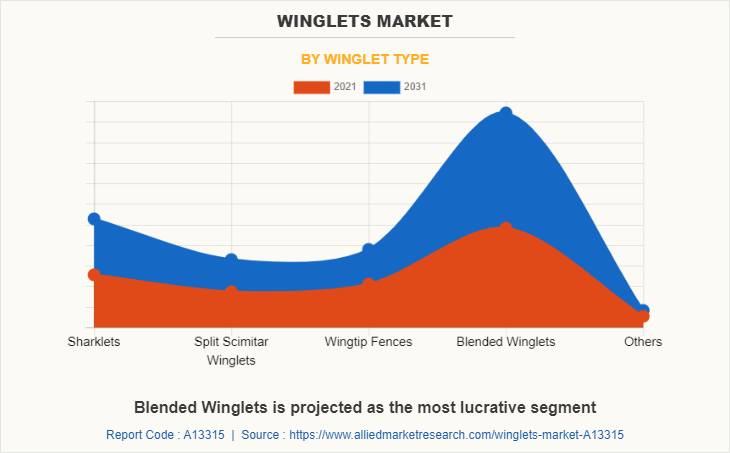 Increase in demand for environment friendly and fuel-efficient aircraft
Regulatory civil aviation organizations pressure aircraft manufacturers and operators to increase aircraft efficiency by reducing fuel consumption, carbon dioxide CO2, and nitrogen oxide NOx emissions. Thus, owing to increase in pressure and urgency around climate change, there is surge in demand for eco-friendly aircrafts. Winglets offer the opportunity to improve operation and environmental performance of an airplane. For instance, blended winglets offered by Boeing improve takeoff performance on the 737, 757, and 767 aircrafts, allowing deeper takeoff thrust de-rates, which leads to lower emissions. Lift-induced drag can account for up to 40% of total drag during cruise and 80–90% of total drag during take-off and climb circumstances, according to the drag breakdown of a typical transport aircraft. Winglets reduce aerodynamic drag by reduction of the spiral-shaped vortices generated at the end of wings during flight. Lower drag results in better fuel efficiency, lower Co2 emissions, and increased cruising range. For instance, in April 2022, Tamarack (the U.S. aerospace company) announced installation of first four active winglets at Aiken South Carolina Transformation Center. These active winglets provide fuel savings of up to 33%, offer smoother & safer flights, support sustainability, and reduce emissions.
Challenges associated with the installation time and higher weight
Higher bending and torque loads subjected to the structure are some of the challenges that occur during installation of a winglet. Structural strengthening is required during the installation process. The weight of the winglet requires handling by highly specialized technicians. Installation down time is estimated at 8 to 10 days from start to the finished product. Winglet installations often require five weeks for Falcons and two weeks for Hawkers. Retrofit is installation of the wing modification to accommodate the winglet. Retrofitting is a time-consuming process as winglets installed by retrofit can require significant changes to the wing structure. Moreover, addition of winglets to smaller aircraft is expected to give the opposite of the desired results. Weight is the biggest disadvantage of winglet installation. The winglet tends to add extra weight and also creates additional drag. Thus, it creates the need for further reinforcement of the wing. Therefore, high installation time and weight hinders the winglet market.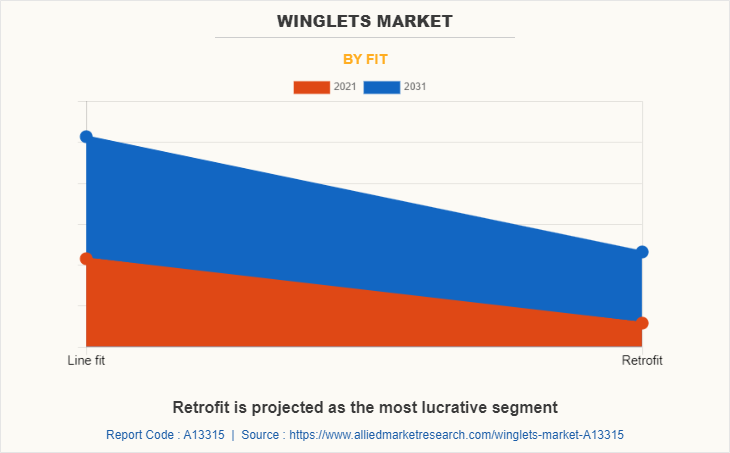 Increase in demand from emerging regions
The emerging countries, such as China, India, Brazil and others are anticipated to create new growth opportunities for prominent players operating in the market. For instance, in September 2019, according to the Commercial Aircraft Corporation of China, Ltd., the China market was projected to witness a strong demand for commercial aircraft over the next 20 years. In addition, according to its market forecast report (2018-2037), 9,008 passenger aircrafts valued at approximately $0.16 trillion (¥9 trillion) are estimated to be delivered. Latin American countries expand the aviation sector amid rise in air traffic. For instance, in June 2021, Brazilian Air Force planned to nearly double its order of Saab Gripen fighters. According to the Argentina's Defense Ministry's statement, the government of Argentina announced plans to buy up to $664 million-worth of multipurpose fighter jets to safeguard its airspace. Thus, these developments are expected to rise the demand for winglet systems, which drive the market growth in Latin America during the forecast period. The growth in the aviation industry is expected to facilitate the demand for aircraft components, such as winglets. In addition, there is surge in MSMEs involved in making aircraft parts, such as winglets to install in airplanes. Moreover, increase in demand for commercial aircraft enforces manufacturers to produce innovative, fuel-saving, and performance-enhancing winglets systems. Thus, increase in demand from emerging regions creates growth opportunities for the winglet market in near future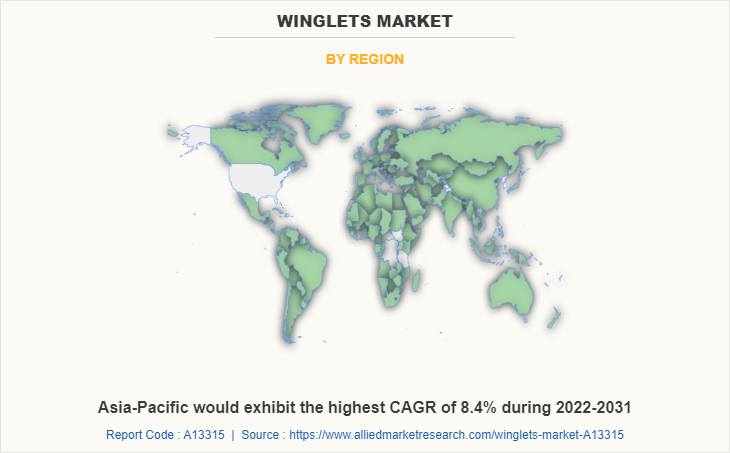 Key Benefits For Stakeholders
This report provides a quantitative analysis of the market segments, current trends, estimations, and dynamics of the winglets market analysis from 2021 to 2031 to identify the prevailing winglets market opportunities.
The market research is offered along with information related to key drivers, restraints, and opportunities.
Porter's five forces analysis highlights the potency of buyers and suppliers to enable stakeholders make profit-oriented business decisions and strengthen their supplier-buyer network.
In-depth analysis of the winglets market segmentation assists to determine the prevailing market opportunities.
Major countries in each region are mapped according to their revenue contribution to the global market.
Market player positioning facilitates benchmarking and provides a clear understanding of the present position of the market players.
The report includes the analysis of the regional as well as global winglets market trends, key players, market segments, application areas, and market growth strategies.
 Winglets Market Report Highlights
Aspects
Details
By Aircraft Type

Regional Jet Aircraft
Others
Narrow Body Aircraft
Wide Body Aircraft

By End Use

Civil Aircraft
Military Aircraft
Commercial and Cargo Aircraft

By Winglet type

Sharklets
Split Scimitar Winglets
Wingtip Fences
Blended Winglets
Others

By Fit
By Region

North America (U.S., Canada, Mexico)
Europe (Germany, France, Russia, U.K., Italy, Spain, Rest of Europe)
Asia-Pacific (China, India, Japan, South Korea, Asean, Rest of Asia-Pacific)
LAMEA (Brazil, UAE, Saudi Arabia, South Africa, Rest of LAMEA)

Key Market Players
composites one, Kaman Corporation, Daher, Triumph Group, Boeing, Winglet Technology, LLC, Korean Air Aerospace Division, GKN Aerospace, RUAG International Holding AG, HYUNE AERO-SPECIALTY INC, BLR Aerospace, Tamarack Aerospace Group, Inc., SEKISUI Aerospace, Aviation Partners, Inc., FACC AG, Airbus, Clean Aviation