Wireless Charging for Electric Vehicle Market:
The global wireless electric vehicle charging market was valued at $6,857.80 thousand in 2020, and is projected to reach $207,415.10 thousand by 2030, growing at a CAGR of 41.4% from 2021 to 2030.
The OEMs and governments emphasize on electric vehicles usage as an effort to reduce tail pipe emissions. With the increase in demand for electric vehicles, the requirement for charging stations is expected to significantly increase in the near future. As the plug-in charging stations take longer hours for charging, the on-the-go wireless electric vehicle chargers can cater to the need and provide range extension. The wireless charging has high applications for cars as well as for commercial fleets; thus, fostering the growth of the wireless electric vehicle charging market.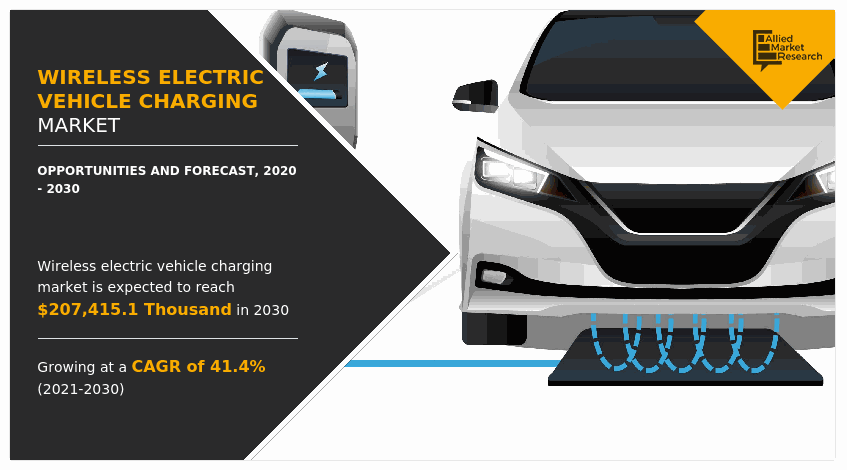 COVID-19 has presented the world with an unprecedented economic, humanitarian, and healthcare challenge. Lockdown measures have helped to contain the spread of coronavirus, but exacted an immense economic toll. On the business side, the automotive sector is among the hardest hit. Following the pattern witnessed in countries where COVID-19 spread earlier, lockdown measures and other restrictions have impacted the requirement for electric vehicle charging infrastructure considerably. Furthermore, coronavirus has introduced unexpected challenges within the wireless electric vehicle charging industry. OEMs and other stakeholders are adopting innovative business models amid post-COVID-19.
The wireless electric vehicle charging market is based on the transmission of energy from a power source to a consuming device without wires or cables. It is a reliable, convenient, and safe technology to power and charge electric vehicles. In addition, it provides efficient, cost-effective, and safe advantages over the traditional charging systems by eliminating the use of physical connectors and cables. With the rise in trend and focus toward autonomous ride sharing, the wireless electric vehicle charging market size is expected to increase and will be the most viable option for the OEMs segment or the autonomous fleet operators.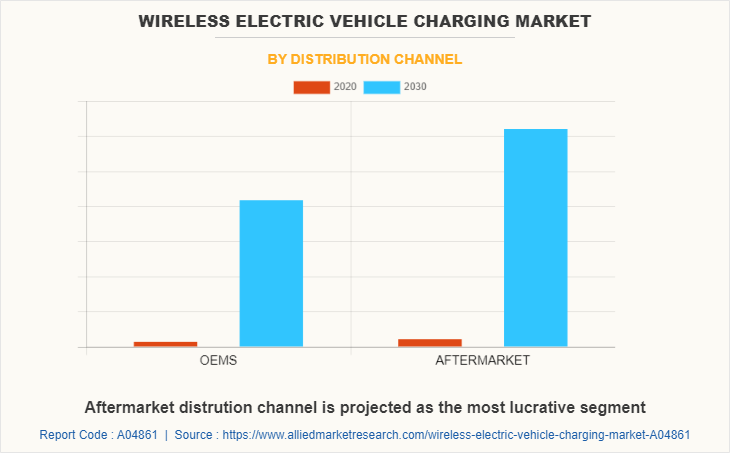 Higher adoption from OEMs is anticipated to boost the wireless electric vehicle charging market. However, expensive technology for its integration and slower charging as compared to other charging technologies are expected to hamper the growth of the market.
The wireless electric vehicle charging market is segmented on the basis of power source, charging methods, installation, distribution channel, vehicle type, and region. The power source segment is further divided as 3–<11 kW, 11–50 kW, and >50 kW based on the power output requirement for wireless charging. On the basis of charging methods, the market is segmented into capacitive wireless power transfer (CWPT), magnetic gear wireless power transfer (MGWPT), resonant inductive power transfer (RIPT), and inductive power transfer (IPT). Home and commercial installation types are covered on the basis of installation. Depending on the distribution channel, the market is bifurcated into OEMs and aftermarket. By vehicle type, the market is further divided into battery electric vehicles (BEV), plug-in hybrid electric vehicle (PHEV), and commercial electric vehicles. Region-wise, the market is analyzed across North America, Europe, Asia-Pacific, and LAMEA.
The key market players profiled in the wireless electric vehicle charging market report include, IPT technology inc., Continental ag, Evatran group (plugless), Nidec mobility corporation, Renesas electronics, Powermat technologies, Qualcomm technologies, Robert Bosch Gmbh, Texas instruments, Toyota motor corporation, and Witricity. Competitive analysis and profiles of major market players is included in the report.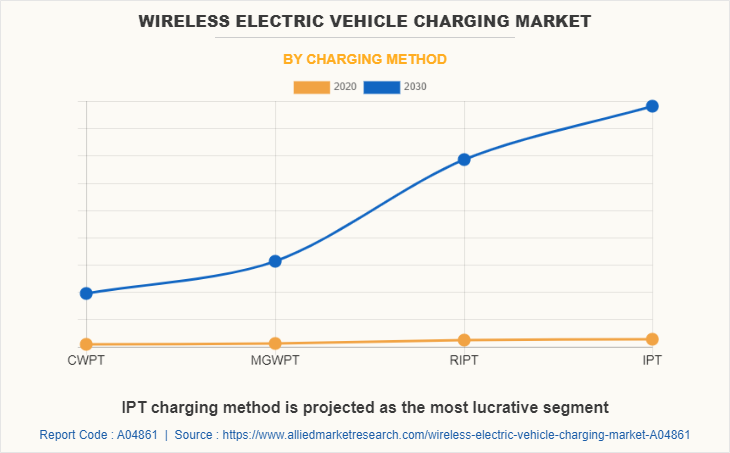 Increase in Sales of Electric Vehicles (EVs)
There is an increased demand for wireless connected devices and low maintenance vehicles among the consumers. This in turn increases the awareness about electric vehicles. Rise in awareness and surge in demand for electric cars leads to an increase in the production of electric vehicles. For instance, according to a report by the IEA organization, 2022, EV vehicles globally reached 6.7 million units in 2021, a 3.7 million units over 2020, accounting for 4.1% of the market share. Battery electric vehicles (BEVs) accounted for two-thirds of new electric vehicle registrations in 2020, and two-thirds of all vehicles. Europe holds the major share of these vehicles, with 2.3 million electric vehicles. China witnessed the largest annual increase in 2021, reaching 3.4 million.
Furthermore, according to the International Council on Clean Transportation (ICCT) 2021 report, the electrical automobile industry within the U.S. has increased from 1000's automobiles sold in 2010 to more than 315,000 automobiles sold from 2018 to 2020. In 2020, the electrical percentage of automobile income was about 2.4%, increasing from about 2% in 2019. Therefore, rise in production of electric vehicles also supports the growth of the wireless electric vehicle charging market during the forecast period.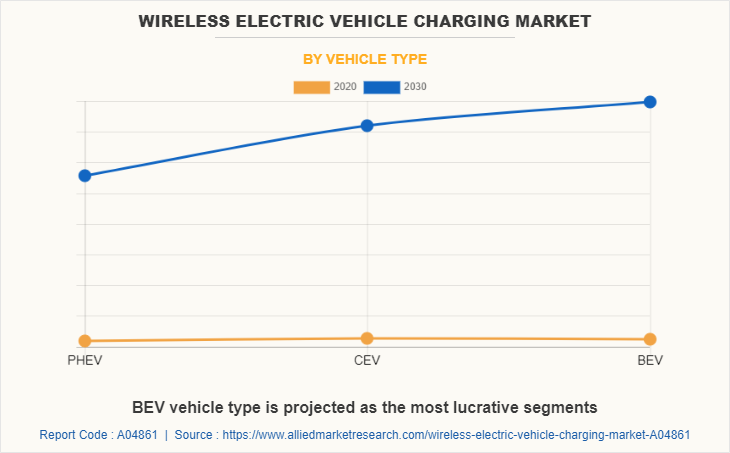 Expensive Integration of Technology and Slower Charging
Slower charging rate and costlier integration of technology as compared to traditional cable chargers act as the key restraints of the wireless electric vehicle charging market. For instance, Robert Bosch GmbH wireless charging for electric vehicle market technology costs $3000-$4000, which gives 3.6 KW power. In addition, wireless charging devices have a distance limitation.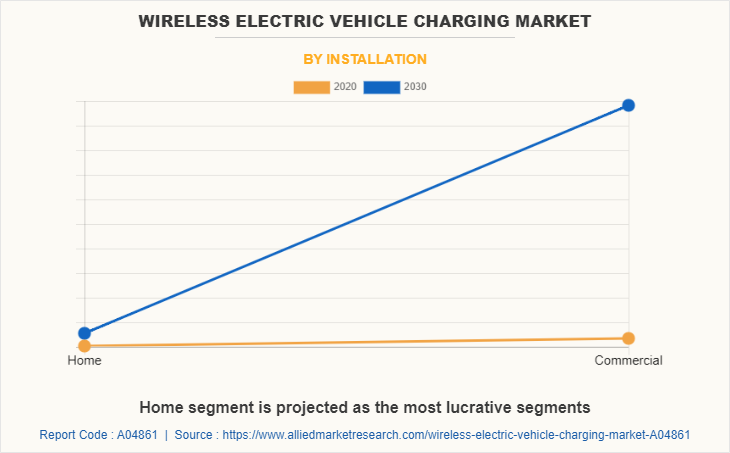 RF energy technology fails when energy is to be transferred over a long distance. In electric vehicles, the charging time required is more and it varies in accordance with the vehicle battery capacity. Devices take longer to charge when the power supplied is of the same amount. Furthermore, the technology is more expensive, as inductive charging requires drive electronics and coils in both, devices and chargers, thus, it increases the complexity and cost of manufacturing. However, newer approaches and advancements in the technology are anticipated to reduce transfer losses and improve speed.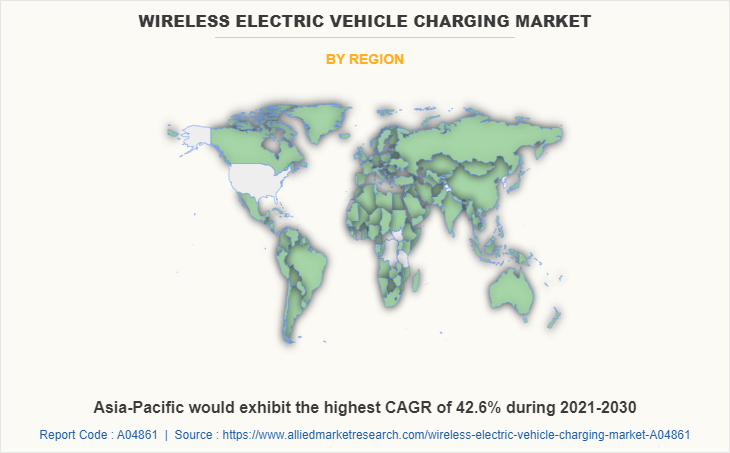 Key Benefits For Stakeholders
This report provides a quantitative analysis of the market segments, current trends, estimations, and dynamics of the wireless electric vehicle charging market analysis from 2020 to 2030 to identify the prevailing wireless electric vehicle charging market opportunities.
The market research is offered along with information related to key drivers, restraints, and opportunities.
Porter's five forces analysis highlights the potency of buyers and suppliers to enable stakeholders make profit-oriented business decisions and strengthen their supplier-buyer network.
In-depth analysis of the wireless electric vehicle charging market segmentation assists to determine the prevailing market opportunities.
Major countries in each region are mapped according to their revenue contribution to the global market.
Market player positioning facilitates benchmarking and provides a clear understanding of the present position of the market players.
The report includes the analysis of the regional as well as global wireless electric vehicle charging market trends, key players, market segments, application areas, and market growth strategies.
 Wireless Electric Vehicle Charging Market Report Highlights
Aspects
Details
By Distribution Channel
By Charging Method
By Installation
By Vehicle Type
By Power Source
By Region

North America (U.S., Canada, Mexico)
Europe (U.K., Germany, France, Netherlands, Norway, Rest of Europe)
Asia-Pacific (China, Japan, India, South Korea, Rest Of Asia Pacific)
LAMEA (Latin America, Middle East, Africa)

Key Market Players
ROBERT BOSCH GMBH, TOYOTA MOTOR CORPORATION, INTEGRATED DEVICE TECHNOLOGY, TEXAS INSTRUMENTS INC, EVATRAN GROUP (PLUGLESS), IPT group, CONTINENTAL AG, WITRICITY CORPORATION, POWERMAT TECHNOLOGIES LTD, Nidec Mobility Corporation, QUALCOMM TECHNOLOGIES