Wood Plastic Composites Market Research, 2030
The global wood plastic composites market was valued at $5.4 billion in 2020, and is projected to reach $12.6 billion by 2030, growing at a CAGR of 8.9% from 2021 to 2030.
Demand for the wood plastics composites declined since 2020. Due to supply chain challenges, the markets experience difficulties in import and export.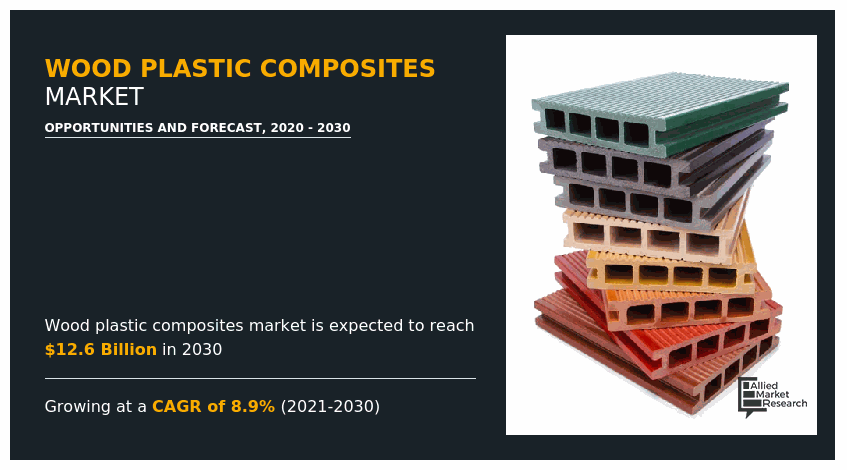 Wood plastics are a sort of natural composite made from wood and sawdust. It is an environment friendly natural composite. It is used in application of  both indoor and outdoor use, owing to durability and resistance . The composite solute can be chosen in various ways. The user can mix and match the woods in the composite due to the fact that wood comes in various types. Plastics are blended with more than 40% of the wood components. Wood plastic composites are gaining popularity in the global economy. Composites are used more than any other material. The wood plastics composites are produced by using recycled plastics at low melting temperatures as well as low cost.
There is increase in demand for wood plastic composites in building and automobile sectors, owing to low-cost and easy to use in non-structural areas, such as balconies, stairs,  and pillars. Furthermore, Wood plastic composites have various advantages,  compared to its alternatives. They are used in interiors, automotive speakers, home furniture, and kitchen appliances as they are robust, rust-free, low-maintenance, and can withstand high temperature. This has resulted in increase in demand for wood plastic composites all across the globe. Furthermore, growth of construction and building sectors is due to industrialization and urbanization in developing countries of the aforementioned factors drive the growth of the global wood composites market.
On the other hand, rise in cost of R&D restraints the market growth. Wood is a material that demands continuous investigation. This composite contains high-quality and expensive timber. Its parts can be used in a wide range of applications. As a result, the market for wood components is deteriorating. Furthermore, emergence of greenwood plastics composites is expected to provide new growth opportunities for the market. The durability of environment friendly composites gain popularity. Toxins are abundant in  composites which are manufactured . These pollutants harm both the environment as well as the people who use them. As a result, demand for environment friendly composites is increasing in numerous areas.
The wood plastic composites market is segmented on the basis of type, application, and region. By type, it  is segregated into polyethylene, polyvinylchloride, polypropylene, and others. As per the application, it is fragmented into building & construction, automotive components, industrial & consumer products, and others. Region-wise, it is analyzed across North America, Europe, Asia-Pacific, and LAMEA.
The key players profiled in this report include AIMPLAS, Beologic N.V., Dow, FKuR, Fortune Brands, JELU-WERK J. Ehrler GmbH & Co. KG, Renolit SE, TimberTech, Trex Company, Inc., Universal Forest Products, Inc The global wood plastic composites market report provides in-depth competitive analysis as well as profiles of these major players.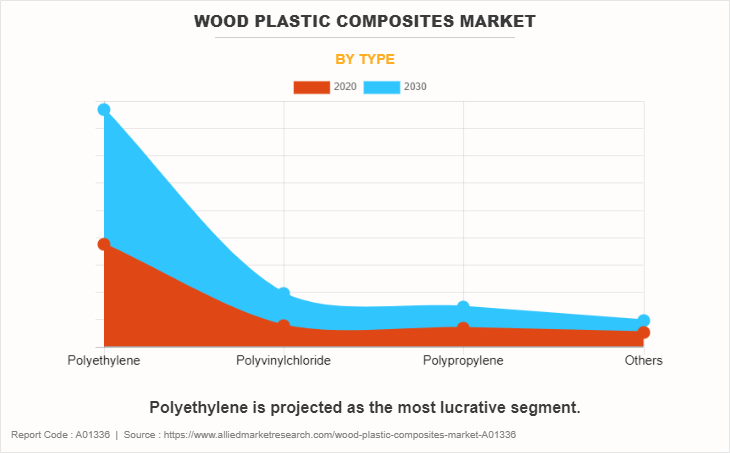 By type, polyethylene segment held the largest share of more than 69.4% in the wood plastic composites market in 2020, owing to its molecular structure and special arrangement of the molecules however, polyethylene (PE)-based composites of wood-plastic are widely used for producing decking including flooring, lumber, molding strips, furniture materials, wall cladding, hollow boards, and hollow filler profiles. Increase in construction activities across the globe augments the growth of the wood-plastic composites market.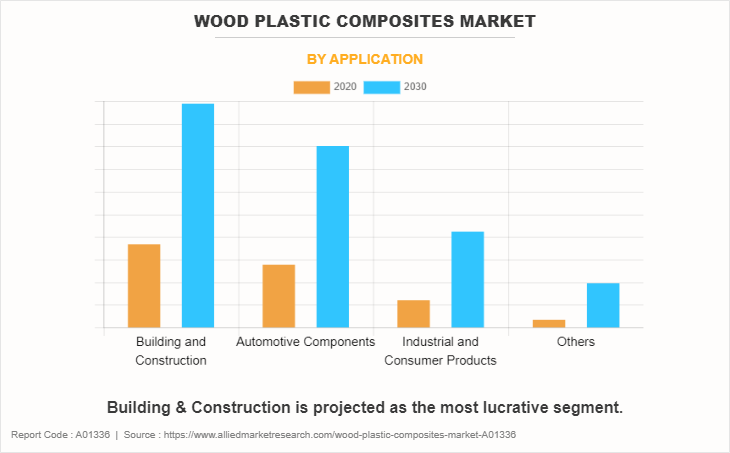 On the basis of application, building & construction segment  accounted for the major share of the market, owing to the high demand from decking. Eradication of barriers to promote foreign investments coupled with changing consumer focus toward green buildings is projected to boost the demand for wood plastic composite in the construction industry in the future.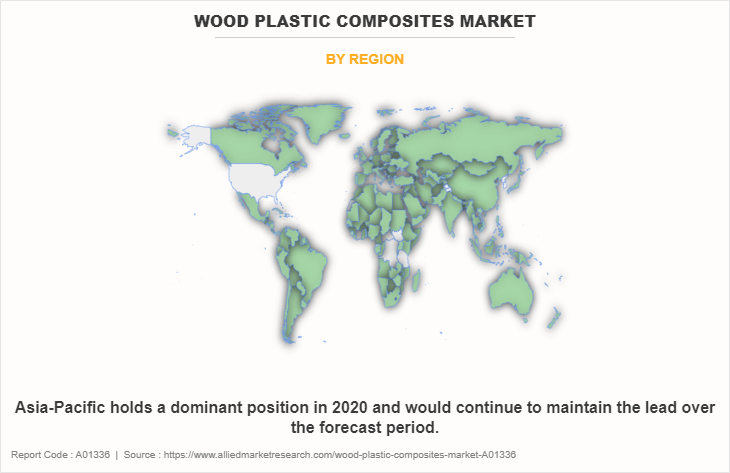 Region-wise, Asia-Pacific has dominated the wood plastic composites market with a share of more than 46.8% in 2020. Increase in building and construction activities in the Asia-Pacific countries, such as the China, India and Japan due to economic reforms and rise in per capita income of the individuals increases the demand for wood-plastic composites. Wood-plastic composites are preferred due to lightweight and good chemical and pest resistance compared to conventional wood.
Impact of COVID-19 on Global Wood Plastic Composites Market
The outbreak of COVID-19 led to partial or complete shutdown of production facilities that do not come under essential goods, owing to prolonged lockdown in major countries, including the U.S., China, Japan, India, and Germany. It led to either closure or suspension of their production activities in most of the industrial units across the globe.
COVID-19 proved to be a major challenge for the wood plastic composite market. The outbreak of coronavirus disrupted the supply chain and postponed the deliveries of wood composites and other raw materials from yards, due to lockdown and shortages of staff.
Industries are being shut down all across the world. People's purchasing power is decreasing, which has a direct impact on the automobile and construction industries, lowering demand for wood-plastic composites and limiting industry growth.
During this time, the construction industry suffered numerous losses. It's because of the high use of wood plastics. Construction, on the other hand, come to a halt. The need for wood plastics and composites is dwindling. Demand for the wood plastics and composites declined since 2020. Due to supply chain challenges, the markets experience difficulties in import and export. However, the demand for wood plastics has increased since 2021. New developments will create much more growth in the wood plastics composite industry.
Key Benefits For Stakeholders
This report provides a quantitative analysis of the market segments, current trends, estimations, and dynamics of the wood plastic composites market analysis from 2020 to 2030 to identify the prevailing wood plastic composites market opportunities.
The market research is offered along with information related to key drivers, restraints, and opportunities.
Porter's five forces analysis highlights the potency of buyers and suppliers to enable stakeholders make profit-oriented business decisions and strengthen their supplier-buyer network.
In-depth analysis of the wood plastic composites market segmentation assists to determine the prevailing market opportunities.
Major countries in each region are mapped according to their revenue contribution to the global market.
Market player positioning facilitates benchmarking and provides a clear understanding of the present position of the market players.
The report includes the analysis of the regional as well as global wood plastic composites market trends, key players, market segments, application areas, and market growth strategies.
 Wood Plastic Composites Market Report Highlights
Aspects
Details
Market Size By 2030
USD 12.6 billion
Growth Rate
CAGR of 8.9%
Forecast period
2020 - 2030
Report Pages
118
By Type

Polyethylene
Polyvinylchloride
Polypropylene
Others

By Application

Building and Construction
Automotive Components
Industrial and Consumer Products
Others

By Region

North America (U.S., Canada, Mexico)
Europe (Germany, U.K., France, Italy, Spain, Rest of Europe)
Asia-Pacific (China, India, Japan, South Korea, Rest of Asia-Pacific)
LAMEA (Brazil, South Africa,, Saudi Arabia, Rest of LAMEA)

Key Market Players
Beologic, Renolit SE, FKuR, UPF Industries, Inc., JELU-WERK J. Ehrler GmbH & Co. KG, Dow Inc., Trex Company, Inc., Fortune Brands Homes & Security, AIMPLAS, TimberTech
Analyst Review
Wood-plastic composites are hybrid materials made by mixing natural wood products, such as bamboo, pulp, and bark with thermoplastics or polymers. These products are easily pierced and planned and are made from biodegradable, recyclable and renewable plastic materials. Wood-plastic composites have the properties of wood and plastic. These composites are inherently versatile, durable, and resistant to spoilage, allowing manufacturers to create them in any shape. Wood-plastic composites work in hot zones, so they can be used in places where ordinary wood cannot be used. The production of these materials promotes the reuse of wood waste that would otherwise go to landfills.
The use of wood plastic composites prevents deforestation, owing to which they act as an ideal substitute for hard wood. In addition, manufacturing process of wood plastic composites does not involve any chemical which can be harmful or toxic to the environment. These environmental concerns and rise in awareness regarding wood plastic composites act as a primary factors driving the growth of the market.