Wooden Decking Market Outlook-2030
The global wooden decking market size was valued at $13,858.7 million in 2020, and is projected to reach $18,624.0 million by 2030, registering a CAGR of 2.9% from 2021 to 2030. A deck is a flat weight-bearing surface, elevated above the ground which is similar to a floor that is often built outside, a building. Wood & timber decking can be utilized in various ways. It is used in landscaping of a garden, to expand a living area of a house and as a substitute for some stone-based features such as patios. Treated timber, composite lumber, composite material, and aluminum are all used for  construction of decks.
The COVID 19 outbreak has affected the growth of the wooden decking industry owing to the lockdown measure in the countries and delay in production and manufacturing of wooden decking which are utilized in residential and commercial spaces.
The need for sophisticated construction in developed countries, as well as an increase in renovations, and house repair activities, are the key drivers for the wooden decking market growth. Wooden decking is used in the residential sector for new construction as well as for repairs and renovations. In residential construction, it is used in many ways including cladding & siding, paths, swimming pool decks, and flooring.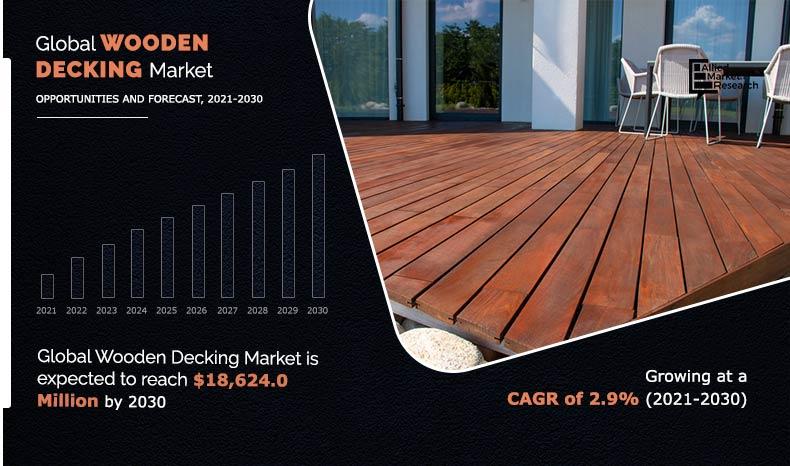 The wooden decking market is driven by rise in demand for residential projects across the globe during the forecast period. The rise in the population of the Asia-Pacific region has led to the increase in residential and non-residential constructions, as a result there is increase in the demand for wooden decking. In India, the Union Cabinet authorized the establishment of an Alternative Investment Fund (AIF) worth $3.58 billion in November 2019 to restart over 1,600 delayed housing projects throughout the  major cities of the Country. Puravankara Ltd. plans to invest $121.6 million over the next four years in the construction of three ultra-luxurious residential complexes in Chennai, Bengaluru, and Mumbai. Such factors provide lucrative growth opportunities for the wooden decking market during the forecast period. 
Wooden Decking Market

---
By Type
Cedar segment is projected to grow at a significant CAGR
The novel coronavirus has rapidly spread across various countries and regions, causing an enormous impact on the lives of people and the overall community. It began as a human health condition and has now become a significant threat to global trade, economy, and finance., The COVID-19 pandemic has halted the production of many products in the wooden decking business due to the lockdown. Furthermore, the number of COVID-19 cases are expected to reduce in the near future as the vaccine for COVID-19 is  introduced in the market. This has led to the reopening of wooden decking companies at their full-scale capacities. This will help the market to recover by the start of 2022. After COVID-19 infection cases begin to decline, equipment &machinery producers must focus on protecting their staff, operations, and supply networks to respond to urgent emergencies and establish new methods of working.
Various companies are implementing different strategic moves such as acquisition, partnership and agreement to increase the manufacturing and distribution of wooden decking to strengthen the market position. For instance, in April 2021, UFP Industries collaborated with endurable building product. Endurable is a prominent manufacturer of specialized structural aluminum decking & railing and wooden decking products for outdoor use, such as deck framing, balconies, sunshades, railings, and steps. This strategic move help UFP Industries to expand their wooden decking product portfolio. 
Wooden Decking Market

---
By End User
Residential segment holds dominant position in 2020
The wooden decking market is segmented on the basis of type, construction type, application, end-user, and region. By type, the market is divided into pressure treated wood, redwood, cedar and others. By construction type, it is divided into new construction and renovation and repair. By end-user, it is divided into residential and non-residential. By region, the wooden decking market  is analyzed across North America (the U.S., Canada, and Mexico), Europe (the UK, France, Germany, Italy, and Rest of Europe), Asia-Pacific (China, Japan, India, South Korea and Rest of Asia-Pacific), and LAMEA (Latin America, the Middle East, and Africa).
Competition Analysis
Key companies profiled in the wooden decking market report include Humboldt Redwood Company, James Latham PLC, Long Fence, Metsa Group, Setra Group AB, UFP Industries, UPM-Kymmene Corporation, Vetedy Group, West Fraser Timber Co. Ltd., Weyerhaeuser Company.
Wooden Decking Market

---
By Region
North America holds a dominant position in 2020 and Asia-Pacific is expected to grow at a significant rate during the forecast period.
Key Benefits For Stakeholders
The report provides an extensive analysis of the current and emerging wooden decking market trends and dynamics.  
In-depth emerging wooden decking market analysis is conducted by constructing market estimations for key market segments between 2021 and 2030. 
Extensive analysis of the emerging wooden decking market is conducted by following key product positioning and monitoring of top competitors within the market framework.
A comprehensive analysis of all the regions is provided to determine the prevailing opportunities.
The global emerging wooden decking market forecast analysis from 2021 to 2030 is included in the report.
The key players within emerging wooden decking market are profiled in this report and their strategies are analyzed thoroughly, which help understand the competitive outlook of the emerging wooden decking industry. 
 Wooden Decking Market Report Highlights
Aspects
Details
BY TYPE

Pressure Treated Wood
Redwood
Cedar
Others (tropical hardwood, tigerwood, mahogany, teak and Ipe)

BY CONSTRUCTION TYPE

New construction
Renovation and repair

BY END-USER

Residential
Non-residential

BY REGION

North America (U.S., Canada, Mexico)
Europe (Germany, France, UK, Italy, Rest of Europe)
Asia-Pacific (China, India, Japan, South Korea, Rest of Asia-Pacific)
LAMEA (Latin America, Middle East, Africa)

Key Market Players
HUMBOLDT REDWOOD COMPANY, JAMES LATHAM PLC, LONG FENCE, METSA GROUP, SETRA GROUP AB, UFP INDUSTRIES, INC., UPM- KYMMENE CORPORATION, VETEDY GROUP, WEST FRASER TIMBER CO. LTD., WEYERHAEUSER COMPANY