X-Ray Detector Market Overview:
The global X-ray detector market size was valued at $5.12 billion in 2019, and is projected to reach $8.87 billion by 2027, registering a CAGR of 6.4% from 2020 to 2027.
X-ray is a form of electromagnetic radiation that has high energy and can pass through most objects, including body. Among many applications of X-rays such as veterinary, medical, dental, industrial and security, it is most widely used in medical imaging to create images of tissues and structures inside the body. For medical imaging, an X-ray beam is passed through the body where a portion of X-rays is either absorbed or scattered by internal structures, and the remaining X-ray pattern is transmitted to a detector. X-ray detectors are devices that are used to measure flux, spatial distribution, spectrum, and other properties of X-rays. The most common methods of X-rays in medical imaging include X-ray radiography, computed tomography (CT), mammography, and angiography. X-ray radiography can be used to detect or diagnose bone fractures; infections such as pneumonia; and calcifications including kidney stones. Moreover, technological advancements in radiography has brought wide-scale adoption of digital radiography in all relevant industries.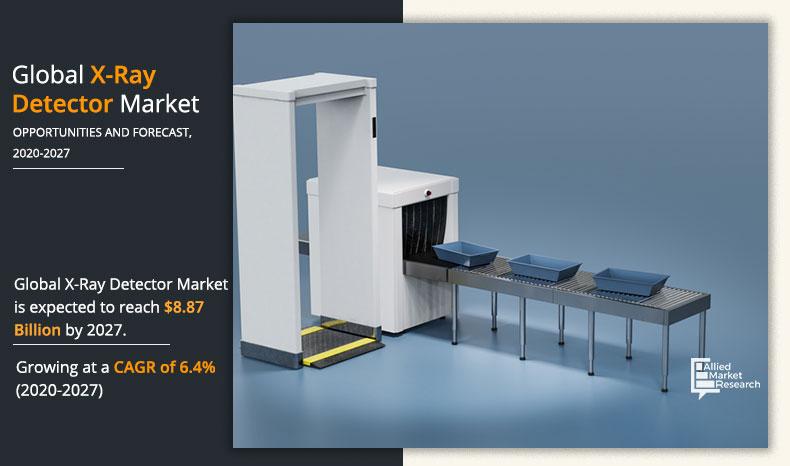 Growth of the global X-ray detector market is majorly driven by rise in demand for digital imaging technologies. Moreover, various advantages that digital detectors offer further drive growth of the X-ray detector market. Furthermore, favorable reimbursement policies for X-ray diagnostics also drive growth of the market. However, high cost of digital X-ray systems is anticipated to restrict growth of the market. On the contrary, increase in demand for wireless X-ray detectors and growth in medical tourism in developing countries are expected to offer lucrative opportunities for market expansion during the forecast period.
COVID-19 has diverted stimulus funds to diagnostic X-ray systems to help facilitate much needed diagnostic imaging facilities, resulting in a higher than expected upliftment in the radiography market. Chest X-ray is often the first imaging exam acquired after a positive reverse-transcription polymerase chain reaction (RT-PCR), if a patient is at the risk for disease progression. In addition, mobile digital radiography (DR) systems are at the forefront in providing an initial screening for pneumonia and secondary and more progressive stage of severe COVID-19 cases. Moreover, for emerging countries, mobile DR systems provide imaging capabilities for diagnosis of COVID-19, owing to their increased affordability compared to CT systems. Hence, surge in demand for digital X-ray radiography is expected to have a positive impact from the COVID-19 pandemic.
X-Ray Detector Market

---
By Type
Flat panel detectors (FPDs) holds the dominant position in 2019 and would continue to maintain the lead over the forecast period.
Type segment review
By type, the flat panel detectors (FPDs) segment acquired a major share of the X-ray detector market in 2019, and anticipated to maintain its dominance during the forecast period, owing to high demand of FPDs and various advantages that it offers such as excellent image quality and ability to retrofit into existing X-ray tables.
X-Ray Detector Market

---
By Application
Veterinary segment is projected as one of the most lucrative segments.
Application segment review
By application, the veterinary segment is expected to grow at the fastest rate during the forecast period, owing to rise in adoption of pets, increase in animal health expenditure, and growth in adoption of radiography in veterinary practices.
X-Ray Detector Market

---
By Region
Asia-Pacific region would exhibit the highest CAGR of 8.4% during 2020-2027.
Region segment review
Region wise, North America acquired a major share of the market, owing to presence of key players that offer popular X-ray detectors in the region, well-established healthcare facilities, growth in number of medical imaging procedures, favorable reimbursement policies, rise in threats of terrorism, large focus on product quality & non-destructive testing, and growth in adoption of pets & animal farming. However, Asia-Pacific is expected to grow at the fastest rate during the forecast period, owing to increase in healthcare expenditure, growth in medical tourism, rise in adoption of technologically advanced X-ray imaging products, presence of large geriatric population, and focus on skill development in the region, which also offers lucrative opportunities for the X-ray detector market.
The report provides a comprehensive analysis of the key players operating in the global X-ray detector market, namely Agfa-Gevaert N.V., Analogic Corporation (Altaris Capital Partners, LLC), Canon, Inc., Carestream Health, Inc., Comet Holding (YXLON International GmbH), Detection Technology Plc., Fujifilm Holdings Corporation (Fujifilm Medical Systems), General Electric, Konica Minolta Holdings Inc., Koninklijke Philips N.V., Siemens AG, Teledyne Technologies Incorporated (Teledyne DALSA, Inc.), Thales Group (Trixell), and Varex Imaging Corporation. The other players in the value chain include (profiles not included in the report), Agilent Technologies, Hamamatsu Photonics K.K., Vieworks Co., Ltd., and Rayence Inc
Key Benefits For Stakeholders
This report provides a detailed quantitative analysis of the current X-ray detector market trends and forecast estimations from 2020 to 2027, which assists to identify the prevailing market opportunities. 
An in-depth X-ray detector market analysis includes analysis of various regions, which is anticipated to provide a detailed understanding of the current trends to enable stakeholders formulate region-specific plans.
A comprehensive analysis of factors that drive and restrain the growth of the global X-ray detector market is provided.
Region-wise and country-wise market conditions are comprehensively analyzed in this report.
An extensive analysis of various regions provides insights that are expected to allow companies to strategically plan their business moves.
Key market players within the X-ray detector market are profiled in this report and their strategies are analyzed thoroughly, which helps in understanding competitive outlook of global X-ray detector market.
Key Market Segments
By Type
Flat panel detectors (FPDs)

By Type

Indirect capture FPDs 
Direct capture FPDs

By Panel Size

Small area FPDs
Large area FPDs

Charge-Coupled Device Detectors (CCDs)
Line scan detector
Computed radiography plates/cassettes
By Application
Medical

By Type

Static imaging
Dynamic imaging

By Indication

Veterinary
Security
Dental
Industrial
By Region
North America
Europe

Germany
France
UK
Italy
Spain
Rest of Europe

Asia-Pacific

Australia
Japan
India
China
South Korea
Rest of Asia-Pacific

LAMEA

Brazil 
Saudi Arabia 
South Africa
Rest of LAMEA