The global yacht charter market size was valued at $11.4 billion in 2022, and is projected to reach $20.2 billion by 2032, growing at a CAGR of 6.9% from 2024 to 2032.
Report Key Highlights:
The report covers a detailed analysis on truck yacht charter market.
The yacht charter market share has been analyzed from the year 2022 till the year 2032.
Latest developments have been mentioned in the research study.
Top companies operating in the industry has been profiled in the research study.
The research study includes different segments & regions across which the market has been analyzed.
Yacht chartering involves the rental or charter of a sailboat or motor yacht for the purpose of traveling to different coastal or island destinations, whether for business or leisure. There are primarily two types of yacht charters: bareboat and skippered. In bareboat charters, clients take on the role of the boat's skipper and handle it themselves, whereas skippered charters come with both the boat and a crew. Many bareboat charter companies offer fundamental seamanship courses to prepare clients for operating a boat. Some of these companies may also provide skippered charters, which come with a skipper but do not include additional crew members. The yacht charter market is expected to experience substantial growth, driven by an increasing number of yacht productions and ongoing construction projects. Yachts, often equipped with luxurious amenities such as helipads, swimming pools, saunas, hot tubs, and more, symbolize the pinnacle of opulence.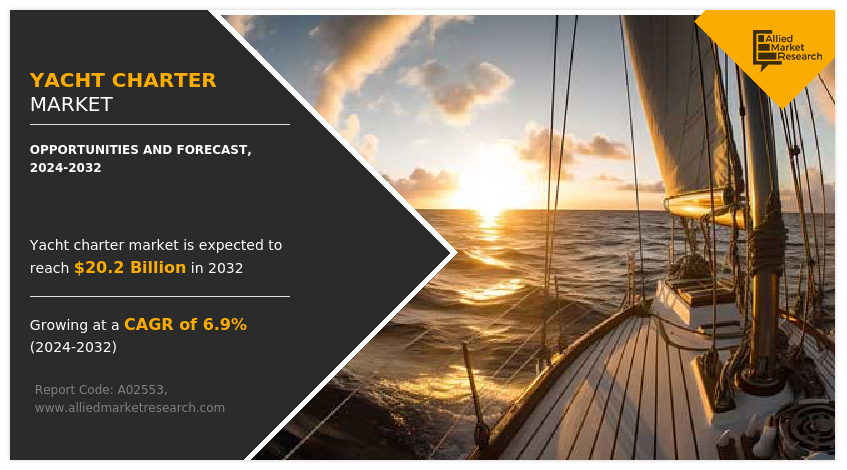 The market is segmented into type, size, application, and region. On the basis of type, it is categorized into sailing yacht, motor yacht and others. On the basis of size, it is classified small (Up to 30m), medium (30m-50m), large (Over 50m). The application segment is divided into vacation/ leisure, sailing, and others. On the basis of region, the market is analysed across North America, Europe, Asia-Pacific and LAMEA.
The growth of water sports and recreation activities and increase in number of private islands on cruise itineraries drive market growth. However, the high cost associated with yacht charter and the weather and safety concerns hamper the growth of the market. Moreover, increased involvement of intermediaries & hybrid business models, and change in yacht infrastructure are expected to propel market growth in the forecast period.
Key players operating in the global yacht charter market are Boatsetter, Inc., MARTELLO YACHTING & COMPANY, SAILOGY S.A., Northrop & Johnson, Ionian Catamarans, IYC, ZIZOOBOATS GmbH, Yachtico, Inc., Boatjump, S.L., and West Coast Marine Yacht Services Pvt. Ltd., among others.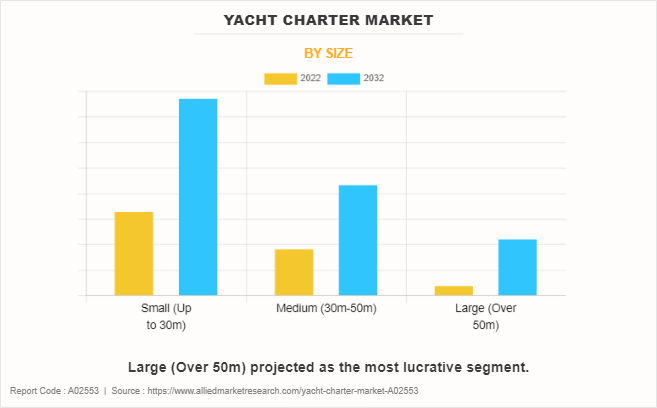 Key Developments
The leading companies are adopting strategies such as acquisition, agreement, expansion, partnership, contracts, and product launches to strengthen their market position.
In October 2023, IYC, the yacht brokerage firm, is embarking on a new venture into the Middle East by inaugurating its inaugural branch in Dubai. This fresh addition has been established through a collaboration with Vision Investments Limited, a subsidiary of Al Ameeri Group Holding, and signifies IYC's fifteenth global location.
In September 2022 The watercraft rental platform Boatsetter raised a funding of $70 million and aims to transform into the "Airbnb of boats" boasting to 50,000 listings in 700 global locations.
Growth of water sports and recreation activities:
The surge in interest and engagement in water sports has led to the introduction of various innovative and exciting water sporting categories in recent years. Notably, jet-powered hoverboards, flyboarding, and inflatable catapults have captured the imagination of enthusiasts. In addition, activities like aquatic hoverboards and water jetpacks have emerged as thrilling options for those seeking aquatic adventures. Setting out on a luxury yacht charter presents an unmatched chance to revel in the finest water sports and yacht toys. The majority of yachts are equipped with inflatable slides, trampolines, stand-up paddleboarding (SUPs), and kayaks.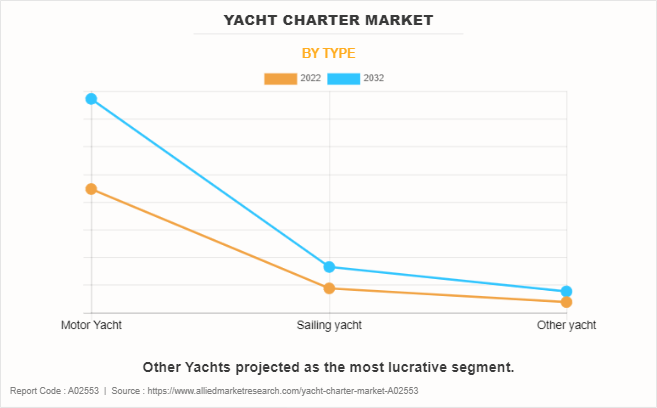 Increasing number of private islands on cruise itineraries:
There is a strong trend toward renewing the marine fleets and rise in number of marine fleets increased by about 7% globally. Moreover, the adventure travel is growing at a rapid pace and cruise expeditions are experiencing the impact. Furthermore, numerous cruise builders are investing in land-based private islands that allow cruise lines to offer customers exclusive beach time as an extension of the onboard experience. Such rise in trends from the millionaires along with the increase in add-on services is estimated to fuel the demand for the yacht charter industry in the forecast period.
The spending of cruise line brands increased owing to which the growth of yacht chartering also increased for instance in September 2023, Royal Caribbean invested $250 million in the development of CocoCay in the Bahamas. People around the world are preferring the yachts for recreational purposes which are celebrated at the world's beautiful destinations due to which the private islands are gaining traction.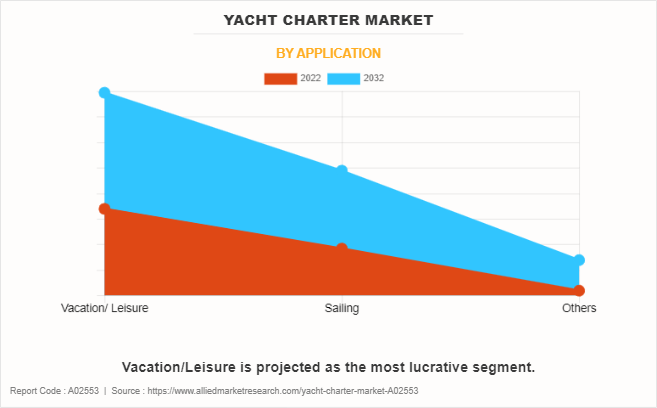 High cost associated with yacht charter:
Yacht charters are priced based on their base rate, which represents the weekly rental cost of the boat. The total cost of a yacht charter varies due to several factors, including the type of yacht, the charter destination, local taxes, and the base rate itself. As a result, yacht charters have a wide price range. Smaller sailing yachts and catamarans may start at around $10,000 per week, while the most luxurious motor superyachts can exceed $150,000 per week.
In addition, there are hidden costs associated with yacht charters, including taxes, Value Added Tax (VAT), insurance, crew gratuity, advanced provisioning allowance, and other expenses, which typically amount to approximately 15-30% of the base price. These charges are collected prior to the charter, serving as an initial financial commitment. These additional costs can pose a barrier to potential customers in developing countries, thus hindering the growth of the yacht charter market.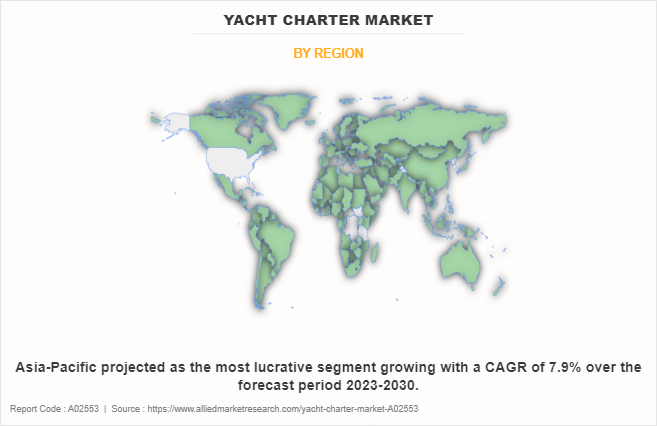 Increased involvement of intermediaries & hybrid business models
The increase in involvement of brokers is a notable trend in the yacht industry, driven by a rise in number of buyers and charter clients. Brokers play a vital role, facilitating viewings, negotiating sales terms, managing paperwork, and overseeing the collection and distribution of sale proceeds. Moreover, the use of tablets and smartphones as mediums for customers to gain real insights into yachts is drawing more people toward yacht rentals.
In addition, yachts are venturing into the leisure and hospitality sectors, with the global yacht tourism industry experiencing remarkable growth. Luxury travel has also seen a significant upswing.
Yacht tourism has evolved into an exclusive form of recreation, coexisting with well-established mass entertainment systems. Yacht chartering is no longer limited to the aristocracy, however, has expanded to the middle class. Yacht tourism takes various forms, including fishing, sightseeing, and leisure sailing, with the latter being the most favored. The success of yacht tourism has led to an increased demand for luxury yacht charters in the foreseeable future.
Key Benefits For Stakeholders
This report provides a quantitative analysis of the market segments, current trends, estimations, and dynamics of the yacht charter market analysis from 2022 to 2032 to identify the prevailing yacht charter market opportunities.
The market research is offered along with information related to key drivers, restraints, and opportunities.
Porter's five forces analysis highlights the potency of buyers and suppliers to enable stakeholders make profit-oriented business decisions and strengthen their supplier-buyer network.
In-depth analysis of the yacht charter market segmentation assists to determine the prevailing market opportunities.
Major countries in each region are mapped according to their revenue contribution to the global market.
Market player positioning facilitates benchmarking and provides a clear understanding of the present position of the market players.
The report includes the analysis of the regional as well as global yacht charter market trends, key players, market segments, application areas, and market growth strategies.
 Yacht Charter Market Report Highlights
Aspects
Details
Market Size By 2032
USD 20.2 billion
Growth Rate
CAGR of 6.9%
Forecast period
2022 - 2032
Report Pages
255
By SIZE

Small (Up to 30m)
Medium (30m-50m)
Large (Over 50m)

By TYPE

Motor Yacht
Sailing yacht
Other yacht

By APPLICATION

Vacation/ Leisure
Sailing
Others

By Region

North America (U.S., Canada, Mexico)
Europe (Germany, UK, Italy, Russia, Rest of Europe)
Asia-Pacific (China, Japan, India, Rest of Asia-Pacific)
LAMEA (Latin America, Middle East, Africa)

Key Market Players
West Coast Marine Yacht Services Pvt. Ltd., IYC, Boatjump, S.L., MARTELLO YACHTING & COMPANY, ZIZOOBOATS GmbH, SAILOGY S.A., Ionian Catamarans, Yachtico, Inc., Boatsetter, Inc. , Northrop & Johnson
Analyst Review
In accordance with several interviews conducted, the CXOs of the leading companies stated that the yacht charter market is expected to witness significant growth in the future. In addition, the global yacht charter market is anticipated to be influenced by the eternal need for luxury and changing lifestyles. Furthermore, the introduction of innovative materials, such as structural glass, has elevated the sophistication of yacht design. Yacht production and under-construction projects are on the rise, which is anticipated to drive substantial growth in the yacht charter market. Yachts, equipped with luxurious amenities such as helipads, swimming pools, saunas, and hot tubs represent the pinnacle of opulence. In addition, key players in this industry have expanded their global presence through acquisitions and expansion strategies.
Despite the challenges faced by the global economy, the yacht charter market has gained popularity, which is attributed to strong underlying factors such as the increasing wealth of ultra-high-net-worth individuals, a growing interest in recreational & expeditionary activities, and the rising trend of yacht tourism. The market is expected to experience significant growth during the forecast period. However, the sector is not without its challenges, including high costs and the impact of natural disasters.