Zero-Emission Aircraft Market Statistics 2040 -
The global zero-emission aircraft market is expected to be valued at $29.24 billion in 2030, and reach $191.97 billion in 2040, registering a CAGR of 20.7%.
Being a significant contributor to releasing CO2 from burning large quantity of jet fuel, traditional aircraft also influences the concentration of other gases and pollutants present in the atmosphere. The release of such harmful pollutants results in a long-term rise in ozone levels, emissions of sulfur aerosols, and water contrails. The emission of such pollutants significantly contributes to global warming. These factors call for immediate action on the part of aircraft industry leaders (Airbus, Boeing, and others) to opt for cleaner fuels (hydrogen or battery packs); the governments in formulating regulations regarding the checking of the emissions caused by today's aircraft; and policies that create a conducive environment for the advent of carbon-neutral aircraft shortly.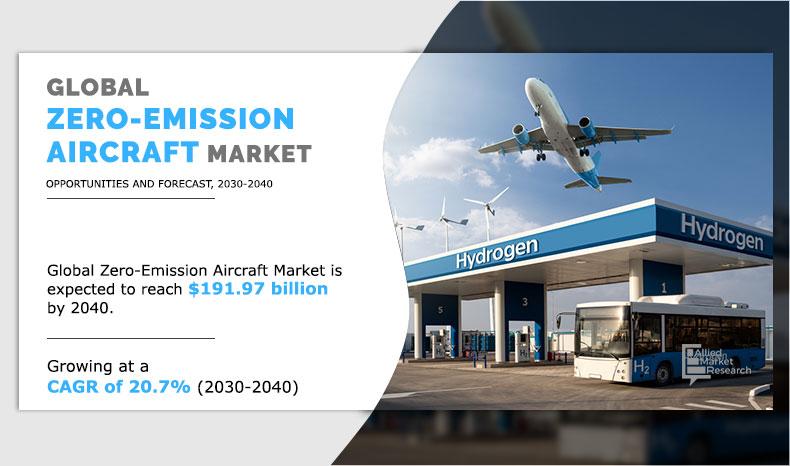 To check the rising level of CO2 and other harmful emissions by currently operational airplanes, governments across the globe are planning roadmaps to contain the pollution caused by kerosene-based aircraft. For instance, countries, such as the U.S., South Korea, Germany, and France, have formulated strategic plans regarding the transition to electric/hydrogen-based aircraft. Moreover, various companies around the world are designing aircraft propelled by batteries, hydrogen, or hybrid technologies (battery and hydrogen), and solar cells. The zero-emission aircraft running on such energy resources can highly reduce emissions and platforms, such as air-taxis (for instance, CityHawk by Urban Aeronautics), can make effortless city travel possible in just a few years. The arrival of such aircraft can significantly reduce our dependence on fossil fuels over the years and open new avenues of sustainable aviation.
The market segmentation is based on source, range, application, type, and region. By source, the market is divided into hydrogen, electric, and solar. Based on range, it is classified into short-haul, medium-haul, and long-haul. Based on application, it is bifurcated into passenger aircraft and cargo aircraft. Based on type, it is bifurcated into turboprop rear bulkhead, turbofan system, and blended wing body. Region-wise, the market is analyzed across North America, Europe, Asia-Pacific, and LAMEA.
Key players operating in the global zero-emission aircraft market include AeroDelft, Airbus S.A.S., Bye Aerospace, Eviation Aircraft, HES Energy Systems, Joby Aviation, Lilium, Pipistrel d.o.o, Wright Electric, and ZeroAvia, Inc.
Zero-Emission Aircraft Market

---
By Source
Solar is projected as the most lucrative segments
Increase in air passenger traffic across the globe 
According to International Civil Aviation Organization's (ICAO) yearly worldwide statistics, the total number of commuters carried on scheduled flights rose to 4.38 billion in 2019, which was 3.65% higher than the previous year. The highest passenger traffic was witnessed in the Asia-Pacific region. In October 2018, the International Air Transport Association (IATA) publicized that the current developments in air transport project that the passenger count could double to 8.2 billion in 2037. The COVID-19 pandemic led to a severe downfall in air traffic figures, although recently, in May 2021, the International Air Transport Association (IATA) stated that the global air passenger traffic is anticipated to recover to almost 88% of pre-COVID-19 levels during 2022, and is projected to outdo this level during 2023. This signifies a robust demand for air travel globally.
The abovementioned statistics suggest rise in air passenger traffic over the years internationally. The present fleet of aircraft is powered by kerosene (fossil fuel) and owing to the rise in air passenger traffic, there is increase in consumption of kerosene as well. This calls to search for other energy sources, such as hydrogen and electricity, to power the next generation of aircraft. Hydrogen as an energy carrier for usage in aircraft has some exceptional qualities, such as minimum pollution, lightweight, global availability, and safety, thus making it a suitable aviation fuel. Electricity or battery-powered aircraft cost less to operate and maintain than fuel-powered aircraft engines; are much quieter; and offer smoother, more comfortable flights. As the operations of hydrogen & battery-powered aircraft do not emit carbon emissions, the usage of these technologies can prove quite beneficial for the aviation industry and the environment as well. Therefore, the rise in air traffic is anticipated to drive the growth of the zero-emission aircraft market during the forecast period.  
Zero-Emission Aircraft Market

---
By Application
Cargo Aircraft is projected as the most lucrative segments
Reduced GHG emissions
Using hydrogen fuel, electric energy, and solar energy as a source to power zero-emission aircraft as compared with jet fuel and sustainable aviation fuels (advanced aviation biofuel types used in jet aircraft) will lead to a drastic reduction in global greenhouse gas (GHG) emissions. There are two ways by which we can harness the energy of hydrogen, among which, in the case of fuel-cell propulsion, gaseous emissions from the aircraft are limited only to water vapor, a byproduct of the energy production process. Similarly, aircraft powered by electric batteries and solar energy is carbon neutral in nature, and the emergence of such zero-emission aircraft is expected to result in cleaner, quieter, and sustainable operations of the aviation sector in future. 
Increase in R&D investments for finding alternative energy sources for aircraft is driven by rising regulations regarding the release of harmful effluents by conventional aircraft. For instance, in December 2020, the U.S. Environmental Protection Agency (EPA) issued its final regulation on greenhouse gas (GHG) emission standards for big turbine aircraft flown by commercial and business aviation operators. EPA considers this regulation important and expects it to act as a baseline for aircraft GHG emissions. Furthermore, European Union (EU) is making efforts to reduce air travel emissions in Europe and coordinating with the international community to instigate procedures with the global scope. The proposal, planned for the 2nd quarter of 2021, will be part of the wide-ranging European Green Deal. In addition, the International Civil Aviation Organization (ICAO) had stated (before the COVID-19 pandemic) that by 2050, the international aviation emissions could become thrice as compared with 2015 levels. Such factors are expected to propel the development of zero-emission aircraft technologies during the forecast timeframe.
Zero-Emission Aircraft Market

---
By Range
Medium Haul is projected as the most lucrative segments
Technological challenges associated with the solar, electric, and hydrogen-powered aircraft
Zero-emission aircraft hold huge prospects in the future, owing to low operation costs, causing no carbon emissions, and flying on abundant power sources such as hydrogen fuel and solar energy. While they are getting huge support from governments and associations across the world, engineers have to come up with innovative technologies to tackle huge challenges related to weight to energy ratios associated with electric planes, less amount of solar energy captured by solar cells mounted on a solar plane, and low energy density of hydrogen. 
Pertaining to solar aircraft, both the sun and the plane are continuously moving in the atmosphere, so the angle of capture for the sun to hit the solar panels is extremely irregular. Attributed to this, solar panels do not collect a significant amount of energy. Currently, solar-powered planes only capture around 10-20% of the solar energy. Moreover, as solar-powered aircraft are designed with huge wingspans and fragile and lightweight solar cells, they are quite susceptible to unfavorable weather conditions. One of the biggest issues with electric aircraft is the low energy density of batteries. While jet fuel has an energy density of around 12,000 Wh/kg, commercially available lithium-ion batteries have an energy density at the cell level of around 250 Wh/kg. Energy density at the pack level is usually 20% lesser. In addition, electric aircraft propulsion also entails larger voltages to minimalize the size and mass of the power distribution system. Hydrogen (in gaseous form) is usually extracted from water by the electrolysis process, which includes passing a high electric current through water to isolate oxygen and hydrogen atoms. The electrolysis process is quite expensive as it includes high expenditure on energy requirements. Furthermore, hydrogen poses challenges for designers in terms of mass and volume requirements as well as for fuel management and storage on-board aircraft. The high volume-to-energy property of Liquid Hydrogen (LH2) requires hydrogen aircraft to contain a huge quantity of fuel compared to that of legacy kerosene-fuelled aircraft. This leads to higher air drag and affects the efficiency of the aircraft.
These issues related to solar, electric, or hydrogen-powered aircraft are expected to obstruct the growth of the zero-emission aircraft market during the forecast timeframe.
Zero-Emission Aircraft Market

---
By Type
Turbofan System is projected as the most lucrative segments
Proactive government initiatives towards the development of zero-emission aircraft
Switching from kerosene fuel to hydrogen or battery-powered planes requires great impetus from governments across the globe. Various governments have formulated policies and a roadmap to support the hydrogen-based aviation infrastructure in respective countries, which is anticipated to contribute to a reduction in carbon emissions worldwide. On July 22nd, 2010, the Department of Defense (DOD) and the U.S. Department of Energy (DOE) signed up a Memorandum of Understanding (MOU) for the purpose of directing efforts to enhance the nation's energy security and establish federal government leadership in transforming into a low-carbon economy. One of the highlights under the MOU was manufacturing and installing advanced fuel cells for secondary power in ground support equipment at airports and onboard DOD aircraft. 
In line with the efforts regarding faster development of zero-emission aircraft, the Aerospace Technology Institute (ATI) launched the FlyZero program in July 2020 to assist the UK aerospace to develop a zero-carbon emission aircraft by 2030. Sponsored by the UK government's Department for Business, Energy & Industrial Strategy (BEIS), the FlyZero program was launched to pull together knowledge from across the UK supply chain and academies in a primary 12-month program to examine the design issues and market prospects of feasible zero-emission aircraft concepts. The UK government expects the launch of zero-emission commercial flights by 2030. Moreover, following the recommendations made by the Committee on Climate Change, the UK government has set a target of net-zero GHG emissions in the UK by 2050. This came into force in June 2019 as a modification to the Climate Change Act 2018 target of decreasing GHG emissions by 80%, compared with 1990 levels. Such initiatives are projected to propel the growth of the zero-emission aircraft market over the years.
Zero-Emission Aircraft Market

---
By Region
Asia-Pacific would exhibit the highest CAGR of 23.3% during 2040-2040.
Key Benefits For Stakeholders
 This study presents analytical depiction of the global zero-emission aircraft market analysis along with current trends and future estimations to depict imminent investment pockets.
 The overall zero-emission aircraft market opportunity is determined by understanding profitable trends to gain a stronger foothold.
 The report presents information related to key drivers, restraints, and opportunities of the global zero-emission aircraft market with a detailed impact analysis.
 The current zero-emission aircraft market is quantitatively analyzed from 2030 to 2040 to benchmark the financial competency.
 Porter's five forces analysis illustrates the potency of the buyers and suppliers in the industry.
Key Market Segments
By Source
By Range
 Short-Haul
 Medium-Haul
 Long-Haul
By Application
 Passenger Aircraft
 Cargo Aircraft    
By Type
 Turboprop Rear Bulkhead
 Turbofan System
 Blended Wing Body
By Region
 North America
 Europe

 UK
 Germany
 France
 Russia
 Rest of Europe

 Asia-Pacific

 China
 Japan
 South Korea
 Rest of Asia Pacific

 LAMEA

 Latin America
 Middle East
 Africa
KEY PLAYERS
 AeroDelft
 Airbus S.A.S.
 Bye Aerospace
 Eviation Aircraft
 HES Energy Systems
 Joby Aviation
 Lilium
 Pipistrel d.o.o
 Wright Electric
 ZeroAvia, Inc. 
 Zero-Emission Aircraft Market Report Highlights
Aspects
Details
By Source
By Range

Short-Haul
Medium-Haul
Long-Haul

By Application

Passenger Aircraft
Cargo Aircraft

By Type

Turboprop Rear Bulkhead
Turbofan System
Blended Wing Body

By Region

North America (U.S., Canada, Mexico)
Europe (France, Germany, Italy, Spain, UK, Russia, Rest of Europe)
Asia-Pacific (China, Japan, India, South Korea, Australia, Thailand, Malaysia, Indonesia, Rest of Asia-Pacific)
LAMEA (Brazil, South Africa, Saudi Arabia, UAE, Argentina, Rest of LAMEA)

Key Market Players
ZeroAvia, Inc., Joby Aviation, PIPISTREL D.O.O., AERODELFT, HES Energy Systems, Lilium, Wright Electric, Airbus S.A.S., BYE AEROSPACE, Eviation Aircraft