Zero Energy Buildings Market Research, 2031
The global zero energy buildings market size was valued at $71.7 billion in 2021, and is projected to reach $403 billion by 2031, growing at a CAGR of 18.7% from 2022 to 2031. Zero energy buildings, also known as net-zero energy buildings are highly energy efficient buildings. For the energy and electricity needs, these buildings are typically dependent on the electricity and energy produced on site by their own renewable energy systems, such as solar power and wind power. Zero energy buildings heavily rely on direct sun energy for heating and lighting in the interior spaces of the building.
The zero energy buildings market was hampered during the outbreak of COVID-19 pandemic, owing to restrictions on construction activities. In addition, energy-efficient systems could not be effectively installed during the lockdown period.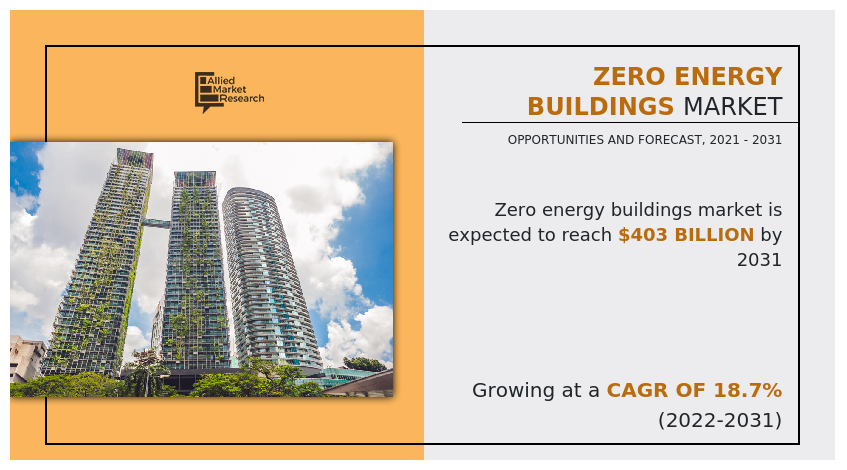 The earth's climate is worsening, owing to the unprecedented and unchecked emission of greenhouse gases since the beginning of industrial revolution. This is causing the global average temperature to rise, eventually leading to various issues such as global sea level rise, crop failure, untimely season change, worsening of air quality, and other environment related issues. This alarming fact has brought every nation together to stop the unchecked emission of greenhouse gases and bring back the earth's environment to its original state as much as possible. Furthermore, building sector is responsible for emission of more than 35% of global CO2 emissions. Thus, zero energy buildings are constructed, as a zero-energy building consumes only the electricity that is typically generated via renewable resources. This is expected to play a major role in reducing the global CO2 emissions in the coming years. Such factors are expected to positively influence the zero energy buildings market growth in the coming years.
Furthermore, global population is rising at a significant pace. It is estimated that by the year 2050, the global population is expected to rise to more than 9.5 billion from about 7.8 billion in 2021. This rapid growth in population is anticipated to drive the growth of building sector in the coming years. Moreover, rise in awareness regarding global warming and protection of earth's environment among the masses are expected to encourage people across the world to demand for zero energy buildings in the coming years. The growth in market is expected to be supported by various initiatives taken by the countries around the globe to become carbon neutral by the year 2050 and 2070.
In addition, key players in zero energy buildings industry offer a wide range of products and solutions, to meet the zero energy building requirements. They constantly innovate their offerings and partner with other players to formulate the best products and solution to stay competitive in the market. For instance, in February 2022, Honeywell International Inc., a major provider of building automations services, partnered with Nexii Building Solutions. Nexii is known for its high-performance green building products and building process. This partnership is expected to bring together best of both the companies in a single package to provide energy saving systems to the small- to medium-sized commercial buildings.
Zero Energy Buildings Market

---
By Component
HVAC Systems is expected to hold a majority share of the market throughout the study period.
The novel coronavirus had rapidly spread across various countries and regions, causing an enormous impact on the lives of people and the overall community. It began as a human health condition and later became a significant threat to global trade, economy, and finance. The COVID-19 pandemic halted the production of many energy-efficient components of zero energy buildings due to lockdown. The economic slowdown initially resulted in reduced spending on various residential and non-residential building construction projects. However, owing to the introduction of various vaccines, the severity of COVID-19 pandemic has significantly reduced. As of mid-2022 the number of COVID-19 cases have diminished significantly. This has led to the full-fledged reopening of zero energy buildings components manufacturers and contractors at their full-scale capacities. Furthermore, it has been more than two years since the outbreak of this pandemic, and many companies have already shown notable signs of recovery.
Furthermore, various governments initiatives to incentivizing the installation of solar panels, and others highly efficient building components is expected to provide lucrative opportunities for the zero energy buildings market.
Zero Energy Buildings Market

---
By Applications
Non-residential segment held the dominant position in 2021, and would continue to grow at significant CAGR during the study period.
The zero energy buildings market is segmented into Component, Solution and Applications. By component, the market is categorized into lighting, HVAC systems, and others. On the basis of solution, the market is bifurcated into systems, and building components. On the basis of application, it is categorized into residential, and non-residential. Region wise, the market is analyzed across North America, Europe, Asia-Pacific, and LAMEA. North America dominated the market in 2021, accounting for the largest zero energy buildings market share, and is Asia-Pacific is anticipated to grow at a highest CAGR during the forecast period. This is attributed to increased investments in building construction projects for residential and non-residential purpose.
Zero Energy Buildings Market

---
By Region
North America is the largest market throughout the study period.
Competition Analysis 
Key companies profiled in the Zero energy buildings market forecast report include Altura Associates, Canadian Solar Inc., DABITRON Group Canary Islands, Daikin industries Ltd., GreenTree Global, Honeywell International Inc., Integrated Environmental Solutions, Johnsons Control International Plc, Kingspan Group Plc., Mitsubishi Electric Corporation, NEO LLC, Saint-Gobain (Sage glass), Schneider Electric, Siemens AG, Solatube International, SunPower Corp., and Trane Technologies plc.
Key Benefits For Stakeholders
This report provides a quantitative analysis of the market segments, current trends, estimations, and dynamics of the zero energy buildings market analysis from 2021 to 2031 to identify the prevailing zero energy buildings market opportunities.
The market research is offered along with information related to key drivers, restraints, and opportunities.
Porter's five forces analysis highlights the potency of buyers and suppliers to enable stakeholders make profit-oriented business decisions and strengthen their supplier-buyer network.
In-depth analysis of the zero energy buildings market segmentation assists to determine the prevailing market opportunities.
Major countries in each region are mapped according to their revenue contribution to the global market.
Market player positioning facilitates benchmarking and provides a clear understanding of the present position of the market players.
The report includes the analysis of the regional as well as global zero energy buildings market trends, key players, market segments, application areas, and market growth strategies.
 Zero Energy Buildings Market Report Highlights
Aspects
Details
Market Size By 2031
USD 403 billion
Growth Rate
CAGR of 18.7%
Forecast period
2021 - 2031
Report Pages
310
Component

Lighting
HVAC Systems
Other

Solution

Systems
Buildings Components

Applications

Residential
Non-residential

By Region

North America (U.S., Canada, Mexico)
Europe (Germany, France, Italy, UK, Spain, Netherlands, Rest Of Europe)
Asia-Pacific (India, South Korea, Australia, Indonesia, Vietnam, Rest Of Asia-Pacific, China, Japan)
LAMEA (Brazil, Argentina, Saudi Arabia, UAE, South Africa, Kenya)

Key Market Players
Altura Associates, Canadian Solar Inc., DABITRON Group Canary Islands, Daikin industries Ltd., GreenTree Global, Honeywell International Inc., Integrated Environmental Solutions, JOHNSONS CONTROL INTERNATIONAL PLC, Kingspan Group Plc., Mitsubishi Electric Corporation, NEO LLC, SAINT-GOBAIN (SAGEGLASS), Schneider Electric, Siemens AG, Solatube International, SunPower Corp., Trane Technologies plc