Zika Virus Vaccines Market Overview:
Zika Virus Vaccines Market is estimated to reach $18,697 million by 2022 from $14,500 million in 2017. The Zika virus vaccines market growth rate is 5.2% during the forecast period.
Zika virus infection is a mosquito-borne illness transmitted through Aedes genus same as other mosquito-borne illness such as japanese encephalitis virus, West Nile viruses, and yellow fever virus. It is also transmitted through sexual contact with an infected person or through an infected pregnant woman to the fetus. The report includes the potential market for Zika vaccines market size and covers the total priority target population that resides in Zika-infested region such as female population in reproductive age, travelers in Zika-infested zones, and the total population residing in Zika-infested zones.
The market growth offers opportunities such as need for prevention & treatment of Zika-linked birth defects and vaccines for immunization & prevention of further spread of Zika virus infection.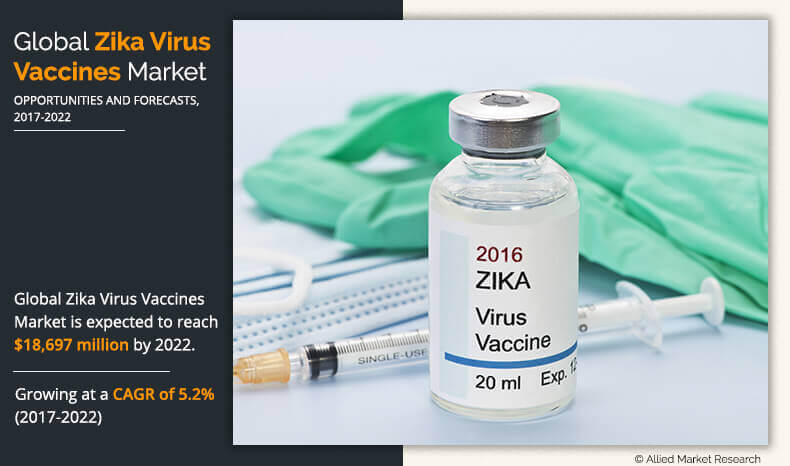 Segment Review
Geographically, Zika virus vaccines market trend has shown that LAMEA is expected to have the highest zika virus market share in 2017 owing to the several individuals with Zika virus infection. Currently, nearly more than 22 countries of Latin America have reported active Zika virus infection, which is estimated to surge the demand for Zika vaccines, create new opportunities. However, in November 2016, WHO announced that Zika virus infection is no more epidemic, and is expected to be less prevalent in future, thus restraining the market growth. However, Asia-Pacific is anticipated to account for 35.2% share of the global market in 2017. About 70 countries are detected with mosquito-borne illness worldwide, among which minimum, 19 countries fall in the Asia-Pacific region. Over 100 Zika infection cases are reported in Singapore, and two confirmed cases are recorded in Thailand with Zika-linked microcephaly up to 2016. Therefore, rise in threat of Zika infection in Asia-Pacific is expected to create potential opportunities for key players.
The key players profiled in the report include Immunovaccine Inc., Takeda Pharmaceutical Co. Ltd., Bharat Biotech International Ltd., NewLink Genetics Co., Inovio Pharmaceuticals, Inc., GeneOne Life Science Inc., GlaxoSmithKline plc. Sanofi S.A., and Hawaii Biotech Inc.
Market Opportunity
Surging need for medical solutions for the prevention & treatment of Zika-linked birth defects
The recent outbreak of Zika virus infection in Latin American countries reports many cases of transmission from an infected mother to her fetus. Infants are born with microcephaly and related birth defects. According to the Brazilian authorities, more than 1,638 babies were born in the country with microcephaly-related birth defects since 2014; however, no medical options are available for the treatment of these infants. This incidence presents the need for vaccines to prevent this disease, which in turn provides momentum to vaccine manufacturers for the development of vaccines at a rapid pace. Moreover, FDA's classification of Zika virus infection as a public health emergency and vaccines for preventing Zika infection would be evaluated under priority review voucher, accelerating the time to market the vaccine. Further, from the end user perspectives, the alarming rate of infection of this virus and its effects are expected to increase the awareness levels of the populace and boost the adoption of these vaccines. Hence, awareness and Zika-linked diseases such as microcephaly is expected to offer opportunities to key vaccine manufacturers during the forecast period.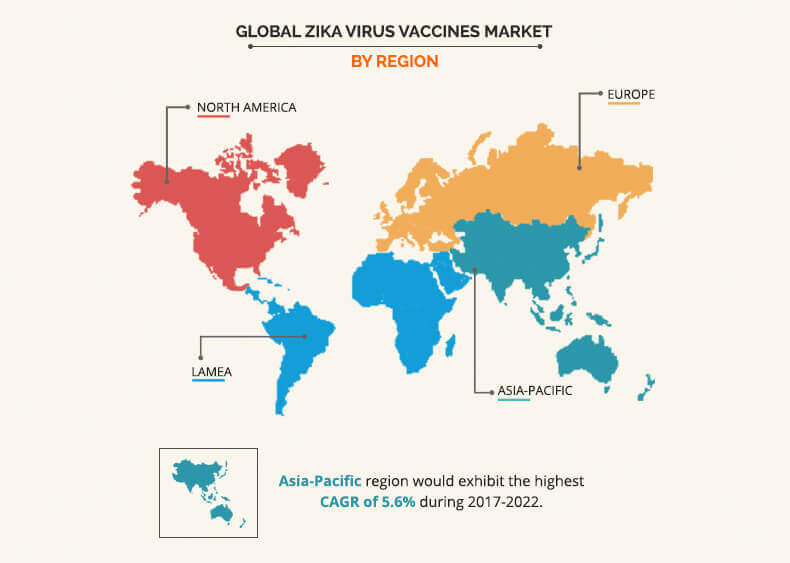 High rate of incidence of active Zika virus infection  
Zika is primarily spread by the bite of an infected Aedes species mosquito. Currently, Brazil reports the highest proportion of infected individuals, followed by Columbia and Venezuela. This shows that Latin-American nations are prone to Zika infection, and the spread of this infection across various geographies is increasing at a very high rate, which creates the need for preventive vaccines. Zika fever is responsible for bringing mild illness to the populations of 69 countries, and has become epidemic throughout Central and South America. According to Brazilian authorities, it is noted that since 2014, more than 100,000 individuals are confirmed with Zika virus infection, and nearly 1,638 babies with grievous birth defects have been born to women infected with Zika during their pregnancies in Brazil.

Increase in incidence of Zika-infected individuals are expected to drive the development of potent vaccines to minimize the rate of infection. This increase the degree of preparedness in case of future outbreaks of Zika infections. It could stimulate the potential demand for Zika vaccine, and create opportunities for key players during the forecast period.
KEY MARKET BENEFITS:
In-depth study of the global Zika virus vaccines market was conducted based on the current disease prevalence, target population, and pricing for generating market size & forecast from 2017 to 2022

Zika virus vaccines market analysis has been done based on opportunities to understand different aspects of Zika virus vaccines that are currently clinical trials along with the variants that are projected to gain prominence in future

Key market players are profiled and their strategies are analyzed thoroughly to understand the various technologies adopted by them to manufacture Zika virus vaccines
Zika Virus Vaccines Key Market Segment:
By Forecast Scenario Analysis
Rapid Growth Scenario

Moderate Growth Scenario

Low Growth Scenario
By Region
North America

Europe

Asia-Pacific

LAMEA
By Country
Brazil

Mexico

Philippines

Vietnam

Thailand

Rest of the world