3D Cell Culture Market Research, 2031
The global 3D cell culture market size was valued at $1.6 billion in 2021, and is projected to reach $8.3 billion by 2031, growing at a CAGR of 18.2% from 2022 to 2031. Cell culture is a significant tool in biological research. These cultures are mainly of two types, namely two-dimensional (2D) and three-dimensional (3D). Since the advent of cell culture techniques, 2D cell cultures are preferred due to their availability, ease of environmental control, cell observation, and measurement. However, growing cells in flat layers on surfaces do not precisely model the in-vivo state. As compared to 2D, 3D cell culture permits the biological cells to grow and interact with their surroundings in all three dimensions.
The overall impact of COVID-19 pandemic is expected to remain moderate for pharmaceutical and biotechnological companies in the 3D cell culture industry. The companies were facing a set-back, owing to the lockdown, which has led to a drop in the manufacturing and use of 3D cell culture among the researchers. However, this deleterious impact is being compensated by a rapid development in stem cell therapy research and increase R&D for developing regenerative medicines for treating COVID-19 patients.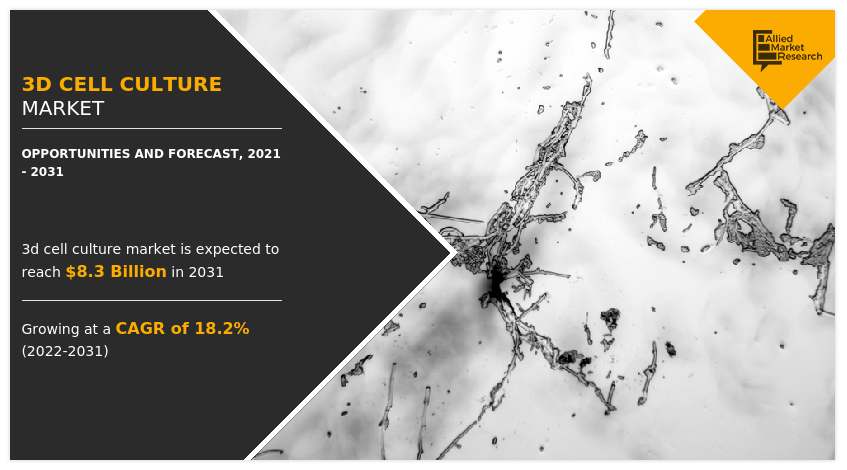 Cells grown in a 3D cell culture models have proven to be physiologically relevant. They have shown improvements in numerous studies of biological mechanisms including cell morphology, proliferation, differentiation, cell number monitoring, viability, migration & invasion of tumor cells into surrounding tissues, response to stimuli, angiogenesis stimulation, drug metabolism, gene expression & protein synthesis, immune system evasion, and in-vivo relevance. Thus, 3D cell cultures are beneficial in studying and analyzing the etiology of diseases; thereby, facilitating their adoption in the field of research. This growth rate is majorly attributed to the advantages offered by 3D cell cultures over conventional 2D cell cultures in cell-to-cell and cell-to-matrix interactions. In addition, continuous effort in R&D activities for drug discovery, development & screening and inclination toward the use of 3D cell cultures in cancer research are some other factors anticipated to propel the growth of the market over the analysis period. Likewise, surge in demand for organ transplantation is predicted to have a positive impact on the growth of the 3D cell culture market share.
Conversely, higher costs associated with implementation of 3D cell cultures and inconsistent results are obstructing the market growth. On the other hand, upcoming technologies leading to product advancements in the field of 3D cell culture is estimated to provide profitable growth opportunities for the key players in the market.
Furthermore, the 3D cell culture industry is currently facing newer challenges to cope up with the demand and supply of 3D cell culture components owing to the COVID-19 pandemic. In addition, inconsistent and interrupted supply chain activities and availability of human resources are expected to impact the market growth. On the contrary, surge in research practices for developing novel therapies against COVID-19 is serving as a huge opportunity for the key market players.
Research associated with stem cell therapies and regenerative medicine has shown promising results for treating the COVID-19 disease; thus, this is expected to compensate the deleterious impact caused by lockdowns globally. Thus, the overall COVID-19 impact is anticipated to remain moderate for the prominent players in the 3D cell culture market share.
The research report categorizes the 3D cell culture market size on the basis of product, application, end user, and region. By product, the market is classified into scaffold-based platforms, scaffold-free platforms, gels, bioreactors, microchips, and services. By application, the 3D cell culture market analysis is divided into cancer research, stem cell research, drug discovery, and regenerative medicine. By end user, the market is categorized into biotechnology & pharmaceutical companies, contract research laboratories, and academic institutes. Region wise, the market has been analyzed across four regions namely, North America, Europe, Asia-Pacific, and LAMEA.
By Product Type
The mechanical and biochemical properties of the scaffold can easily be modified as per the need of the application. Thus, scaffold based platforms segment is expected to dominate the product segment throughout the forecast period as there is a high demand for scaffold-based platforms for creating 3D cell cultures.
Microchips segment is expected to grow at a higher CAGR during the forecast period due to its advantages such as as, these microchips can create controlled microenvironment, more complex microchips are being developed, which can be used to manipulate and differentiate various types of cultures cells.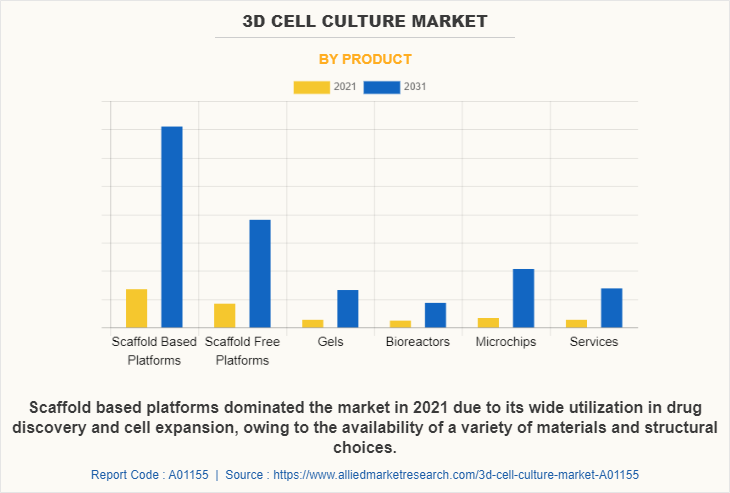 By Application
Cancer research segment is anticipated to be the largest growing segment over the analysis period. This is majorly attributed to the advantages offered by 3D cell culture in cancer research, these include ease of altering cell proliferation and morphology, revealing realistic drug response, capturing phenotypic heterogeneity, allowing experimental manipulation in gene expression & cell behavior and representing the tumor microenvironment.
Regenerative medicine is expected to grow with a faster growth rate during the analysis period as it helps to reduce the burden of common acute and chronic conditions such as heart disease, autoimmune disease, trauma, and progressive neurological conditions by repairing, replacing, and regenerating the damaged cells in the body.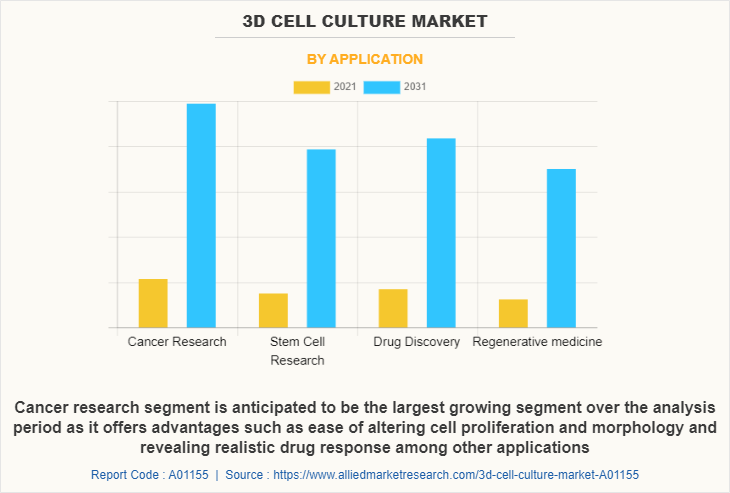 By End User
The academic institutes segment held a dominant position in the end user segment throughout in 2021. This is mainly due to academic institutes focusing their R&D activities toward 3D culture models for developing novel approaches for treating different medical conditions.
Contract research laboratories is anticipated to grow with a significant growth rate as many research laboratories and healthcare industries are focused on developing different approaches and technologies for the diagnosis of diseases. These contract research laboratories help the major players in their R&D activities, thereby reducing the time and resources estimated for the completion of a research project.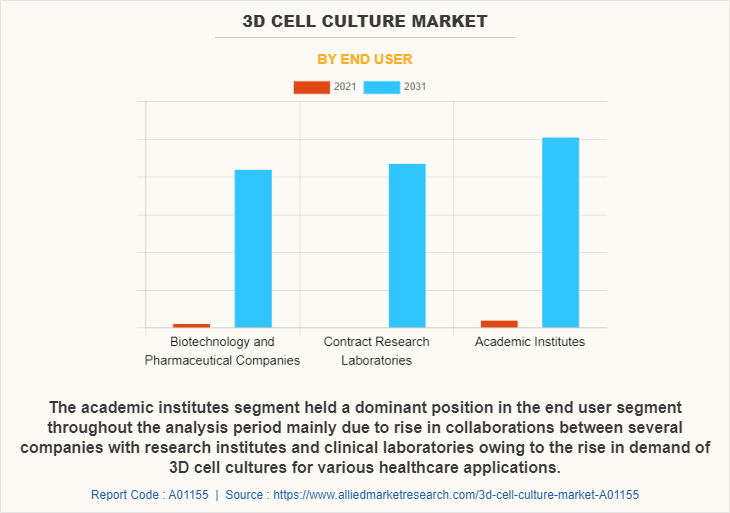 By Region
North America is expected to maintain its dominance during the forecast period due to the presence of several pharmaceutical and biotechnology companies that use 3D culture technology in collaboration with research institutes and clinical laboratories for developing regenerative medicines and drug discovery & development.
Asia-Pacific offers profitable opportunities for key players operating in the 3D cell culture market growth, thereby registering the fastest growth rate during the forecast period, mainly due to economic development and low operating costs.
The report provides a comprehensive competitive analysis of prominent market players in 3D cell culture market such as 3D Biotek LLC, Advanced Biomatrix, Inc., Avantor, Inc., Becton, Dickinson And Company, Corning Incorporated, InSphero AG, Lonza Group Ltd., Merck & Co., Inc., Synthecon, Incorporated and Thermo Fisher Scientific Inc.
Key Benefits For Stakeholders
This report provides a quantitative analysis of the 3D cell culture market size, market segments, current 3D cell culture market trends, estimations, and dynamics.
The 3D cell culture market forecast report provides the industry revenues from 2021 to 2031 to identify the prevailing 3d cell culture market opportunity.
The market research is offered along with information related to key drivers, restraints, and opportunities.
Porter's five forces analysis highlights the potency of buyers and suppliers to enable stakeholders make profit-oriented business decisions and strengthen their supplier-buyer network.
In-depth analysis of the 3d cell culture industry segmentation assists to determine the prevailing market opportunities.
Major countries in each region are mapped according to their revenue contribution to the global market.
Market player positioning facilitates benchmarking and provides a clear understanding of the present position of the market players.
The report includes the analysis of the regional as well as global 3d cell culture market share, key players, market segments, application areas, and market growth strategies.
 3D Cell Culture Market Report Highlights
Aspects
Details
Market Size By 2031
USD 8.3 billion
Growth Rate
CAGR of 18.2%
Forecast period
2021 - 2031
Report Pages
244
By Product

Scaffold Free Platforms
Gels
Bioreactors
Microchips
Services
Scaffold Based Platforms

Macro-scale
Micro-scale
Nano-scale
Solid Scaffolds

By Application

Cancer Research
Stem Cell Research
Drug Discovery
Regenerative medicine

By End User

Biotechnology and Pharmaceutical Companies
Contract Research Laboratories
Academic Institutes

By Region

North America (U.S., Canada, Mexico)
Europe (Germany, France, UK, Rest of Europe)
Asia-Pacific (Australia, Rest of Asia-Pacific, Japan, China, India)
LAMEA (Brazil, Saudi Arabia, South Africa, Rest of LAMEA)

Key Market Players
Lonza Group LTD., Corning Incorporated, Avantor, Inc., Thermo Fisher Scientific Inc., Advanced Biomatrix, Inc., Merck & Co., Inc., Synthecon, Incorporated, 3d Biotek LLC, Insphero AG, Becton, Dickinson And Company