3d Technology Market Outlook – 2030
The global 3D technology market size is expected to reach $703.4 billion by 2030 from $171.4 billion in 2020, growing at a CAGR of 16.3% from 2021 to 2030. 3D technology is delivering three-dimensional views of the captured images or data. There is an increase in demand for 3D technology based products in various application sectors such as entertainment, healthcare, aerospace, government & defense, entertainment & automobile, and industrial segments. 3D technology creates highly accurate and precise image of an object. Use of 3D technology in various application segments is projected to help save production time and cost. Designers get a readymade tool to have an intuitive understanding of the feasibility of any product right at the initial stages.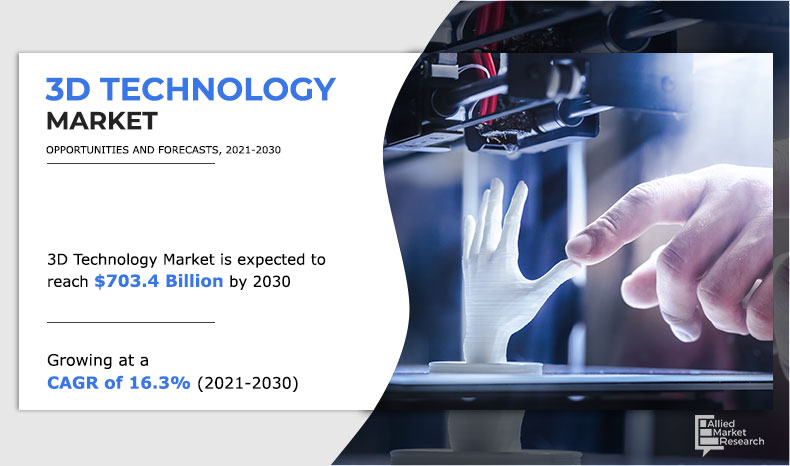 The 3D technology market in significantly affected by the emergence of COVID-19, owing to lack in availability of professional and skilled work force to develop and manufacture 3D technology devices and applications.
Looking at the potential of the technology, many governments are looking for 3D printing. This step by the governments is acting as a major driving force that is projected to help increase the demand for 3D printing technology. The 3D printing technology market is witnessing growth due to the conducive environment. Furthermore, 3D concept to aerospace is a very exciting idea as 3D printer technology has the ability to manufacture light structures. Also, 3D printing technology has the ability to deliver parts which are strong enough and allow to fly. With the help of 3D printing technology, it is possible to manufacture light material structure and eliminate need of heavy bolts and nuts.
3D printing technology based products are capable to withstand high temperatures and heavy mechanical loads. This is anticipated to change the future of the aerospace industry. Materials which are used in manufacturing parts can sustain higher temperate range of 3D printer material, which is in between 63 and 67°C, which will increase performance level of the parts. Higher temperature material such as PolyJet, photopolymer, and rubber can deliver adjustable properties.
3D Technology Market

---
By Product
3D Display segment will dominate the market throughout the forecast period
Segment Overview
The 3D technology market share is segmented on the basis of product, application, and region. By product, the market is divided into 3D printing, 3D glasses, 3D display, 3D imaging, 3D camera, and 3D Scanner. Depending on application, it is categorized into media & entertainment, automotive, industrial, healthcare, military & defense, and others. 
Region-wise, the 3D technology market trends are analyzed across North America (U.S., Canada, and Mexico), Europe (Germany, UK, France, Italy, and Rest of Europe), Asia-Pacific (China, Japan, India, South Korea, and Rest of Asia-Pacific), and LAMEA (Latin America, the Middle East, and Africa).North America is dominating the market, due to an increase in adoption of enhanced technologies in the industrial sectors.
3D Technology Market

---
By Application
Military and Defense segment will maintain the lead during 2021 - 2030
Top Impacting Factors
The prominent factors that impact the 3D technology market size include rise in demand for 3D technology in entertainment industry, surge in demand for 3D technology-based devices in consumer electronics, and government initiatives toward the use of 3D product. However, high maintenance costs of 3D devices restricts the 3D technology market growth. On the contrary, high adoption of 3D cameras, scanners, sensors, printers, and displays in military and defense is expected to create lucrative opportunities for the market. Therefore, these factors are expected to definitely affect the growth of the global 3D technology industry during the forecast period.
3D Technology Market

---
By Region
Asia-Pacific region will exhibit the highest CAGR of 17.7% during 2021 - 2030
Competitive Analysis
Competitive analysis and profiles of the major market players such as 3D Systems Corporation, American Paper Optics, Autodesk Inc., ExOne Company, Panasonic Corporation, Stratasys Ltd., TomTec Imaging Systems GmbH, Hexagon AB, Vicon Motion Systems Ltd., are focusing their investment on technologically advanced, cost-effective, and more secure products and solutions for various applications. These key players have adopted various strategies, such as product portfolio expansion, mergers & acquisitions, agreements, geographical expansion, and collaborations, to increase their market penetration and strengthen their foothold in the industry.COVID-19 Impact Analysis
The outbreak and the spread of COVID-19 has significantly impacted players operating in the 3D technology market. The increased global demand for automotive is one of the key factors fueling the growth of the 3D technology market. However, the sales of automotive have decreased significantly worldwide, owing to lockdowns imposed by different governments to contain the spread of the COVID-19, which has impacted the growth of the 3D technology market. Moreover, these lockdowns have also impacted the GDP of countries and the per capita income of individuals across the world. The slowdown in productions by OEMs and reduction in demand for 3D devices and other electronics devices has slightly decreased the growth of the 3D technology market. Shortages of components and materials have significantly impacted the global supply chains. In addition, reductions in various capital budgets and delay in planned projects in various industries have hampered the global economy.
Key Benefits For Stakeholders
This study comprises analytical depiction of the global 3D technology market outlook along with the current trends and future estimations to depict the imminent investment pockets.
The overall 3D technology market analysis is determined to understand the profitable trends to gain a stronger foothold.
The report presents information related to key drivers, restraints, and 3D technology market opportunities with a detailed impact analysis.
The current 3D technology market forecast is quantitatively analyzed from 2021 to 2030 to benchmark the financial competency.
Porter's five forces analysis illustrates the potency of the buyers and the 3D technology market share of key vendors.
The report includes the market trends and the revenue share of key vendors.
 3D Technology Market Report Highlights
Aspects
Details
By Product

3D Printing
3D Glasses
Active Glasses
3D Display
3D Imaging
3D Camera

By Application

Media & Entertainment
Automotive
Industrial
Healthcare
Military and Defense
Others

By Region

North America (U.S., Canada, Mexico)
Europe (Germany, UK, France, Italy, Rest of Europe)
Asia-Pacific (China, Japan, India, South Korea, Rest of Asia-Pacific)
LAMEA (Latin America, Middle East, Africa)

By Key Market Players

3D Systems Corporation
American Paper Optics
Autodesk Inc.
ExOne Company
Panasonic Corporation
Stratasys Ltd.
TomTec Imaging Systems GmbH
Hexagon AB
Vicon Motion Systems Ltd.