4G Equipment Market Outlook:2026
The 4G Equipment market size was valued at $40,415.4 million in 2018 and is projected to reach $185,050.8 million by 2026, growing at a CAGR of 20.5% from 2019 to 2026. 4G technology is the fastest growing technology and growing at a rapid pace due to increased demand from individuals across the globe. It establishes faster internet connectivity for connected as well as smartphone devices, which further enables uninterrupted connectivity for streaming videos, movies, and music. 4G equipment in 4G networks thus provide enhanced network connectivity across various areas such as, buildings, hospitals, campuses, and other large spaces. Moreover, 4G equipment are used in numerous applications such as virtual presence, navigation, multimedia and video services, crisis management, and others. Also, majority of the people use smartphones for entertainment purposes such as gaming, video calling and surfing. These factors require strong connectivity and thus, drive the demand for 4G networks and equipment. 
The infrastructure equipment segment dominated the overall share in 2018 and is expected to remain dominant during the 4G equipment market forecast period. The growth of this segment is mainly attributed to increase in number of connected and mobile devices across the world and specifically in the Asia-Pacific region. For instance, according to GSM Association report on The Mobile Economy in 2017, 4G is anticipated to account for 48% of overall connections by 2020.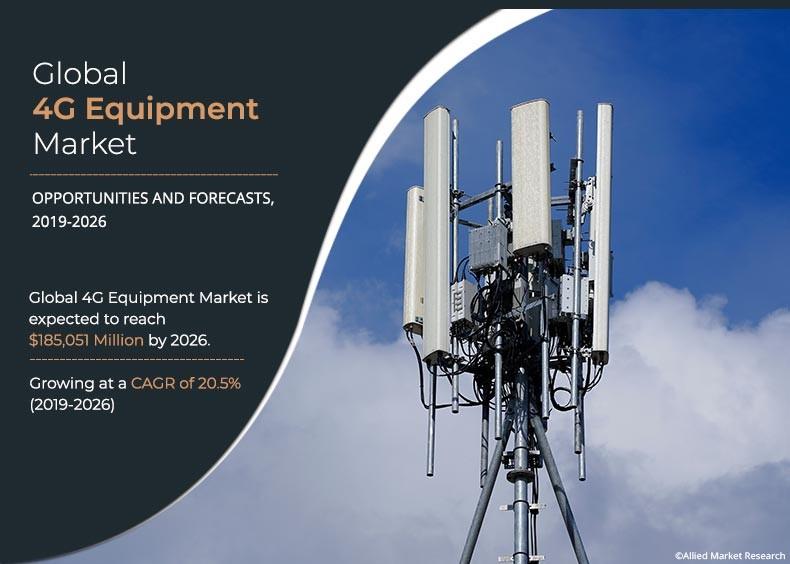 In terms of technology, the LTE segment generated the highest revenue in the 4G equipment market share in 2018 and is expected to remain dominant during the forecast period.  The growth of this segment is mainly attributed to boom in the penetration of smartphones in developing countries such as India, China, Pakistan, Indonesia, and others.
Based on region, Asia-Pacific generated the highest revenue and experienced growth in 2019 and is expected to dominate the market throughout the forecast period. Rise in penetration of smartphones and increase in awareness of mobile phone usage are the major reasons fueling the market growth in this region.
The report focuses on the growth prospects, restraints, and trends of the 4G equipment market analysis. The study provides Porter's five forces analysis to understand the impact of various factors such as bargaining power of suppliers, competitive intensity of competitors, threat of new entrants, threat of substitutes, and bargaining power of buyers on the global 4G equipment market.
Segment review
The global 4G Equipment market is segmented on the basis of component, technology, and region. Based on component, the market is categorized into infrastructure equipment and testing equipment. On the basis of technology, it is classified into LTE and Wi-Max. In addition, LTE technology is further segmented into, TD-LTE, FDD-LTE, and LTE A. Based on region, the 4G equipment market is analyzed across North America, Europe, Asia Pacific, and LAMEA.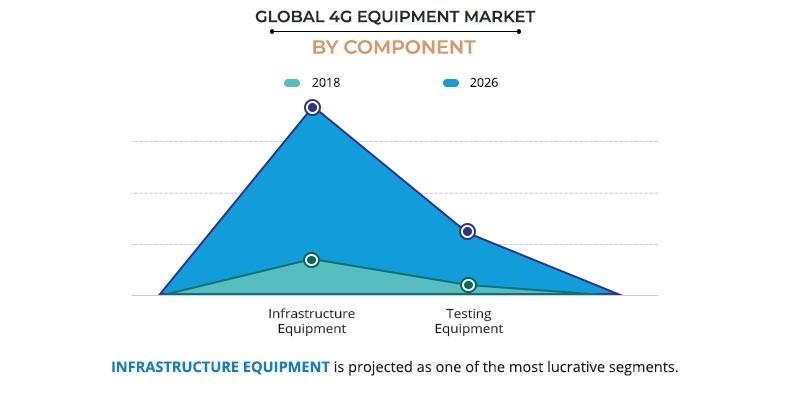 The global 4G equipment market share is dominated by key players such as Airspan Networks Inc., Cisco, Fujitsu Limited, Huawei Technologies Co. Ltd., Motorola Solutions, Inc., NEC Corporation, Nokia Corporation, Samsung Electronics Co. Ltd., Telefonaktiebolaget LM Ericsson, ZTE Corporation, and others.
Top Impacting Factors
Current and future 4G Equipment industry trends are outlined to determine the overall attractiveness of 4G equipment market. Top impacting factors highlight the 4G Equipment market opportunities during the forecast period. Factors such as significant rise of network traffic due to rise in M2M connections, mobile, and wireless devices is the major factor driving the growth of 4G network equipment market. In addition, booming consumer demand for high speed connectivity and supportive government and industry initiatives are also the crucial factors that drive the market growth. However, concerns pertaining to network are expected to hinder the growth of 4G equipment market. Furthermore, expansion of 4G network in rural areas is expected to provide major opportunities for the market in upcoming years.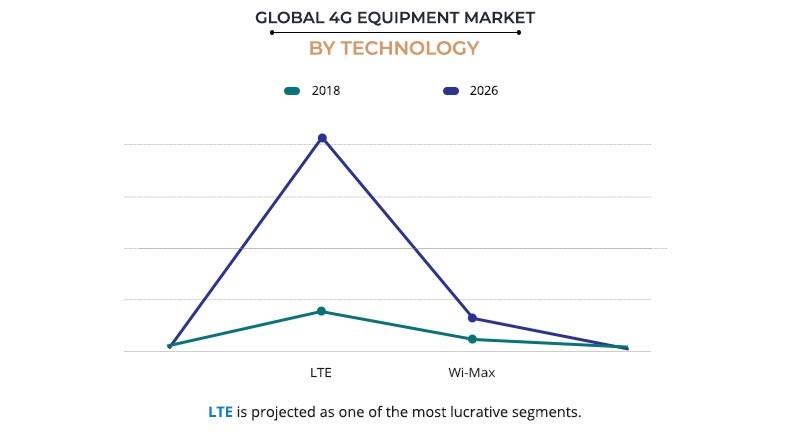 Significant growth of network traffic
Network traffic is the amount of data moving across the internet network at any given point of time. Exponential rise in number of internet users and proliferation of smartphone and mobile devices are leading to the growth of network traffic. As per the statistics provided by Cisco Visual Networking Index (VNI), the global IP traffic was 122 EB (Exa byte) per month or 1.5 ZB (Zetta byte) per year in 2017. The global IP traffic is expected to reach 396 EB per month or 4.8 ZB in 2022 experiencing growth at a CAGR of around 26% from 2017. The global number of internet users is expected to reach 4.8 billion people by 2022 with Asia Pacific accounting for 2.6 billion users. This rise in network traffic is majorly arising from growth in M2M connections, smartphones, mobile, and wireless devices. Consumer Video on Demand (VoD) traffic, internet video surveillance traffic, and Augmented Reality (AR) and Virtual Reality (VR) network traffic are also expected to rise with significant growth in coming years. Emergence of new social media platforms and applications are expected to further propel the rise in network traffic in the coming years. To accommodate such huge network traffic and deliver strong network bandwidth, telecom operators are expanding their 4G infrastructure, which is expected to drive the 4G equipment market growth in coming years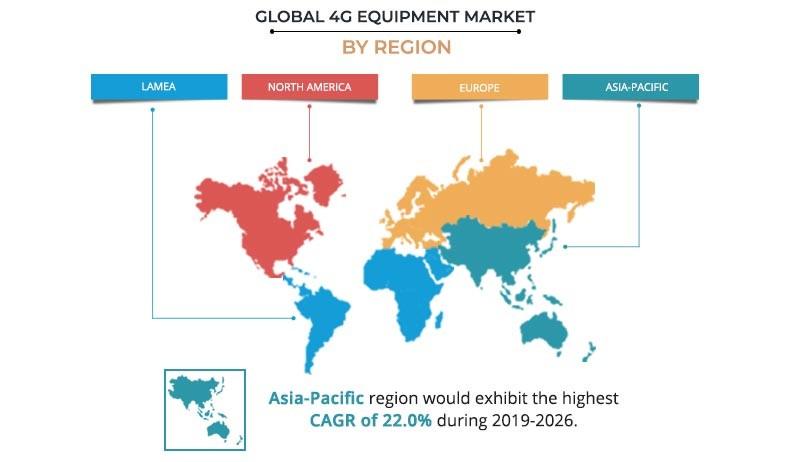 Thriving consumer demand for high speed connectivity
Last few years have witnessed strong proliferation of wireless mobile devices and smartphones in various emerging regions including Asia Pacific, South America, and the Middle East and Africa. These mobile devices and smartphones are equipped with roughed hardware components such as RAM, ROM, processors, and HD displays. This integration helps these devices to smoothly run the high definition videos, games, and other applications. Therefore, consumers nowadays demand strong internet connectivity to play HD video on demand on their devices, and play online interactive mobile games that require strong and efficient network connections. Further, strong adoption of cloud computing technologies has put many enterprise applications over the cloud. Enterprises need to access and work on these applications in real time, which requires strong internet connectivity. Therefore, enterprises from various industry verticals are also demanding strong and sustainable internet connectivity. The increase in need to reduce the connectivity gap is driving the adoption of 4G equipment by various telecom service providers (TSPs).
Expansion in rural areas
Rise in competitive rivalry, lowering costs of data packs and penetration of smartphones are fueling the growth of 4G equipment market. The expansion by telecom service providers in rural areas of the region present lucrative growth opportunity for the service providers. Currently, around one out of every three 4G network users lives in rural areas and this number is expected to grow in coming years. Urbanization in various developing economies have led to growth in number of internet users. Telecom service providers have to put substantial efforts on expensive integration undertakings and complex coordination to deliver services in rural areas. Automation is expected to help service providers automate new service launches, network upgrades, and complex tasks. Significant portion of the population in various emerging regions including Asia-Pacific, South America, and Africa lives in rural areas. Expansion in these areas presents strong 4G equipment market opportunity growth in coming years for players.
Key Benefits for 4G Equipment Market:
This study presents the analytical depiction of the global 4G Equipment market trends and future estimations to determine the imminent investment pockets.
A detailed analysis of the 4G Equipment market segments measures the potential of the market. These segments outline the favorable conditions for the market.
The report presents information related to key drivers, restraints, and opportunities.
The current market is quantitatively analyzed from 2017 to 2025 to highlight the financial competency of the industry.
Porter's five forces analysis illustrates the potency of buyers & suppliers in the industry.
 4G Equipment Market Report Highlights
Aspects
Details
By COMPONENT

INFRASTRUCTURE EQUIPMENT
TESTING EQUIPMENT

By TECHNOLOGY
By Region

NORTH AMERICA (U.S, Canada)
EUROPE (Germany, France, UK, REST OF EUROPE)
ASIA PACIFIC (China, India, Japan, REST OF ASIA PACIFIC)
LAMEA (LATIN AMERICA, MIDDLE EAST, AFRICA)