Massive MIMO Market Outlook – 2027 
The global massive MIMO market size was valued at $1.09 billion in 2019, and is projected to reach $15.79 billion by 2027, growing at a CAGR of 35.3% from 2020 to 2027. Massive MIMO stands for massive multiple input multiple output, which essentially groups together antennas at the transmitter and receiver to provide better throughput and better spectrum efficiency. For instance, Huawei, ZTE, and Facebook have demonstrated Massive MIMO systems with as many as 96 to 128 antennas. They aim to allow the transmitting and receiving of more than one data signal simultaneously over the large radio channel. Massive MIMO can be deployed for LTE Advance, LTE Advance Pro, and 5G network technologies.
The global massive MIMO market growth is expected to register a significant rate during the forecast period, owing to rise in adoption of 5G technology in developed and developing regions across the world, massive MIMO offers technical superiority with higher number of antenna array type, and ease in deployment of massive MIMOs with reduced usage of energy. Furthermore, numerous advantages of massive MIMO such as higher capacity, minimized manpower, low network congestions, and beam-formation technology fuel the growth of the massive MIMO industry.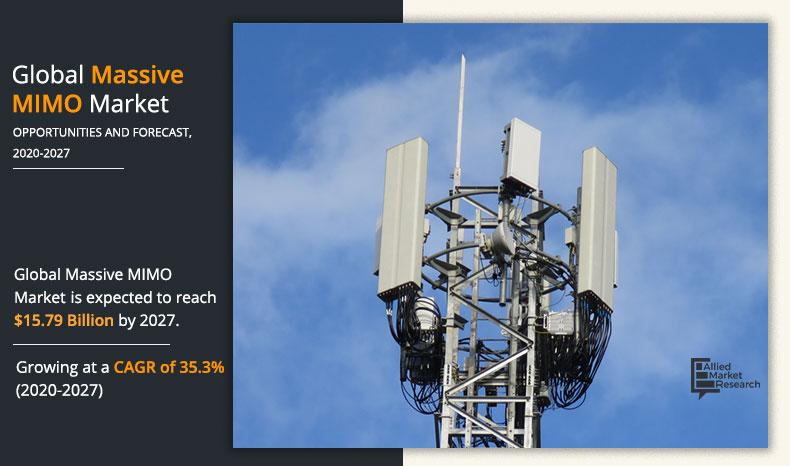 However, dominance of usage for FDD spectrum across the world in comparison to TDD spectrum is expected to restrain the market growth. Moreover, potential of the emerging markets such as Asia-Pacific and Southeast Asia and development of indoor Massive MIMOs for increasing the network capacity is anticipated to provide lucrative opportunities for the global market growth in the coming years.
Massive MIMO Market

---
By Technology
5G segment will grow at a highest CAGR of 44.60% during 2020 - 2027
Segmentation
The global massive MIMO market is segmented on the basis of technology, array type, spectrum, and region. Based on the technology, the market is divided into LTE Advance, LTE Advance Pro, and 5G. By array type, the market is classified into 16T16R, 32T32R, 64T64R, and others. Based on spectrum, the market is bifurcated into TDD and FDD. Based on region, the market is analyzed across North America, Europe, Asia-Pacific, and LAMEA.
Massive MIMO Market

---
By Array Type
64T64R segment holds a dominant position in 2019 and will maintain the lead during the forecast period
Top Impacting Factors
The significant factors impacting the growth of the global massive MIMO market include adoption of 5G network technology, technical advantages of massive MIMO, and ease in deployment drive the massive MIMO market growth. However, lack of usage of TDD spectrum across the world hamper the massive MIMO market growth. On the contrary, development of indoor massive MIMO is expected to create lucrative massive MIMO market opportunities. 
Massive MIMO Market

---
By Spectrum
TDD segment will secure the leading position during 2020 - 2027
Adoption of 5G Network Technology 
The past few years has witnessed unroll of technologies that has to be integrated in the current network infrastructure to achieve all the benefits of 5G technology. Massive MIMO plays a crucial role in 5G infrastructure as its development provides un-interrupting high-speed data transfers that would increase efficiency of 5G networks. 
Further, the adoption of 5G chipsets, IoT, and such technologies supports 5G, which in turn increases the demand for deployment of massive MIMOs. As per the massive MIMO market trend, the increased penetration of M2M (machine to machine) connectivity requires high bandwidth and extreme low latency, which is a major significance in case of deployment of massive MIMO technology. Therefore, the need of high bandwidth and low latency in 5G drives the growth for the massive MIMO market. 
Massive MIMO Market

---
By Region
Asia-Pacific region would exhibit the highest CAGR of 42.8% during 2020 - 2027
Technical Advantages of Massive MIMO 
The massive MIMO technology utilizes radios that has large antenna arrays to enhance the performance of the mobile access networks and is a vital technology for 5G services. Increased number of antennas used to transmit and receive signals assists operators address increased capacity demands in the existing spectrum as the mobile signals can be focused into beams that target users rather than scattering of signals widely. 
This beam-forming introduced by massive MIMO technology provide broader bandwidth to every user. Massive MIMO supports 4G, 4G plus, and 5G services, which creates its demand in this transformation scenario of technology of 4G to 5G. Therefore, the above-mentioned technical advantages drive the massive MIMO market. 
Lack of TDD Spectrums Across the World
In current network scenario, the amount of traffic between the user terminal and the base station (uplink) and vice versa (downlink) is asymmetrical. Instead FDD provides same channel size for both directions. But in case of massive MIMO, it is mostly limited to downlink. Whereas, TDD uses the same frequency for each duplex direction, with a frame that offers different time periods and slots for uplink or downlink communications. By changing the time duration of the slots network performances can be tailored to meet the demand. However, the current network across the world uses mostly FDD spectrum, which restraints the market growth as massive MIMO mostly supports TDD spectrum. 
Competitive Analysis
The key players that have major global massive MIMO market share include Ericsson, Huawei, NOKIA, SAMSUNG, ZTE, Verizon, Sprint, China Mobile, Airtel, and Deutsche Telekom, which are profiled in this report. These key players have adopted various strategies, such as product portfolio expansion, mergers & acquisitions, agreements, geographical expansion, and collaborations, to increase their market penetration and strengthen their foothold in the industry.
Key Benefits For Stakeholders
This study comprises analytical depiction of the global massive MIMO market size along with the current global massive MIMO market trends and future estimations to depict the imminent investment pockets.
The overall massive MIMO market analysis is determined to understand the profitable trends to gain a stronger foothold.
The report presents information related to key drivers, restraints, and opportunities with a detailed impact analysis.
The current massive MIMO market forecast is quantitatively analyzed from 2019 to 2027 to benchmark the financial competency.
Porter's five forces analysis illustrates the potency of the buyers and suppliers in the market.
Massive MIMO Market Key Segments
By Technology
LTE Advance
LTE Advance Pro
5G
By Array Type
16T16R
32T32R
64T64R
Others
By Spectrum
By Region
North America
Europe

UK
Germany
France
Italy
Rest of Europe

Asia-Pacific

China
Japan
India
South Korea
Rest of Asia-Pacific

LAMEA

Latin America
Middle East
Africa
Key Market Players
Ericsson
Huawei
NOKIA
SAMSUNG
ZTE
Verizon
Sprint
China Mobile
Airtel
Deutsche Telekom
 Massive MIMO Market Report Highlights
Aspects
Details
By Technology

LTE Advance
LTE Advance Pro
5G

By Spectrum
By Antenna Array Type

16T16R
32T32R
64T64R
Others

By Region

North America (U.S., Canada, Mexico)
Europe (UK, Germany, France, Italy, Rest of Europe)
Asia-Pacific (China, Japan, India, South Korea, Rest of Asia-Pacific)
LAMEA (Latin America, Middle East, Africa)

Key Market Players
Verizon Communications Inc., COMMSCOPE, INC., DEUTSCHE TELEKOM, ZTE CORPORATION, China Mobile Ltd., Telefonaktiebolaget L M Ericsson, Samsung Corporation, HUAWEI TECHNOLOGIES CO., LTD., Nokia Corporation, CHINA UNICOM (HONG KONG) LTD.