Angiography Devices Market Research, 2031
The global Angiography Devices Market Size was valued at $8.8 billion in 2021, and is projected to reach $15.9 billion by 2031, growing at a CAGR of 6% from 2022 to 2031.Angiography is a popular medical procedure which uses X-ray for producing detailed images of blood vessels. In advanced angiography, contrast reagents are used for enhancing the visualization of blood vessel. Angiography is used to detect abnormalities or blockages in blood vessels throughout the circulatory system, and in some organs to diagnose heart diseases, kidney functions, aneurysm, retina of the eye, blood clot, arteriovenous in the brain, and diagnose problems with the detect kidney tumors.Angiography using advanced technology such as X-ray angiography, CT angiography, and MR angiography helps  clear visualization of blood vessels and determine the exact cause of disease. In X-ray angiography, image intensifiers, and flat-panel detectors are used for giving accurate results and diagnose the diseases at early stage
The COVID-19 outbreak is anticipated to have a negative impact on the angiography device market as huge number of medical colleges and hospitals across the globe were restructured to increase hospital capacity for patients diagnosed with COVID-19. Discovery and development of angiography device is slowing down during pandemic but did not stop. Surgeries in cardiac patients were postponed and home care setting care was preferred. Nonessential surgical procedures took a potential backlog, owing to rapidly rising COVID-19 cases; only elective emergency surgeries were performed.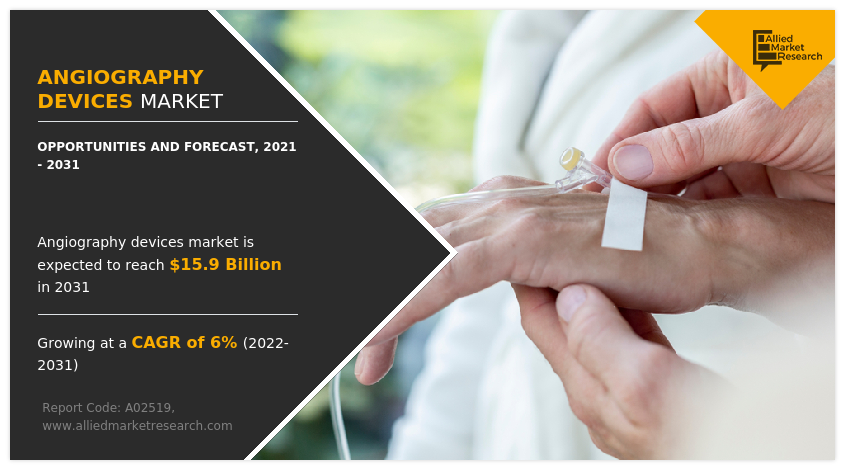 The key factor that dives the Angiography Devices Market Growth, owing to increase in geriatric population prone to chronic heart disease, and rise in prevalence of cardiovascular diseases such as coronary block artery, heart attack, atherosclerosis disease, ischemic stroke, aneurysm, tumors, blood clot in brain, hypertension, myocardial infarction, arrythmia, increase in blockages of blood vessel in heart, brain, kidney and liver and rise in demand for minimally invasive procedure for the diagnosis of diseases. These factors boost the growth of the angiography devices market.  According to health hearty 2020 report, the incident rate of heart attacks per 10,000 people is around 190 in people who are over 85 years of age, around 117 for those between 75-84 years of age. For instance, according to the National Center for Health Statistics, every year, more than 795,000 people in the U.S. have a stroke. In addition, according to the Center for Disease Control and Prevention, approximately 87% of all strokes reported are ischemic stroke.
Moreover, increase in unhealthy lifestyle, rise in smoking, uptake of alcohol, surge in use of supplements and steroids increase the cases of heart attack and boost the growth of the Angiography Devices Market Forecast period. For instance, according to statista, in 2020, nearly 29.5% of the German population elder than 15 years of age are smokers and in the age group of 18 to 25 years around 35.2% are smoker. In addition, technological advancements in angiography device market; launch of various angiography devices, strategies among key players such as acquisition, collaboration, and agreement drive the growth of the angiography device market.For instance, in August 2021, in August 2021, Abbott has announced it has received U.S. Food and Drug Administration (FDA) clearance for its latest optical coherence tomography (OCT) imaging platform powered by the company's new Ultreon Software. This innovative imaging software combines OCT with artificial intelligence (AI) to provide physicians an enhanced, comprehensive view of coronary blood flow and blockages to assist physician decision-making and provide the best pathway for treatment.
The angiography devices market is segmented into product type, application, technology, and region. By product type, the market is categorized into angiography systems, catheters, guidewires, balloons, contrast media, vascular closure devices, and angiography accessories. By application, the Angiography Devices Industry market is segmented into diagnostic, and therapeutic. By technology, the market is categorized into X-ray angiography, CT angiography, and MR angiography. The X-ray angiography segment is further classified into image intensifiers and flat-panel detectors.
Region-wise, the Angiography Devices Market Analysis is done across North America (the U.S., Canada, and Mexico), Europe (Germany, France, the UK, Italy, Spain, and rest of Europe), Asia-Pacific (Japan, China, Australia, India, South Korea, and rest of Asia-Pacific), and LAMEA (Brazil, South Africa, Saudi Arabia, and rest of LAMEA).
Segment Review
By Product segment review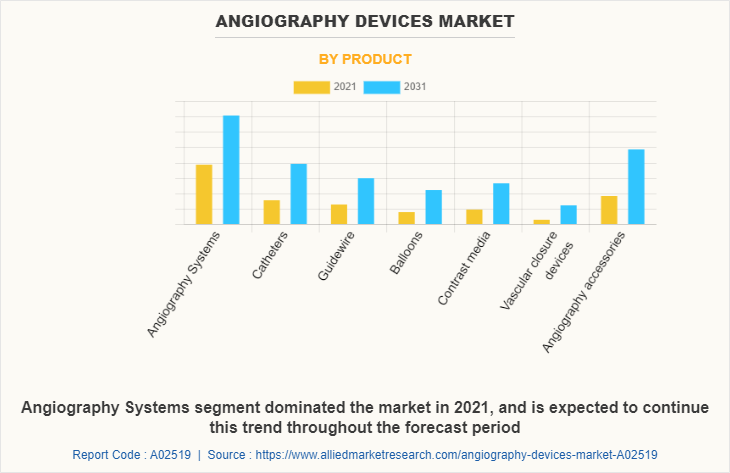 On the basis of product, the angiography systems segment has largest Angiography Devices Market Share  in 2021. The dominance of this segment can be attributed to increase in use of angiography systems for diagnosis of chronic heart diseases and rise in prevalence of cases regarding block blood vessel of heart and brain.
By Application Review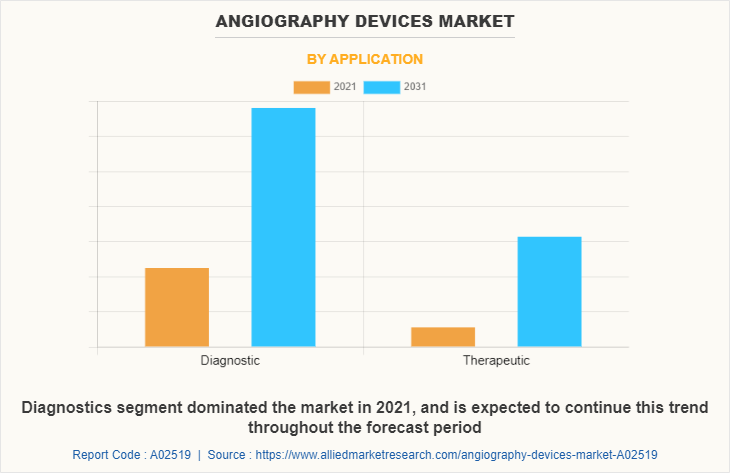 On the basis of application, the diagnostic segment was the highest Angiography Devices Market Share in 2021, owing to increase in prevalence of heart diseases such as coronary block artery, angina, cardiac arrhythmia, heart attack, myocardial infarction, and rise in cases of heart attack across the world drives the growth of Angiography Devices Market Size in forecats period.
By Technology Review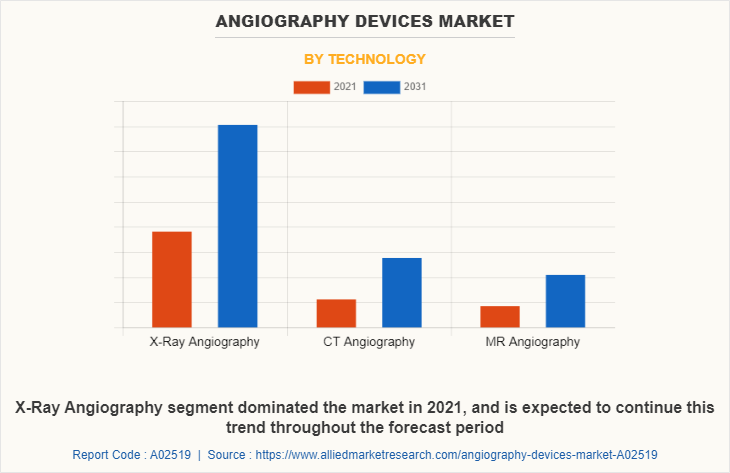 On the basis of technology, the X-Ray angiography segment was the highest revenue contributor to the Angiography Devices Industry in 2021, owing to rise in high adoption of X-Ray angiography for diagnosis of narrowing of the arteries in the brain, and blockages in blood vessel and rise in awareness regarding use of X-Ray angiography for treatment of diseases.
By Region review
Angiography Devices Market

---
By Region
North America segment dominated the market in 2021, and is expected to continue this trend throughout the forecast period
Get more information on this report :
Request Sample Pages
On the basis of region, North America dominated the angiography device market in 2021, owing to rise in number of chronic heart disease cases, presence of key players advancement in healthcare in the region, robust healthcare infrastructure, presence of key players, and rise in healthcare expenditure.
Some of the major companies that operate in the global Angiography devices market are Abbott Laboratories, Angiodynamics, Inc., Boston Scientific Corporation, B. Braun Melsungen AG, General Electric Company, Koninklijke Philips N.V., Medtronic Inc., Merit Medical Systems, Inc., Siemens Healthcare Gmbh, and Shimadzu Corporation.
Key Benefits For Stakeholders
This report provides a quantitative analysis of the market segments, current trends, estimations, and dynamics of the angiography devices market analysis from 2021 to 2031 to identify the prevailing angiography devices market opportunities.
The market research is offered along with information related to key drivers, restraints, and opportunities.
Porter's five forces analysis highlights the potency of buyers and suppliers to enable stakeholders make profit-oriented business decisions and strengthen their supplier-buyer network.
In-depth analysis of the angiography devices market segmentation assists to determine the prevailing market opportunities.
Major countries in each region are mapped according to their revenue contribution to the global market.
Market player positioning facilitates benchmarking and provides a clear understanding of the present position of the market players.
The report includes the analysis of the regional as well as global angiography devices market trends, key players, market segments, application areas, and market growth strategies.
 Angiography Devices Market Report Highlights
Aspects
Details
Market Size By 2031
USD 15.9 billion
Growth Rate
CAGR of 6%
Forecast period
2021 - 2031
Report Pages
310
By Product

Angiography Systems
Catheters
Guidewire
Balloons
Contrast media
Vascular closure devices
Angiography accessories

By Technology

X-Ray Angiography

Type

Image Intensifiers
Flat-panel Detectors

CT Angiography
MR Angiography

By Application
By Region

North America (U.S., Canada, Mexico)
Europe (Germany, France, UK, Italy, Spain, Rest Of Europe)
Asia-Pacific (Japan, China, Australia, India, South Korea, Rest Of Asia-Pacific)
LAMEA (Brazil, Saudi Arabia, South Africa, Rest Of LAMEA)

Key Market Players
b.braun melsungen ag, Merit Medical Systems, Inc., AngioDynamics, Inc., Abbott Laboratories, shimadzu corporation, Medtronic, Inc., General Electric Company, Boston Scientific Corporation, Koninklijke Philips N.V., Siemens Healthcare