Catheters Market Research, 2031
The global catheters market was valued at $22.7 billion in 2021, and is projected to reach $49.5 billion by 2031, growing at a CAGR of 8.1% from 2022 to 2031.Catheterization is type of co-procedure performed along with varied medical procedures including, angioplasty, cardiac electrophysiology, and neurological surgery. It is a tube that is inserted into bladder, allowing urine to pass freely. There are various types of catheters, such as cardiovascular catheters, neurovascular catheters, urological catheters, and specialty catheters. Catheters are usually used for short time period, for instance,  for a number of weeks or months when continuous bladder drainage is needed, but occasionally they are required for long term use. Urinary catheters are used when people have difficulty is passing the urine naturally. It can also be used to empty the bladder before or after surgery.
The COVID-19 pandemic negatively impacted the global catheter market initially in 2020 due to global economic recession led by COVID-19. However, the market is anticipated to witness recovery in 2021, and show stable growth for catheter in the coming future.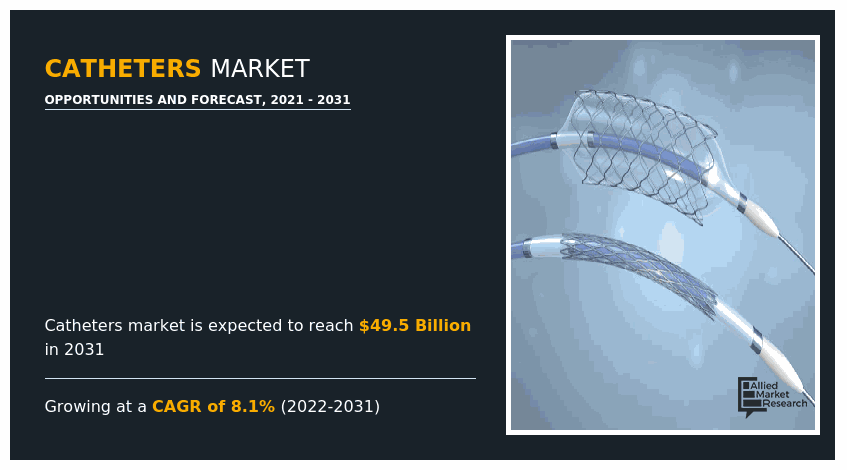 Growth of the global catheters market is majorly driven by rise in prevalence of cardiovascular diseases along with the increase in demand for minimal invasive surgeries. In addition, significant increase in prevalence of chronic diseases associated with urinary bladder, kidney failures, and others are the major factors that drive the growth during catheters market forecast. In addition, surge in demand for minimal invasive surgeries among patients further fuels the catheters market growth. In addition, increase in incontinence problems owing to rise in geriatric population base across the globe, and increase in demand for sterile & disposable catheters contribute to the market growth.  Moreover, development of new catheters by large number of key players fuel the growth of catheters market size. Furthermore, rise in geriatric population and increase in number of patients suffering from bladder cancer fuel the growth of the catheters market. Furthermore, growth in demand for minimally invasive procedures, due to the recent technological innovations is expected to increase the demand for catheters. For instance, growth in demand for angioplasty over conventional surgeries, owing to its minimally invasive nature, attributes toward the market growth
Furthermore, increase in number of product approvals is expected to provide lucrative catheters market opportunity for the growth of the global catheters market during the forecast period. For instance, in March 2022, Cerus Endovascular has received the U.S food and drugs administration approval for its 027 micro-catheter, which contour neurovascular system. 
The COVID-19 outbreak is anticipated to have a short-term negative impact on the growth of the global catheters industry due to on-hold services, such as treatment, diagnostic, and surgical services, to prevent the spread of COVID-19 disease. According to the National Library of Medicine, Jordan imposed strict COVID-19-related lockdown. The strict lockdown was associated with drastic declines in volumes of cardiac catheterization procedures with gradual increase in volumes after partial lifting of the lockdown. However, catheters will be used more often in hospitals as the government and healthcare organizations work to improve medical treatment for COVID-19 patients. The patients who confirmed diagnosis of COVID-19 are being treated with catheters. For instance, in April 2020, Bactiguard introduced a new urinary catheter, BIP Foley TempSensor for continuous temperature monitoring. The company reported in pandemic that it has a urinary catheter combined with integrated temperature monitoring and infection control. Thus, such technological advancements help to drive the growth of the catheters market during the forecast period.
However, due to increase in number of entrants in the domestic market, the quality of catheter devices deteriorates as these manufacturers use cheap and substandard raw material to manufacture the product at low price, restricting  the market growth.

Catheter Market Segmentation
The catheters market is segmented on the basis of product type and region. By product type, the market is categorized into cardiovascular catheters, neurovascular catheters, urological catheters, and specialty catheters. Cardiovascular catheters segment is classified into electrophysiology catheters, percutaneous transluminal coronary angioplasty (PTCA) balloon catheters, intravascular ultrasound (IVUS catheters), percutaneous transluminal angioplasty (PTA) catheters, and others include guiding catheter, angiography catheter, and pulmonary artery catheters. In addition, urological catheter segment is fragmented into dialysis catheter and urinary catheter. Dialysis catheter segment is segmented into hemodialysis catheter and peritoneal catheter.  Urinary catheter segment is  sub segmented into and foley catheter, intermittent catheter, and external catheters.  Furthermore, intravenous catheter segment  is divided into central intravenous catheter and peripheral intravenous catheters. Peripheral intravenous catheters is fragmented into integrated catheters and short catheters. Moreover, specialty catheters segment is divided into wound/surgical drain, oximetry, thermodilution, and intrauterine Insemination(IUI) catheters
    
Region wise, the market is analyzed across North America (the U.S., Canada, and Mexico), Europe (Germany, France, the UK, Italy, Spain, and rest of Europe), Asia-Pacific (Japan, China, Australia, India, South Korea, and rest of Asia-Pacific), and LAMEA (Brazil, Saudi Arabia, South Africa, and rest of LAMEA).
Segment Review
Depending on product type, the cardiovascular catheter segment dominated the market in 2021, and this trend is expected to continue during the forecast period, owing to rise in prevalence of cardiovascular diseases along with the increase in demand for minimal invasive surgeries. In addition, rise in usage to evaluate and confirm the presence of diseases related to heart such as valve disease, coronary artery disease, and diseases related to the aorta further drive the growth of cardiovascular catheter segment. However, the urological catheter segment is expected to witness considerable growth during the forecast period, owing to increase in usage of urological catheters, due to increase in prevalence of end-stage renal diseases, kidney problem, and urinary tract infection.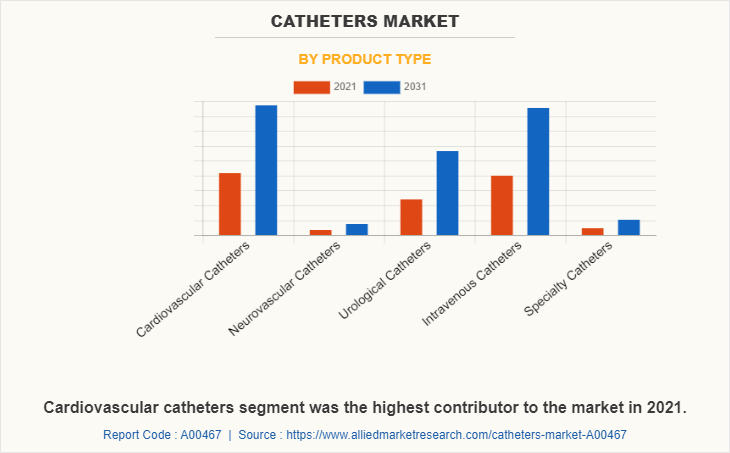 Region wise, North America garnered the major catheters market share in 2021, and is expected to continue to dominate during the forecast period, owing to increase in the product launches and the increase in number of regulatory approvals in the developed countries of North America positively impacting the market growth. However, Asia-Pacific is expected to register the highest CAGR of 11.9% from 2022 to 2031, owing to increase in demand for catheters due to rise in incidence of cardiovascular diseases and immunological & neurological diseases.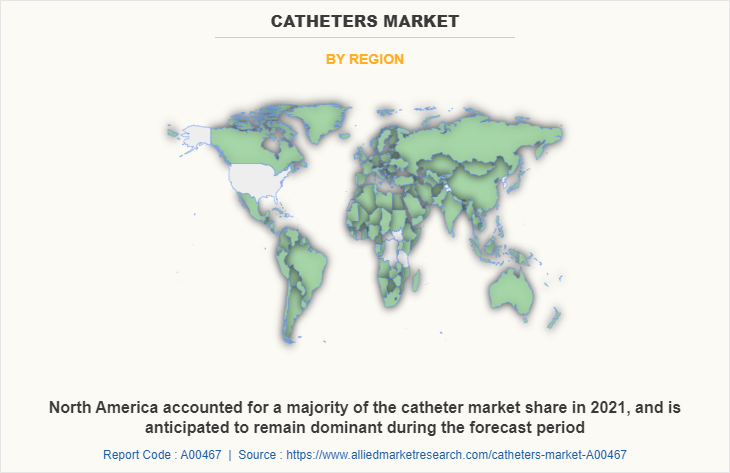 The key players that operate in the global catheters market include Abbott Laboratories, Becton Dickinson And Company, Boston Scientific Corporation, B. Braun Melsungen AG, Teleflex Incorporated, Johnson & Johnson, Medtronic, Inc., Edwards Lifesciences Corporation, Cook Medical, and Stryker Corporation.
 
Key Benefits For Stakeholders
This report provides a quantitative analysis of the market segments, current trends, estimations, and dynamics of the catheters market analysis from 2021 to 2031 to identify the prevailing catheters market opportunities.
The market research is offered along with information related to key drivers, restraints, and opportunities.
Porter's five forces analysis highlights the potency of buyers and suppliers to enable stakeholders make profit-oriented business decisions and strengthen their supplier-buyer network.
In-depth analysis of the catheters market segmentation assists to determine the prevailing market opportunities.
Major countries in each region are mapped according to their revenue contribution to the global market.
Market player positioning facilitates benchmarking and provides a clear understanding of the present position of the market players.
The report includes the analysis of the regional as well as global catheters market trends, key players, market segments, application areas, and market growth strategies.
 Catheters Market Report Highlights
Aspects
Details
By Product Type

Cardiovascular Catheters
Neurovascular Catheters
Urological Catheters
Intravenous Catheters
Specialty Catheters

By Region

North America (U.S., Canada, Mexico)
Europe (Germany, France, U.K., Italy, Spain, Rest of Europe)
Asia-Pacific (Japan, China, India, Australia, South Korea, Rest of Asia-Pacific)
LAMEA (Brazil, Saudi Arabia, South Africa, Rest of LAMEA)

Key Market Players
Becton, Dickinson and Company, Boston Scientific Corporation, Edwards Lifesciences Corporation, Cook Medical Inc., B. Braun Melsungen AG, Medtronic Plc, Johnson and Johnson, Stryker Corporation, Abbott Laboratories, Teleflex Incorporated