Global Insulated-gate bipolar transistors (IGBTs) Market Overview
Global Insulated-Gate Bipolar Transistors (IGBTs) Market is expected to garner $11 billion by 2022. IGBT is a type of power semiconductor that is used as an electronic switch device. It is also known as minority carrier device that enables faster switching rate and offers greater efficiency. It is a cost-effective solution to replace Metal Oxide Semiconductor Field-Effect Transistor (MOSFET), which is compatible with higher voltage and current. It enables power management to enhance energy conservation in various applications such as industrial systems, consumer electronic, and electric vehicle. In addition, it is a combination of MOSFET and Bipolar Junction Transistor (BJT) in monolithic form. Currently, it is used in renewable resources and electric vehicles to improve switching speed and prevent power loss.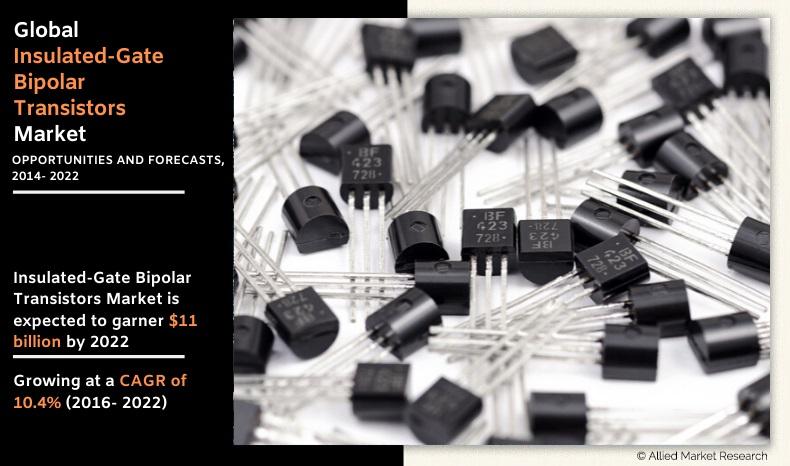 Increasing demand for electric vehicle and aggrandized need for high voltage operating devices have led to higher adoption of IGBT in energy & power, automotive, consumer electronics, and industries. Therefore, the world IGBT market is expected to witness moderate growth in the near future, owing to high-speed switching rate and optimized power loss. However, current leakage at high temperature hamper the market growth. Proactive government initiatives to establish High Voltage Direct Current (HVDC) and smart grid utilizing IGBT for power conversation would provide lucrative opportunities for the market.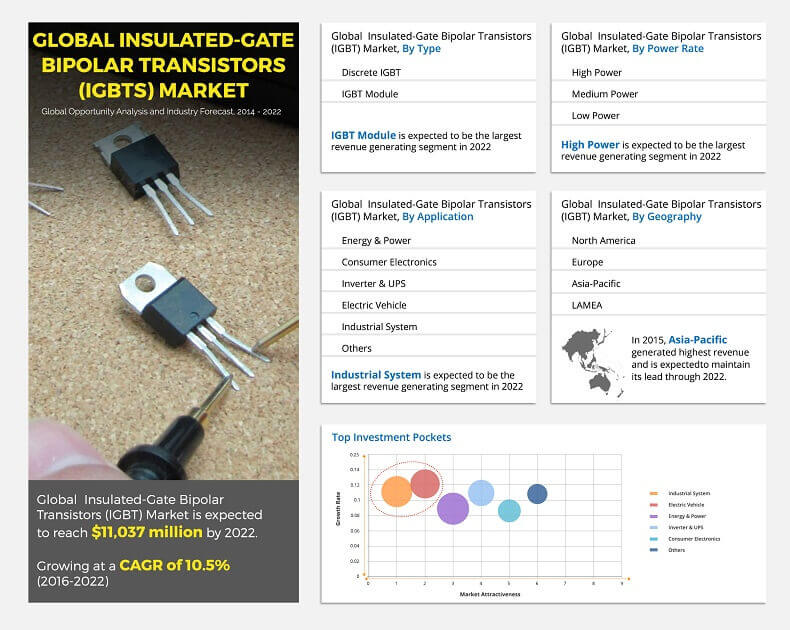 Segment Overview
The world IGBT market is segmented on the basis of type, power rating, application, and geography. Based on type, the market is segmented into discrete IGBT and IGBT module. IGBT module segment dominated the global market in terms of revenue contribution, and is expected to maintain this trend throughout the forecast period, owing to enhanced efficiency and ease-of-control at high voltages.
Based on power rating, high voltage segment dominated the global market in terms of revenue contribution, and is expected to maintain this trend throughout the forecast period. However, discrete IGBT segment is expected to witness rapid growth due to increasing demand for consumer electronic applications utilizing IGBT for lower-current applications.
Based on various application, electric vehicle, industrial system, and inverter & UPS are the most lucrative applications areas of the industry, and are expected to exhibit rapid growth as compared to the other segments. The world IGBT market is segmented on the basis of geographical region into North America, Europe, Asia-Pacific, and LAMEA. Asia-Pacific accounted for the largest share of the global market, owing to improvement in power transmission and use of renewable energy. 
Competition Analysis
Comprehensive competitive analyses and profiles of major market players namely, ABB Group, STMicroelectronics N.V., Toshiba Corporation, IXYS Corporation, Renesas Electronics Corp, Semikron International GmbH, Mitsubishi Electric Corp., Infineon Technologies AG, Fuji Electric Co. Ltd., and NXP Semiconductors N.V are provided in this report. Currently, the IGBT market is driven by growth strategies such as product launch and acquisition. Companies, such as Infineon Technology AG and Mitsubishi Electric Corp., have launched new IGBT modules to expand their customer base and increase their market share.
Increasing application of IGBT in electric vehicles
Increasing concerns regarding vehicular emissions and depletion of non-renewable energy resources have enforced government organizations to invest in improving the infrastructure of electric vehicles, such as Battery Electric Vehicle (BEV), Hybrid Electric Vehicle (HEV) & Plug-In Hybrid Electric Vehicle (PHEV) and Electric Vehicle Supply Equipment (EVSE). IGBT plays a crucial role in electric vehicle to control vehicles at high voltages and enhance efficiency. Currently, the U.S. has the largest consumer base of electric cars, owing to stringent emission rules in the region. As of 2015, about 400,000 electric cars were in stock in the U.S.
Government initiatives to establish HVDC and smart grid 
Old grid networks have been replaced by smart grids, as they are reliable, provide flexible network topology, have better load adjustment capacity, and enable real-time troubleshooting. IGBT is used for facilitate ease-of-control at high voltage, as it enables higher frequency with enhanced efficiency. In addition, it is a minority-carrier device with several benefits such as large bipolar current-carrying capability and high input impedance; hence, it is used in smart grids.
Key Benefits of IGBT Market
The study provides an in-depth analysis of the world IGBT market to elucidate the prominent investment pockets in the market
Current trends and future estimations have been outlined to determine the overall attractiveness, and to single out profitable trends to gain a stronger foothold in the market
The report provides information regarding key drivers, restraints, and opportunities along with their impact analysis
The market is analyzed based on various regions, namely, North America, Europe, Asia-Pacific, and LAMEA 
Value chain analysis of the market enables better understanding of the role of intermediaries in the production process
 Insulated-Gate Bipolar Transistors (IGBTs) Market Report Highlights
Aspects
Details
By Application

Energy & Power
Consumer Electronics
Inverter & UPS
Electric Vehicle
Industrial System
Others (Medical Devices & Traction)

By Type

Discrete IGBT
IGBT Module

By Power Rating

High Power
Medium Power
Low Power

By Geography

North America
Europe

UK
Germany
France
Rest of the Europe

Asia-Pacific

India
China
Japan
South Korea
Rest of Asia-Pacific

LAMEA

Latin America
Middle East
Africa

Key Market Players
Mitsubishi Electric Corp., Fuji Electric Co. Ltd., ABB Group, IXYS Corporation, STMicroelectronics N.V., Infineon Technologies AG, Semikron International GmbH, Toshiba Corporation, Renesas Electronics Corp., NXP Semiconductors N.V