UAE Personal Protective Equipment Market Overview:
The UAE personal protective equipment market was valued at $401.4 million in 2017, and is projected to reach $702.4 million by 2025, registering a CAGR of 7.3% from 2018 to 2025. Personal protective equipment are adopted when engineering controls and administrative controls are not practicable or effective to lessen the risks to acceptable levels. Stringent government regulations regarding safety standards at workplace and increased awareness among workers for safety precautions leads to the higher utilization of PPE.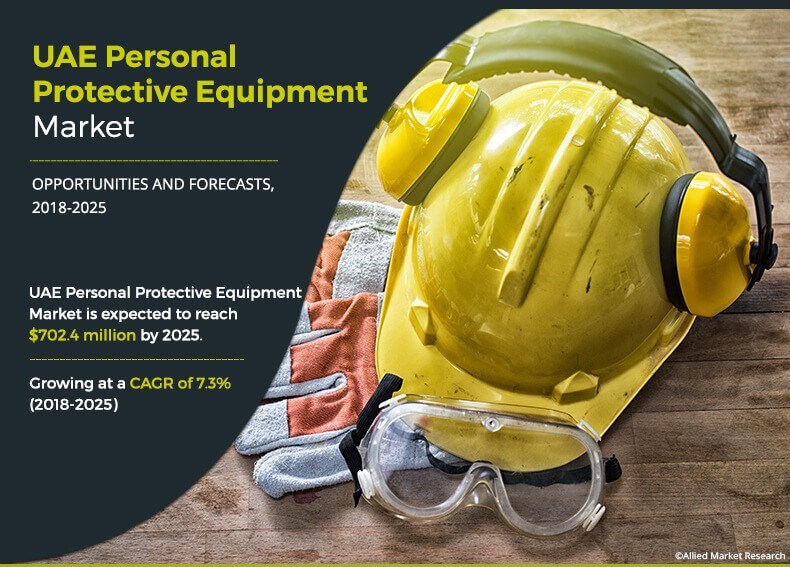 The major players profiled in this report include Honeywell International Inc., 3M Company, E. I. Dupont de Nemours and Company, Ansell Limited, Kimberly-Clark Corporation, JSP Limited, Venus Safety & Health Pvt., Ltd., Dream Castle Technical Supply LLC, Schefferville Trading LLC, and Vaultex. The report also includes various other manufacturers/distributors of PPE such as MSA Safety, Al Asayel Health & Safety, Uruguay Oil Field & Safety Equipment, Spark international Energy L.L.C., Specialised Technical Services (STS), and Atlas Safety.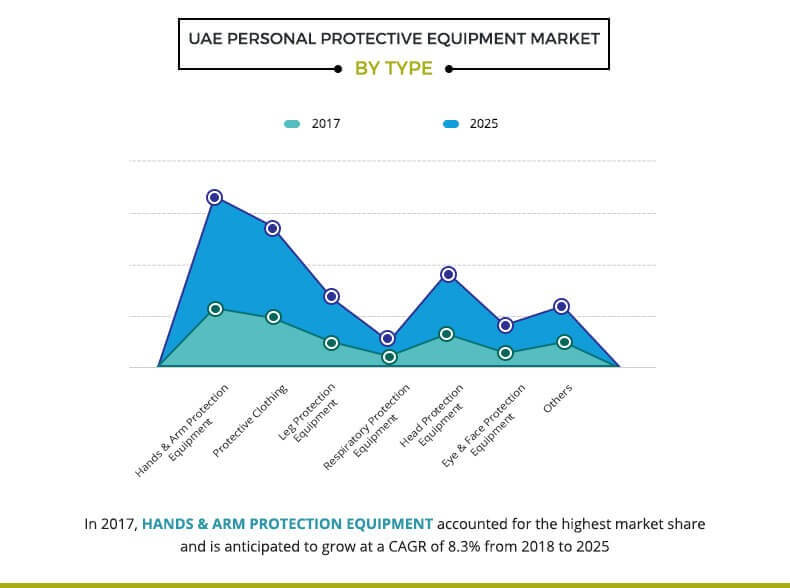 Hands & arm protection equipment, which had the maximum share in 2017, drives the market growing at the highest CAGR of 8.3%. Hands & arm protection equipment form the basic requirement for personal safety and finds application in almost every industry. Rapid growth in construction and manufacturing industry majorly drives the sales of hands & arm protection equipment as the workers have to deal with chemicals, hot objects, and high impacts of machineries & tools. Protective clothing is another lucrative market, anticipated to grow at a significant CAGR of 8.0%. Awareness amongst the worker about the safety and precaution supplements the growth of the protective clothing market.
A large number of new construction projects are started in recent years in the UAE, which includes residential projects, infrastructure, and entertainment venues. Major roadways, railways, airport, and port upgrade projects, which includes Dubai & Abu Dhabi metro, Emirates road, Etihad railway network, Dubai & Abu Dhabi airport are ongoing in preparation of further expected population influx. In 2017, construction application segment accounted for the highest market share and is anticipated to grow at the highest CAGR of 8.0%.
Key Benefits
This report provides a quantitative analysis of the current trends, estimations, and dynamics of the UAE personal protective equipment market from 2014 to 2025 to identify the prevailing market opportunities.
Porter's Five Forces analysis highlights the potency of buyers and suppliers to enable stakeholders to make profit-oriented business decisions and strengthen their supplier-buyer network.
In-depth analysis of the market segmentation assists in determining the prevailing market opportunities.
Market share analysis provides a clear understanding of the present position of market players.
The report includes in detail analysis of the UAE PPE market, key players, market segments by type and application, and growth strategies.
 UAE Personal Protective Equipment Market Report Highlights
Aspects
Details
By Type

Hands & Arm Protection Equipment
Protective Clothing
Leg Protection Equipment
Respiratory Protection Equipment
Head Protection Equipment
Eye & Face Protection Equipment
Others

By Application

Manufacturing
Construction
Healthcare
Oil & Gas
Others

Key Market Players
3M, Honeywell International Inc., Ansell, E I dupont de Nemours and Co., Kimberly-Clark Corporation, JSP Ltd., Venus Safety & Health, Schefferville Trading LLC, MSA, Souvenir Building Materials LLC (Vaultex), Dream Castle Technical Supply L.L.C., Al Asayel Health & Safety, Uruguay Oil Field & Safety Equipment, Spark International Energy LLC., Specialized Technical Services (STS), Atlas Safety Products