U.S. IVD Market Overview:
U.S. IVD Market accounted for $15,746 million in 2016, and is estimated to reach at $20,707 million by 2023, growing at a CAGR of 3.9% from 2017 to 2023. In vitro diagnostics (IVD) are intended for in vitro analysis of samples derived from the human body, to provide information for diagnostic, monitoring, and treatment purposes. They are used for diagnosis of various diseases such as infectious, cardiovascular, cancer, and others.
Increase in prevalence of chronic and infectious diseases such as tuberculosis, diabetes, and lifestyle diseases and increase in geriatric population in the U.S. primarily drives the market. In addition, implementation of the Affordable Care Act (ACA) and increase in adoption of automated instruments in laboratories that enable accurate and fast test results have increased the IVD market growth. Furthermore, advert of point of care diagnosis and personalized medicine is anticipated to boost the market growth. However, lack of favorable reimbursement policies and stringent government regulations associated to the product approval, manufacturing, and sale of IVD are expected to hamper the market growth. Ongoing R&D activities related to IVD are anticipated to present new opportunities for the market.
U.S. IVD Market Segmentation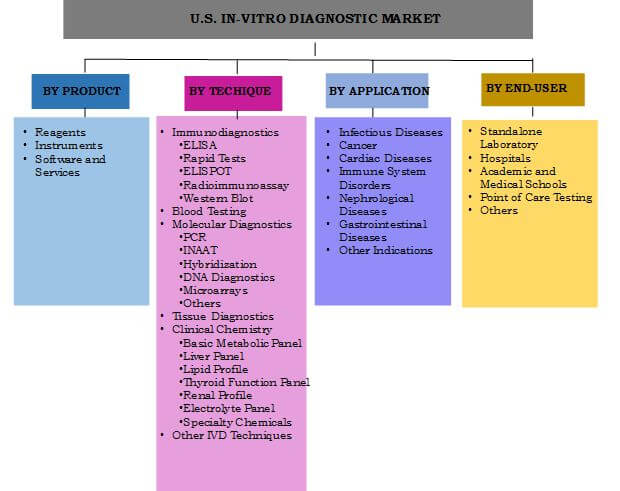 Segment review
Based on product type, the market is categorized into reagents, instruments, and software & services. The reagent segment accounted for the highest market share in 2016, and the software and services is expected to grow at the highest growth rate during the forecast period. The growth of the reagent market is attributed to the wide availability of effective and cost-efficient reagents. On the basis of techniques, the immunodiagnostics accounted for the highest market share in 2016, owing to the increase in demand for personalized medicines for genetic diseases and cancer screening. On the basis of application, the infectious disease segment captured the highest market share in 2016, owing to the increase in prevalence of lifestyle diseases and infectious diseases among the population. Based on end users, the standalone laboratory segment captured the highest market share in 2016, primarily due to increase in outsourcing of test to the laboratories as they provide accurate and fast test results.
Top Investment Pocket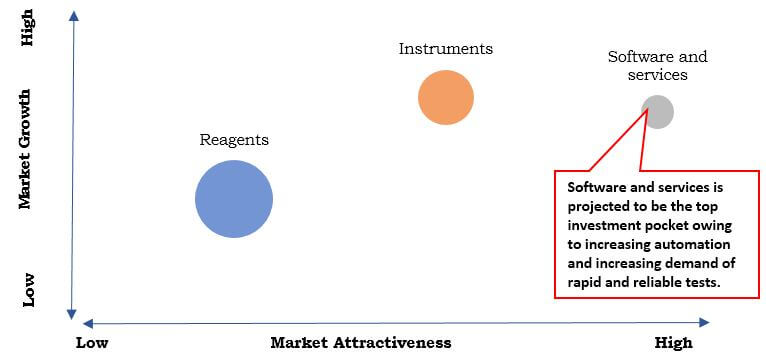 Increase in prevalence of chronic and infectious diseases
In past few decades, cases of increase in prevalence of chronic and infectious diseases have reached an alarming proportion due to an increasingly morbid lifestyle such as high body mass index, low fruit and vegetable intake, lack of physical activity, and high tobacco and alcohol use. According to the American Cancer Society estimates, in 2017 the cancer deaths accounted for approximately 600,920 and new cancer diagnosed cases accounted for approximately 1,688,780 cases in the U.S. The increase in rate of diseases have increased the demand for IVD market.
Increase in geriatric population
Aging population is on an increase, which results in rise in number of people in need of medical assistance. Growth in average life expectancies along with more affluent population improve healthcare expenditure by using the advanced in vitro diagnostic technologies for monitoring their health. According to the U.S. Census Bureau report "'An Aging World: 2015", 46 million of the U.S. population comprises of population aged 65 years and above. This number is predicted to increase to nearly 98 million 2050. This escalation in rate of the geriatric population is expected to raise the demand for diagnosis, thereby driving the IVD market.
Technological advancements in IVD
The healthcare industry is developing at a significant rate due to demand for better healthcare services, significant investments by governments to improve healthcare infrastructure, rise in focus on the improvement of effectiveness, and safety of the medical devices. Earlier, molecular testing was time consuming and costly, but these days with automated technology one can get accurate, cost effective and quick results. For instance, in August 2016, FDA approved Alere Inc. product of Alere i RSV test, the first rapid molecular test that can be used at the point-of-care to detect RSV infection in 13 minutes or less.
Major companies operating in this market adopt product launch as their key development strategy. Companies profiled in this market include, Thermo Fisher Scientific Inc., Alere Inc., Biomerieux, Danaher Corporation, F. Hoffmann-La Roche AG, Becton Dickinson and Company, Bio-Rad Laboratories, Bayer AG, Sysmex Corporation, and Johnson & Johnson among others.
Key Benefits
The study provides an in-depth analysis of the U.S. IVD market along with current trends and future estimations to elucidate the imminent investment pockets.
Quantitative analysis of the industry is provided for the period of 2016–2023 to enable the stakeholders to capitalize on the prevailing market opportunities.
Comprehensive analysis of factors that drive and restrict the growth of the market is provided.
Extensive analysis by technique and application helps understand various trends and prevailing opportunities in the market.
The key market players are profiled and their strategies are analyzed to predict the competitive outlook of the market.
 U.S. IVD Market Report Highlights
Aspects
Details
By Product Types

Reagents
Instruments
Software and Services

By Techniques

Immunodiagnostics

Enzyme-Linked Immunosorbent Assay (ELISA)
Chemiluminescence Immunoassays (CLIAS)
Fluorescence Immunoassays (FIAS)
Colorimetric Immunoassays (CIS)
Rapid Tests
Enzyme-Linked Immunospot Assays (ELISPOT)
Radioimmunoassay
Western Blot

Blood Testing
Molecular Diagnostics

Polymerase Chain Reaction (PCR)
Isothermal Nucleic Acid Amplification Technology (INAAT)
Hybridization
DNA Diagnostics
Microarrays
Others

Tissue Diagnostics
Clinical Chemistry

Basic Metabolic Panel
Liver Panel
Lipid Profile
Thyroid Function Panel
Renal Profile
Electrolyte Panel
Specialty Chemicals

Other IVD Techniques

By Application

Infectious Diseases
Cancer
Cardiac Diseases
Immune System Disorders
Nephrological Diseases
Gastrointestinal Diseases
Other Indications

By End Users

Standalone Laboratory
Hospitals
Academic and Medical Schools
Point of Care Testing
Others

Key Market Players
THERMO FISHER SCIENTIFIC INC., ALERE INC., BIOMERIEUX, DANAHER CORPORATION, F. HOFFMANN-LA ROCHE AG, BECTON DICKINSON AND COMPANY, BIO-RAD LABORATORIES, BAYER AG, SYSMEX CORPORATION, JOHNSON & JOHNSON