X-Ray Detector for Non-Destructive Testing Market Overview:
X-Ray Detector for Non-Destructive Testing Market was valued at $ 129,939 thousand in 2014, and is projected to reach at $ 231,811 thousand by 2022, growing at a CAGR of 7.31% from 2014 to 2022. An X-ray detector is an electronic device that detects radiation of X-ray or gamma ray for imaging purposes. X-ray imaging is an important non-destructive testing (NDT) technique for products such as circuit boards, concrete parts, and metals. This technique is also useful to detect Cracks and very fine manufacturing defects, thus maintaining quality, product reliability, and various other physical properties of the materials. NDT uses various testing methods to evaluate the object, material, or system without damaging or destroying it. This testing assures that the structural and mechanical components perform their function in a safe, reliable, and cost-effective manner.
The key factor that drives the growth of the global X-ray detector for NDT market include technological advancements in hardware, such as tubes, sources, and detectors. In addition, continuous upgrades in software have contributed significantly toward improving the efficiency of X-ray inspection systems. Industries such as aerospace and automotive witness high adoption rates of X-ray detectors due to their ability to provide high image quality and accuracy. In addition, fully automated industries have implemented these detectors to monitor the quality of material and the finished product. These detectors are highly priced and require high maintenance costs, which restrict their use due to affordability.
The key players operating in the X-ray detector for NDT market include Canon Inc., FONA Dental Systems Co. Ltd., FUJIFILM Holdings Corporation, Hamamatsu Photonics K.K., Konica Minolta Inc., Olympus Corporation, PerkinElmer Inc., Rayence Inc., Teledyne DALSA Inc., Toshiba Electron Tubes and Devices Co. Ltd., Trixell S.A.S., Detection Technology, Image Tech, MatriX Technologies GmbH, and X-Scan Imaging Corporation.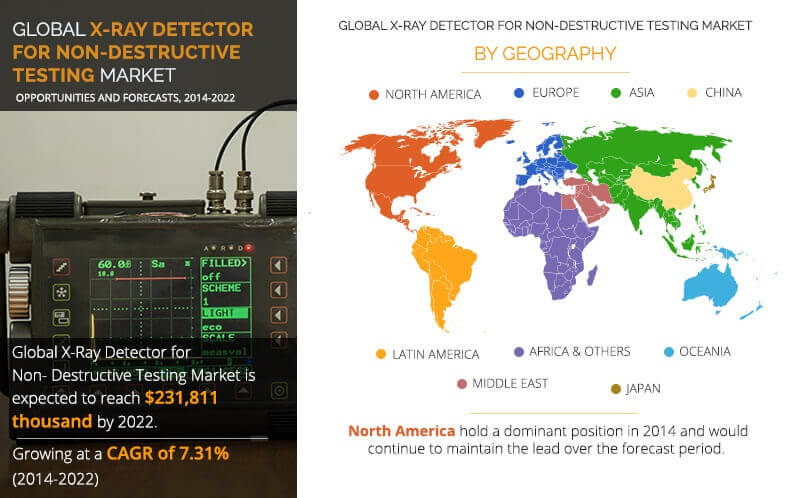 The global X-ray detector for NDT market is segmented based on type, application, and region. The type segment is further divided into CR system, static flat panel detector, dynamic flat panel detector, and linear sensor.
Based on application, the market is categorized into aerospace & defense, automotive, construction, electronic & semiconductors, energy & power, explosive ordnance disposal (EOD) & improvised explosive device (IED), heavy industries, manufacturing, marine, oil & gas, security, transportation, food, drugs & drinks, and others (archaeology and forensics). Based on region, the market is analyzed across North America (U.S., Canada, and Mexico), Latin America (Brazil and others), Europe (UK, Germany, France, Russia, and rest of Europe), Middle East (Saudi Arabia, Iran, and others), China, Japan, Asia (India, Taiwan, Korea, and others, excluding China and Japan), Oceania (Australia and others), and Africa and Others.
Top Impacting Factors
Improved Quality and Reduced Prices
Decline in prices of X-ray detectors have increased the adoption of X-ray detection systems in industries such as food, drinks, & drugs, construction, and transportation to improve detection quality, finished product quality (especially for food, drinks & drugs, and construction industry), and simultaneously reduce detection time to increase productivity.
Increase in Demand for Automated Technology
In the present scenario, market players have witnessed technological shift and have focused on process automation to minimize human intervention. The aerospace & defense, automotive, and oil & gas sectors have witnessed extensive use of automated X-ray detector systems, owing to the time constraints associated with the execution of multiple detection tasks simultaneously with better accuracy.
Flat Panel X-ray Detectors Gaining Popularity
Progressive changes in technology starting from computed radiography to digital radiography along with the use of flat panel detectors have improved the efficiency of X-ray detectors, thereby creating an opportunity in near future.
Key Benefits for Stakeholders
This report provides an extensive analysis of the current and emerging market trends and dynamics in the X-ray detectors for NDT market.
In-depth analysis is conducted by constructing market estimations for the key market segments between 2014 and 2022.
Extensive analysis of the market is conducted by following key product positioning and monitoring the top competitors within the market framework.
Key players are profiled and their strategies are analyzed thoroughly to understand the competitive outlook of the global X-ray detectors for NDT market.
 X-Ray Detector for Non-Destructive Testing Market Report Highlights
Aspects
Details
By Type

CR System
Static Flat Panel Detector
Dynamic FLAT PANEL DETECTOR
Linear Sensor

By Application

Aerospace & Defense
Automotive
Construction
Electronic & Semiconductors
Energy & Power
EXPLOSIVE ORDNANCE DISPOSAL (EOD) & IMPROVISED EXPLOSIVE DEVICE (IED)
Heavy Industries
Manufacturing
Marine
Oil & Gas
Security
Transportation
Food, Drugs & Drinks
Others (Archaeology, Forensics, etc.)

By Geography

North America

U.S.
Canada
Mexico
Others

Latin America
Europe

UK
Germany
France
Russia
Others

Middle East
China
Japan
Asia

India
Taiwan
Korea
Others

Oceania
Africa and Others

Key Market Players
FUJIFILM CORPORATION, IRAY TECHNOLOGY, KONICA MINOLTA, INC., ANALOGIC CORPORATION, COMPUTERISED INFORMATION TECHNOLOGY LTD., TOSHIBA ELECTRON TUBES & DEVICES CO., LTD., GENERAL ELECTRIC CORPORATION, IBA DOSIMETRY, SENS-TECH LTD., IMAGE TECH, INC., VARIAN MEDICAL SYSTEMS, INC., OLYMPUS, TRIXELL, X-SCAN IMAGING CORPORATION, PERKINELMER, RAYENCE, CANON INC., ICRCO, MATRIX TECHNOLOGIES GMBH, HAMAMATSU PHOTONICS, TELEDYNE DALSA INC., DETECTION TECHNOLOGY