Absinthe Market Outlook - 2026
The absinthe market size was valued at $34.1 billion in 2018 and is estimated to reach $44.3 billion by 2026, registering a CAGR of 3.4% from 2019 to 2026. Absinthe is a green or often colorless processed liquor with a high alcohol content, flavored with anise, wormwood, culinary herbs such as flowers and leaves of Artemisia absinthium and some other aromatic compounds. Its alcohol content is around 45-76% of total liquid alcohol. When Absinthe do not contain any added sugar in it, it is also called as a spirit. Absinthe is bottled at a very high level of alcohol by volume, but at the time of consumption it is diluted with water. It is conventionally prepared from a purification of neutral alcohol, spices, herbs and water. While traditional absinthes are redistilled from white grape spirit, lesser absinthes were commonly made by alcohol processed from grain, potatoes, or beets.  Different kind of herbs may be used in the preparation of absinthe such as angelica, petite wormwood hyssop, Melissa, coriander, star anise, peppermint, and veronica. In the past times, when Absinthe was very little known, it had often been popularly portrayed as an addictive psychoactive drug which causes hallucinogen. Although Absinthe was known as a drug causing hallucinogen, the 21st century has seen various types of absinthe, including a range of frozen preparations which have become increasingly popular. Some of the popular types of absinthe are Blanche absinthe, Verte absinthe, Absenta, Hausgemacht, and Bohemian-style absinthe.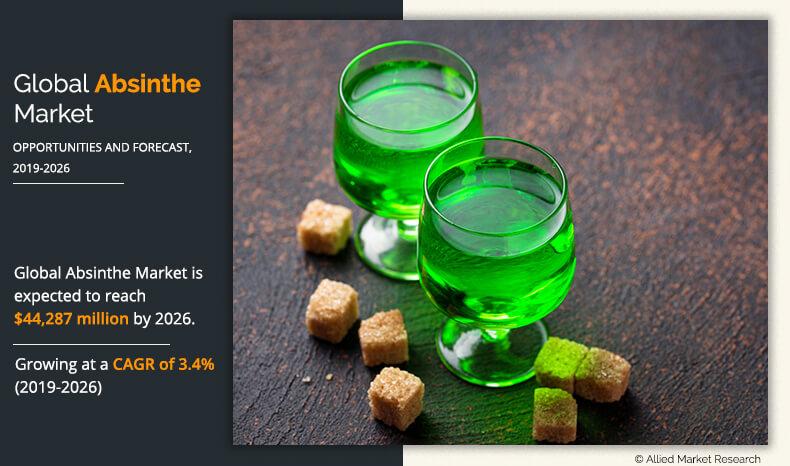 Absinthe has been very popular in the mature and emerging absinthe market since 2007 after its ban revoked in the U.S. This can be attributed to rise in the number of people consuming absinthe after 2007. Furthermore, growth increase in the disposable income has aided the absinthe market growth. Moreover, introduction of additional flavors by different market players are some other factors that further drive the growth of the market. However, perception about the adverse effects of absinthe and the mental instability rumors act as the major restraint for this market. On the contrary, growth in demand for absinthe specially  by artists and painters, musicians, and guitarists is anticipated to provide growth opportunities for the absinthe market.
Absinthe market has been segmented based on type, application, and region. On the basis of type, it is fragmented into absinthe blanche, absinthe amber, absinthe verte, absinthe ordinaire, absinthe reve pastis, absinthe bohemian, absinthe liqueur, and premium absinthe. By application, it is categorized into food and beverage industry, cosmetic industry, and medical industry. Regionally, the Absinthe market is analyzed across North America, Europe, Asia-Pacific, and LAMEA.
Absinthe reve pastis segment would exhibit the highest CAGR of 4.6% during 2019-2026.
Based on the Absinthe market analysis by type, the absinthe bohemian segment generated the highest revenue in 2018 and is expected to retain its dominance during the dominant the forecast period. This can be attributed to increasing demand for products with new taste and lower alcohol content, in countries such as India and China. Moreover, increasing penetration of flavored absinthe products is expected to increase the demand for absinthe bohemian in the countries such as U.S. However, the absinthe reve pastis segment is expected to grow at the highest CAGR throughout the forecast period.
Absinthe Market

---
By Application Type
Cosmetic segment would exhibit the highest CAGR of 4.4% during 2019-2026.
Based on the absinthe market forecast for application type, food and beverage segment was the most prominent segment accounting for maximum absinthe market share. This can be attributed to increasing demand for new flavors developed by the players for this category. Moreover, the one stop solution provided by retail stores and online formats makes it a very popular option for shopping for consumers. However, the online shopping is expected to boost the growth during the forecast period owing to rapid internet and smartphone penetration. However, the cosmetic segment is expected to witness notable growth, with a CAGR of 4.4% from 2019-2026
Absinthe Market

---
By Region
North America would exhibit the highest CAGR of 4.3% during 2019-2026.
The players in the Absinthe industry have adopted product launch and acquisition as their key development strategy to increase profitability, and to improve stance in the absinthe market. The key players have also relied on business expansion to stay relevant in the global market. The key players profiled in the report include Pacific Distillery, Teichenne, S.A., Duplais Verte, La Fée Absinthe, Kübler Absinthe Superieure, Hill's Liquere North America, La Clandestine, Doubs Mystique, Butterfly absinthe, Milan METELKA a.s.
Key Benefits for Absinthe Market:
The report provides a quantitative analysis of the current absinthe market trends, estimations, and dynamics of the market size from 2018 to 2026 to identify the prevailing opportunities.
Porter's five forces analysis highlights the potency of the buyers and suppliers to enable stakeholders to make profit-oriented business decisions and strengthen their supplier–buyer network.
In-depth absinthe market analysis and the market size and segmentation assists in determining the prevailing absinthe market opportunities.
The major countries in each region are mapped according to their revenue contribution to the global market. 
The market player positioning segment facilitates benchmarking and provides a clear understanding of the present position of the market players in the industry. 
 Absinthe Market Report Highlights
Aspects
Details
By Type

Absinthe Blanche
Absinthe Amber
Absinthe Verte
Absinthe Ordinaire
Absinthe Reve Pastis
Absinthe Bohemian
Others

By Application

Food And Beverage
Cosmetic
Medical

By Region

North America (U.S., Canada, Mexico)
Europe (Germany, France, UK, Switzerland, Czech Republic, Rest of Europe)
Asia-Pacific (China, South Korea, Australia, Japan, Rest of Asia-Pacific)
LAMEA (Brazil, South Africa, Rest of LAMEA)

Key Market Players
BUTTERFLY ABSINTHE, TEICHENNE, S.A, DUPLAIS VERTE, PACIFIC DISTILLERY, MILAN METELKA A.S, LA CLANDESTINE, HILL'S LIQUERE NORTH AMERICA, LA FéE ABSINTHE, KüBLER ABSINTHE SUPERIEURE, DOUBS MYSTIQUE