AdTech Market Research, 2031
The global adtech market was valued at $748.2 billion in 2021, and is projected to reach $2.9 trillion by 2031, growing at a CAGR of 14.7% from 2022 to 2031.
The COVID-19 outbreak has impacted less negatively on the growth of the adtech market. It is predicted that various brands may reduce their advertising spend given the economic impact of COVID-19; however, the uptick in social media traffic has presented unique opportunities for engaging with online audiences as well as keeping the brand awareness high.
Adtech is a broad term that categorizes the software and tools that agencies, brands, publishers, and platforms use to target, deliver, and measure their digital advertising efforts. Adtech software platforms help brands and agencies purchase advertising space. It also helps publishers price and sell their ad space. Moreover, the adtech industry has been eager to adopt adtech because of the competitive advantages it provides. Adtech enables brands to track their customers' online behaviors, delivering insights into the interests and preferred online formats of their audiences. Teams can then shape their advertising content around a customer profile while leveraging software and platforms to quickly produce and spread content across multiple channels. Furthermore, emerging advanced adtech solutions such as AI/ML can solve a variety of human error and quality issues. Hence, many organizations such as healthcare, IT, retail, and other sectors are adopting AdTech due to its benefits. This factor creates lucrative growth opportunities in the advertising technology market.
Factor such as growing digital and internet penetration around the world is positively impacting the growth of the market. In addition, increase in adoption of AdTech solution to enhance operation & productivity strengthens the growth of the adtech market trends for future. Furthermore, rising adoption of advanced technology such as artificial intelligence (AI), machine learning, and AR/VR, among others are expected to provide the lucrative growth opportunities for the advertising technology market during the forecast period. Moreover, rising gaming industry and growing social media app such as Facebook, Whatsapp and others, create numerous opportunities for the market growth in the upcoming years. However, data security and high investment costs hamper the adtech market growth.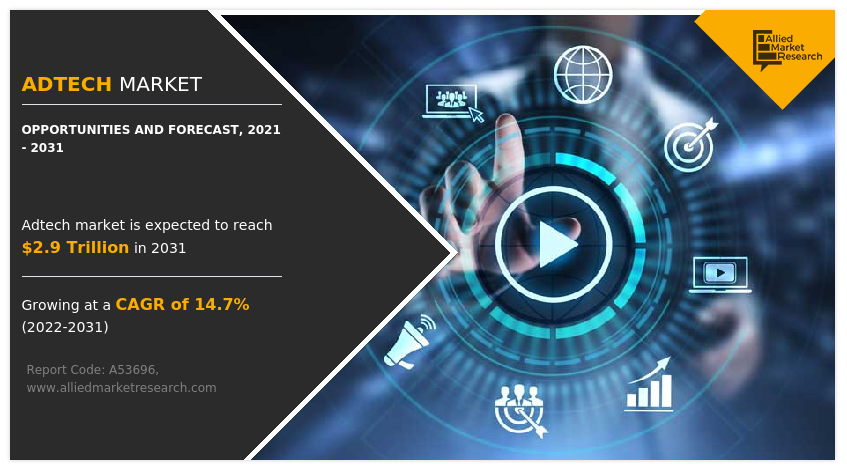 The adtech market is segmented into Solution, Enterprise Size, Advertising Type, Platform and Industry Vertical.
Segment Review
The adtech market is segmented into solution, advertising type, enterprise size, platform, industry vertical, and region. As per solution, it is bifurcated into demand-side platforms (DSPs), supply-side platforms (SSPs), ad networks, data management platforms (DMPs) and others. According to advertising type, it is divided into programmatic advertising, search advertising, display advertising, mobile advertising, email marketing, native advertising, and others. Depending on enterprise size, the market is segregated into small & medium-sized enterprises and large enterprises. According to platform, the market is segregated into mobile, web, and others. By industry vertical, the market is classified into BFSI, IT & telecom, retail & consumer goods, education, healthcare, media and entertainment, and others. Region wise, it is analyzed across North America, Europe, Asia-Pacific, and LAMEA.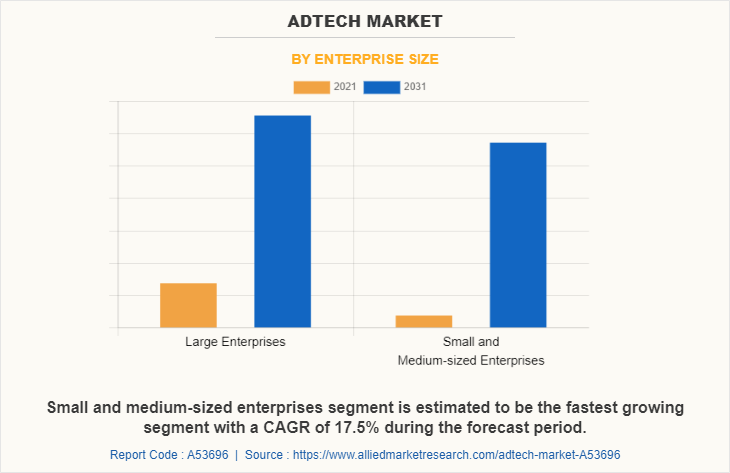 On the basis of enterprise size, the global AdTech market share was dominated by the large enterprises in 2021 and is expected to maintain its dominance in the upcoming years. This is mainly attributed due to higher adoption of adtech solution in large organizations. However, small & medium-sized enterprises segment is expected to witness the highest growth, owing to digitalization and increasing investment in advanced technology such as AI/ML, AR/VR, and others which are expected to provide lucrative opportunities for the market growth during the forecast period.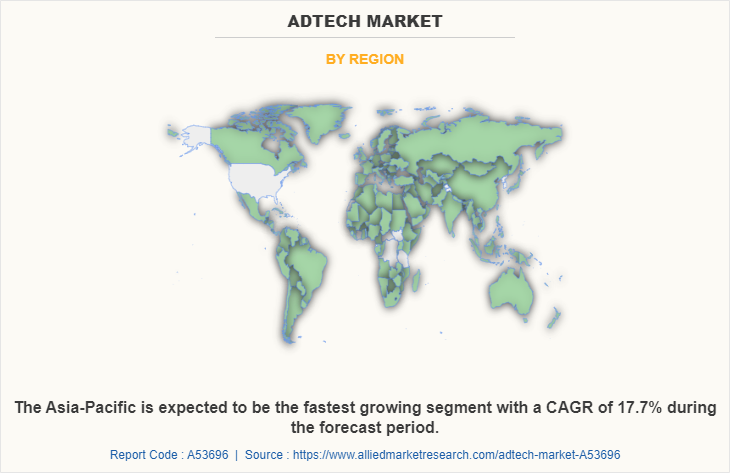 By region, North America dominated the market share in 2021 for the AdTech market. The increasing investment in advanced technologies such as AdTech solution to improve businesses and the customer experience are anticipated to propel the growth of AdTech market in North America. However, Asia-Pacific is expected to exhibit highest growth during the forecast period. This is attributed to increase in penetration of digitalization and higher adoption of advanced technology are expected to provide lucrative opportunities for the market growth in this region.
COVID-19 Impact Analysis
The COVID-19 outbreak has impacted less negatively on the growth of the adtech market. It is predicted that various brands may reduce their advertising spend given the economic impact of COVID-19; however, the uptick in social media traffic has presented unique opportunities for engaging with online audiences as well as keeping the brand awareness high. In addition, the coronavirus pandemic has spread uncontrollably and governments across the globe are still trying to contain it by closing public spaces, schools, and borders; this has transformed all size of businesses and the marketers to update their online marketing strategies. Businesses are also expected to invest more in online advertising due to the pandemic, which is fueling the market growth. For instance, according to the Interactive Advertising Bureau (IAB), there was a 24% decline in traditional TV advertising spend for 2020 vs. 2019; however, connected TV advertising spend is estimated to grow at 19% year-over-year.
The growth of the adtech market during the pandemic and post-pandemic is expected to be driven by factors such as extensive rise in social media advertising, increase in influencers, rapid growth in opportunities in OTT advertising, and growth in voice searches.
Key Strategies/Development:
In February 2023, InMobi Technology Services Private Limited partnered with Point Pickup. InMobi Commerce delivers an industry-first product discovery and monetization solution through adtech services to Point Pickup's grocery retail partners helping maximize their media-derived revenues while engaging and inspiring shoppers.

In October 2022, Amazon Inc., launched new advertising capabilities at its Unboxed event in New York. Many of the enhancements represent an easier way-in for smaller and emerging brands. These include features like campaign presets and campaign recommendations, as well as a simple video creation tool. In addition, key players also partnered and collaborated to provide better and enhanced adtech services.

In June 2022, Oracle Advertising and Azerion expanded its partnership to offer enhanced adtech protection. Implementing Oracle Advertising bot filtration helps support Azerion in its objective to bring clean supply to marketers, through its proprietary SSP, Improve Digital.

On March 23, 2022, Oracle Moat, part of Oracle Advertising and Anzu.io, the in-game advertising platform, partnered and introduced first-to-market viewability measurement for in-game ads. This means advertisers working with Anzu have access to third-party viewability verifications and in-view metrics by Oracle Moat when running in-game ads, either direct or programmatically, on mobile and PC.

In February 2021, ArabyAds, Dubai's adtech startup acquired compatriot Dmenta to strategically fortify complementing offerings and to achieve greater scale together related to adtech solutions in the region. ArabyAds is an advertising intelligence firm that provides marketing solutions for businesses in the Middle East and North Africa region.
Top Impacting Factors  
Surge in adoption of AI Converging in Adtech:
Digital marketing adopted artificial intelligence (AI) as a solution to the mounting difficulties faced by publishers and advertisers when attempting to predict future consumption habits. Although businesses have historically relied on a variety of technology advertising and solutions to analyze data and monitor performance measurements, they have nevertheless had difficulty keeping up with the fast-paced changes in the market. As a result, businesses are expected to keep using AI solutions to produce better results as a result of big data analytics. This enables businesses to predict events more accurately and make more strategic choices.
There is a growing interest in utilizing AI for both publishers and marketers due to the significance of advertising data. Publishers are looking for the best adtech investment trends that can monetize their ad space at the most competitive price and with the most relevant content, while advertisers are looking for the best solution that fits their audience. Such trends are expected to propel the growth of the adTech market forecast.
Extensive adoption of smartphones and emergence of high-speed internet:
The use of smartphones has grown rapidly and the way consumers interact with various brands or sellers have transformed, owing to the accessibility of high-speed internet on smartphones. This factor is expected to fuel the market as it has become crucial for the brands to understand consumers' interests with the help of smartphone advertisements and stimulate their decision to purchase. Smartphones are providing real-time marketing opportunities for advertisers to engage with the users who truly want to associate with their brands. In addition, the market players are offering new digital advertising solutions due to the rapidly growing demand for smartphone-based advertising, which is expected to further drive the market. For instance, in October 2019, Tech Mahindra, an IT services provider, collaborated with InMobi, a marketing cloud firm, to offer a video advertising solution. The solution is expected to enable advertisers to develop and distribute engaging and innovative video advertisements on mobile phones.
KEY BENEFITS FOR STAKEHOLDERS
The study provides an in-depth adtech market analysis along with the current trends and future estimations to elucidate the imminent investment pockets.

Information about key drivers, restraints, and opportunities and their impact analysis on the adtech market size is provided in the report.

The Porter's five forces analysis illustrates the potency of buyers and suppliers operating in the adtech industry.

The quantitative analysis of the global adtech market for the period 2021–2031 is provided to determine the adtech market potential.
 AdTech Market Report Highlights
Aspects
Details
Market Size By 2031
USD 2.9 trillion
Growth Rate
CAGR of 14.7%
Forecast period
2021 - 2031
Report Pages
408
By Solution

Demand-side Platforms (DSPs)
Supply-side Platforms (SSPs)
Ad Networks
Data Management Platforms (DMPs)
Others

By Enterprise Size

Large Enterprises
Small and Medium-sized Enterprises

By Advertising Type

Programmatic Advertising
Search Advertising
Display Advertising
Mobile Advertising
Email Marketing
Native Advertising
Others

By Platform
By Industry Vertical

Media and Entertainment
BFSI
Education
Retail and Consumer Goods
IT and Telecom
Healthcare
Others

By Region

North America (U.S., Canada)
Europe (UK, Germany, France, Italy, Spain, Rest of Europe)
Asia-Pacific (China, Japan, India, Australia, South Korea, Rest of Asia-Pacific)
LAMEA (Latin America, Middle East, Africa)

Key Market Players
Alibaba Group Holding Limited, InMobi Technology Services Private Limited, Amazon.com, Inc., Twitter, Inc., Oracle Corporation, Adobe Inc., Verizon Communications Inc., Meta Platforms, Inc., Google LLC, Microsoft Corporation
Analyst Review
According to the CXOs of leading companies, the adtech industry is going through an enormous transformation and growth. Technological transformation as well as boundless changes took place, owing to rise of mobile devices, data broker's data gathering capabilities, social networks, behavioral targeting, and real-time bidding. This technological transformation also enables the concerns relating to consumer security, privacy, advertising effectiveness, and metrics fraud.
Adtech has brought an opportunity for small businesses and startup brands to compete with big as well as established corporations in real-time. The current business scenario is witnessing an upsurge in the usage of internet advertising across various verticals such as automotive, healthcare, media & entertainment, BFSI, education, and retail & consumer goods. Adtech has enabled quick turnarounds for small businesses in these industries to establish and maintain brand image, engagement, reputation, and growth with proper tools and implementation. In addition, rise in trend among small as well as large businesses to use social media promotions is anticipated to fuel the market growth during the forecast period.
Moreover, the rapid growth of multimedia content on the internet creates enormous opportunities for the adtech market, thereby enabling push-based advertising to become trust-based advertising. Furthermore, emerging technologies and developments across advertising industries are expected to further boost the market. These developments include advancements in connected TV and OTT, which are expected to enable consumers to interact with ads from their televisions & phones and lead to increased product placement within streaming video. Artificial intelligence (AI) development for online content is projected to enable more personalization in digital video. Furthermore, 5G technology is anticipated to transform how consumers use online content, which is expected to sharply escalate the use of mobiles among all age groups. These factors are expected to provide lucrative growth opportunities for the adtech market.
Moreover, vendors operating in the market offer advanced adtech solutions to improve the marketing strategies of enterprises, owing to the intense competition. In addition, companies heavily invest in R&D activities to develop effective internet advertising technology and service, which is opportunistic for the market growth. For instance, the business of Facebook is heavily dependent on technology and continuously invests in new advertising technologies to grow its business and the effectiveness of its advertisements & advertising campaigns. The R&D investment of Facebook for the quarter ending of September 2020 was $4.763 billion, which is 34.24% increase year-over-year.