Advanced Tires Market Outlook - 2030
The global advanced tires market size is expected to be valued at $248.7 million in 2020 and is projected to reach $1,349.7 million by 2030, registering a CAGR of 18.4% from 2020 to 2030. Asia-Pacific will account for the highest share in 2020 and is expected to be the highest contributor to the global market, in terms of revenue, during the advanced tires market forecast. 
Advanced tires are made up of various combinations of different types of materials. Generally advanced tires are airless and has no chance of being punctured. Its surface contact area is less as compared to other tires, which in turn increases the fuel efficiency of the vehicle. The grip of advanced tires is not lost when the vehicle is travelling at a higher speed and are less dangerous in watery roads. In addition, advanced tire is the new technology that enhanced the functioning and performance of the tires by sensing the conditions of roads.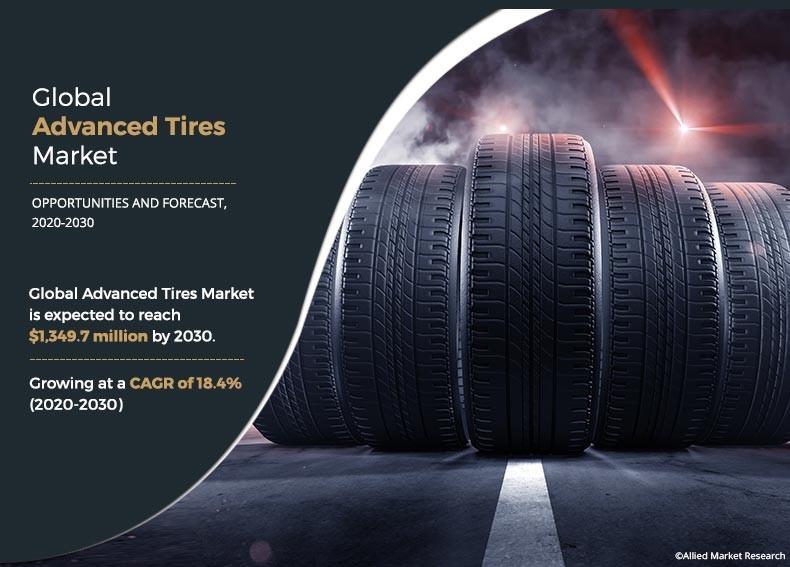 Factors such as increase in automobile production and stringent regulations toward vehicular emission are anticipated to propel the growth of the advanced tires market. However, fluctuating price of raw material required for the production of advanced tires is expected to hinder the market growth. Further, rise in concern for fuel efficiency and safety of automobile offers a remarkable growth opportunity for the players operating in the market.
The global advanced tires market is segmented on the basis of material type, type, technology, vehicle type, and region. By material type, the market is divided into natural rubber, synthetic rubber, steel, elastomers, and others. By type, it is classified into pneumatic tires, run flat tires, airless tires, and others. By technology, it is categorized as chip embedded tires, self-inflating tires, multi chamber tires, all in one tire, and others. By vehicle type, it is divided into light duty vehicles, heavy duty vehicle, agricultural tractors, construction & mining equipment, and industrial equipment. By region, it is analyzed across North America, Europe, Asia-Pacific, and LAMEA.
Advanced Tires Market

---
By Material Type
Synthetic Rubber is projected as the most lucrative segments
Key players including Bridgestone Corporation, Continental AG, Michelin, Pirelli & C. S.p.A, The Goodyear Tire & Rubber Company, THE YOKOHAMA RUBBER CO., LTD, Nokian Tyres plc, Hankook Tire & Technology Co., Ltd., Sumitomo Corporation, Toyo Tire Corporation, and others hold a major advanced tires market share.
Advanced Tires Market

---
By Type
Run flat tires is projected as the most lucrative segments
Increase in automobile production
The automotive industry has observed a robust growth in the last decade, mostly in countries such as China, the U.S., Japan, India, Germany, and the UK. The global automotive industry, in its early stage, was only concentrated in developed countries such as Japan, the U.S., and Germany. As the automobile industry becomes standardized, manufacturing facilities will move their focus toward developing countries such as China, Thailand, and India. Recently, the automobile industry has been growing at a rapid pace owing to speedy industrialization, which has led to an increase in the sale of commercial vehicles such as trucks, tractors, and trailers. Developing nations have witnessed rise in demand and production of automobile. For instance, India became the fourth largest automobile industry in the world with increase in sales of 9.5% year-on-year to 4.2 million units. This rise in automobile production in developing nations has led to increased production of automotive catalysts for emission control devices in automobile exhaust systems. Thus, upsurge in automobile production is anticipated to boost the growth of the global advanced tires market.
Advanced Tires Market

---
By Technology
Chip embedded tires is projected as the most lucrative segments
Stringent regulations towards vehicular emission
The U.S., Germany, France, and China have implemented government laws and regulations for vehicular emission & fuel economy and have mandated automobile manufacturers to use advanced technologies to combat high emission levels in vehicles. The exhaust gases from automobiles contain nitrogen monoxide, carbon monoxide, lead, CO2, and hydrocarbons, which can cause diseases such as asthma and respiratory allergies. As of 2013, automobiles contributed to more than half of the carbon monoxide and nitrogen oxides, with 25% of hydrocarbons emitted into the air. According to the International Air Agency, about 6.5 million deaths are recognized annually, due to the quality of air. The California Air Resources Board (CARB) launched the California Vehicle Emissions Program, which includes guidelines for manufacturers to produce and deliver zero-emission vehicles (ZEVs). Numerous countries have launched fuel economy norms for automobiles; for instance, the Indian Government has mandated that the mileage of cars on Indian roads will improve by 10% by 2021. Tubeless tires are one of the advanced tires in the automotive industry, which reduce vehicular emissions and enhance the fuel economy of vehicles. All these factors collectively drive the growth of the advanced tires market. 
Advanced Tires Market

---
By Vehicle Type
Light duty vehicles is projected as the most lucrative segments
Fluctuating price of raw material
Fluctuating raw material prices owing to higher input costs due to low supply of natural rubber and oil prices restrain the growth of the global pneumatic tire market. In addition, almost all raw materials are crude derivatives therefore linked to crude oil prices. Further, raw material used to produce advanced tires accounts for almost 75% of the production cost with synthetic and natural rubber being the key raw materials. There is an increase in the crude oil prices in the recent years worldwide. Therefore, prices of synthetic rubber and other crude derivatives used in the production of tires are expected to increase in the coming years. This in turn is expected to decrease the growth of the global advanced tires market.
Advanced Tires Market

---
By Region
Asia-Pacific would exhibit the highest CAGR of 19.7% during 2020-2030.
Rise in concern for fuel efficiency and safety
Fuel efficiency and safety concerns are the key benefits offered by pneumatic tires. To increase safety concerns, governments are coming up with stringent tire performance regulation including fuel saving and wet grip-related braking distance reduction. Thus, creating ample growth opportunities for tire manufacturing companies to launch tires that can address the government regulations. Therefore, with increase in technological advancements, vendors are coming up with highly efficient tires that increase the overall fuel efficiency of vehicles. For instance, Trelleborg, an engineering group based on polymer technology launched its new line of pneumatic tires with features such as grip and durability for the North America Market. Thus, rise in concern for fuel efficiency and safety is anticipated to hold a remarkable growth opportunity for the players operating in the advanced tires market. 
Key Benefits for Advanced Tires Market:
This study presents the analytical depiction of the global advanced tires market analysis along with the current trends and future estimations to depict the imminent investment pockets.
The overall market opportunity is determined by understanding the profitable trends to gain a stronger foothold.
The report presents information related to the key drivers, restraints, and opportunities of the global advanced tires industry with a detailed impact analysis.
The current market is quantitatively analyzed from 2020 to 2030 to benchmark the financial competency.
Porter's five forces analysis illustrates the potency of buyers and suppliers in the industry.
 Advanced Tires Market Report Highlights
Aspects
Details
By Material Type

NATURAL RUBBER
SYNTHETIC RUBBER
STEEL
ELASTOMERS
OTHERS

By Type

Pneumatic Tires
Run Flat Tires
Airless Tires
Others

By Technology

Chip Embedded Tires
Self-Inflating Tires
Multi Chamber Tires
All in One Tires
Others

By Vehicle Type

Light Duty Vehicles
Heavy Duty Vehicle
Agricultural Tractors
Construction and Mining Equipment
Industrial Equipment

By Region

NORTH AMERICA (U.S, CANADA, MEXICO)
EUROPE (UK, GERMANY, ITALY, FRANCE, REST OF EUROPE)
ASIA-PACIFIC (CHINA, JAPAN, INDIA, SOUTH KOREA, REST OF ASIA-PACIFIC)
LAMEA (LATIN AMERICA, MIDDLE EAST, AFRICA)

Key Market Players
Bridgestone Corporation, Continental AG, Michelin, Pirelli & C. S.p.A, The Goodyear Tire & Rubber Company, THE YOKOHAMA RUBBER CO., LTD., Nokian Tyres plc., Hankook Tire & Technology Co.,Ltd., Sumitomo Corporation, Toyo Tire Corporation