The global zero emission vehicle market was valued at $182.83 billion in 2021, and is projected to reach $1,201.76 billion by 2031, growing at a CAGR of 21.1% from 2022 to 2031.
Zero emission vehicle (ZEV) is a vehicle that does not emit the tailpipe pollutant from the onboard source of power. These vehicles have significant emission benefits over conventional vehicles, and run-on alternate power sources such as battery electricity, natural gas, and solar power. It is primarily designed to replace conventional ways of travel as they lead to environmental pollution. It has gained popularity owing to numerous technological advancements. It outperforms the conventional vehicle providing higher fuel economy, low carbon emission & maintenance, convenience of charging at home, smoother drive, and reduced sound from engine. At present, most zero emission vehicles employ a highly efficient electric drive system integrating high voltage storage batteries, a high-speed charging system, and one or more forms of onboard electric power generation, such as brake regeneration or solar panels. For instance, in December 2021, General Motors launched the off-road EV super truck (GMC Hummer EV Edition) & commercial delivery EV (BrightDrop EV600), both built on ultium platform, which offers reduced vehicle emissions & strong protection of vehicle battery to accelerate the last-mile delivery. However, the zero-emission vehicle (ZEV) market is still in its nascent stage, and it is expected to expand exponentially in the next few years.
The COVID-19 crisis is creating uncertainty in the market. Governments of different regions have announced total lockdown and temporarily shutdown of industries, thereby adversely affecting the overall production and sales. It also resulted in flight cancellations, travel bans, and quarantines, which led to massive slowing of the supply chain and logistics activities across the world. Also, the COVID-19 outbreak severely impacted the automotive sector on a global level, which in turn led to considerable drop in automotive sales, insufficiency of raw material, and others. Many small and big players in the automotive sector are witnessing issues such as halt of production activities, mandated plant closures by the government, and others. However, various industry leaders in the automotive sector are making considerable efforts in restructuring their supply chain and production line for delivery of critical medical supplies. In addition, amid pandemic many different players are trying to devise different approaches in order to keep up with the condition by using zero emission vehicles for medical supplies as it provides affordable transportation with excellent maneuverability with zero emission. For instance, Omega Seiki Mobility recently launched Rage+frost, a refrigerated load carrier three-wheeler, which is specifically designed for vaccine, pharmaceutical, and food delivery in these hard times. To conclude, the COVID-19 pandemic has had an adverse effect on the overall automotive industry and thereby zero emission vehicle industry as well.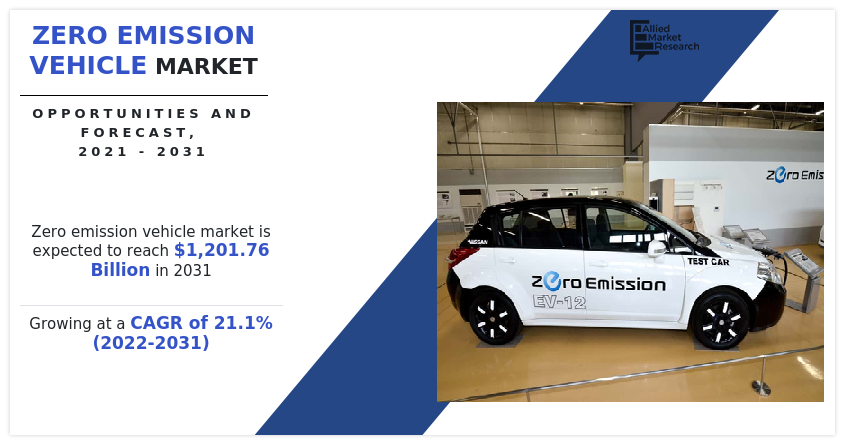 The factors such as surge in concern about environmental pollution, stringent regulations on vehicle emission norms by governments, and increase in demand for fuel-efficient & high-performance vehicles supplement the growth of the zero emission vehicle market. However, high manufacturing cost and range anxiety and serviceability are the factors expected to hamper the growth of the market. In addition, technological advancements and proactive government initiatives are expected to create ample opportunities for the key players operating in the low emission vehicle market.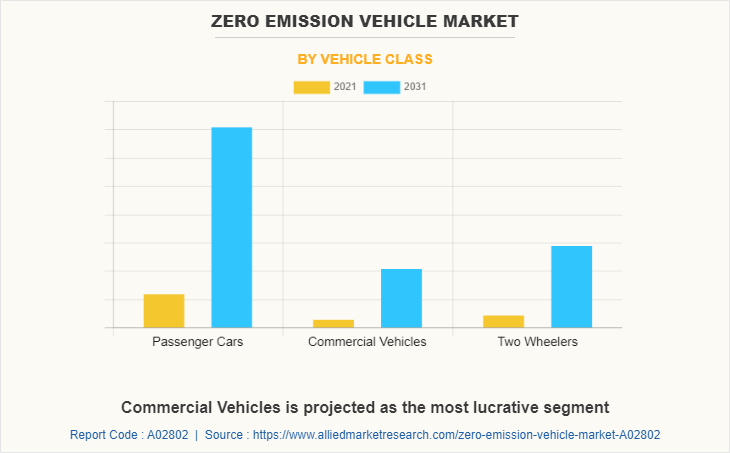 The zero emission vehicle market is segmented into vehicle class, price, vehicle type, vehicle drive type, top speed and region. By vehicle type, the market is divided into battery electric vehicle (BEV), plug-in hybrid electric vehicle (PHEV), fuel cell electric vehicle (FCEV), and solar vehicles. By vehicle class, it is fragmented into passenger cars, commercial vehicles, and motorcycles. By price, it is categorized into mid-priced and luxury. By vehicle drive type, it is classified into front wheel drive (FWD), rear wheel drive (RWD), and all-wheel drive (AWD). By top speed, it is fragmented into less than 100 MPH, 100 to 125 MPH, and more than 125 MPH. By region, it is analyzed across North America, Europe, Asia-Pacific, and LAMEA.
The leading players operating in the zero emission vehicles market are Ampere Vehicles, Benling India Energy and Technology Pvt Ltd., BMW AG, BYD Company Limited, Chevrolet Motor Company, Mercedes-Benz Group AG, Energica Motor Company S.p.A., Ford Motor Company, General Motors (GM), Hero Electric, Hyundai Motor Company, Karma Automotive, Kia Corporation, Lucid Group, Inc., Mahindra Electric Mobility Limited, NIO, Nissan Motor Co., Ltd., Okinawa Autotech Pvt. Ltd., Rivain, Tata Motors, Tesla, Inc., Toyota Motor Corporation, Volkswagen AG, WM Motor, XPeng Inc., Alke', Hanergy Thin Film Power Group Limited, Solar Electric Vehicle, and Sono Motors.
Surge in concern about environmental pollution
Increase in trend for automation in vehicles has enforced vehicle manufacturers to adopt technologies, which cause less harm to the environment. Emission caused due to internal combustion engines of the vehicles degrades the environment to a much larger extent, as the tailpipes of the vehicle emits chlorofluorocarbons and other harmful gases, which lead to environment pollution. Meanwhile, zero emission vehicles (ZEVs) are a solution to these issues, as these vehicles emit no pollutants as exhaust gas. Furthermore, they employ renewable energy sources for power, such as solar, which is expected to reduce the dependence on fossil fuel. Thus, with the introduction of zero emission vehicles (ZEVs), the use of internal combustion engines in vehicles is expected to reduce to a much larger extent leading to less environment pollution. Also, governments of developed countries have established initiatives to reduce vehicular and industrial pollution to decrease individual carbon footprints. By 2030, numerous countries expect their roads to feature electric vehicles with the same power as gasoline-powered vehicles. For instance, in September 2021, Hyundai Motor Group & LG Energy Solutions Ltd. announced a strategic partnership with Government of Indonesia to build EV battery cell plant in Karawang, with annual capacity of 10-GWh worth of battery cells enough for over 150,000 E-GMP battery electric vehicles. Hence, rise in concern about environment pollution is anticipated to supplement the growth of zero emission vehicle market during the forecast period.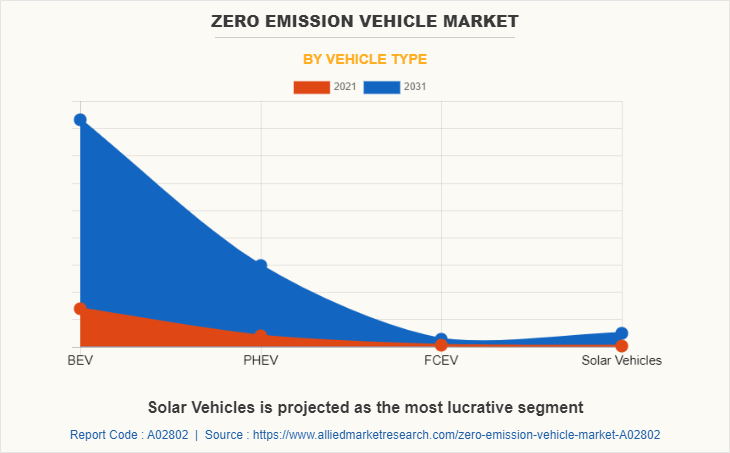 Stringent government regulation on vehicle emission norms
With rise in environmental concerns, governments and environmental agencies across the world are enacting stringent emission norms and laws to reduce vehicle emission. Major regulatory measures are stringent emission targets for the reduction of nitrogen oxides (NOx) and carbon dioxide (CO2) in air. High amounts of greenhouse gases being emitted from vehicles have led federal and state governments in the U.S. to increase their efforts to make transportation cleaner.
For instance, the U.S. Environmental Protection Agency (EPA) announced that they are working on new rules to decrease emissions of nitrogen oxide (NOx) and other pollutants from heavy-duty trucks. In addition, in India, the most recent & notable amendments for the encouragement & development of ZEVs include the extension of FAME-II (Faster Adoption & Manufacturing of Electric Vehicles) scheme until March 2024, which was earlier valid till 2022. Furthermore, Maharashtra's new zero emission vehicle (ZEV) policy aims to have a 10% share of electric vehicles among total vehicle registrations by 2025 to reduce vehicular emissions, stated by the Director of Maharashtra Pollution Control Board (MPCB). Therefore, with enactment of emission regulations for fossil fuel-powered vehicle, the burden on vehicle manufacturers, especially on commercial vehicle manufacturers, has further increased. This, in turn, is expected to drive the demand for zero emission vehicles. Thus, stringent emission norms imposed on fossil-fuel powered commercial vehicles are significantly driving the growth of the zero emission vehicle (ZEV) market.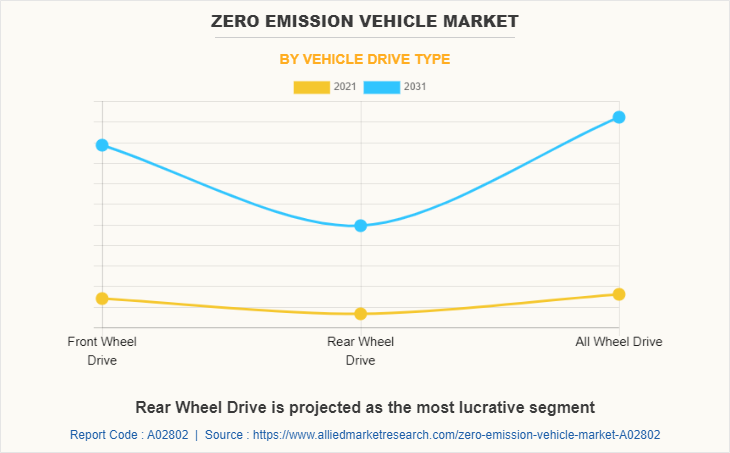 High manufacturing cost
Zero emission vehicles (ZEVs) are advantageous over conventional vehicles; however, their cost is higher than traditional vehicles. Additional cost of buying a ZEV instead of fuel-powered vehicle is mainly attributed to high cost of battery. In addition, initial investments for producing zero emission vehicles is much higher compared to that of petroleum, diesel, or CNG vehicles. Involvement of expensive manufacturing process and use of costly raw material are the major reasons for high cost of zero emission vehicles. In addition, purchase of these vehicles is expected to cost around twice the cost of traditional gasoline-powered vehicles. This large price difference between internal combustion and zero emission vehicles has enabled fleet owners to invest in the zero emission vehicle market, due to a lot of unknown variables present in determining total cost of ownership of ZEVs. Thus, high initial cost of zero emission vehicles hinders growth of the market.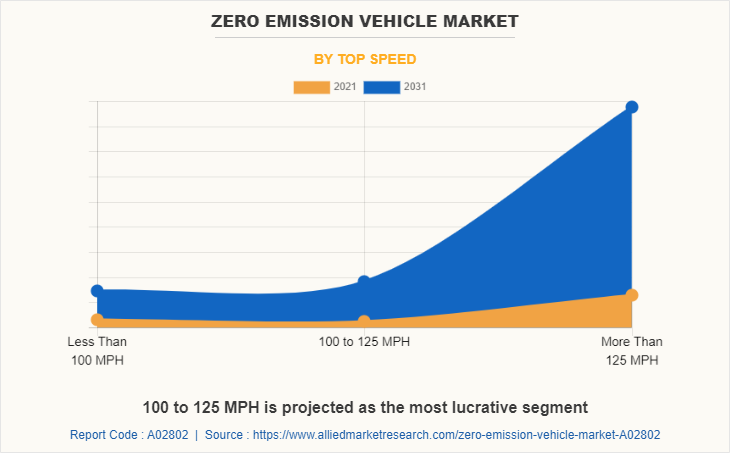 Technological advancements
The future of zero emission vehicles is quite bright as their adoption is witnessing exponential growth by offering an opportunity to replace fossil fuels in the transport sector. Automobiles companies are focusing on production of advanced zero emission vehicle systems that are expected to have lower particular emission at relatively lowers costs. Companies have also started producing downsized engines to be implemented in vehicles as smaller engines help achieve the upcoming BHARAT STAGE VI emission norms. This is because they produce lesser emissions as compared to heavier and larger engines. Compactness and cost-effectiveness of these downsized small engines also add another dimension to their usefulness. Thus, development of advance GDI systems presents various opportunities for leading players in the future. Furthermore, in November 2020, Hyundai Group collaborated with IONITY, a high-power charging station network for EVs to operate & expand network of high-powered EV charging stations across Europe. This charging network uses 100% renewable energy to make mobility emission-free and carbon-neutral. Thus, integrating technological enhancements in zero emission vehicles to make mobility emission-free is opportunistic for ZEV market expansion.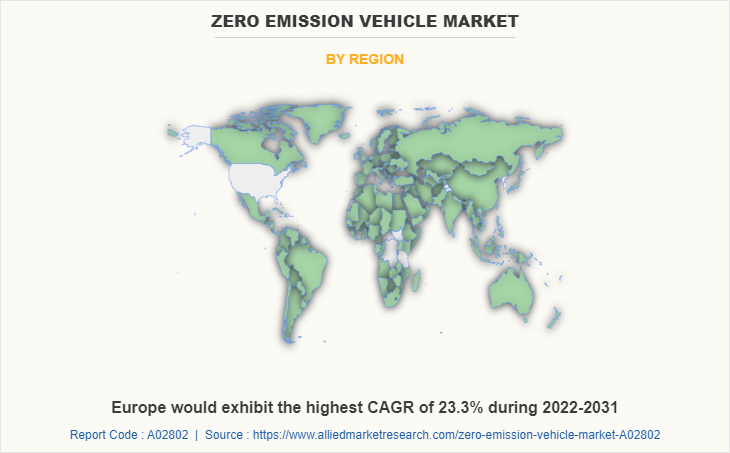 Key Benefits For Stakeholders
This study presents analytical depiction of the global zero emission vehicle market analysis along with current trends and future estimations to depict imminent investment pockets.

The overall zero emission vehicle market opportunity is determined by understanding profitable trends to gain a stronger foothold.

The report presents information related to the key drivers, restraints, and opportunities of

the global zero emission vehicle market with a detailed impact analysis.

The current zero emission vehicle market is quantitatively analyzed from 2021 to 2031 to benchmark the financial competency.

Porter's five forces analysis illustrates the potency of the buyers and suppliers in the industry.
 Zero Emission Vehicle Market Report Highlights
Aspects
Details
By Vehicle Class

Passenger Cars
Commercial Vehicles
Two Wheelers

By Price
By Vehicle Type

BEV
PHEV
FCEV
Solar Vehicles

By Vehicle Drive Type

Front Wheel Drive
Rear Wheel Drive
All Wheel Drive

By Top Speed

Less Than 100 MPH
100 to 125 MPH
More Than 125 MPH

By Region

North America (U.S., Canada, Mexico)
Europe (U.K., Germany, France, Spain, Netherlands, Rest of Europe)
Asia-Pacific (China, Japan, India, South Korea, Rest Of Asia Pacific)
LAMEA (Latin America, Middle East, Africa)

Key Market Players
Ampere Vehicles, Chevrolet Motor Company, Kia Corporation, Daimler AG, BMW AG, Energica Motor Company S.p.A., Volkswagen AG, Hero Electric, NIO, Lucid Group, Inc., Toyota Motor Corporation, General Motors, BYD Company Limited, WM Motor, Hyundai Motor Company, Lightyear (Key Innovator), Okinawa Autotech Pvt. Ltd., Benling India Energy and Technology Pvt Ltd, Mahindra Electric Mobility Limited, Solar Electric Vehicle Company (Key Innovator), Nissan Motors Co., Ltd., Tesla Inc., Ford Motor Company, Hanergy Thin Film Power Group (Key Innovator), Xiaopeng Motors, Sono Motors (Key Innovator), Tata Motors, Alke (Key Innovator), Rivain, Karma Automotive