AEC Market Statistics—2028
The global AEC market size was valued at $7,188.00 million in 2020, and is projected to reach $15,842.00 million by 2028, growing at a CAGR of 10.7% from 2021 to 2028. Architecture, engineering, and construction software is used by real estate companies, construction firms, surveyors, interior designer, and mechanical & electrical piping engineers for effective project life cycle management. Key objective of architecture, engineering, and construction software is to enhance project performance and produce better outcomes. AEC helps construction managers to gather data and information from relevant disciplines and communicate more effectively. Enhanced data communication and coordination among various stakeholders, architectures, and construction supervisors is coupled with improved construction productivity to provide a leading edge to AEC users.  
COVID-19 outbreak has a moderate impact on growth of the architecture, engineering, and construction market as worldwide lockdown during the COVID-19 has increased wide adoption of AEC software to allow projects to continue in a virtual and digital environment even when participants were unable to meet in person. The pandemic has forced to find safer and smarter ways for construction of highways, offices, and homes which is expected to increase the adoption of AEC software among end users.
On the basis of component, the software segment dominated the overall AEC market in 2020, and is expected to continue this trend during the forecast period. This is attributed to increase in construction projects and adoption of software such as building information and modeling software in the AEC industry. Most construction and infrastructure companies have started adopting these solutions to integrate all construction processes together such as procurement and data management, which improves overall productivity of construction projects. However, the services segment is expected to witness highest growth in the upcoming years as there has been an increase in adoption of services among end users as it ensures effective functioning of AEC software and platforms. In addition, high implementation of AEC creates need for services in the market, which is expected to drive the market during forecast period.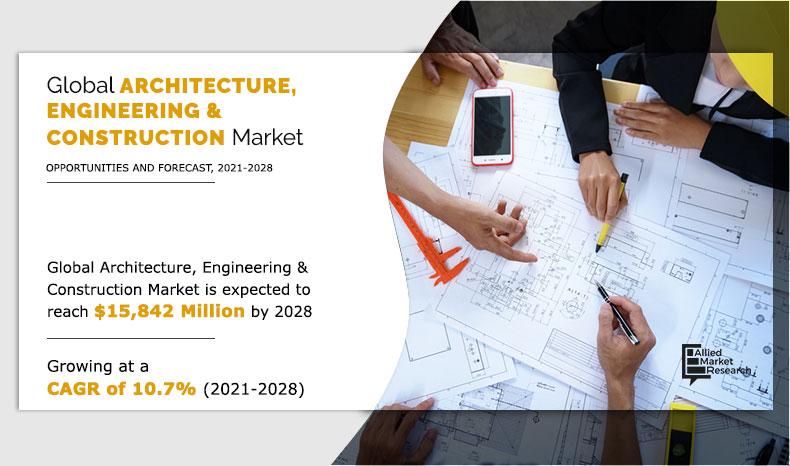 Depending on deployment mode, the on-premise segment dominated the AEC market share in 2020, and is expected to continue this trend during the forecast period. The growth of this segment is attributed to rise in concerns about security of data associated with construction projects, which is highly valuable. Larger firms in the AEC industry such as Autodesk Inc. and Nemetschek AG provide on-premise software for their customers in industrial, infrastructure, and residential sectors. However, the cloud segment is expected to witness highest growth in the upcoming years as it does not involve capital cost as well as has low maintenance requirements, hence is most preferred by mid-sized financial institutions. Rise in adoption of cloud-based architecture due to the COVID-19 pandemic among both large and mid-sized enterprises further fuels growth of the market.
On the basis of enterprise size, the large enterprises segment dominated the market share globally in 2020, and is expected to continue the same during the forecast period. The growth is attributed to rise in use of cutting-edge technology such as augmented reality and virtual reality in large scale enterprises, which needs AEC. However, the small & medium scale enterprise segment is growing at a high rate as these enterprises are facing lots of competitive pressure in emerging countries, which forces them to adopt AEC software for better co-ordination in the AEC industry.
North America generated highest revenue in 2019, and is expected to continue this trend during the forecast period. This is attributed to rapid growth in the construction and infrastructure sector such as adoption of artificial intelligence and rise in need for automation in the construction and architecture sector. However, Asia-Pacific is expected to exhibit highest growth during the AEC market forecast period as adoption of AEC software is prominent in this region, owing to growth in the construction sector in this region. Surge in multi-story buildings and skyscrapers as well as ongoing developments in infrastructure in this region are expected to be key factors facilitating growth of the AEC market. 
Governments of various Asian countries are implementing regulations to mandate adoption of architecture, engineering, and construction software for constructions. For instance, India, Japan, and South Korea have mandated use of architecture, engineering, and construction software for public buildings. For instance, in April 2019, Capgemini China signed an agreement with Autodesk Inc. to provide cloud-based AEC and BIM platform to customers in the region, which, in turn, drives the market growth.
The report focuses on the growth prospects, restraints, and AEC market analysis. The study provides Porter's five forces analysis of Architecture, engineering, and construction industry to understand the impact of various factors such as bargaining power of suppliers, competitive intensity of competitors, threat of new entrants, threat of substitutes, and bargaining power of buyers on the AEC market trends.
Segment review
AEC market is segmented into component, deployment mode, enterprise size, Application, and region. By component, it is bifurcated into software and service. Depending on deployment mode, it is categorized into on-premise and cloud. On the basis of enterprise size, it is categorized into large enterprises and small & medium size enterprises. As per application, it is classified into construction & architecture companies, education, and others. Region wise, the market is analyzed across North America, Europe, Asia-Pacific, and LAMEA.
Service segment is projected as one of the most lucrative segments.
Impact of COVID-19 on the AEC market
The outbreak of COVID-19 has affected communities globally while governments and companies are trying their best to respond faster to the challenges posed by this pandemic. However, construction sites in various countries have shut down. On the other hand, organizations across the construction industry are shifting to remote ways of working. For instance, engineers and designers rely on digital collaboration tools such as AEC software and building information modeling (BIM) software. Contractors and engineers across the globe are using augmented reality and virtual reality simulation to re-optimize schedules and re-plan projects. Furthermore, integrated digital-twin solutions are being developed to be used for end-to-end support from project concept to implementation. Surge in online services has been observed in adoption of online channels by contractors for monitoring well-being of their employees through apps, managing scarce resources more accurately, ordering construction materials, and maintaining cash flow. Moreover, the construction industry faced lack of skilled labor before the crisis. With the prospect of rolling physical distancing measures as well as restrictions on cross-border movement of labor, shortage of skilled labor is expected to become even more acute. Hence, use of digital tools such as AR/VR simulation, real-time progress tracking, advanced schedule optimization, and digital workflow management increased significantly.
For similar reasons, increase in R&D spending is observed across the industry to develop new standardized building systems to automate and speed up elements of design and construction. In emerging countries such as India lots of infrastructure, road development, and railway upgradation projects have been pending due to lockdown but these projects are expected to complete in the upcoming years, which would help the market grow during the forecast period.
Other segment is projected as one of the most lucrative segments.
Top impacting factors    
Numerous factors such as growth in infrastructure projects, owing to rapid urbanization and increase in productivity through exchange of information drive the market globally. Furthermore, mandatory rules and regulations applied by government authorities for the use of AEC software also drives the market globally. However, high initial cost of implementation of AEC software and lack of skilled workers in the industry restrain the market globally. Furthermore, growth in adoption of AR and VR in the construction industry and rise in implementation of IoT in numerous construction projects are expected to create AEC market opportunity market during the forecast period.
Increase in infrastructure projects 
As population is increasing globally, demand for construction of buildings, malls, and offices, owing to launch of projects such as smart cities and high-speed roads, is on the rise. Hence, to operate these projects seamlessly and efficiently, key players are adopting AEC software. The construction industry has witnessed rapid growth in the Middle East and in most developing countries of Asia- Pacific such as India and China. For instance, in the Saudi Arabia in the year 2017, a considerable number of key projects were announced such as King Abdullah Economic City in Rabigh, which is estimated to cost around $27 million. In addition, in the UAE Abu Dhabi improvement authority announced Airport Expansion with a budget allocation of $6.8 million and a project of $500 million for Presidential Palace in Al-Ras Al—Akhdar. These upcoming projects are expected to drive adoption of engineering software including CAD, CAM, BIM, and AEC among End User, which will boost the AEC market growth. Furthermore, in India the construction industry, in value terms, is expected to record a CAGR of 15.7% to reach $ 738.5 billion by 2022, which is anticipated to be a significant factor for adoption of AEC software in the region. In addition, some of the key initiatives such as Make in India and construction of smart cities by the government of India are expected to fuel growth of the construction industry in this region. Moreover, the Global Construction Report 2025 stated that developing Asian countries would account for 13.5% of the global construction development in the coming years. 
Asia-Pacific is projected as one of the most significant region.
Key Benefits For Stakeholders
The study provides an in-depth analysis of AEC market along with the current trends and future estimations to elucidate the imminent investment pockets.
Information about key drivers, restraints, and opportunities and their impact analysis on the AEC market size is provided.
Porter's five forces analysis illustrates the potency of buyers and suppliers operating in the architecture, engineering, and construction (AEC) market.
The quantitative analysis of the AEC market from 2020 to 2028 is provided to determine the architecture, engineering, and construction (AEC) industry potential.
Key Market Segments
By Component
By Deployment Mode
By Enterprise size 
Large enterprises
Small and Medium sized Enterprises (SMEs)
By Application
Construction & Architecture Companies
Education
Others
By Region
North America
Europe 

UK
Germany 
France
Russia
Italy
Rest of Europe

Asia-Pacific 

China
India
Japan
Australia
Rest of Asia-Pacific

LAMEA

Latin America 
Middle East
Africa
Key Market Players Profiled In The Report Of Architecture, Engineering, And Construction Market
AUTODESK INC.
AVEVA GROUP PLC.
BENTLEY SYSTEM, INC.
DASSAULT SYSTEMES
TRIMBLE, INC.
ANSYS
NEMETSCHEK
Hexagon AB
Newforma
Innovaya
 AEC Market Report Highlights
Aspects
Details
By COMPONENT
By DEPLOYMENT MODE
By ENTERPRISE SIZE
By END USER

CONSTRUCTION & ARCHITECTURE COMPANIES
EDUCATION
OTHERS

By Region

North America (U.S., Canada, Mexico)
Europe (France, Germany, Italy, Spain, UK, Russia, Rest of Europe)
Asia-Pacific (China, Japan, India, South Korea, Australia, Thailand, Malaysia, Indonesia, Rest of Asia-Pacific)
LAMEA (Brazil, South Africa, Saudi Arabia, UAE, Argentina, Rest of LAMEA)

Key Market Players
AVEVA GROUP PLC., NEMETSCHEK, GROUP., BENTLEY SYSTEM, AUTODESK INC., DASSAULT SYSTEMES, INNOVAYA, NEWFORMA, HEXAGON AB, TRIMBLE, INC., ANASYS INC.