Africa And Middle East Sugarcane Syrup Market Overview:
The Africa and Middle East sugarcane syrup market size is expected to be reach $2,074 million by 2023. Sugarcane syrup is a thick viscous, amber to golden colored syrup, which possesses a sweet flavor. The manufacturing of sugarcane syrup consists of two different sets of operations. In the first of these, the sugarcane juice is extracted from the sugarcane stalks, partially purified, and then followed by boiling to syrup. The second step consists of purifying the syrup with lime and baking soda, followed by continuous evaporation till the syrup with desired consistency is formed. Once the syrup reaches the desired consistency, it is allowed to cool before packaging. In case of commercial products, preservatives are added before packaging.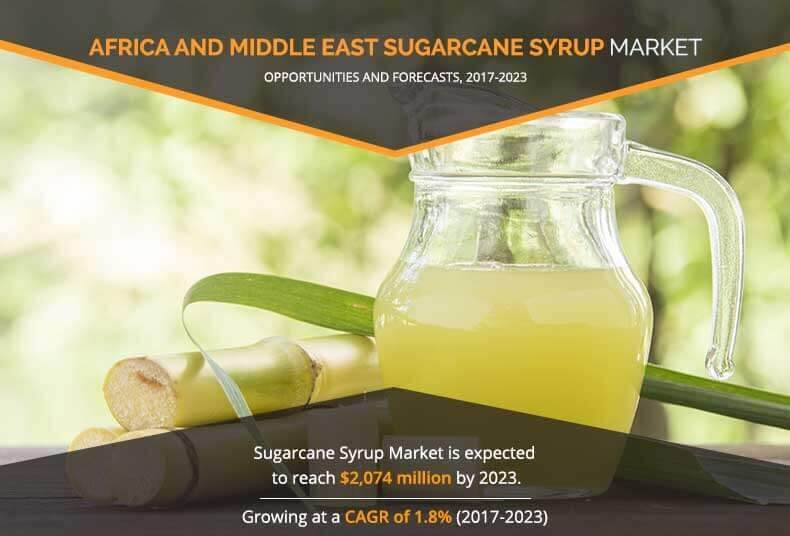 Sugarcane syrup made from sugarcane is widely used as a natural sweetener and flavoring agent by food industries for a variety of food products. It is widely used in the preparation of various bakery products such as waffles, cakes, pancakes, bread rolls, and French toast, as it helps retain moisture and prolong freshness, thus increasing their shelf life. In addition, it is used for flavoring a wide range of food products such as hot cereal, ice cream, sausages, fruit juices, corn fritters, baked beans, fresh donuts, and baked apples. Moreover, using sugarcane syrup in the preparation of bakery products is one of the traditional bakery practices. This is anticipated to increase the demand for sugarcane syrup in the market. Health benefits associated with sugarcane syrup has increased its consumption and usage among households, thereby driving the growth of Africa and Middle East sugarcane syrup market.
However, rise in health issues and increase in concerns among consumers towards weight gain, high cholesterol, obesity, and diabetes have led to the preference in consumption of food and beverages consisting of low calories and low-intensity sweeteners, which is expected to hamper the market growth. Moreover, availability of alternatives such as natural as well as artificial sweeteners hampers the growth of the sugarcane syrup market. On the contrary, changes in taste preferences, increase in health consciousness, and desire to live a healthy life are anticipated to provide lucrative opportunities for market growth.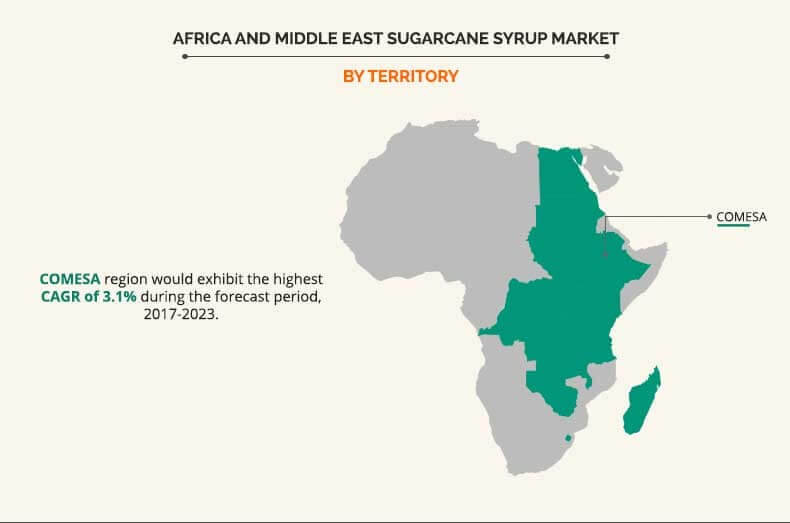 On the basis of territory, the report segments the Africa and Middle East sugarcane syrup industry into Malawi, Southern African Development Community (SADC) and Common Market for Eastern and Southern Africa (COMESA), West Africa, and Middle East. SADC is anticipated to hold the major share in this market in 2017. Moreover, Malawi is expected to witness high growth during the forecast period.
Key players profiled in the report include ILLOVO SUGAR (PTY) LTD, Super Syrups, Tongaat Hulett, Atlanta Sugar SA (Pty) Ltd., Sunshine Sugar, FROZY EGYPT, Kenana Sugar Company, White Nile Sugar Company (WNSC) Co. Ltd., GM Sugar Uganda Limited, and Kinyara Sugar Works Ltd.
Key Benefits
The report provides an extensive analysis of the current & emerging market trends and opportunities in the Africa and Middle East sugarcane syrup industry.
The report provides detailed qualitative and quantitative analysis of current trends and future estimations that assists to evaluate the prevailing market opportunities.
Comprehensive analysis of factors that drive and restrict the growth of the market is provided.
Extensive analysis of the market is conducted by following key product positioning and monitoring the top competitors within the market framework.
The report provides extensive qualitative insights on the potential and niche segments or regions exhibiting favorable growth.
 Africa and Middle East Sugarcane Syrup Market Report Highlights
Aspects
Details
By Territory

Malawi
Southern African Development Community (SADC)
Common Market for Eastern and Southern Africa (COMESA)
West Africa
Middle East

Key Market Players
Alteo Limited, Associated British Foods plc (Illovo Sugar (Pty) Ltd), BKB Ltd. (Atlanta Sugar SA (Pty) Ltd), Gledhow Sugar Company (Pty) Limited U, GM Sugar Uganda Limited, Kenana Sugar Company, Kinyara Sugar Works Ltd, Mumias Sugar Company Limited, Nzoia Sugar Company Limited, RCL Foods Limited, Royal Swaziland Sugar Corporation, Sango Bay Estates Limited, Star Africa Corporation Limited, Sunshine Sugar, Super Syrups, Superdoll Trailer Manufacture Co. Ltd. (Kagera Sugar Limited), The Mehta Group (Sugar Corporation of Uganda Limited), Tongaat Hulett Limited, Umfolozi Sugar Mill (Pty) Ltd, White Nile Sugar Company Co. Ltd