Global airborne LiDAR market size is expected to reach $1,010.5 million by 2025, growing at a CAGR of 16.4% during the forecast period 2018 - 2025.Airborne LiDAR is primarily an aircraft mounted laser system designed to measure the 3D coordinates of the earth surface. It is an effective technology to acquire surface data with high accuracy. LiDAR systems provide rapid 3D data collection of long linear objects such as roads, railway tracks, waterways, coastal zone, and power lines. They have narrower swath compared to optical sensors and are most effective in capturing information.
Airborne LiDAR systems are widely used in forestry management & planning, flood modeling, urban/city modeling, pollution modeling, coastline management, transport planning, and cellular network planning. A recent trend to collect higher point densities by flying lower and slower to collect multiple data sets is widely adopted in the industry. Scientists reported that by utilizing this method, the system is able to measure the ground with 520 or even up to 40 points per square meter. This method is expected to provide accurate and precise mapping of the object and is widely employed for topographic surveys in the global accuracy of aerial LiDAR systems in the past few years. This has been enhanced due to the latest advancements in LiDAR sensors.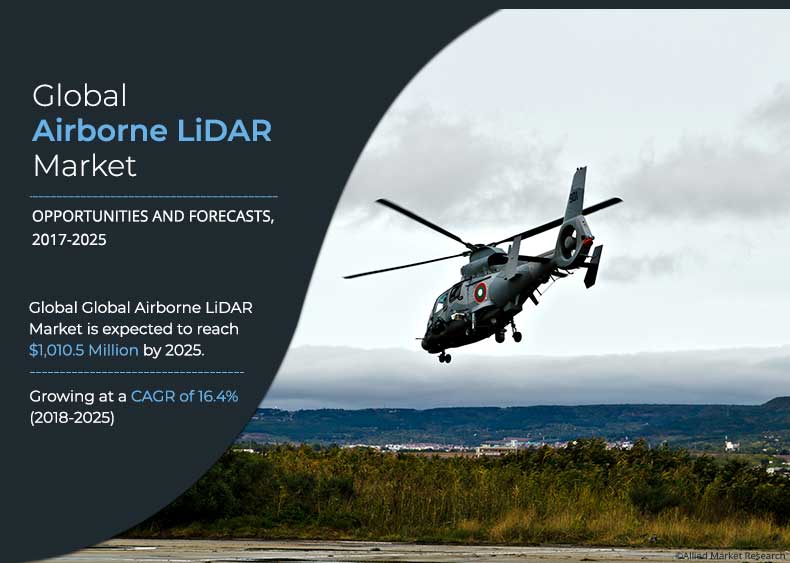 The government organizations globally are making huge investments in airborne LiDAR industry systems for defense and civil engineering applications to increase the accuracy of operations and decrease the risk factors involved. According to the 2017 fiscal year budget, the U.S. military sector is projected to spend $4.61 billion on procuring drones and is expected to purchase 31 unmanned aerial systems that has fueled the growth of airborne LiDAR market. The use of airborne LiDAR in all these projects and various government investments in various industries are expected to boost the airborne LiDAR market growth.
The key players profiled in the report include Teledyne Technologies, Saab Group, Airborne Imaging, Leica Geosystems, Faro Technologies, Inc., Flir Systems, Inc., RIEGL Laser Measurement Systems GmbH, Merrick & Company, Firmatek, and Lasermap Inc. These key players have adopted strategies such as product portfolio expansion, mergers & acquisitions, agreements, geographical expansion, and collaborations to increase their airborne LiDAR market share.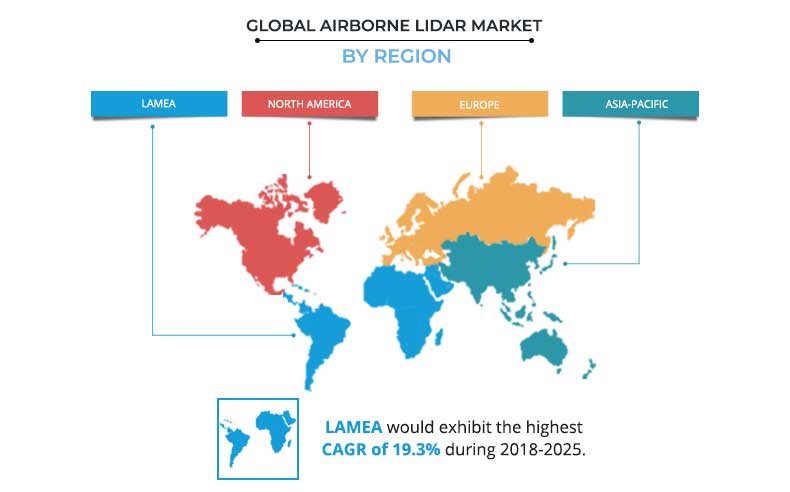 The airborne LiDAR market is segmented based on component, application, end user, and region. Based on component, the market is divided into lasers, inertial navigation systems, cameras, GPS/GNSS receivers, and micro-electromechanical systems. Based on application, the market is categorized into corridor mapping, seismology, exploration & detection, and others. Based on end user, the market is classified into defense & aerospace, civil engineering, archaeology, forestry & agriculture, transportation & logistics, and mining industry. Based on region, the market is analyzed across North America, Europe, Asia-Pacific, and LAMEA, along with their prominent countries.
Expansion in applications in defense and civil engineering
Government bodies are heavily investing in airborne LiDAR market application for defense and civil engineering applications to increase the accuracy of operations and decrease the risk factors involved in these major industries. The need for unmanned air vehicle to reduce the loss of life on war field, high precision of LiDAR-based monitoring, protect perimeters, and keep locations under surveillance from the sky are the major factors that foster the growth in demand for airborne LiDAR for defense applications. Moreover, the airborne LiDAR market has witnessed an increased demand in infrastructure projects. The use of airborne LiDAR in all these projects and various government investments in defense are anticipated to fuel the overall airborne LiDAR market trends.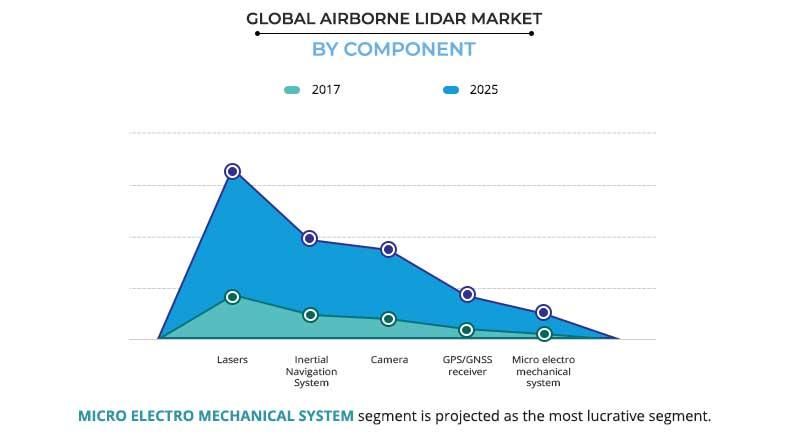 Low cost drone based imaging is one of the major factors that boost the growth of the global airborne LiDAR market. Drones provide high-precision 3D models at a very low cost compared to other competing technologies, such as airplanes and satellites. For instance, as per NASA, the cost of Landsat 8 imaging satellite was around $300,000; however, an automated mapping drone such as sense Flys eBee RTK costs around $25,000. Moreover, drones for consumer and profession applications cost around $1,000. Apart from low cost, drones even render excellent results compared to other two technologies. In last five years, the price of commercial drones has witnessed a downfall owing to the reduced cost of its components and surge in its demand. Drones as a service, is one of the breakthroughs in the airborne LiDAR market owing to its reduced cost and capability to provide accurate height information mainly for 3D mapping applications.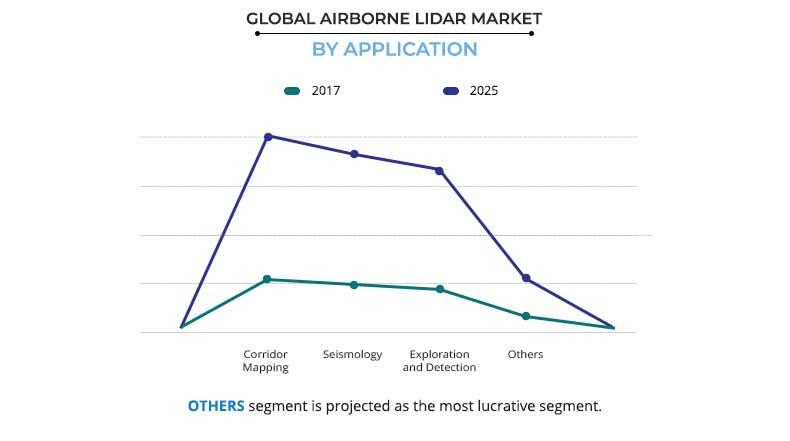 The number of drones globally has increased by two folds in the past one year. According to the annual report by Federal Aviation Administration (FAA), the number of drones in the U.S. has reached 2.5 million by the end of 2016. It is projected to reach up to 7.0 million by the end of 2020, out of which unmanned aerial vehicle are anticipated to be a whopping 4.3 million in number. All these factors are expected to fuel development of airborne LiDAR; hence, the growth in the overall airborne LiDAR market is expected to grow in the future.
Potential Benefits for airborne LiDAR market:
This report provides an in-depth analysis of the global airborne LiDAR market outlook along with current trends and future estimations to identify profitable investment opportunities
Key drivers, opportunities, and restraints that shape the market along with their impact analysis are explained
Porters five forces analysis highlights the potency of buyers and suppliers to facilitate better business decisions for stakeholders and strengthen their supplier and buyer networks
Market estimation of geographical regions is based on the current market scenario and future trends
 Airborne LiDAR Market Report Highlights
Aspects
Details
By Component

Lasers
Inertial Navigation Systems
Camera
GPS/GNSS Receivers
Micro-electromechanical Systems

By Application

Corridor Mapping
Seismology
Exploration & Detection
Others

By End User

Aerospace & Defense
Civil Engineering
Forestry & Agriculture
Transportation
Archaeology
Mining Industry

By Region

North America (U.S., Canada, Mexico)
Europe (UK, Germany, France, Russia, Rest of Europe)
Asia-Pacific (China, Japan, India, Australia, Rest of Asia-Pacific)
LAMEA (Latin America, Middle East, Africa)

Key Market Players
RIEGL Laser Measurement Systems GmbH, Firmatek, Merrick & Company, Leica Geosystems, Flir Systems, Inc., Airborne Imaging, Teledyne Technologies, Faro Technologies, Inc., Lasermap Inc., Saab Group