LiDAR Market Outlook – 2027 
The global LiDAR market was valued at $700.2 million in 2019, and is projected to reach $2.90 billion by 2027, growing at a CAGR of 20.1% from 2020 to 2027. According to LiDAR market analysis, introduction of light detection and ranging (LiDAR) system enabled the examination, detection, and mapping of objects easier than conventional methods. This system is used over conventional surveying methods, due to their ability to provide highly accurate data and 3D images in a shorter time. Improved automated processing ability of LiDAR systems in terms of image resolution and data processing capabilities over other technologies is the major factor that drives the growth of the LiDAR market.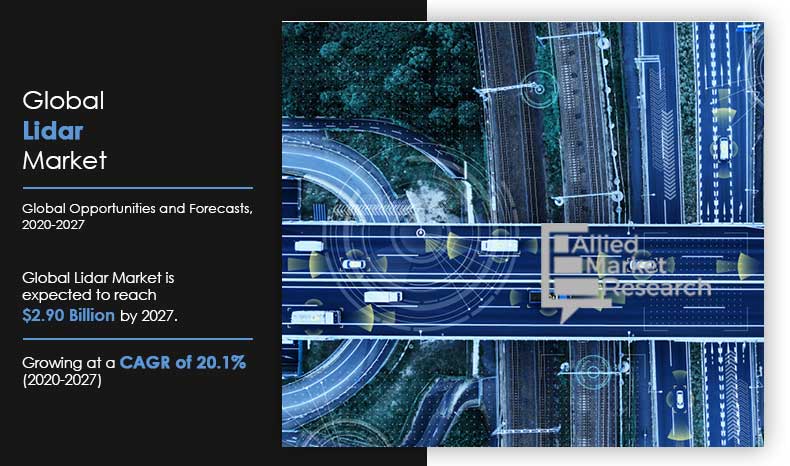 Other factors that supplement the growth of the market include rise in demand for 3D imaging technology across various application areas and increase in adoption of aerial LiDAR systems to explore and detect places and historic details. However, less awareness about the benefits of LiDAR systems and the use of expensive components in these systems such as laser scanner, navigation system, and high-resolution 3D cameras collectively increase the cost of LiDAR systems. These factors limit the adoption of LiDAR systems, thereby restricting the global LiDAR market trends. 
According to LiDAR market forecast, players in the market adopt product launch and collaborations as their key strategies to meet the customer demands and increase their customer base. Partnerships are expected to help the players to set a common t echnology platform and share the technological requirement. This would ultimately help the market players to enhance their product portfolio in less investment and increase their market share across various regions. 
Cost cutting in operations is expected to encourage the manufacturers to invest in advertisement activities and increase the awareness about LiDAR systems across diverse industry verticals and regions. Thus, rise in use of LiDAR systems across various industries is anticipated to supplement the global LiDAR market size.
Mobile segment would grow at a highest CAGR of 23.6% during 2020 - 2027
Segmentation
The global LiDAR market is segmented on the basis of type, component, application, end-user sector, and region. Static or terrestrial, aerial, mobile, and short range are the various types of LiDAR systems elaborated. 
LiDAR Market

---
By Component
LASER segment will secure the leading position throughout the forecast period
The components of LiDAR systems discussed are laser scanner, inertial navigation system, camera, GPS receiver, and micro-electro-mechanical system. The applications covered in the study include corridor mapping, seismology, exploration & detection, and others. 
LiDAR Market

---
By Application
Corridor Mapping holds a dominant position in 2019 and would maintain the lead during the forecast period
LiDAR systems are used across various end-use verticals such as defense & aerospace, civil engineering, archaeology, forestry and agriculture, mining industry, and transportation. 
Forestry and Agriculture segment expected to generate the highest revenue by the end of 2027
A study with respect to region is conducted to perform an in-depth analysis of LiDAR technology across various geographic locations. The regions examined are North America, Europe, Asia-Pacific, and LAMEA
LiDAR Market

---
By Geography
Asia-Pacific region would exhibit the highest CAGR of 22.0% during 2020 - 2027
Top Impacting Factors
Key impacting factors identified include deployment of automated systems in LiDAR systems, increase in applications of LiDAR, and rise in demand for LiDAR in 3D imaging. In addition, rise in consumer awareness along with higher technological performance of LiDAR over alternatives technologies plays significant role in the LiDAR market growth. All the factors collectively create LiDAR market opportunity, however, lack of awareness regarding LiDAR systems restrict the growth of the market. Thus, each factor is expected to have a definite impact on the LiDAR market share.
Some Major Factors Impacting the LiDAR Market Growth are Given Below:
Automated Processing in LiDAR Systems
Automation of LiDAR processing system involves a combination of scientific algorithm computation and cloud-based processing of captured data points for sophisticated analysis. The algorithms make LiDAR systems more accurate and efficient in detecting target objects. Moreover, some of the automated LiDAR processing systems select appropriate algorithm as per environment, while other systems allow users to interact and select their choice of algorithm. These features increase the suitability of LiDAR in numerous applications, which fuel its adoption across the globe, thereby driving the growth of the market. 
Better Performance than Other Technologies
LiDAR is used for detection and ranging applications similar to that of RADAR. However, its capabilities surpass that of RADAR, in terms of accuracy and response time. LiDAR can capture the object's position as well as surface information with higher accuracy. In addition, it can obtain the 3D topographic information of object surface with high level of accuracy. Conversely, RADAR uses antennae for transmission and reception, which leads to delay in certain environmental conditions. This, in turn, has shifted the preference toward LiDAR systems, thus augmenting the growth of the global market. 
Rising Demand For 3D Imaging
The demand for 3D imaging is witnessing rise in consumer, commercial, and government applications. LiDAR is being adopted in numerous government applications such as planning & monitoring activities related to roadways, railways, cities, and forest management. In consumer market, LiDARs are being identified as a technology for implementing driverless car concept in reality. In photogrammetry, LiDAR serves as an efficient alternative over other technologies, due to its accuracy and speed, thus driving the growth of the global market.
Competitive Analysis
The key players in the global LiDAR industry that are analyzed in the report are Velodyne, Airborne Hydrography AB, Leosphere SAS, Faro Technologies Inc., Leica Geosystems AG, GeoSLAM Ltd. (3D Laser Mapping), Firmatek LLC, RIEGL Laser Measurement Systems GmbH, Mira Solutions Inc., and Aerometric Surveys. These key players have adopted various strategies such as product portfolio expansion, mergers & acquisitions, agreements, geographical expansion, and collaborations to increase their market penetration and strengthen their position in the industry.
Key Benefits For Stakeholders:
This report provides an extensive analysis of the current and emerging market trends and dynamics in the global LiDAR market.

In-depth analysis is conducted by global LiDAR market estimations for the key market segments between 2019 and 2027. 

Extensive analysis of the market is conducted by following key product positioning and monitoring the top competitors within  the market framework.

Key players are profiled, and their strategies are analyzed thoroughly to understand the competitive outlook of the global LiDARmarket.
 LiDAR Market Report Highlights
Aspects
Details
By Type

Terrestrial
Aerial
Mobile
Short Range

By Component

LASER
Inertial
Camera
GPS GNSS
Micro-electro mechanical system (MEMS)

By Application

Corridor Mapping
Seismology
Exploration & Detection
Others

By End User

Defense & Aerospace
Civil Engineering
Archaeology
Forestry & Agriculture
Mining
Transportation

By Region

North America (U.S., CANADA, MEXICO)
Europe (GERMANY, FRANCE, UK, REST OF EUROPE)
Asia-Pacific (CHINA, JAPAN, INDIA, REST OF ASIA-PACIFIC)
LAMEA (LATIN AMERICA, MIDDLE EAST, AFRICA)

Key Market Players
Velodyne, AIRBORNE HYDROGRAPHY AB, LEOSPHERE SAS, FARO TECHNOLOGIES INC, Leica Geosystems AG, GeoSLAM Ltd. (3D Laser Mapping), Firmatek, LLC, RIEGL Laser Measurement Systems GmbH, Mira Solutions, Inc, Aerometric Surveys