Alcohol Enzymes Market Outlook -2027
The global alcohol enzyme market was valued at $553.1 million in 2019, and is projected to reach $804.6 million by 2027, registering a CAGR of 4.9% from 2020 to 2027.
The COVID-19 pandemic has negatively affected the supply chain of both the enzyme production as well as alcohol production, which led to a huge supply-demand gap.
Alcohol enzymes comprise products that are used in various stages of alcohol production. They are proteins that have been obtained from plants, animal tissues, or microorganisms. However, those obtained from microorganisms are preferred compared to plants and animals due to their easy availability and purification. They are added into the process to enhance, improve or catalyze process to obtain high product yield and low production costs. Alcohol enzymes are used in the production of alcoholic beverages, brewing, as well as in the production of biofuels such as bioethanol and biodiesel. Traditionally, enzymes have been supplied by the addition of malt in alcohol production. Adding enzymes instead of malt replaces large quantities of malt that results in easy handling and reduced storage needs. Hence, many distilleries have replaced malt by commercial brewing enzymes. Use of industrial alcohol enzymes allows the brewer to use cheaper raw materials that are locally available. In case of brewing, addition of suitable enzymes at each step of brewing shortens beer maturation times. Enzymes also allows breweries to innovate their product offerings. The use of enzymes in the bioethanol industry has led to lower total energy costs and increased throughput as well as yield. Similarly, enzymes have been developed for the faster production of cellulosic ethanol.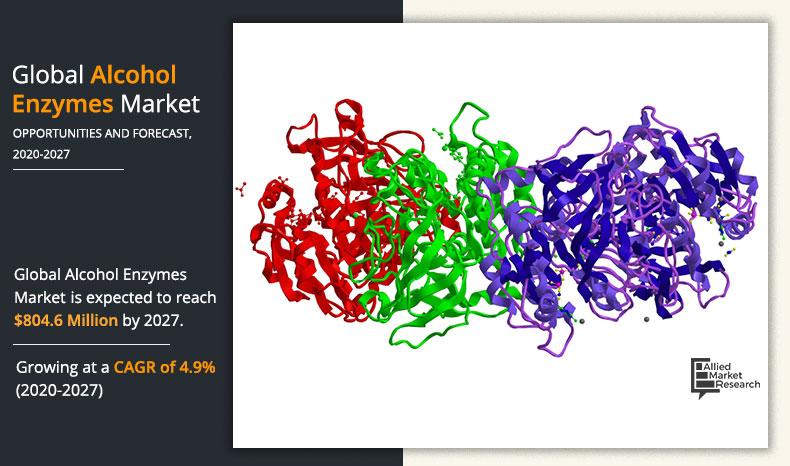 The global alcohol enzymes market is majorly driven by the food & beverage market as well as the bioethanol industry. Increase in younger population, surge in disposable income as well as rise in preference for premium alcoholic beverages products are expected to increase the demand for alcohol enzymes. Increasing tourism tends to increase alcohol consumption. Biofuels such as bioethanol and cellulosic ethanol are important fuels for countries that focus on sustainable energy development. Blending mandates by regulatory bodies such as EPA (Environmental Protection Agency), abundant raw material availability, as well as environmental advantages of bioethanol-based fuel is driving the bioethanol industry. However, the use of enzymes in food & beverages are subjected to stringent regulations. Enzymes meant for food & beverage applications must comply with Food Improvement Agents Package (FIAP) as well as Registration, Evaluation, Authorization and Restriction of Chemicals (REACH).  In addition, enzyme development is capital intensive and requires a long time from trials to commercial release. These factors are expected to act as a restraint to the global alcohol enzymes market growth during the forecast period. The future development and optimization of catalytic proteins is essential for the growth of the industrial enzymes market, including alcohol enzymes. Enzymatic productivity can be improved using genetic modification techniques. New product launches will help the market players to gain competitive edge over others. For instance, in June 2020, DuPont announced the launch of Spezyme HN Alpha-Amylase Blend, for ethanol liquefaction and viscosity reduction across a variety of temperatures and pH levels. A range of specific properties can be enhanced in enzymes, including the catalytic activity, thermostability, and specificity, under industrial conditions. Archer Daniels Midland Company and DuPont Industrial Biosciences announced a collaboration to develop, produce and market cellulase enzymes for operators of grain-based ethanol plants.
The global alcohol enzymes market is segmented based on type, end-user and region. Based on the type, the global alcohol enzymes market is studied into carbohydrase, proteases, lipases, and others. The end-users of alcohol enzymes are food & beverage, pharmaceutical, chemical, cosmetics, biofuel, and others. On the basis of region, the market is studied across North America, Europe, Asia-Pacific, and LAMEA. Presently, North America accounts for the largest share of the market, followed by Europe and Asia-Pacific. The major companies profiled in this report include Advanced Enzyme Technologies, Associated British Foods Plc, BASF SE, Biotechnology Research and Information Network AG, Creative Enzymes, DSM Royal,  DuPont, Kerry Group Plc, Laffort, and Novozymes. 
Alcohol Enzymes Market

---
By Region
Asia-Pacific would exhibit a CAGR of 5.9% during 2019-2027.
Alcohol enzymes market, by region 
Asia-Pacific alcohol enzymes market size is projected to grow at the highest CAGR of nearly 5.9% during the forecast period, owing to the rapidly growing alcohol beverage market and biofuel industry in countries such as China, Japan, and India.
Alcohol Enzymes Market

---
By Type
Lipases segment is projected as the most lucrative segment.
Alcohol enzymes market, by type
In 2019, the carbohydrase segment was the largest revenue-generating segment, accounting for a alcohol enzymes market share of 41.3% in the overall market. 
Alcohol Enzymes Market

---
By End-user
Pharmaceutical is projected as the most lucrative segment.
Alcohol enzymes market, by end-user
In 2019, the food & beverage segment was the largest revenue-generating segment, accounting for a market share of 36.8% in the overall market.
Key benefits for stakeholders
Porter's five forces analysis helps analyze the potential of buyers & suppliers and the competitive scenario of the industry for strategy building.
It outlines the current alcohol enzymes market trends and future estimations from 2019 to 2027 to understand the prevailing opportunities and potential investment pockets.
The major countries in the region have been mapped according to their individual revenue contribution to the regional market.
The key drivers, restraints, and opportunities and their detailed impact analysis are explained in the study.
The profiles of key players and their key strategic developments are enlisted in the report.
Impact Of Covid-19 On The Global Alcohol Enzymes Market
The COVID-19 pandemic has negatively affected the global economy and subsequent shrinking of the GDP in global economies, thereby changing consumer spending patterns globally.
Decline in tourism activities globally impacted alcohol beverage sales. Further, there was a general decline in beverage sales as restaurants and bars were closed temporarily as part of lockdown procedures.
The biofuels industry has been hit hard by the sharp decline in fuel demand due to the coronavirus outbreak
Financial turbulence in leading economies may delay commissioning of biofuel facilities
Development of enzymes is a continuous process and takes long time. The pandemic halted the development phase of new enzymes, which may delay its commercial release. 
On the positive side, there was a demand for medicinal drugs, which led to increased demand for enzyme formulated for the healthcare system
The above factors are expected to impact the global alcohol enzymes market growth during the forecast period.
 Alcohol Enzymes Market Report Highlights
Aspects
Details
By Type

Carbohydrase
Proteases
Lipases
Others

By End User

Food & Beverage
Pharmaceutical
Chemical
Cosmetics
Biofuel
Others

By Region

North America (U.S., Canada, Mexico)
Europe (Germany, France, UK, Spain, Italy, Rest of Europe)
Asia-Pacific (China, Japan, India, South Korea, Australia, Rest of Asia-Pacific)
LAMEA (Brazil, Saudi Arabia, South Africa, Rest of LAMEA)

Key Market Players
Advanced Enzyme Technologies Ltd., Associated British Foods Plc, BASF SE, Biotechnology Research and Information Network AG, Creative Enzymes, DuPont de Nemours Inc., Kerry Group Plc, Royal DSM, Novozymes A/S, Laffort