Alcoholic Beverages Market Research, 2031
The global alcoholic beverages market size was valued at $1624 billion in 2021, and alcoholic beverages market size is projected to reach $2036.6 billion by 2031, growing at a CAGR of 2.2% from 2022 to 2031.
An alcoholic beverage, also known as an alcoholic drink, adult beverage, or a drink, is a beverage that contains ethanol. This drug-like form of alcohol is created by fermenting grains, fruits, or other sources of sugar, and it is classified as a type of alcoholic beverage. Drinking, or the use of alcoholic beverages, is a social activity that is significant in many cultures. The manufacturing, sale, and consumption of alcoholic beverages are often governed by regulations. The use of a warning label and the labeling of the alcohol content percentage may be mandated by regulations. Alcoholic beverages are generally legal elsewhere while some nations outright prohibit such behavior.
Water, grains, vegetables, or fruits are combined with yeasts or bacteria during the fermentation process, which results in the production of ethanol and carbon dioxide from the carbohydrates of food. Fermented alcohols include beer and wine. Whiskey and other "hard alcohols," sometimes known as "spirits" or "liquors," undergo a second distillation procedure that removes some of the water, increasing the alcohol content and flavor.
RTD category is gaining massive popularity among young population. The convenience and variety offered by RTDs has increasingly attracting consumers to this spirits-based cocktail. Together with package features like portability and single-serve sizing, taste is the primary reason why consumers select RTDs. Brand owners continue to place a high priority on innovative products, brand extensions, and partnerships in order to increase distribution and brand awareness in the RTD sector, which is well-established and competitive as ever.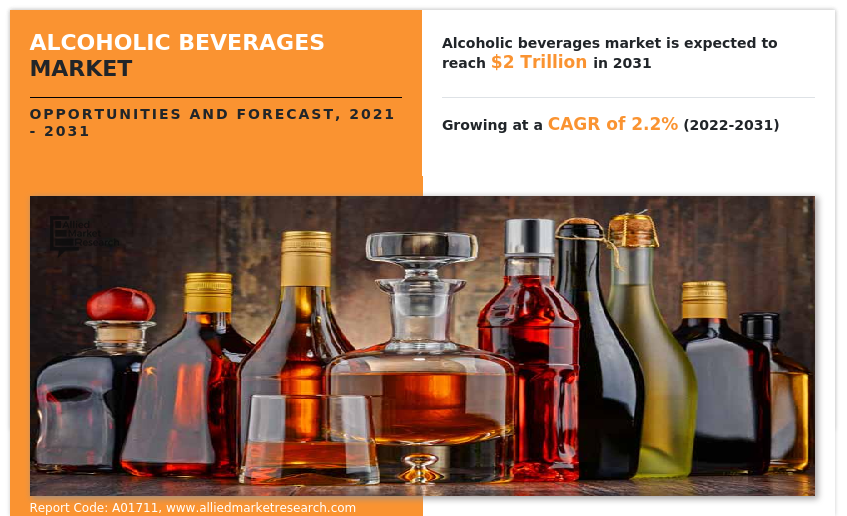 Alcohol is a controlled substance and is categorized as a depressant. Alcohol is frequently used as a recreational drink and when used in small doses, like one or two glasses of beer or wine, it may even function as a stimulant. Larger doses, however, cause its depressive effects to become apparent, including slower motor functions, slow reaction times, and muted or slurred speech.
Alcoholism is a chronic disease characterized by excessive drinking and a preoccupation with alcohol. Rates of alcoholism vary by country and do not necessarily mirror rates of alcoholic consumption. Excessive drinking includes heavy drinking and binge drinking. Heavy drinking is defined as eight or more drinks per week for women and 15 or more drinks per week for men. Binge drinking is defined as consuming, during a single occasion, four or more drinks for women and five or more drinks for men.
Multiple health issues can result from excessive alcohol use. The potential harm to the heart, such as hypertension, stroke, arrhythmias, and cardiomyopathy, is the most significant. Alcohol can also lead to or worsen conditions such as cirrhosis, alcoholic hepatitis, fibrosis, and hepatic steatosis (fatty liver). In addition, drinking alcohol has been connected to breast, colorectal, liver, esophageal, and head and neck cancers. Furthermore, drunkenness frequently causes harmful accidents, especially while driving because it impairs judgement and impairs motor skills. Thus, the side effects associated with the consumption of high levels of alcohol may hamper the alcoholic beverages market growth.
The risk of heart attack, ischemic stroke, peripheral vascular disease, sudden cardiac death, and death from all cardiovascular causes is inversely correlated with light to moderate alcohol consumption, according to research. An average reduction in risk of 25% to 40% results from the effect. The risk of hypertension, irregular cardiac rhythms, stroke, heart attack, and death rise, however, when alcohol use is increased to more than 4 drinks per day. Both men and women have been shown to have a lower risk of cardiovascular disease when they drink moderately. It applies to both those with and without heart disease as well as to those who are most at risk of dying from cardiovascular diseases, such as those with type 2 diabetes, high blood pressure, or pre-existing heart disease.
High-density lipoprotein levels are increased by moderate alcohol consumption, and higher HDL levels are linked to improved protection against heart disease. In addition, moderate alcohol use has been associated with increase in blood clotting factors such tissue-type plasminogen activator, fibrinogen, clotting factor VII, and von Willebrand factor, as well as improvements in insulin sensitivity, are some of the major alcoholic beverages market trends. In addition, such modifications is anticipated to limit the development of tiny blood clots, which are the main factor in many heart attacks and the most prevalent kind of stroke and can block arteries in the heart, neck, and brain thus, contributing to alcoholic beverages market growth.
Moreover, the U.S. alcohol industry's fastest-growing section is the ready-to-drink cocktail business, which has the potential to expand into new markets and provide customers with access to premium cocktails of bar quality. For instance, there is a rapid growth of line of canned, bar-quality cocktails called Cutwater.  Cutwater currently the tops ready-to-drink cocktail in the U.S. full-flavor cocktail market with increase in growth in 2021.  Producers like ABInBev may spread Cutwater to new regions to address the demand for luxury beverages around the world in 2022. Thus, the increasing demand for premium products will create alcoholic beverages market opportunity.
On the other hand, the alcohol business faces a serious challenge in the area of sustainability. Throughout the supply chain, businesses strive to adopt more socially and ecologically responsible practices. There is an increase in applications for sustainability in the alcoholic beverage market. These encompass locating raw materials, streamlining processes, developing new goods, and other initiatives. Government agencies and non-governmental organizations also put pressure on alcohol producers to lessen environmental impact of their operations. The Scotch whisky industry thereby achieved its goal of obtaining 20% of its energy from ecologically friendly sources.  Numerous producers are inclining toward non-fossil fuel sources to run distilleries and recycled steam as a source of heat energy to implement sustainability.
Moreover, alcohol brands can succeed in large part through digital marketing. In order to connect directly with their customers, alcohol beverages companies increasingly use these platforms. Moreover, rise in digital marketing also contributes to the surge in the popularity of cocktails and alcohol beverage. Furthermore, numerous companies such as Aperol became one of the liqueur brands with the quickest rate of growth in Germany, Italy, and Austria. These factors are highly contributing to growth during the alcoholic beverages market forecast period.
Although pricing is still a major deciding factor in purchases, the alcohol beverage business is a strong premium business. It is backed up by enormous openness of customers to innovation and  rise in the appeal of mixology. Premiumization of the global alcoholic beverage market will increase consumer demand for unusual items from wealthy consumers. The premiumization of spirits is also connected to  desire of the customer to consume less alcohol without entirely giving it up. They become more willing to pay more for alcohol of higher quality as a result. Distilleries might benefit from the expanding trend if they adhere to volume restrictions thus, contributing to the alcoholic beverages market opportunity.
According to WHO, 3 million deaths every year result from the harmful use of alcohol globally. This represents 5.3% of all deaths. WHO further stated that alcohol consumption causes death and disability relatively early in life. In people aged 20–39 years, approximately 13.5% of total deaths are attributable to alcohol. In the developing countries, such as India, consumption of alcohol is prohibited in the states of Bihar, Gujarat, Nagaland, Mizoram, as well as the union territory of Lakshadweep. There is a partial ban on alcohol in some districts of Manipur. These kinds of government policies negatively affect the sale of alcoholic beverages globally, thus hampering the alcoholic beverages market demand. 
Impact of Covid-19 on the alcoholic beverage market –
The COVID-19 outbreak and associated government limitations on travel had an impact on alcohol consumption patterns and locales. Even while the road to recovery is still long and difficult, the crisis increases the likelihood that people would use risky drinking as a stress reliever. During the COVID-19 epidemic, there has been an upsurge in domestic violence, which is a risk factor for problematic alcohol consumption.
Abuse of alcohol has detrimental effects on  the health of the consumer, raises the risk of disease and damage, lowers defenses of the body against COVID-19, and has significant economic and social repercussions. Therefore, the development of COVID-19 had led to a rise in alcoholic beverage production and demand across industries. In addition, since the COVID-19 epidemic, drinking habits of consumers have significantly shifted, shifting from bars and restaurants to their homes. People frequently drink alcohol, which has a commonplace impact on social lives that COVID-19 has significantly impacted.
Furthermore, due to the resumption of all economic operations in the post-pandemic period, the demand for alcoholic beverages is anticipated to rise fast in the future and will likely continue to rise. In addition, it is anticipated that consumer spending on alcoholic beverages may rise as active participants in the food and beverage business launch new goods in the alcoholic beverage market to offer customers a wide range of options.
The alcoholic beverages market is segmented into Type and Distribution Channel. 
On the basis of type, the alcoholic beverages industry is categorized into beer, distilled spirits, wine and others. On the basis of distribution channel, the alcoholic beverages industry is divided into convenience stores, on-premises, liquid stores, grocery stores, internet retailing and supermarkets. On the basis of region, the alcoholic beverages market analysis is done across North America (the U.S., Canada, and Mexico), Europe (Germany, UK, France, Italy, Spain, and Rest of Europe), Asia-Pacific (China, India, Japan, South Korea, and Rest of Asia-Pacific), and LAMEA (Brazil, South Africa, Argentina and Rest of LAMEA).
On the basis of type, the beer was the highest revenue contributor of alcoholic beverages market share in 2021 with a CAGR of 1.95%. Moreover, the patterns of alcohol use across countries have converged as a result of increased globalization. The percentage of beer of overall alcohol consumption decreased in countries that historically consumed more wine or spirits than beer, but not in nations where beer consumption was historically higher. Minerals like magnesium, potassium, selenium, and vitamins B are found in beer. In addition, antioxidants have been found in varieties of beers across the globe. Beer is usually preferred by consumers to stave off heart disease and stroke. In addition, it is used for diabetes, anxiety, cancer, and a variety of other conditions, but the majority of these uses are not well-supported by science.
Alcoholic Beverages Market

---
By Type
Beer segment garners highest market share in 2021 owing to the high popularity of beer among younger generation opulation.
On the basis of distribution channel, supermarkets garner largest alcoholic beverages market share in 2021 and are expected to have the largest market share in 2031 due to the availability of a wide variety of alcoholic beverages under one roof, supermarkets are gaining popularity. Customers prefer to purchase alcoholic beverages that are on sale and have health benefits due to moderate consumption. In addition, products are positioned close to one another, allowing customers to compare them easily and choose which item to purchase. The popularity of supermarkets is further boosted by rise in urbanization, an increase in the working-class population, and competitive prices. Customers can purchase goods from these sales formats at competitive prices, and they are typically situated in locations that are simple to get in these stores. As a result, consumers can fulfill all of their buying demands, saving time which draws a sizable consumer base to this market.
Alcoholic Beverages Market

---
By Distribution Channel
Supermarkets garners highest market share in 2021 owing to the changes in preferences toward premium products, along with the rise in number of men and women drinkers.
On the basis of region, Asia-Pacific holds the largest share in 2021 i.e., $572,624.0 million in 2021, and the alcoholic beverages market forecast to reach $724,205.6 million by 2031 at a CAGR of 2.28%.  Asia-Pacific has been producing beer for 7,000 years and it has surpassed Europe and the Americas as the continent with the largest beer consumption. Moreover, there is a quick rate of expansion of beer market, indicating a young, upwardly mobile, and increasingly hedonistic populace. According to Kirin Holdings Company Limited, despite a decline of 8.0% compared to 2019 because of COVID-19, China continued to be the top consumer of beer in the world for the 18th year running since 2003.
Alcoholic Beverages Market

---
By Region
Asia-Pacific garners highest market share in 2021. Countries, such as China, India, and Japan, witness a significant increase in the consumption of alcoholic beverages.
The market is being driven by factors such as rapid growth in infrastructural development as well as technological advancement in developing countries. The major players operating in the global alcoholic beverage are Anheuser-Busch InBev (AB InBev), Bacardi Limited, Carlsberg Group (Carlsberg), Constellation Brands, Inc., Diageo Plc (Diageo), Heineken Holding NV. (Heineken), Molson Coors Brewing Company, Pernod Ricard SA, Suntory Holdings Limited, and United Spirits Limited.
Key Benefits For Stakeholders
This report provides a quantitative analysis of the market segments, current trends, estimations, and dynamics of the alcoholic beverages market analysis from 2021 to 2031 to identify the prevailing alcoholic beverages market opportunities.
The market research is offered along with information related to key drivers, restraints, and opportunities.
Porter's five forces analysis highlights the potency of buyers and suppliers to enable stakeholders make profit-oriented business decisions and strengthen their supplier-buyer network.
In-depth analysis of the alcoholic beverages market segmentation assists to determine the prevailing market opportunities.
Major countries in each region are mapped according to their revenue contribution to the global market.
Market player positioning facilitates benchmarking and provides a clear understanding of the present position of the market players.
The report includes the analysis of the regional as well as global alcoholic beverages market trends, key players, market segments, application areas, and market growth strategies.
 Alcoholic Beverages Market Report Highlights
Aspects
Details
Market Size By 2031
USD 2036.6 billion
Growth Rate
CAGR of 2.2%
Forecast period
2021 - 2031
Report Pages
279
Type

Beer
Distilled Spirits
Wine

Wine

Sparkling Wine
Fortified Wine
Others

Others

Distribution Channel

Convenience Stores
On Premises
Liquor Stores
Grocery Shops
Internet Retailing
Supermarkets

By Region

North America (U.S., Canada, Mexico)
Europe (Germany, France, UK, Italy, Spain, Rest of Europe)
Asia-Pacific (China, Japan, India, South Korea, Rest of Asia-Pacific)
LAMEA (Brazil, South Africa,, Argentina, Rest of LAMEA)

Key Market Players
Pernod Ricard, Bacardi Limited, Carlsberg Group, Tsingtao Brewery Co., Ltd., Constellation Brands, Inc., Brown-Forman Corporation, Wuliangye Yibin Co., Ltd., Suntory Holdings Limited, Asahi Group Holdings, Ltd., Budweiser Brewing Company APAC Limited, Diageo plc., Molson Coors Beverage Company, Beijing Yanjing Brewery Co., Ltd., Anheuser-Busch InBev SA/NV, Heineken N.V.