Allulose Market Research, 2030
The global allulose market was valued at $162.40 million in 2021, and is projected to reach $387.40 million by 2030, growing at a CAGR of 10.1% from 2022 to 2030.
Allulose is high in antioxidants and aids in liver detoxification by lowering fat storage. The increased demand for allulose is frequently connected to consumers' increasing concern on health and wellness, which pushes them to substitute naturally derived sweeteners for ordinary sugar. Manufacturers in food & beverage industry have included allulose in the form of powder in a variety of health supplements and beverages since it is a good source of energy for people who want to live a healthy lifestyle.
? COVID-19's pandemic has posed major medical, social, and economic concerns. However, the medical community is focused on developing effective diagnostic and treatment methods. Furthermore, the food and beverage business is focused on generating nutritious items that help the body fight disease by boosting immunity.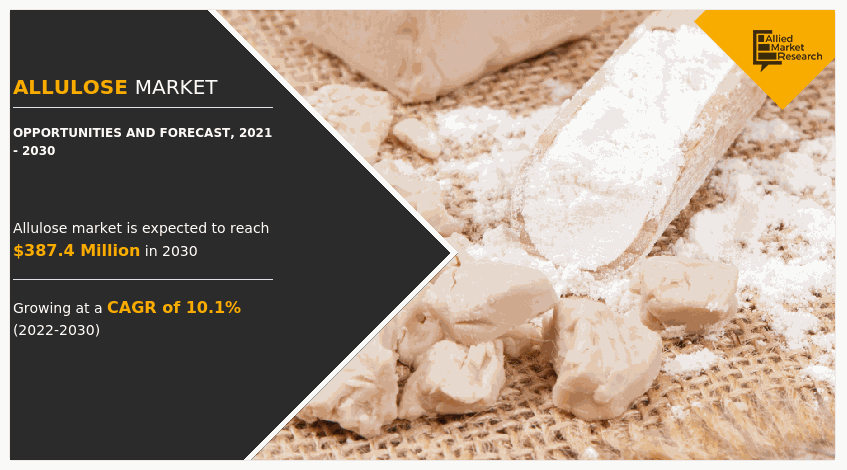 Get more information on this report : Request Sample Pages
Obesity's rising prevalence is the key driver of the allulose market. Consumers are looking for healthier food options as they have become more health conscious. Allulose is a low-calorie sweetener with a sugary flavor. It is sourced from a variety of sources, including wheat and some fruits such as jackfruit, figs, and raisins, making it a perfect natural sweetener for people who are trying to lose weight.
Because it is generated from a variety of natural sources, allulose has several health benefits. It aids in the regulation of blood sugar levels as well as the reduction of oxidative stress and inflammation, hence reducing the risk of chronic diseases such as arthritis and irritable bowel syndrome (IBS).
The global allulose market is segmented on the basis of type, nature and application. On the basis of type, the market is divided into powder, liquid, and crystal. On the basis of nature, the market is divided into organic and conventional. Based on application, the market is divided into food, bakery & confectionery, dairy & frozen desserts, sauces & dressings, beverages, and others. On the basis of region, the market is analyzed across North America, Europe, Asia-Pacific, and LAMEA.
The key players profiled in this report include Anderson Global Group, Apura Ingredients, Bonumose LLC, Cargill, Incorporated, CJ CheilJedang, Ingredion Incorporated, Matsutani Chemical Industry Co. Ltd., McNeil Nutritionals, Quest Nutrition and Tate & Lyle.
The allulose market is segmented into Nature, Type and Application.
Allulose Market

---
By Nature
Conventional segment will grow at a highest CAGR of 13.8% during 2021 - 2030
Conventional allulose is commonly sprayed with pesticides and fertilizers before harvest. It is a more common and largely available type of allulose and accounts for a higher market share yearly as compared to the organic segment. Conventionally sourced allulose is economical for large-scale production and thus is widely adopted by manufacturers. The increasing use of conventional allulose as an essential ingredient in food and beverages is fueling the growth of the segment.
Liquid segment will grow at a highest CAGR of 10.8% during 2021 - 2030
Powdered allulose is extremely popular. In 2022, the powder form is estimated to account for 70% of the allulose market share. Consumers prefer the powder form over the other forms since it is easy to mix with a variety of foods and beverages. Rolls, pie, pastries, cake, biscuits & frostings, yoghurt, and carbonated & non-carbonated beverages all contain powdered allulose. It is also used in a variety of candies, jellies, and desserts. As a result of its widespread use in a variety of foods, its demand is rising, and it is gaining traction in the allulose market growth.
Allulose Market

---
By Application
Beverages segment will grow at a highest CAGR of 11.1% during 2021 - 2030
By 2030, the dairy and frozen dessert market is predicted to grow at a 10.1% CAGR, reaching more than USD 52.1 billion. Products in the frozen desserts industry are made without milk fat and frozen for later consumption and are commonly used as a substitute for traditional dairy sweets. Frozen desserts are made by freezing liquids, semi-solids, and sometimes even solids. Desserts that must be preserved below the freezing point of water are referred to as such.
As per analysis, frozen desserts trends suggest that there has been an increasing degree of concern regarding the expansion of the allulose market size. The prominent presence of high sugar and fat content in frozen desserts has hampered the market growth. However, with the commercialization of allulose, people can enjoy frozen desserts without any concerns. Also, high consumption of frozen yogurt is one of the important factors driving the global dairy and frozen dessert market. Yogurt is known to be delivered on desirable attributes, including nutrition and digestion, and comes in a wide variety of flavors to satisfy the needs of all age groups which will further increase demand for allulose.
Allulose Market

---

By Region
LAMEA will grow at a highest CAGR of 11.0% during 2021 - 2030
By region, Asia-Pacific dominated the global Allulose market in 2020 and is projected to remain the fastest-growing sub-segment during the forecast period. This is attributed to numerous factors such as largest production of material in the region and wide consumer base. India is the world's largest producer of wheat, and allulose is generated from wheat; it is one of the most important producers and users of allulose in South Asia. Following customer demand for low-calorie cakes, biscuits, and cookies, allulose is widely utilized as a natural sweetener in bakery and confectionery items in India.
The Asia-Pacific is the largest contributor to the allulose market, owing to major shifts in dietary patterns, diversified diets, increasing healthcare awareness, and nutritional transition. Japanese starch and dietary fiber organization, also known as Matsutani Chemical Industry Co. Ltd., are mainly focusing on the advancement of allulose and utilizing it as a low-calorie sweetener since last two decades. China is one of the biggest importers as well as retail markets for frozen ready-to-eat and frozen meat products.
IMPACT OF COVID-19 ON THE GLOBAL ALLULOSE MARKET
COVID-19's pandemic has posed major medical, social, and economic concerns. However, the medical community is focused on developing effective diagnostic and treatment methods. Furtehrmore, the food and beverage business is focused on generating nutritious items that help the body fight disease by boosting immunity.
Due to the increasing spread of the COVID-19 infection in various regions/countries, the market observed a positive growth in 2020 owing to rise in health consciousness among people, the market is anticipated to observe further growth in post pandemic phase 2021
COVID-19 impacted almost all industries by hindering various industrial operations and disrupting the supply chain. Maximum companies halted their operation due to fewer workforces. However, there is a sluggish decline in the global allulose market due to impact of COVID-19.
Furthermore, import and export activities were significantly impacted, which, in turn, adversely affected the industries using allulose, thereby affecting the global Allulose market.
Key Benefits For Stakeholders
This report provides a quantitative analysis of the market segments, current trends, estimations, and dynamics of the allulose market analysis from 2021 to 2030 to identify the prevailing allulose market opportunity
The market research is offered along with information related to key drivers, restraints, and opportunities.
Porter's five forces analysis highlights the potency of buyers and suppliers to enable stakeholders make profit-oriented business decisions and strengthen their supplier-buyer network.
In-depth analysis of the allulose market segmentation assists to determine the prevailing market opportunities.
Major countries in each region are mapped according to their revenue contribution to the global market.
Market player positioning facilitates benchmarking and provides a clear understanding of the present position of the market players.
The report includes the analysis of the regional as well as global allulose market trends, key players, market segments, application areas, and market growth strategies.
 Key Market Segments
By Nature
By Type
By Application

Food
Bakery and Confectionery
Dairy and Frozen Desserts
Sauces and Dressings
Beverages
Others

By Region

North America
Europe

Germany
France
United Kingdom
Italy
Spain
Rest of Europe

Asia-Pacific

China
Japan
India
South Korea
Australia
Rest of Asia-Pacific

LAMEA

Brazil
Saudi Arabia
United Arab Emirates
South Africa
Rest of Latin America
 
Key Market Players
Anderson Global Group
Apura Ingredients
Bonumose LLC
cargill
CJ Cheiljedang Corp.
Ingredion Incorporated
Matsutani Chemical Industry Co. Ltd.
mcneil nutritionals
quest nutrition
Tate & Lyle PLC