The global animal feed additives market was valued at $19,642 million in 2017, and is estimated to reach $31,387 million by 2025, registering a CAGR of 6.0% from 2018 to 2025. Feed additives form an important part of animal nutrition, which improve the feed quality, yield & quality of food from animal origin, and animal health.
The global animal feed additives market is expected to witness significant growth during the forecast period, owing to surge in consumption of meat products, increase in concerns over meat quality, and rise in safety concerns associated with the outbreak of livestock diseases. Moreover, global industrialization of meat products boosts the market growth. The demand for meat and meat-based products is expected to register a two-fold increase by 2030 in the developing countries. However, increase in prices of raw materials such as maize, wheat, barley, and others and stringent regulatory guidelines for feed additives hamper the market growth.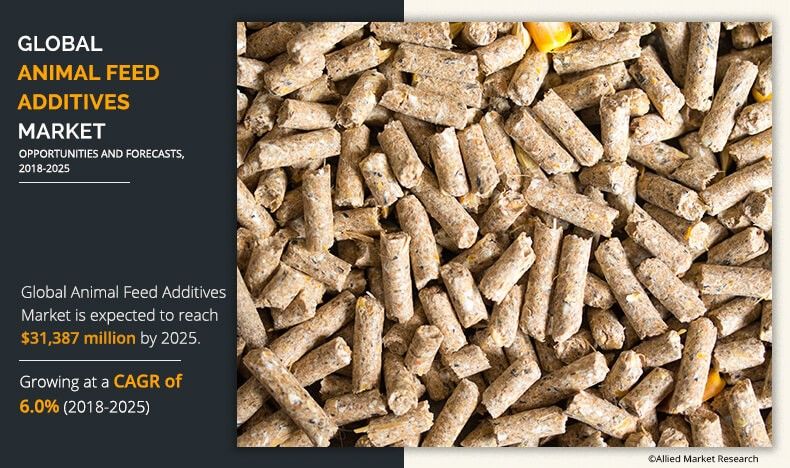 The global animal feed additives market is segmented based on additive type, livestock, form, function, and region. Based on additive type, the market is categorized into amino acids, antioxidants, feed enzymes, feed acidifiers, vitamins, minerals, binders, antibiotics, and others. The amino acids segment is further classified into methionine, lysine, threonine, tryptophan, and others. Antioxidants segment is sub segmented into BHA, BHT, ethoxyquin, and others. Feed enzymes is further divided into phytase, non-starch polysaccharides, protease, xylanase, and others. Feed acidifiers is subdivided into formic acid, butyric acid, fumaric acid, acetic acid, and others. The vitamins segment is sub segmented into water soluble and fat soluble. Minerals are further segmented into zinc sources, iron sources, manganese sources, and copper sources. Binders are further fragmented into calcium lignosulphate, guar (Arabic) gum, and others. The antibiotics segment is sub segmented into tetracycline, penicillin, and others. Based on livestock, the market is categorized into swine, ruminants, poultry, aquatic animals, and others (equine, pets, and birds). According to form, it is classified into dry, liquid, and others. As per function, it is bifurcated into single function and multifunction. Based on region, it is analyzed across North America, Europe, Asia-Pacific, and LAMEA.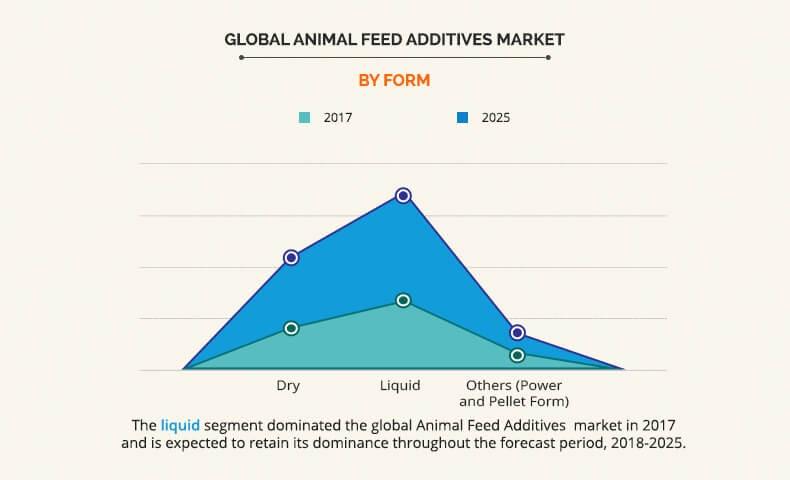 Increase in demand for feed additives in Asia-Pacific and rise in concern for the quality of meat & meat-related products majorly drive for the adoption of additives for various livestock, such as poultry, swine, aquatic animals, and cattle. Renowned global market leaders, such as Cargill, Inc., Archer Daniels Midland Company , and Addcon Group  adopt various growth strategies to expand their market presence and cater to the growth in demands of feed additives.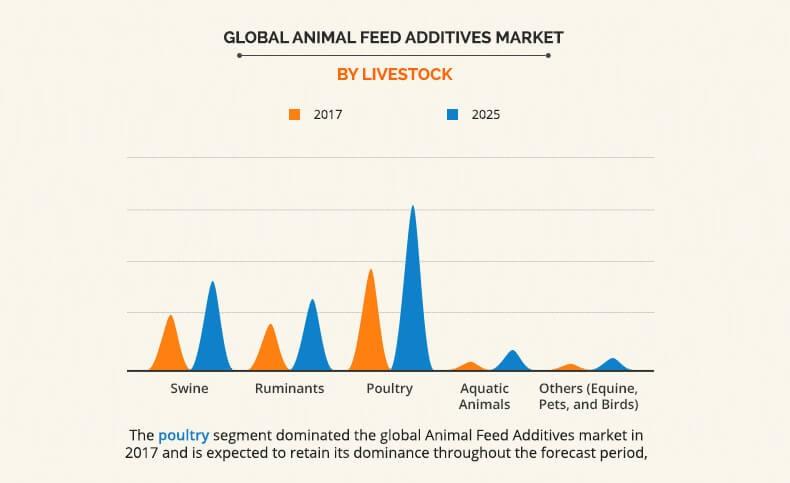 The market is witnessing significant opportunities owing to surge in demand for processed meat, which increased the consumption of feed additives, thereby boosting the demand for additives in the animal nutrition and feed industry. However, different government regulations toward use of certain synthetic additives and increase in production cost of effective feed additives restrict the market growth.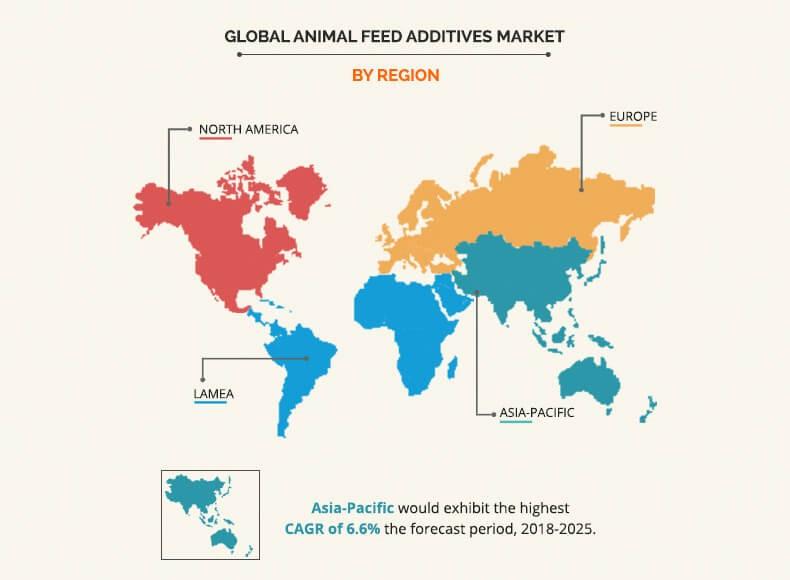 In 2017, Asia-Pacific dominated the global animal feed additives market, in terms of both value and volume. The region is also expected to witness the highest growth rate from 2018 to 2025, owing to increase in demand for animal products, growth in population, rise in disposable incomes, and an increase in demand for quality meat products. China is a major meat exporter and producer of animal feed additives, supported by strong economic outlook and rapid urbanization. 
The key leading players operating in the global animal feed additives industry include BASF SE, Cargill, Inc., Archer Daniels Midland Company, Evonik Industries AG, Nutreco N.V., Addcon Group, Aliphos Belgium S.A., Kemin Industries Inc., Koninklijke DSM N.V., and Phibro Animal Health Corporation.
The other players in the value chain (profiles not included in the report) include Biotech JSC, Danisco Animal Nutrition, Biomin, Ajinomoto Co., Inc., Alltech, Inc., and Adisseo France SAS.
Key Benefits For Stakeholders
The report provides an extensive analysis of the animal feed additives market trends and size from 2017 to 2025 to determine the prevailing opportunities.
Comprehensive analysis of factors that drive and restrict the growth of the market is provided.
Extensive analysis is conducted by following product benchmarking, positioning, and monitoring the top competitors within the global market.
The report provides extensive and qualitative animal feed additives market trends on the significant segments or regions.
The report provides key insights on strategic industry analysis of various companies and the value chain analysis of animal feed additives.
 Animal Feed Additives Market Report Highlights
Aspects
Details
By Additive Type

Amino acids
Antioxidants
Feed enzymes
Feed acidifiers
Vitamins
Minerals
Binders
Antibiotics
Others (sweeteners and flavors)

By Livestock

Swine
Ruminants
Poultry
Aquatic Animals
OTHERS

By Form
By Function

Single Function
Multifunction

By Region

North America (U.S., Canada, Mexico)
Europe (Spain, Russia, Germany, Frsnce, Netherlands, Italy, UK, Rest of Europe)
Asia-Pacific (China, India, Japan, Indonesia, South Korea, Rest of Asia-Pacific)
LAMEA (Latin America, Middle East, Africa)

Key Market Players
ALIPHOS BELGIUM SA, ARCHER-DANIELS-MIDLAND COMPANY, PHIBRO ANIMAL HEALTH CORPORATION, EVONIK INDUSTRIES AG, KONINKLIJKE DSM N.V. (ALAND (JIANGSU) NUTRACEUTICAL CO. LTD.), ADDCON GROUP GMBH, SHV HOLDINGS N.V. (NUTRECO N.V.), BASF SE, CARGILL INCORPORATED, KEMIN INDUSTRIES INC.