Animal Nutrition Chemicals Market Overview:
The global animal nutrition chemicals market size was valued at $10,289 million in 2017, and is projected to reach $15,335 million by 2024, registering a CAGR of 5.9% during the forecast period. Animal nutrition chemicals are essential feed additive products to boost the growth of animal and to maintain their health. These are widely used in feed industry to improve the quality of product and improve the results.
Increase in domesticated animals and livestock population drive the growth of the animal nutrition chemical market. Moreover, rise in pet health care centers and veterinaries fuel the market growth. Further, rapid industrialization of livestock farming, increase in health problems among animals, and rise in meat demand are some of the major factors that also boost the growth of the animal nutrition chemicals industry. However, high cost of these products restrain the market growth. Similarly, availability of substandard products and cheap alternatives adversely affect the market. Further, faster growth of animal meat and higher demand for meat across the world is anticipated to provide high return on investment. This factor leads to increase in number of animal farmers and modern animal husbandries, which is anticipated to provide growth opportunities.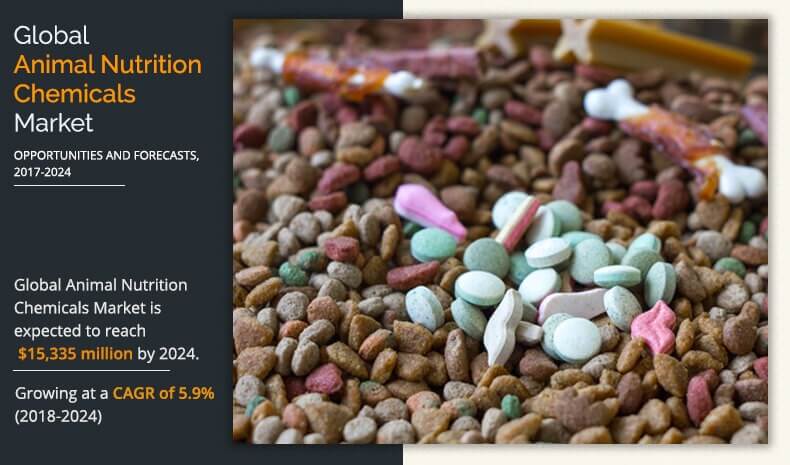 The report segments the market based on product type, species, application, and region. Based on product type, the market is divided into amino acid, vitamin, mineral, enzyme, fish oil and lipid, carotenoid, eubiotics and others. By species, it is classified into poultry, swine, ruminants, pets and others. In terms of application, it is divided into animal feed manufacturers, farms, households, veterinarians and others. Geographical breakdown of the market includes North America, Europe, Asia-Pacific, and LAMEA.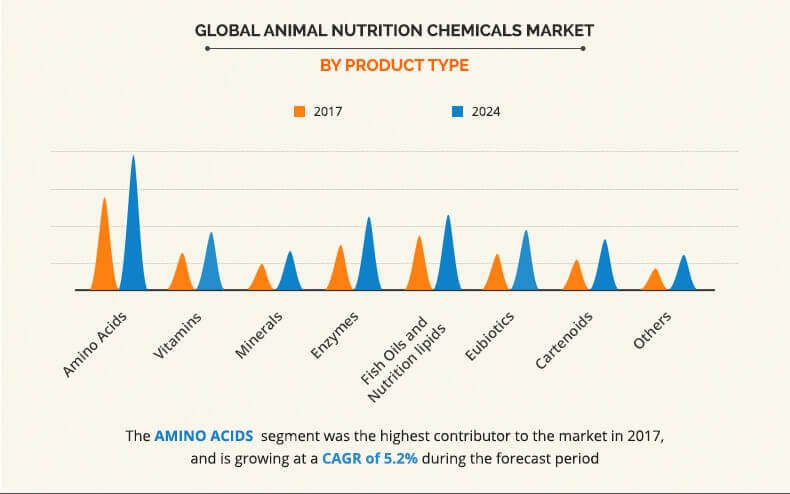 Amino acids are the essential part of animal nutrition chemicals market. Amino acids are the vital nutrients required in animal's body to complete main bodily functions such as protein synthesis, structuring cells, carriage and the storage of other nutrients. In addition, quality animal-based food products such as meat, milk, wool, and eggs are obtained by optimal supplementation of amino acid. Animal breeders are experiencing better results from branched-chain amino acids (BCAA) which are anticipated to cause a surge in demand for animal nutrition chemicals.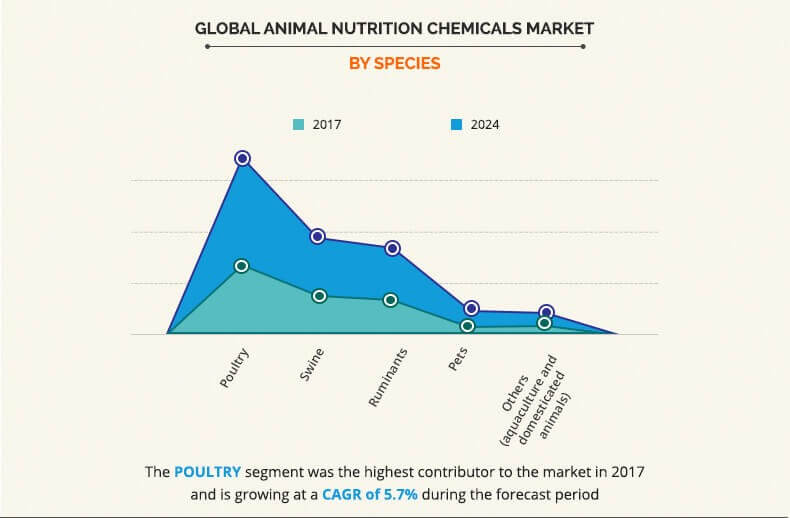 Growing red and white meat consumption, demand for protein rich diet, rise in population and correspondingly increasing food availability issues are some the major factors propelling the demand for animal nutrition chemical products. Among applications of animal nutrition chemicals poultry holds largest market share due to high consumption rate of chicken and advancement of poultry production methods. Developing risk of deadly diseases and nutrition malfunction among poultry fowls has led to rise in demand for animal nutrition chemical products in this industry.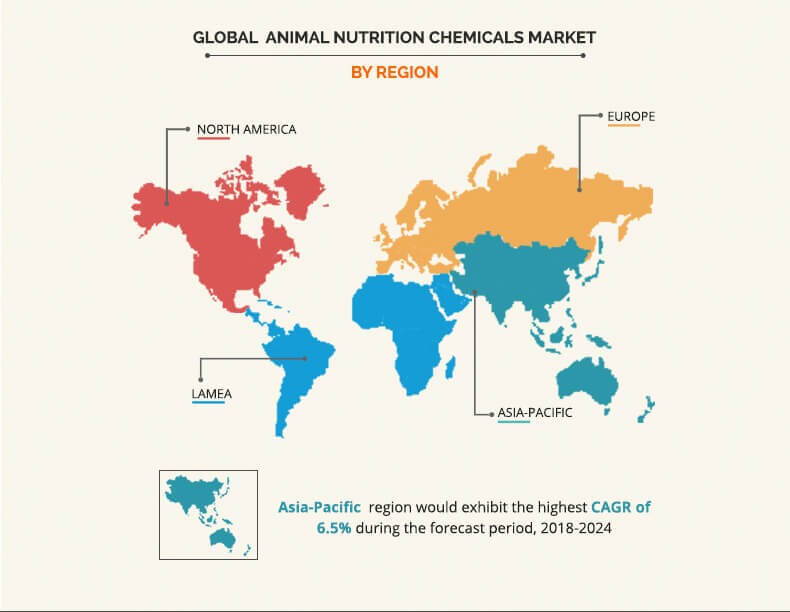 The demand for animal nutrition chemicals in Asia-Pacific is expected to rise, owing to growth in population rate, advancement in technology, and stable economic growth. The Chinese and Indian customers widely accept animal nutrition chemicals, owing to the high number of animal and livestock population in these countries. Rising animal health issues, high demand of meat, and rise in number pets are primary factors that drive the animal nutrition chemicals market growth in Japan.
Some of the major players operating in the global animal nutrition chemicals market are Tata chemicals Ltd, S.p.A., Cargill, Inc., Evonik Industries AG, BASF SE, CHURCH & DWIGHT CO. INC, Novozymes, Koninklijke DSM NV, BalChem, Kemin Industries AND SHV N.V.
Key Benefits
This report provides an extensive analysis of the current trends and emerging estimations in the global animal nutrition chemicals market.
In-depth analysis of the industry is conducted through market estimations of key segments from 2017 to 2024.
Comprehensive analysis of factors that drive and restrain the growth of the market is provided in the report.
Extensive analysis of the industry is conducted by following key product positioning and monitoring the top competitors within the market framework.
The key players are profiled along with their strategies to determine the competitive outlook of the market.
 Animal Nutrition Chemicals Market Report Highlights
Aspects
Details
By Product Type

Amino Acid
Vitamin
Mineral
Enzyme
Fish Oil & Lipid
Carotenoid
Eubiotics
Others

By Species

Poultry
Swine
Ruminant
Pet
Others

By Application

Animal Food Manufacturer
Farm
Household
Veterinarian
Others (Domestic Animal Feed and Aquaculture)

By Region

North America (U.S, Canada, Mexico)
Europe (UK, Germany, France, Italy, Spain, Rest of Europe)
Asia-Pacific (China, India, South Korea, Australia, Japan, Rest of Asia-Pacific)
LAMEA (Brazil, Saudi Arabia, U.A.E, South Africa, Rest of LAMEA)

Key Market Players
Bal Chem, EVONIK INDUSTRIES AG, CHURCH & DWIGHT CO., INC., SHV N.V, Novozymes, Cargill.Inc., Kemin Industries, BASF SE, Koninklijke DSM NV, Tata Chemicals Ltd. S.p.A