Animal Therapeutics And Diagnostics Market Statictics - 2030
The global animal therapeutics and diagnostics market size was valued at $33,462.50 million in 2020, and is projected to reach $59,082.10 million by 2030, growing at a CAGR of 5.9% from 2021 to 2030. Diagnostic devices help in the identification of disease-causing agents. Animal diagnostics includes a wide range of devices and consumables for diagnosing the disease, which is critical, given the public's reliant on animals. Meat, food, protein, milk, and a variety of other commercial items, such as leather, are all derived from animals. Animal therapies assist in the treatment of diseases, which require the use of medications that cure the illness depending on their mechanism of action. Veterinary diagnostic instruments include laryngoscopes; ophthalmoscopes; ear, nose & throat (ENT) equipment; and polymerase chain reaction (PCR) analyzer. Sedatives, antibiotics, painkillers, and tranquilizers are examples of animal therapeutic agents. With rise in prevalence of new illnesses, constant advancement in animal therapies and diagnostic devices is necessary.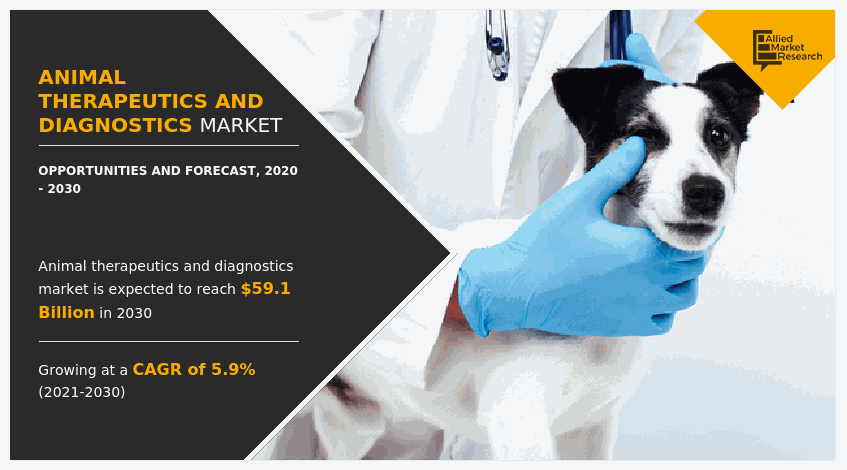 One of the key drivers driver of the global animal therapeutics market is surge in demand for animal-derived food items such as meat. It is critical to ensure high-quality and cost-effective animal protein production for these products to be fit for human consumption. Furthermore, surge in incidence of chronic illnesses such as bovine spongiform encephalopathy as well as increase in knowledge of other zoonotic diseases boost the need for animal therapies and diagnostics among pet and cow owners. With considerable increase in the disposable income, pet owners do not hesitate to spend a little more than usual on the welfare of their pets. This has led to the anticipation that the companion animal healthcare expenses will display considerable growth in future. This increment can enhance the growth of animal diagnostics industry.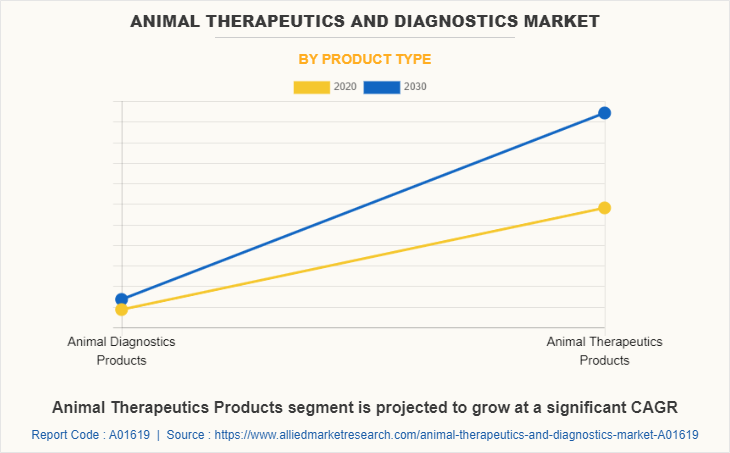 Furthermore, the industry growth is driven by increase in veterinarians in developed nations as well as rise in expenditure on animal health & pet insurance. Furthermore, increase in popularity of companion animals notably contributes toward the growth of the global animal diagnostics industry. Moreover, the health related services provided to pet owners open a number of opportunities for the expansion of animal diagnostics market. Further, exploring benefits of nanoparticles in the veterinary diagnostics and therapeutic products and combination of nanotechnology with molecular diagnostics can help improve the accuracy of treatment and diagnosis of animal diseases.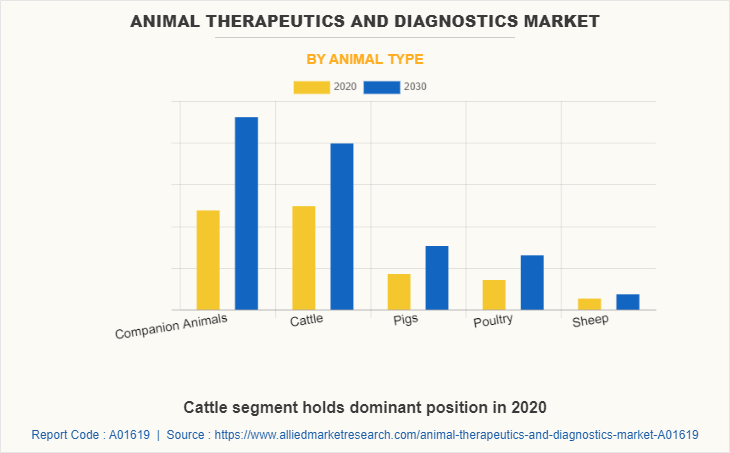 Major increase in the growth of companion animal ownership is observed, lack of awareness regarding proper medication and diagnosis still exists. Appropriate knowledge with respect to veterinary medicines and their effect on human health is still limited among the people. Most of the people do not know the positive effects of veterinary medicines on farm animals in Europe including companion animals. There is a vast knowledge gap amongst the companion animals regarding importance of therapeutic products in prevention of transmission of diseases to humans. Such factor will negatively impact the animal diagnostics market.
The COVID 19 outbreak has affected the growth of the animal therapeutics and diagnostics industry owing to the lockdown measure in the countries and delay in production and manufacturing of animal therapeutics and diagnostics products which are utilized for animal treatment and diagnosis.
There is immense progress in the management of animal health via therapeutics and diagnostics. Individual research organizations that work to ensure good health of animals is a part of such progress. Utilization of nuclear medicine for veterinary diagnostics has increased in recent years. Nuclear medicine is a field of diagnostic imaging via radiopharmaceuticals. Examination of veterinary patients such as dogs, cats, horses, and exotic animals incorporate diagnostic techniques, which include scintigraphy and hybrid imaging techniques (Single Photon Emission Computed Tomography [SPECT]) used for small animal diagnostics. These advanced diagnostic techniques observe high sensitivity and specificity, which can be incorporated in the diagnosis of oncological, neurological, endocrine, inflammation, or infection, cardiac, orthopedic, and hereditary diseases. such factor will propel the animal health diagnostics market.
Increase in the disposable income has resulted in the growth of demand for a variety of food products among people. Considerable growth in the population every year has increased the demand for appropriate food supply especially in the developing countries. Consumption of animal protein in the form of meat, eggs, milk, and other dairy products has increased. In 2019, animal protein accounted for 10.6% of the source of calories and recorded to be the second major source of calories in the developing countries. To suffice these demands, adequate rise in number of animals becomes essential with respect to poultry and cattle. This drives the animal therapeutics market.
According to the reports prepared by North American Pet Health Insurance Association (NAPHIA), the pet health insurance recorded a maximum growth in 2019 with the total number of pets insured reaching approximately 1.4 million. An increase in the pet insurance by 12.8% in gross written premiums as compared to 2018 was observed. Prime pet insurance companies operate in North America. Increase in participation of the pet owners in pet insurance has enhanced the growth of animal diagnostics industry.
The novel coronavirus has rapidly spread across various countries and regions, causing an enormous impact on lives of people and the overall community. It began as a human health condition and has now become a significant threat to global trade, economy, and finance. The COVID-19 pandemic has halted production of many products in the animal therapeutics and diagnostics business, owing the lockdowns. Furthermore, the number of COVID-19 cases are expected to reduce in the future as the vaccine for COVID-19 is introduced in the market. This has led to the reopening of animal therapeutics and diagnostics companies at their full-scale capacities. This is expected to help the animal health diagnostics market recover by the start of 2022. After COVID-19 infection cases begin to decline, equipment & machinery producers must focus on protecting their staff, operations, and supply networks to respond to urgent emergencies and establish new methods of working.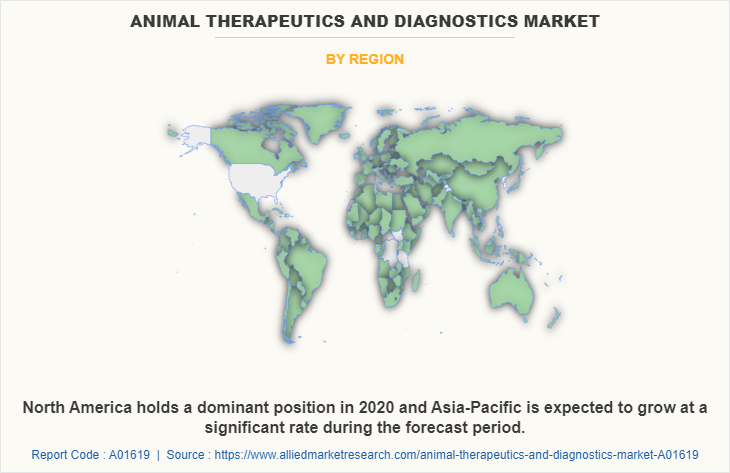 The animal therapeutics and diagnostics market is segmented on the basis of product type, animal type industry, and region. Depending on product type, the market is classified into to animal diagnostics products and animal therapeutics products. By animal type, it is classified as companion animals, cattle, pigs, poultry and sheep. Region wise, the global animal therapeutics and diagnostics market analysis is conducted across North America (the U.S., Canada, and Mexico), Europe (the UK, France, Germany, Italy, and rest of Europe), Asia-Pacific (China, Japan, India, South Korea, and rest of Asia-Pacific), and LAMEA (Latin America, the Middle East, and Africa).
Competition Analysis
The key players operating in the global animal therapeutics and diagnostics market are Zoetis Inc., Elanco Animal Health Incorporated, Boehringer Ingelheim International GmbH, Virbac, Idexx Laboratories Inc., Ceva Sante Animale, Sanofi S.A., Heska Corporation, Thermo Fisher Scientific Inc., and Randox Laboratories Ltd.
Key Benefits For Stakeholders
 Animal Therapeutics and Diagnostics Market Report Highlights
Aspects
Details
By Product Type

Animal Diagnostics Products
Animal Therapeutics Products

By Animal Type

Companion Animals
Cattle
Pigs
Poultry
Sheep

By Region

North America (U.S., Canada, Mexico)
Europe (Germany, France, U.K., Italy, Rest of Europe)
Asia-Pacific (China, India, Japan, South Korea, Rest of Asia-Pacific)
LAMEA (Latin America, Middle East, Africa)

Key Market Players
Ceva Sante Animale, Bayer AG, Zoetis Inc., Boehringer, Virbac S.A., Ingelheim GmbH, Eli Lilly and Company, Sanofi S.A., Merck and Co., Nutreco N.V.