Anti-Inflammatory Therapeutics Market Overview
The global anti-inflammatory therapeutics market size was $98,026 million in 2020 and is projected to reach $125,552 million by 2028, registering a CAGR of 4.0% from 2021 to 2028. Anti-inflammatory therapeutic is a drug that eases acute & chronic pain as well as inflammation (redness, swelling, and pain). Anti-inflammatory agents block certain substances in the body that cause inflammation. They are used to treat many different conditions such as treat migraines, headaches, rheumatic arthritis, sprains, and menstrual pain. Furthermore, some anti-inflammatory agents such as celecoxib and ibuprofen are being studied for the prevention and treatment of cancer. In addition, they can provide faster relief as compared to other drugs. They are capable of lowering the levels of prostaglandins and the chemicals responsible for inflammation, thereby reducing pain and swelling. Anti-inflammatory drugs usually target the anti-inflammatory mediators or enzymes. These drugs are often used in combination of other drugs. Inflammation is the most prevalent treatable symptom among many immune and respiratory diseases. They are available in the form of tablets, capsules, suppositories (capsules inserted into the bottom), creams, gels, and injections. The major types of anti-inflammatory drugs include ibuprofen, naproxen, diclofenac, celecoxib, mefenamic acid, etoricoxib, and indomethacin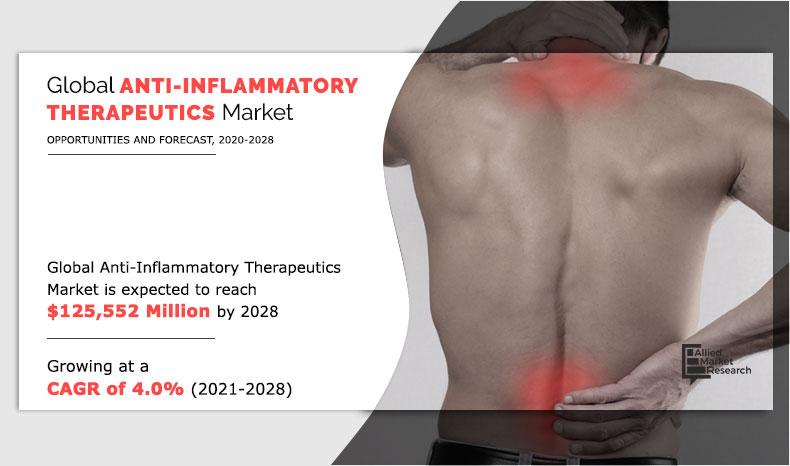 The growth of the global anti-inflammatory therapeutics market has been driven by factors such as increase in prevalence of autoimmune & respiratory conditions, new drugs in pipeline, and surge in adoption of anti-inflammatory drugs. Furthermore, the demand for anti-inflammatory drugs has been increasing exponentially, owing to the emergence of anti-inflammatory biologics that are more targeted, effective, and with lesser side effects as compared to conventional drugs. Moreover, rise in awareness of anti-inflammatory therapeutics and attractive government initiatives toward the treatment of inflammation with nonsteroidal anti-inflammatory drugs in Asia-Pacific and LAMEA are expected to drive the market growth during the analysis period. However, factors such as side effects of anti-inflammatory drugs and patent expiry issues of blockbuster drugs (such as Remicade) impede the market growth.
Impact of COVID-19 Pandemic on Anti-inflammatory Therapeutics Market (Pre & Post Analysis)
The impact of COVID-19 pandemic is expected to remain positive for the anti-inflammatory therapeutics market, owing to the inflammation caused by SARS-COV 2. SARS-CoV-2 is a beta coronavirus causing severe anti-inflammatory pneumonia, as COVID-19 can cause severe inflammation to patients diagnosed with it. According to reports, cytokine storm is strongly responsible for death in such patients. Some of the consequences of severe inflammation and cytokine storms include acute respiratory distress syndrome, acute lung injury, and multiple organ dysfunction syndromes, which lead to increase in the research and the development of anti-inflammatory drugs for the treatment of inflammation caused by COVID-19. For example, many clinical trials are currently underway to alleviate this destructive inflammation. One of them is NLRP3 inflammasome, which targets multiple mechanisms associated with COVID-19 excessive inflammation. Thus, such factors have positively impacted the market growth during the global health crisis.
Global Anti-Inflammatory Therapeutics Market Segmentation
The global anti-inflammatory therapeutics market is segmented into indication, drug class, and region. Depending on indication, the market is categorized into arthritis, respiratory diseases, multiple sclerosis, psoriasis, anti-inflammatory bowel disease (IBD), and other anti-inflammatory diseases. By drug class, it is segregated into nonsteroidal anti-inflammatory drugs (NSAIDs), corticosteroids, and biologics. Region wise, it is analyzed across North America, Europe, Asia-Pacific, and LAMEA.
Drugs class segment review
Depending on drugs class, the anti-inflammatory biologics segment held the largest share in 2020, and is anticipated to maintain its dominance during the forecast period, owing to increase in patient population suffering from chronic disease and unavailability of effective treatments. Moreover, increase in healthcare spending along with rise in awareness of biologics, especially, in emerging markets represent a huge anti-inflammatory therapeutics market potential for biologics.
Indication type segment review
By indication, the arthritis segment was the highest contributor to the anti-inflammatory therapeutics market. This is attributed to increase in prevalence of osteoarthritis and rheumatoid arthritis. In addition, rise in usage of topical drugs for treating arthritis pain and surge in geriatric population across the globe fuel the growth of the market.
Region segment review
Region wise, North America garnered the largest share in 2020, and is anticipated to maintain its dominance from 2020 to 2028, due to high expenditure on R&D, presence of major players & their product availability, and well-established healthcare infrastructure in the region. However, Asia-Pacific is expected to register the highest CAGR during the forecast period, as governments of Asian countries are investing in the development of healthcare infrastructure. Moreover, rise in usage of OTC NSAIDs and increase in geriatric population are expected to contribute toward the anti-inflammatory therapeutics market growth.
Key Benefits For Stakeholders
This report entails a detailed quantitative analysis along with the current global anti-inflammatory therapeutics market trends from 2020 to 2028 to identify the prevailing opportunities along with the strategic assessment.
The anti-inflammatory therapeutic market forecast is studied from 2021 to 2028.
The anti-inflammatory therapeutics market size and estimations are based on a comprehensive analysis of key developments in the ultrasound device industry.
A qualitative analysis based on innovative products facilitates strategic business planning.
The development strategies adopted by the key market players are enlisted to understand the competitive scenario of the anti-inflammatory therapeutics market.
 Anti-Inflammatory Therapeutics Market Report Highlights
Aspects
Details
BY DRUG CLASS

Nonsteroidal Anti-inflammatory Diseases (NSAIDs)
Corticosteroids
Biologics

BY INDICATION

Arthritis
Respiratory Disease
Multiple Sclerosis
Psoriasis
Anti-inflammatory Bowel Disease (IBD)
Other Anti-inflammatory disease

BY REGION

North America (U.S, Canada, Mexico)
Europe (Germany, France, UK, Italy, Spain, Rest of Europe)
Asia-Pacific (Japan, China, India, Australia, South Korea, Rest of Asia-Pacific)
LAMEA (Brazil, South Africa, Saudi Arabia, Rest of LAMEA)

Key Market Players
Amgen Inc, AstraZeneca PLC., Eli Lily and Company, F. Hoffmann-La Roche AG, GlaxoSmithKline plc, Johnson & Johnson, Merck & Co., Inc., Novartis AG, PFIZER INC.