Application Gateway Market Statistics: 2030
The global application gateway market size was valued at $1.75 billion in 2020, and is projected to reach $4.24 billion by 2030, growing at a CAGR of 9.5% from 2021 to 2030. A security component that supplements a firewall or NAT in a computer network is an application gateway. It is also known as application layer gateway, app gateway, application proxy, or application-level proxy. It enables custom NAT traversal filters to be inserted into the gateway to provide address and port translation for particular application layer "control/data" protocols including FTP, BitTorrent, SIP, RTSP, and file transfer in instant messaging apps. To make these protocols operate over NAT or a firewall, the application must either know about an address/port number combination that enables incoming packets, or the NAT must monitor control traffic and dynamically open up port mappings as needed.
The COVID-19 outbreak has a moderate impact on the growth of application gateway market owing to, organizations adopting application gateway software for securely managing network traffic and growing need of application gateway software among the SMEs for securing large number of databases.
Growth in number of different application layer attacks is boosting the growth of the global application gateway market. In addition, increase in demand for secure networks positively impacts the growth of the market. However, lack of mandatory regulations for information security and lack of technical expertise hamper the market growth. On the contrary, rise in adoption of Internet of things, AI, and software defined network technologies are expected to offer remunerative opportunities for expansion of the market during the forecast period.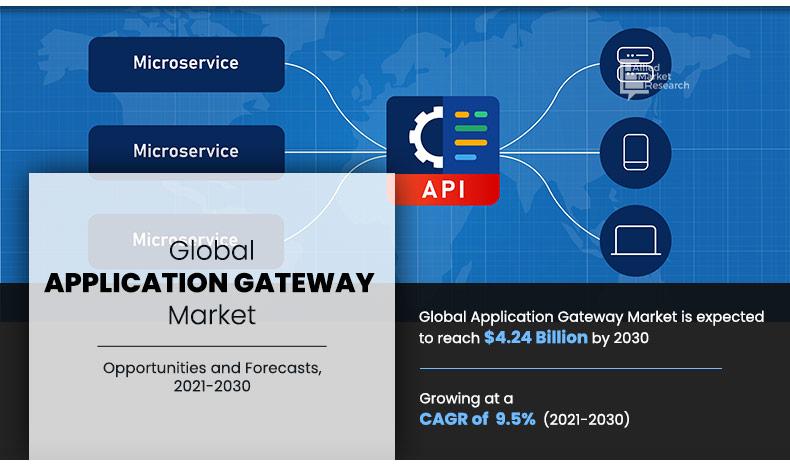 In terms of component, software segment holds the largest share of the application gateway market. As a critical component of modern-day corporate IT infrastructure, software-based application gateway solutions assist organizations in controlling precise log-in network traffic roadmaps that specify what flows in and out of the network. However, the service segment is expected to grow at the highest rate during the forecast period, owing to rise in COVID-19 pandemic which increased the demand for aiding employees working remotely to be able to access their work network more securely and conveniently. 
Region wise, the application gateway market was dominated by North America in 2020 and is expected to retain its position during the forecast period, owing to abundance of application gateway solutions vendors such as Microsoft Corporation, Palo Alto Networks, Cisco Systems, Inc., and others aiding the growth of the application gateway market. However, Asia-Pacific is expected to witness significant growth during the forecast period, owing to increase in technological investments in sectors such as cloud and digital technologies.
The report focuses on growth prospects, restraints, and analysis of the global application gateway market trend. The study provides Porter's five forces analysis to understand the impact of various factors, such as bargaining power of suppliers, competitive intensity of competitors, threat of new entrants, threat of substitutes, and bargaining power of buyers, on the global application gateway market share.
Segment review
The application gateway market is segmented on the basis of component, organization size, industry vertical and region. By component, the market is bifurcated into software and service. By organization size, the market divided into large enterprises and SMEs. By industry vertical, the market is fragmented into BFSI, IT & telecom, manufacturing, government and public sector, retail & e-commerce, healthcare, and others. Region wise, it is analyzed across North America, Europe, Asia-Pacific, and LAMEA.
Application Gateway Market

---
By Component
Software segment is projected as one of the most lucrative segments.
The key players profiled in the application gateway market analysis are Aculab, Akamai Technologies, Barracuda Networks, Inc., Citrix Systems, Inc., Forcepoint, F5, Inc., Microsoft Corporation, Palo Alto Networks, SAP SE, Zscaler, Inc. These players have adopted various strategies to increase their market penetration and strengthen their position in the app gateway industry.
COVID-19 impact analysis
The application gateway industry has witnessed stable growth during the COVID-19 pandemic, owing to rise in investments in emerging technologies, like AI and machine learning, are expected to create scope for the application gateway industry. In addition, the U.S. has a strong foothold of application gateway vendors, which contributes to the market's growth. Some of them include Microsoft, SAP, Orange, and others. Moreover, during the COVID-19 many small and medium-sized enterprises (SMEs) started adopting application gateway to secure their applications with latest cybersecurity technology and infrastructure. The COVID-19 pandemic has made digital transformation an urgent necessity for organizations, pushing the adoption of a hybrid work model marked by remote connection and enabled by the convergence of the Internet of Things (IoT) and cloud computing. In addition, sudden increase in IoT devices during the pandemic increased the demand for app gateways.
Application Gateway Market

---
By Industry Vertical
IT & telecom segment is projected as one of the most lucrative segments.
Top impacting factors
Growth in number of different application layer attacks
The application gateway market size is growing at a significant pace in the past few years as organizations have started realizing that the energy to swiftly forestall utility-layer DDoS assaults that focus on Internet-going through offerings is vital for commercial enterprise continuity and achievement. Aforementioned factor results in creating numerous market opportunities for application-level gateway market during the forecast period. Moreover, when Internet-facing offerings are compromised due to DDoS attacks, the effect can be excessive and feature good sized business consequences. The precise cost of downtime relies upon on the company's reliance on its online offerings. When figuring out the price of downtime, companies need to think about at the least the subsequent as when online offerings pass down, the productivity of employees and/or companies that utilize or depend upon those services can be notably decreased. 
Increasing demand for secure networks
Damaging of highbrow property is also one of the impacts of defective networks protection systems. Hacking offers unauthorized access to employer's or individual's records. In addition, as the internet grows and global computer networks become bigger, and records integrity has become one of the most important elements for businesses to recollect. The overall safety and security of the network is one of the most critical considerations while operating remotely for both small and large enterprises. Furthermore, the majority of cyberattacks performed against an organization can result in network failures and downtimes. Due to such prolonged network downtimes, businesses can be forced to cease their business operations, resulting in a loss of sales. The longer the network is down, the more revenue is lost, and the organization begins to appear untrustworthy and can lose credibility in the long run. These concerns have resulted in increasing investment toward strengthening network security associated with app gateway solutions.
Application Gateway Market

---
By Region
Asia-Pacific would exhibit the highest CAGR of 11.1% during 2021-2030.
Key Benefits For Stakeholders     
The study provides an in-depth analysis of the global application gateway market forecast along with current & future trends to explain the imminent investment pockets.
Information about key drivers, restraints, & opportunities and their impact analysis on global deep learning market trend is provided in the report.
Porter's five forces analysis illustrates the potency of the buyers and suppliers operating in the industry.
The quantitative analysis of the market from 2021 to 2030 is provided to determine the market potential.
 Application Gateway Market Report Highlights
Aspects
Details
By Component
By Organization Size
By Industry Verticals

BFSI
IT & Telecom
Manufacturing
Government and public sector
Retail & E-Commerce
Healthcare
Others

By Region

North America (U.S., Canada)
Europe (UK, Germany, France, Italy, Spain, Russia, Rest of Europe)
Asia-Pacific (China, Japan, India, South Korea, Australia, Rest of Asia-Pacific)
LAMEA (Latin America, Middle East, Africa)

By Key Market Players

Aculab
Akamai Technologies
Barracuda Networks, Inc.
Citrix Systems, Inc.
Forcepoint
F5, Inc.
Microsoft Corporation
Palo Alto Networks
SAP
Zscaler, Inc.