Asia E-Learning Market Statistics- 2030
The Asia E-learning market size was valued at $38,257 million in 2020, and is estimated to reach a value of $162,158 million by 2030, registering a CAGR of 15.7% from 2021 to 2030. E-learning is a structured course or learning experience delivered electronically; which can also include performance support content. There are many different elements that can make up an e-learning program, such as live or pre-recorded lecture content, video, quizzes, simulations, games, activities, and other interactive elements. Asynchronous e-learning is self-paced; learners are taking course on their own, usually on a laptop.
In wake of COVID-19 pandemic, the Asia e-learning market has established a positive correlation strongly backed by its four major pillars including technology, government initiatives, blended learning, and penetration rate.
In 2020, the Asia e-learning market share was dominated by the content segment, and is expected to maintain its dominance in upcoming years as developments in technology such as deployment of web and cloud-based platforms increased adoption of e-learning methods, owing to its ease of operation and lower cost, which propels the market growth. In addition, e-learning allows learners to quickly and more easily complete their training, resulting in improved performance and greater productivity. Learners appreciate that they can participate in training at their convenience.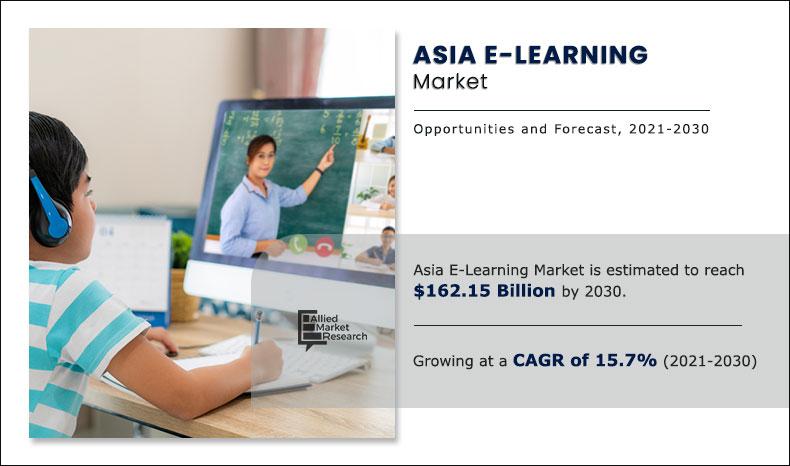 The service segment also plays a significant role in the market, owing to its rapid usage in technology integration, blended learning, and course setup. Traditional training can be expensive and often complex to maintain. E-learning removes the need for costly printed training materials and even on-site instructors. If modules within the content needs to change, it can be done easily through LMS without having to print and distribute updated training materials. 
The report focuses on growth prospects, restraints, and E-Learning market analysis. The study provides Porter's five forces analysis of the E-Learning industry to understand impact of various factors such as bargaining power of suppliers, competitive intensity of competitors, threat of new entrants, threat of substitutes, and bargaining power of buyers on the Asia E-Learning market trends.
Segment review
Asia e-learning market is primarily segmented on the basis of provider, mode, courses, and end user. By provider, the market is segmented into content and services. On the basis of mode, it is segmented into on-premise and cloud. By course, it is segmented into primary and secondary education, higher education, online certification, professional course, and test preparation. By end user, it is segmented into academic, corporate and government.
COVID Impact Analysis
Post COVID-19, the size of the Asia e-learning market forecast is estimated to be $43,790 million in 2021, and is projected to reach $162,160 million by 2030. 
In terms of economic impact, the Asia e-learning market opportunity has established a positive correlation strongly backed by its four major pillars listed as follows: technology, government initiatives, blended learning, and penetration rate. Below figure portrays the penetration scores of aforementioned major pillars that is creating a profitable scope for Asia e-learning market growth: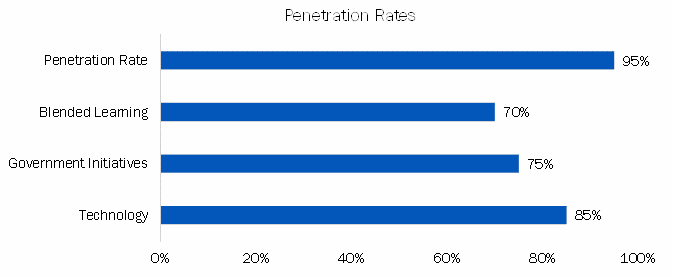 Top impacting factors    
Factors such as remote learning trends enforced by global pandemic and increase in adoption of smartphone and cellular technology are the major factors that drive the market growth. However, lower interaction with learners and peers and need for higher self-motivation and proper time management skills among learners primarily restrains the market growth. Further, time and cost effectiveness of learning model and more personalized learning opportunities is estimated to create a lucrative opportunity for the Asia E-learning industry during the forecast period.
Remote learning trends enforced by the global pandemic
As the COVID-19 pandemic is spreading rapidly across the world, schools, colleges, and other learning mediums are closed to avoid further spread of the coronavirus. This has influenced growth of e-learning platforms during the period as educational institutes adopted e-learning mediums to deliver education and training for individuals during the COVID enforced lockdowns.
According to a report published by the United Nations Children's Emergency Fund (UNICEF), more than 90% of countries and governments have implemented some form of remote or e-learning platform to help educate children. These factors helped in promotion of the e-learning industry and heavy growth was reported during the period of the pandemic. For instance, a business insider study reports that Indian EdTech start-ups reported growth of more than $ 4 billion in the year 2020–2021 alone, compared to $ 0.5 billion in the year 2019. This growth is expected to continue to post the period of the pandemic. 
Asia E-Learning Market

---
By Provider
Services segment is projected as one of the most lucrative segments.
Time and cost-effectiveness of e-learning models
E-learning platforms are more time and cost-effective for learners. With e-learning platforms, learners possess convenience of educating irrespective of time and location. This factor is anticipated to change the market growth majorly. Moreover, learners can schedule their classes according to their own lifestyle and needs. This factor encourages individuals of various age groups to adapt to e-learning platforms and promising great opportunities for the Asia e-learning industry.
Many educational institutions save a lot of money by using e-learning platforms to train and educate students as with an e-learning solution there is no need to employ a physical classroom, resulting in lower monetary expenditure.
Asia E-Learning Market

---
By Mode
Cloud is projected as one of the most lucrative segments.
Key Benefits For Stakeholders
The study provides an in-depth analysis of the E-Learning market along with current trends and future estimations to elucidate imminent investment pockets.
Information about key drivers, restraints, and opportunities and their impact analysis on the market size is provided in the report.
Porter's five forces analysis illustrates the potency of buyers and suppliers operating in the industry.
The quantitative analysis of Asia E-Learning market analysis for the period 2020–2027 is provided to determine the market potential.
Key Market Segments
By Provider
By Mode 
By Course
Primary and Secondary Education
Higher Education
Online Certification and Professional Course
Test Preparation
By End User
Academic
K12
Higher Education
Vocational Training
Corporate
SMB's
Large Enterprise
Government
BY Country
China
India
Japan
South Korea
Sri Lanka
Rest of Asia
Key Market Players
Adobe Systems Inc
Aptra Inc
Articulate Global Inc.
Certpoint systems Inc
Cisco systems Inc
Citrix Education Inc
Microsoft Corporation
Oracle Corporation
SAP SE
D2L