E-Learning Market Statistics: 2030
The global e-learning market size was valued at $197.00 billion in 2020, and is projected to reach $840.11 billion by 2030, registering a CAGR of 17.5% from 2021 to 2030. E-learning is a mode of delivering knowledge to students through electronic modes such as videos, audio, e-books, AR/VR or any other electronic mode. E-learning provides various benefits to the students, which include low cost of education and specialized course learning. In addition, e-learning has become an integral part of majority of organizations as it enhances the performance of employees. For instance, according to IBM statistics, eLearning can increase productivity by 50%, by utilizing online learning software, to provide employees with an incredible opportunity to engage in their training courses at any convenient time.
COVID-19 pandemic is expected to positively impact the growth rate of the e-learning market, owing to increase in adoption of digital technologies among various schools, colleges and universities across the globe and growing government support for improving e-learning platform across various developing nations of Asia-Pacific and LAMEA countries.
Rise in remote learning during the pandemic and demand for low-cost convenient learning system positively impacts the growth of the market. In addition, surge in use of AI and machine learning in e-learning system boost the growth of the market across the globe. However, factors such as lack of face-to-face interactions in the E-learning systems and need for higher self-motivation limit the e-learning market growth.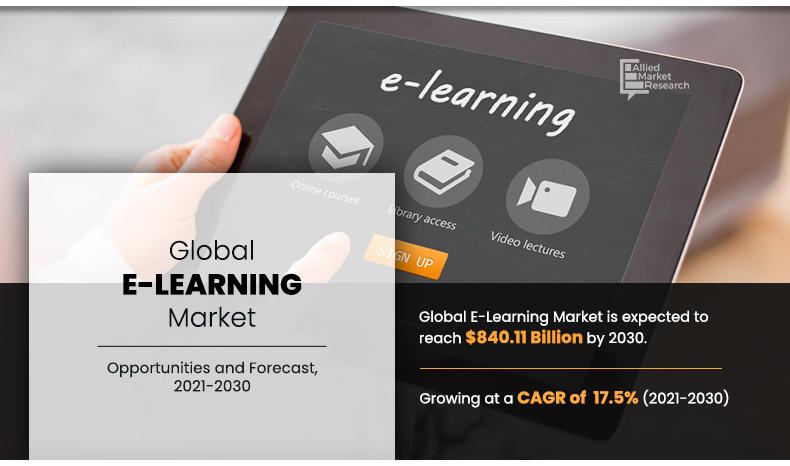 On the contrary, emergence of several trends such as micro learning, gamification, adoptive learning, and mobile learning are expected to offer remunerative opportunities for the expansion of the market during the forecast period.
By deployment mode, the cloud segment is expected to garner a significant share during the forecast period owing to growth in acceptance of cloud-based e-learning services and increased interest toward this technology. In addition, it provides better maintenance of learning solution and continuous system that facilitates the implementation of online learning. 
Region wise, the e-learning market was dominated by North America in 2020 and is expected to witness the highest growth rate during the forecast period owing to rise in competition among service providers in North America. In addition, key players provide more security for data, by ensuring quick access and greater outreach, which drive the growth of the e-learning market in this region. However, Asia-Pacific is expected to witness significant growth during the forecast period, owing to rise in usage of e-learning services and adoption of cloud-based smart learn solution during the pandemic.
The report focuses on growth prospects, restraints, and trends of the e-learning market analysis. The study provides Porter's five forces analysis to understand impact of various factors, such as bargaining power of suppliers, competitive intensity of competitors, threat of new entrants, threat of substitutes, and bargaining power of buyers, on the e-learning market share.
Segment review
The e-learning market is segmented on the basis of provider, deployment model, course, end user, and region. By provider, it is bifurcated into content and service. By deployment mode, it is categorized into cloud and on-premise. By course, it is divided into primary and secondary education, higher education, online certification and professional course, test preparation. By end user, it is classified into academic, corporate, and government. By region, the market is analyzed across North America, Europe, Asia-Pacific, and LAMEA.
E-Learning Market

---
By Provider
Contect segment is projected as one of the most lucrative segments.
The market players operating in the global e-learning market include Adobe, Aptara Inc., Articulate Global, LLC, CERTPOINT, Cisco Systems, Inc., Citrix Systems, Inc., D2L Corporation, Microsoft Corporation, Oracle Corporation, and SAP SE. These players have adopted various strategies to increase their market penetration and strengthen their position in the e-learning industry.
COVID-19 impact analysis
The e-learning market has witnessed significant growth in past few years. Moreover, due to the outbreak of the COVID-19 pandemic, the market witnessed a sudden boost in 2020. This is attributed to implementation of various skill enhancement campaign by governments in majority of the countries and business across the globe. The e-learning indusstry is projected to prosper in the COVID-19 situation owing to increase in investment in skill assessment technology for better understanding of the employees on an emotional and cultural scale. Furthermore, to sustain in the competitive market, majority of the EdTech have shifted toward digitalization to provide online services, helping employees and students to compare their skill levels, and for choosing right options & offers to carry out assessment processes online. It has become clear that COVID-19 would have long-term impacts on lives and economies by increasing the demand for e-learning with rise in demand for skilled labor and growth in government effort for elevating overall worker level, which positively impacts the growth of the market.
E-Learning Market

---
By Deployment Model
Cloud segment is projected as one of the most lucrative segments.
Top impacting factors
Rise in remote learning during the pandemic
With the rise of COVID-19 pandemic, all schools, colleges, and other learning institutes closed due to the lockdown implemented to avoid further spread of the coronavirus. This influenced growth of e-learning platforms during the period as educational institutes adopted e-learning mediums to deliver education and training for individuals during the COVID-19 enforced lockdowns. Moreover, many online learning platforms offered free access to their services, including platforms like BYJU'S, a Bangalore-based educational technology and online tutoring firm. Since announcing free live classes on its Think and Learn app, BYJU's has seen a 200% increase in the number of new students using its product. Furthermore, majority of the students who lived in hostels and other accommodations returned to their home towns, which in turn increased the demand for remote learning.
Surge in use of AI and machine learning in e-learning
The use of AI and machine learning has grown among e-learning platforms as it allows customized content based on each student's existing knowledge and provides a one-size-fits-all approach. In addition, by leveraging AI and ML, it becomes possible to quickly analyze huge amounts of data, as well as identify patterns & trends to continuously optimize and improve learning experiences. Moreover, it helps make the course creation process much simpler, faster, and more agile without having to sacrifice quality. For example, automatic translation and localization feature have enhanced the eLearning development process by offering more speed and efficiency. Furthermore, it is now possible to develop multi-language content for global companies that face the challenge of creating useful content for branches in multiple countries, or for the increasingly common situation of companies working with remote teams that speak different languages. Thus, growth in number of such developments is expected to provide lucrative opportunity for the market.
Corporate E-Learning and Upskilling
Corporate e-learning refers to the use of digital technologies and online platforms to deliver training and educational programs within a corporate setting. It offers flexibility, scalability, and cost-effectiveness, allowing employees to access training materials at their convenience. In addition, upskilling focuses on developing employees' skills to meet evolving job requirements and industry demands. It enhances employee performance, engagement, and adaptability while future-proofing the workforce. Furthermore, the investment in upskilling is increasing among the organizations as it helps in their commitment toward their employees' growth and development, leading to higher levels of employee retention and attracting top talent.
The combination of corporate e-learning and upskilling creates a powerful synergy. E-learning platforms enable the delivery of targeted training modules and resources, while upskilling initiatives ensure that employees acquire the necessary skills and knowledge for their professional growth. This approach helps organizations stay competitive by continuously improving employee capabilities, fostering innovation, and adapting to industry changes. Moreover, corporate e-learning and upskilling contribute to employer branding and reputation. In addition, organizations that invest in their employees' development create a culture of learning and growth, which in turn is helping in attracting and retaining talented individuals who seek opportunities for career advancement. Therefore, corporate e-learning and upskilling are integral components of a comprehensive talent development strategy. By leveraging technology and investing in employee skill development, organizations are enhancing their workforce's capabilities and maintaining a competitive edge in the dynamic business landscape.
E-Learning Market

---
By Region
Asia-Pacific would exhibit the highest CAGR of 17.4% during 2021-2030.
Key Benefits For Stakeholders     
The study provides an in-depth analysis of the e-learning market forecast along with the current trends and future estimations to explain the imminent investment pockets.
Information about key drivers, restraints, & opportunities and their impact analysis on the global smart learning market is provided in the report.
Porter's five forces analysis illustrates the potency of the buyers and suppliers operating in the industry.
The quantitative analysis of the e-learning market trends from 2021 to 2030 is provided to determine the market potential.
 E-Learning Market Report Highlights
Aspects
Details
By Provider

Content Provider
Service Provider

By Deployment Model
By Course

Primary and Secondary Education
Higher Education
Online Certification and Professional Course
Test Preparation

By End User

Academic
Corporate
Government

By Region

North America (U.S., Canada)
Europe (UK, Germany, France, Italy, Spain, Netherlands, Rest of Europe)
Asia-Pacific (China, India, Japan, South Korea, Sri Lanka, Rest of Asia-Pacific)
LAMEA (Latin America, Middle East, Africa)

By Key Market Players

Adobe
Aptara Inc.
Articulate Global, LLC
CERTPOINT
Cisco Systems, Inc.
Citrix Systems, Inc.
D2L Corporation
Microsoft Corporation
Oracle Corporation
SAP SE