APAC Sports Nutrition Market Overview:
Asia-Pacific Sports Nutrition Market is expected to garner $7.8 billion by 2020, registering a CAGR of 9% during the forecast period, 2015-2020.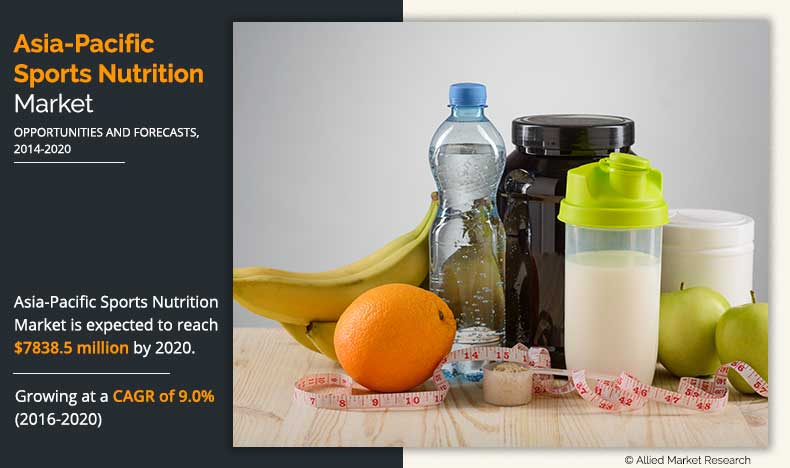 The Asia-Pacific sports nutrition market has evolved at a rapid pace over the past few years. The rise in demand of various sports supplements, sports drinks, and sports food among athletes fueled the Asia-Pacific sports nutrition market growth. In addition, people indulged in recreational activities, prefer to use sports supplements. The penetration of sports drinks & sports food is higher in developed countries, such as Japan, Australia, and others. The industry is in its initial phase in China and India.  However, it is anticipated to witness a phenomenal growth in upcoming years. At present, Japan is the largest market of sports nutrition, followed by China.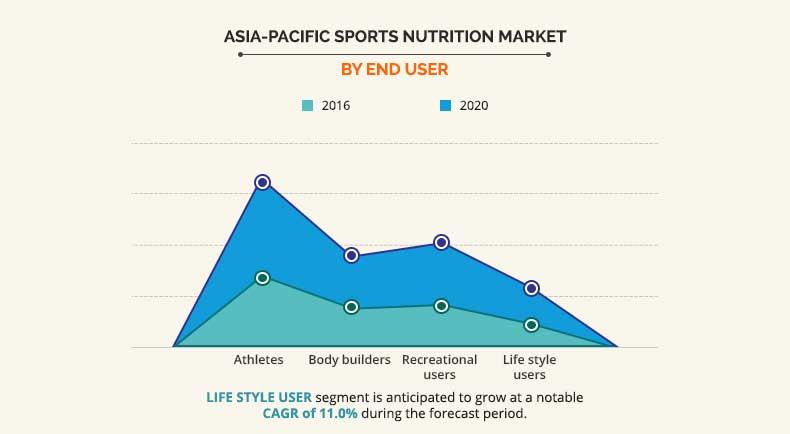 Improvement in standard of living in developing countries, such as China and India, owing to increasing disposable income and urbanization are the major factors supplementing growth of the Asia-Pacific sports nutrition market. Moreover, increase in health & fitness consciousness and rise in number of fitness centers are other major factors fueling the Asia-Pacific sports nutrition market growth. However, availability of low-priced and cheap & counterfeit products, primarily in China and India, emerged to be the major challenge for the players operating in the industry.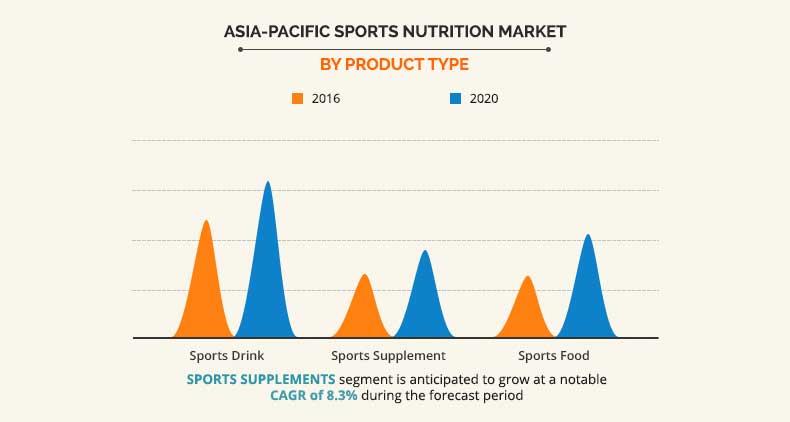 The Asia-Pacific sports nutrition market is segmented on the basis of product type, end-users, distribution channel, and country. Based on product type, it is segmented into sports drinks, sports supplement, and sports food. Sports drink is the largest revenue generating segment in the industry. However, the sports food segment would exhibit the fastest growth during the forecast period owing to increase in mass adoption. The industry finds its end users in bodybuilders, athletes, recreational users, and lifestyle users. Majority of sports nutrition products are distributed through large retail & mass merchandisers, small retail, drug & specialty stores, fitness institutions, and online distribution channels. Geographically, the market is segmented into China, Japan, Australia, India, and Rest of APAC. Japan is the largest revenue generating country in the market, owing to higher adoption of sports drinks and sports food. China, Australia, and India are amongst the major markets of sports supplements in the region.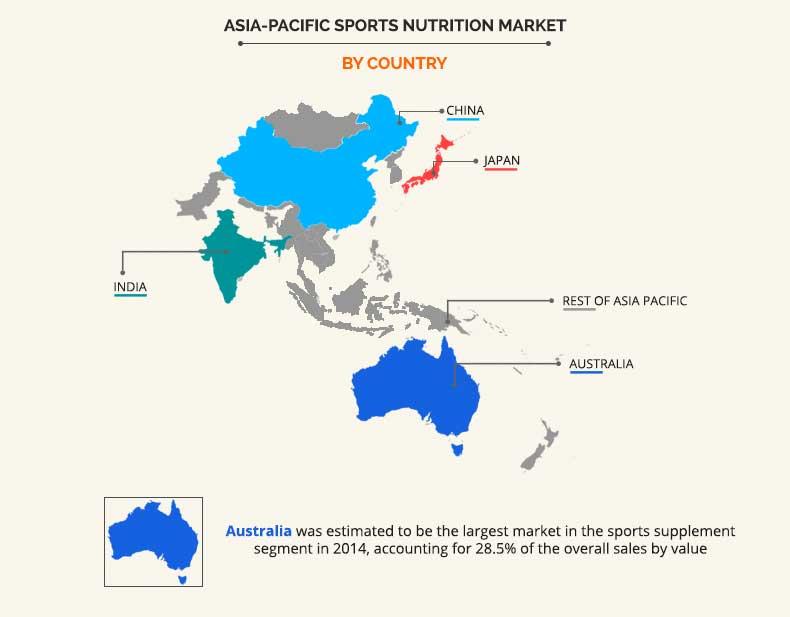 Players profiled in the Asia- Pacific sports nutrition market report include Universal Nutrition Corporation, Yakult Honsha Co. Ltd., Otsuka Pharmaceutical Co., Ltd., The Coca-Cola Company, Glanbia Plc., CytoSport Holdings Inc, and PepsiCO. Inc., GNC Holding Inc., Suntory Beverage and Food Ltd., and Herbalife Nutrition.
Key Benefits of Asia-Pacific Sports Nutrition Market Report:
It outlines current and future trends to determine the overall attractiveness and to single out profitable trends in order to gain a stronger foothold in the Asia-Pacific sports nutrition market
It provides information of key drivers, restraints, and opportunities with their impact analysis during the forecast period
It offers quantitative analysis of the current market and forecast to highlight the financial appetency in various APAC countries, for the period, 2015-2020
It includes Porters Five Forces Analysis to illustrate the potency of the buyers and suppliers participating in the industry
It consists of value chain analysis to provide a clear understanding of the roles of stakeholders involved in the market
 Asia-Pacific Sports Nutrition Market Report Highlights
Aspects
Details
By Product Type

Sports Drinks
Sports Supplements
Sports food

By End User

Athletes
Bodybuilders
Recreational Users
Lifestyle Users

By Distribution Channel

Large Retail & Mass Merchandizers
Small Retail
Drug & Specialty Stores
Fitness Institutions
Online & others

By Country

Australia
Japan
China
India
Rest of APAC

Key Market Players
Otsuka Pharmaceutical Co., Ltd. (Otsuka Holdings Co. LTD), Herbalife Nutrition, GNC Holdings Inc., Yakult Honsha Co Ltd, Glanbia Plc., PepsiCo Inc., CytoSport Holdings Inc. (Hormel Foods), Universal Nutrition Corporation, The Coca-Cola Company, Suntory Beverage and Food Ltd