Audio CODEC Market Outlook – 2027 
The global audio CODEC market size was valued at $11.44 billion in 2019, and is projected to reach $14.12 billion by 2027, registering a CAGR of 4.1% from 2020 to 2027. Audio CODEC (coder/decoder) is a type of audio IC (integrated circuit) that encodes analog audio to digital signals and decodes digital signal back into analog. These are audio data convertors with both an analog-to-digital converter (ADC) and a digital-to-analog converter (DAC). In addition, being data convertors, CODEC are used for encoding, decoding, compressing, and decompressing audio as well.
Global audio CODEC market witness significant decline in demand owing to disruption in supply chain of phones during the pandemic.
Audio CODECs transfer digital data using buses, which may include linear pulse-code modulation (linear PCM), inter-IC sound (I2S), AC-Link, inter-integrated circuit (I2C), and serial peripheral interface (SPI). Audio CODEC finds a wide range of applications in sectors such as entertainment, gaming, consumer electronics, and automotive.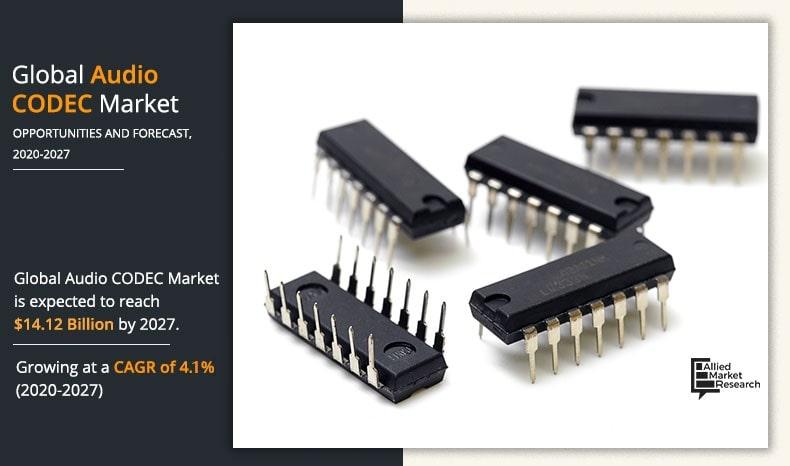 The audio CODEC industry is expected to witness growth during the forecast period, owing to rise in demand for energy efficient audio system. In addition, increase in adoption of smartphones also propels the market growth. Moreover, emergence of IoT-enabled devices integrated with artificial intelligence is estimated to revolutionize the market. Hence, owing to the aforementioned factors, the audio CODEC market share is expected to witness a steep growth in the near future.
Surge in disposable income and number of product launches also propel the audio CODEC market growth. However, emergence of audio SoC (system on a chip) and growth in awareness regarding adverse effects of audio codec devices on health and environment hinder the audio CODEC market growth. Furthermore, rise in demand for on-board entertainment, rapid development & adoption of virtual reality (VR) technology, and growth in demand for gaming consoles globally provides lucrative opportunities for the market. 
The emergence of COVID-19 has declined growth rate of the audio CODEC market in 2020, and the market is estimated to witness slow growth till the end of 2021. Implementation of partial or complete lockdowns across various countries globally is the prime reason for this decline in growth rate. However, companies are committed to serve its customers by abiding rules and regulations laid by governments in their respective regions.
Audio CODEC Market

---
By Function
With DSP segment will grow at a highest CAGR of 4.9% during 2020 - 2027
Segment Overview
The global audio CODEC market is segmented on the basis of function, end use, and region. On the basis of function, it is fragmented into with DSP and without DSP. The without DSP segment dominated the market, in terms of revenue in 2019, and is expected to follow the same trend during the forecast period. On the basis of end use, the market is segregated into computer, phone, tablet, over-ear headphone, TWS, home entertainment, commercial, automotive, portable, smart home, IoT, wearable, and AR/VR. The phones segment accounted for the highest market share in 2019, and the IoT segment is expected to grow at a high CAGR from 2019 to 2027.
Audio CODEC Market

---
By End Use
Phone segment will dominate the market throughout the forecast period
Region wise, the global audio CODEC market is analyzed across North America (the U.S., Canada, and Mexico), Europe (the UK, Germany, France, and rest of Europe), Asia-Pacific (China, India, Japan, and rest of Asia-Pacific), and LAMEA (Latin America, Middle East, and Africa). Asia-Pacific accounted for the highest share, owing to considerable demand for consumer electronics from developing countries and substantial technological advancements. North America was the second largest contributor, in terms of revenue, and is expected to witness significant growth during the forecast period, owing to significant investments from major market players in research and development of audio devices. 
Audio CODEC Market

---
By Region
Asia-Pacific region will maintain the lead with a highest CAGR of 4.8% during 2020 - 2027
There is a significant rise number of product launches for audio CODECs globally. With technological advancements in electronic devices, manufacturers are promoting development of audio CODECs to enhance overall experience of devices. For instance, a Japanese manufacturer, Asahi Kasei Microdevices (AKM) introduced AKM AK4336ECB ultra low power audio codec, specifically designed for TWS development. It supports active noise cancellations to complement complete portfolio of audio systems and sensors of TWS.
Top Impacting Factors
High demand for smartphones, increase in per capita income of population, surge in demand for consumer electronics, and emergence of IoT-enabled devices are the major factors that propel the market growth. However, emergence of audio SoC is expected to hinder the market growth. Conversely, rise in demand for automotive infotainment, growth in investments in the gaming industry, and implementation of virtual reality across various industries is projected to offer remunerative opportunities for the market. 
Competitive Analysis
Competitive analysis and profiles of the major audio CODEC market players such as Analog Devices, Cirrus Logic, CML Microelectronics, Dialog Semiconductor, DSP Group, Maxim Integrated, Realtek Semiconductor, ROHM CO. LTD., STMicroelectronics, and Texas Instruments are provided in this report. These key players have adopted various strategies, such as product portfolio expansion, mergers & acquisitions, agreements, geographical expansion, and collaborations, to increase their market penetration and strengthen their foothold in the industry.
Key Benefits For Stakeholders
This study comprises analytical depiction of the global audio CODEC market size along with the current trends and future estimations to depict the imminent investment pockets.
The overall audio CODEC market analysis is determined to understand the profitable trends to gain a stronger foothold.
The report presents information related to key drivers, restraints, and opportunities with a detailed impact analysis.
The current audio CODEC market forecast is quantitatively analyzed from 2019 to 2027 to benchmark the financial competency.
Porter's five forces analysis illustrates the potency of the buyers and suppliers in the market.
The report includes the market share of key vendors and audio CODEC market trends.
 Audio CODEC Market Report Highlights
Aspects
Details
By Function
By End Use

Computer
Phones
Tablets
Over-ear Headphones
TWS
Home Entertainment
Commercial
Automotive
Portable
Smart Home
IoT
Wearable
AR/VR

By Region

North America (U.S., Canada, Mexico)
Europe (Germany, France, UK, Italy, Rest of Europe)
Asia-Pacific (China, Japan, India, South Korea, Rest of Asia-Pacific)
LAMEA (Latin America, Middle East, Africa)

Key Market Players
Cirrus Logic, Analog devices, Texas Instruments, Dialog Semiconductor, STmicroelectronics, Microelectronics CML, DSP Group, Barix, Realtek Semiconductor, ROHM co. LTd