Australia and New Zealand Fetal Bovine Serum Market Overview
The Australia and New Zealand Fetal Bovine Serum market size was valued at $20 million in 2020 and is projected to reach $35 million by 2030, registering a CAGR of 5.2% from 2021 to 2030. Fetal bovine serum (FBS) is the liquid fraction of clotted blood from fetal calves. It is extracted from the blood drawn from a bovine fetus. Fetal bovine serum contains high amount of nutritional and macromolecular factors essential for cell growth. It is used extensively by academic, institutes, clinics, and industrial researchers as a supplement to basal growth medium in cell culture applications. The growth of the market is driven by factors such as increase in funding & investment for R&D activities & innovation in the life science industry, high demand for FBS and rise in advancements associated with biotechnology. In addition, rise in R&D investment, high demand for fetal bovine sera and surge in biopharmaceutical production is anticipated to drive the market growth.
The COVID-19 pandemic has had a varying nature of impact on the fetal bovine serum (FBS) market in Australia and New Zealand for the year 2020 and 2021. For instance, the industries using the fetal bovine serum for human and animal vaccine production saw both negative and positive impact due to the viral outbreak. Furthermore, industries using the serum for biopharmaceuticals saw a positive impact owing to rise in biopharmaceutical research related to COVID-19. Similarly, other industries using FBS were hit in a diverse manner due to the COVID-19 outbreak.
However, High price of fetal bovine serum and increased use of alternatives hamper the growth of the market. Moreover, untapped potential of the emerging economies is great opportunity which will boost the market growth in forecast period.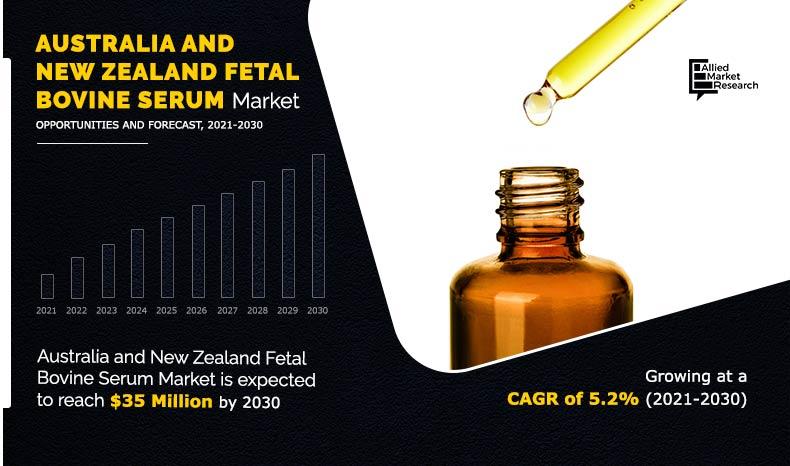 Fetal bovine serum is also used as an additional media supplement for cell culture due to the high content of embryonic growth-promoting factors. The serum is considered one of the most effective growth promoters compared to the other animal-based serums available for most cell culture systems, indicative of an increase in the use of fetal bovine serum, which is expected to fuel the Australia and New Zealand Fetal Bovine Serum Market growth.                 
COVID-19 Impact
Coronavirus (COVID-19) was discovered in December 2019 in Hubei province of Wuhan city in China. The disease is caused by a virus, severe acute respiratory syndrome coronavirus 2 (SARS-CoV-2), which is transmitted from humans to humans.
After its discovery in Wuhan, the disease rapidly spread to other parts of the globe. Moreover, this virus causes various symptoms in patients, which range from common symptoms to serious symptoms. For instance, common symptoms include fever, dry cough, and fatigue. However, serious symptoms include difficulty in breathing or shortness of breath, chest pain or pressure, and loss of speech or movement. Furthermore, the virus has high potential of lethality in geriatric population. On 11th March 2020, the World Health Organization made an assessment that COVID-19 can be characterized as pandemic. In addition, there are only a few vaccines that received emergency approvals for COVID-19 treatment or prevention. Thus, social distancing is observed as the most important measure to stop the spread of this disease. Furthermore, to maintain social distancing, various countries across the world have adopted nationwide lockdowns.
Almost every nation is dealing with the outbreak. Most markets are experiencing a decline, owing to the outbreak. This also includes the Australia and New Zealand Fetal Bovine Serum market. In addition, the COVID-19 pandemic is expected to have a positive impact on the Australia and New Zealand fetal bovine serum market. Fetal bovine serum has extensively been used in vaccine production and in-vitro cell-culture preparation in healthcare industries. This serum is used as a supplement in the growth media for COVID-19 vaccines and other vaccines. Moreover, during pandemic, due to the high transmission rate and lack of treatment, many countries are suffering due to the impact of the pandemic, and they are continuing to bear a significant burden on both their economies and healthcare systems. Furthermore, COVID-19 outbreak is having a positive impact on the growth of the market.
Application Segment Review
Based on Australia and New Zealand fetal bovine serum market trends by application, the cell culture segment accounted for the majority of the market share in 2020. This is attributed to the fact bovine serum is used majorly as an additional supplement in the cell culture media owing to its property such as presence of growth promoters, antibodies, and others required for cell proliferation and growth. Many key players including Merck KGaA (Sigma Aldrich), Thermo Fischer, and others provide specialty FBS for use in cell culture where the highest standard of product quality and documentation is required.
Australia and New Zealand Fetal Bovine Serum Market

---
By Application
Cell Culture segment holds a dominant position in 2020 and would continue to maintain the lead over the forecast period.
End User Segment Review
By end user, the biotechnology & pharmaceutical company segment generated the maximum revenue in 2020. This segment is anticipated to exhibit prominent growth rate, due to significant rise in R&D for the development of biopharmaceutical drugs and cancer research. Life science and pharmaceutical research involves the use of fetal bovine serum to execute different operations such as bio-production, biopharmaceutical & vaccine production, cancer research, toxicity testing, virology, gene therapy, drug screening, discovery & development, gene therapy, and others.
Australia and New Zealand Fetal Bovine Serum Market

---
By End User
Biotechnology & Pharmaceutical Company segment is projected as one of the most lucrative segment.
Key Market Players
Atlas Biologicals
Biological Industries
Bio Techne
Biowest
GE Healthcare
HiMedia Laboratories Pvt. Ltd.
Merck KGaA (Sigma Aldrich)
Pan Biotech
Rocky Mountain Biologicals
Thermo Fisher Scientific Inc.
Key Benefits For Stakeholders
This report provides a detailed quantitative analysis of the current Australia and New Zealand Fetal Bovine Serum market trends and forecast estimations from 2020 to 2030, which assists to identify the prevailing market opportunities.
An in-depth Australia and New Zealand Fetal Bovine Serum Market analysis includes analysis of various regions, which is anticipated to provide a detailed understanding of the current trends to enable stakeholders formulate region-specific plans.
The projections in this report are made by analyzing the current trends and future market potential from 2021 to 2030, in terms of value.
An extensive analysis of various regions provides insights that are expected to allow companies to strategically plan their business moves.
Key market players within the Australia and New Zealand Fetal Bovine Serum market are profiled in this report and their strategies are analyzed thoroughly, which helps in understanding competitive outlook of the Australia and New Zealand Fetal Bovine Serum market.
Key Market Segments
By Origin
Australia Origin
New Zealand Origin
US Origin
Mexico Origin
Brazil Origin
By Application
Biopharmaceuticals
Cell Culture
Human and Animal Vaccine Production
Others
By End User
Biotechnology & Pharmaceutical Industry
Academic Institute
Research Laboratory